As 2018 draws to a close, we're looking ahead to new music arriving in 2019. Here are 40 albums we hope to be listening to next year—some with officially announced release dates, and others that are simply highly anticipated. Below, find details on expected releases from Sky Ferreira, The Weeknd, Grimes, Weezer, Chance the Rapper, Vampire Weekend, My Bloody Valentine, and more in alphabetical order.
This list has been updated and expanded as of December 21, 2018.
2 Chainz
The Atlanta trapper formerly known as Tity Boi announced his fourth studio album, Rap or Go to the League, back in February 2018, but has said relatively little about the project since then. Musically, he's been active as ever—he was among the rap heavyweights featured on the Creed II soundtrack, and dropped the one-off track "Bigger Than You" with Drake and Quavo in June. He recently released two new songs, but didn't comment on whether or not they're tied to his fourth album. Here's hoping Rap or Go to the League isn't far off.
American Football, American Football
American Football are back with a third album. Like their 1999 classic debut and their 2016 comeback record, the new album is self-titled. Unlike their first two records, American Football (LP3) doesn't feature that famous house at 704 W. High St on the cover. Oh well. American Football is out March 22 on Polyvinyl.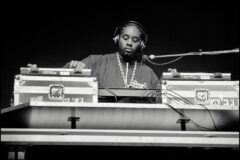 Ariana Grande, Thank U, Next
It's only been a few months since the release of Sweetener, and Ariana Grande is already back in the studio. "Thank u, next," recorded in the wake of her split from Pete Davidson, was her first number one song. Last week, she followed it up with another one-off single, titled "Imagine." In Grande's recent Billboard cover story she revealed that her new album, also titled Thank U, Next, is almost finished. Expect it (early) next year.
Avril Lavigne
In a lengthy personal letter on her site, Avril Lavigne wrote that her upcoming sixth album "holds nothing back" and describes a personal crisis that inspired recent single "Head Above Water": "One night, I thought I was dying, and I had accepted that I was going to die. My mom laid with me in bed and held me. I felt like I was drowning. Under my breath, I prayed 'God, please help to keep my head above the water.' In that moment, the song writing of this album began." It's a long-recognized truth that Avril is at her best when she allows herself to be vulnerable. No word on a release date yet.
Beirut, Gallipoli
Beirut's Zach Condon has thus far released two singles for the upcoming album Gallipoli.  The title track is a stately trumpet-driven song in the vein of 2006's Gulag Orkestar. Condon says he wrote it "entirely in one sitting, pausing only to eat." Second single "Corfu" is an instrumental track with a decidedly more modern vibe. The full album is out February 1 from 4AD.
Carly Rae Jepsen
Carly Rae Jepsen has hinted at a new full-length coming sometime in 2019. No word yet on the title or release date; for now, we can tide ourselves over with recent single "Party for One."
Cass McCombs, Tip of the Sphere
The follow-up to Cass McCombs's 2016 album Mangy Love arrives February 8, 2019 from Anti-. Hear first single "Sleeping Volcanoes" here.
Chance the Rapper
It's no secret that Chance the Rapper has been in the studio. This past July, he released four new singles—"65th & Ingleside," "Wala Cam," "Work Out," and "I Might Need Security"—prompting speculation that a new project was on the way. There was some buzz about potential seven-song collaboration with Kanye over the summer, but Chance ended it with a tweet: "Sorry no album this week, def been in the stu tho. 😎" Don't be surprised if he announces a project sometime in 2019.
Cherry Glazerr, Stuffed & Ready
The wonderfully titled new project from L.A. indie-psych act Cherry Glazerr project arrives February 1. First single "Daddi" is out now, along with a deeply weird video.
Chromatics, Dear Tommy
We were supposed to get Dear Tommy in 2015. But following some kind of near-death experience in Hawaii, Johnny Jewel destroyed every copy of the album—15,000 CDs and 10,000 vinyl copies. According to manager Alexis Rivera, the new version of Dear Tommy will have the "same titles, same lyrics, same track order, as when it was announced in Dec of 2014. Nothing's changed except it's better." Back in May, Chromatics dropped the first single from this newly re-recorded Dear Tommy, "Black Walls." Will we finally hear the full thing in 2019?
Danny Brown
Danny Brown had a bigger year as a Twitch streamer than as a rapper. In the hours and hours he's logged on Persona 5, Red Dead Redemption 2, and Dream Daddy, he's dropped more than a few hints about a new record, and even pointed to an "early" 2019 release date. He also debuted an unreleased track. Stayed tuned for more from Danny in 2019.
Deerhunter, Why Hasn't Everything Already Disappeared?
Deerhunter's eighth studio album arrives January 18. Hear first single "Death in Midsummer" here.
Die Antwoord, 27
Ninja and Yolandi have billed their upcoming 27-track project as their "final" Die Antwoord release. Back in June, they said it would be "released unusually over the next year or so," and would feature "many collaborations with our favorite artists in the world."
FIDLAR, Almost Free
The new FIDLAR album arrives January 25. Hear first single "Can't You See" here.
Girlpool, What Chaos Is Imaginary
Girlpool's newest project arrives February 1 from Anti-. See the tracklist and listen to first single "Hire" here. They'll be touring with Hatchie throughout spring 2019 in support of the record.
Grimes
There's been less talk about Grimes' music recently than about the arc of her relationship with Elon Musk. Recent single "We Appreciate Power," "written from the perspective of a pro-AI girl group propaganda machine who use song, dance, sex, and fashion to spread goodwill towards artificial intelligence," is the first single from an as-yet-untitled fifth Grimes album. She's also released a few one-off singles in recent months—among them, a new theme song for the Netflix series Hilda, and collaborations with Poppy and Jimmy Urine. Her most recent full-lengths Visions and Art Angels were released by 4AD, but after referring to the label as "shit" back in February, it's clear she's looking for the door. She's told fans her next project will be her last for the label. Still no official word regarding a release, but it's probably safe to expect new Grimes in 2019.
Hannah Diamond, Reflections
Hannah Diamond has always been a star in the PC Music lineup; her singles "Every Night," "Hi," and "Pink and Blue" have been some of the label's most prominent hits. Now, Hannah Diamond back with a new album. Reflections' first single "True" is out now, with accompanying remix from Life Sim. There's no official release date yet, but Reflections is sure to drop sometime next year.
Janet Jackson
In a May 2017 interview with Billboard, Janet Jackson revealed she's working on new music. When asked to describe her new project, she said she couldn't: "I'm not trying to avoid the question and be secretive, but the truth is that I don't try to analyze the creative process while it's still ongoing. I'm very intuitive about writing. Anything can inspire me." This past summer, Jackson released "Made for Now," with Daddy Yankee, which saw her taking inspiration from dancehall and reggaeton. Nothing is certain about the follow-up to 2015's Unbreakable, but let's hope we'll be hearing from Jackson in 2019.
Kanye West, Yandhi
For anyone that can still listen to Kanye, Yandhi is probably coming out next year.
Lana Del Rey, Norman Fucking Rockwell
It's hard to imagine anything more Lana Del Rey than a studio album entitled Norman Fucking Rockwell. So far, she's put out two singles produced with new collaborator Jack Antonoff: "Mariners Apartment Complex" and the 10-minute epic "Venice Bitch." The full album is promised for 2019—no word yet on a date.
m83
Ever courteous, m83's Anthony Gonzalez responds diligently to his Instagram comments. Under a post from a few months ago, Gonzalez commented that new music is coming "soon." It's an ambiguous hint, but we'll take it.
Maggie Rogers, Heard It in a Past Life
Singer-songwriter Maggie Rogers shot to indie fame two years ago, when her song "Alaska" impressed Pharrell. Her major label debut Hear It in a Past Life arrives January 18, and you can hear "Light On," "Alaska," and "On + Off" now. Rogers already wrapped her 2018 solo tour, but she'll support Mumford & Sons on a few upcoming dates in December.
Miley Cyrus
Miley Cyrus' recent collaborations with Mark Ronson have been her first new songs since 2017's Younger Now. "Nothing Breaks Like A Heart" was a Miley original, while her "Happy Xmas (The War is Over)" was a cover of the John Lennon / Yoko Ono classic. Whenever Miley's seventh full-length album drops, expect Ronson to be all over it.
My Bloody Valentine
What started as a promise for a "sprawling EP" has apparently evolved into two upcoming MBV full-lengths. Kevin Shields and co. have said that the first of these releases "will be seven tracks or eight tracks, hopefully will be finished in the end of November [2018]." The second is expected sometime in 2019.
Panda Bear, Buoys
It feels like Noah Lennox never sleeps. Following the release of Buoys on February 8, he'll be embarking on a two-month solo tour before linking with Avey Tare for a special Sung Tongs tour in June and July. Buoys' first single "Dolphin" is out now.
Purple Mountains
Pavement's Bob Nastanovich made the announcement earlier this month that Silver Jews' David Berman will be releasing new music in 2019, under the name Purple Mountains. The new music will be Berman's first since the 2008 Silver Jews album Lookout Mountain, Lookout Sea.
Q-Tip, The Last Zulu
This summer, Q-Tip tweeted that "The Last Zulu aka The Riot Diary" was coming soon, generating hype yet again for a project that fans have anticipated for almost 10 years. Tip's most recent solo project was 2009's Kamaal/The Abstract, but he reunited with Phife Dawg for a new Tribe album back in 2016 (Spin named it one of our favorite albums of the year). Given the years-long wait, fans may be justifiably skeptical they'll get to hear this new solo project in 2019. Always a chance, though.
The Raconteurs
Jack White's Third Man Records has announced a forthcoming record from The Raconteurs. Earlier this week, the band released two new singles, "Sunday Driver" and "Now That You're Gone," both of which are slated to appear on the new record. The supergroup's last record was 2008's Consolers of the Lonely. Here's to more music from Jack White and the gang in 2019.
Schoolboy Q
At a concert earlier this year, Schoolboy Q told fans that the follow-up to 2016's Blank Face was delayed following the death of Mac Miller. "With my n**** gone right now, I just don't feel right putting out an album," he said. The album (title as yet unannounced) was supposed to drop this year, but it's now looking like we won't hear from Q until 2019.
Selena Gomez
In the three years since 2015's Revival, Selena Gomez has expanded her acting and production résumé and released a string of great one-offs, including "Bad Liar," "Back to You," and the unlikely Gucci Mane collaboration "Fetish." She's also appeared on tracks with Marshmello and DJ Snake. In recent months she's teased a new project on social media, and even claimed it's finished, but has yet to announce anything concrete.
Sharon Van Etten, Remind Me Tomorrow
The follow-up to Sharon Van Etten's 2014 album Are We There arrives January 18. She's already released a single, "Comeback Kid," and an accompanying video.
Sky Ferreira
Sky Ferreira recently took to Instagram for a cryptic post teasing the release of new music: "🎻🎻🎻🎻🎻this winter🎻🎻🎻🎻🎻🎻🎻 it is official (!)" Whenever it arrives, the new Sky Ferreira record will be her first project since 2013's Night Time, My Time. Since then, Ferreira has had roles in Eli Roth's The Green Inferno and Edgar Wright's Baby Driver (she also contributed to its soundtrack), and collaborated on music with Danish post-punk act Iceage.
SOB x RBE
Bay Area rap group SOB x RBE have had a huge year, with two full-length projects (Gangin and Gangin 2) and plenty of solo music from each of the group's members. SOB x RBE's breakout star Yhung T.O. inked a deal with Interscope back in May, and just put out a solo project called Trust Issues. DaBoii also released a solo album, Neva Lookin Back. Expect new projects both solo and ensemble in the coming months.
The 1975, Notes on a Conditional Form
Hot on the heels of A Brief Inquiry Into Online Relationships, Matty Healy and the gang are already plotting their next release. The first single from Notes on a Conditional Form is set to drop in February, according to band manager Jamie Oborne. As for the next album's release date, Oborne is pointing to midsummer 2019.
The Cure
Having been inducted to the Rock And Roll Hall Of Fame this year, The Cure are getting ready to release a brand new record in 2019 — their first since 2008's 4:13 Dream. They'll be touring behind the new music, too, with several European dates already announced. Per frontman Robert Smith: "It's very exciting times for us all around."
The Weeknd, Chapter 6
Last March's six-track EP My Dear Melancholy saw Toronto's neo-R&B crooner returning to the sounds that made him famous. It was dark, moody, and brooding—everything Abel Tesfaye seemed to have left behind with his pop crossover records Starboy and Beauty Behind the Madness. At a recent show in Toronto, Tesfaye announced that his fourth studio album, titled Chapter 6, would be arriving soon. Whether he'll stay in that My Dear Melancholy vein or come through with another pop record has yet to be seen.
Toro Y Moi, Outer Peace
Chaz Bear's new project comes with the funky and understated new single and video for "Freelance." The full album is due to drop January 18. There's a tour, too—find the dates here.
Vampire Weekend
Vampire Weekend fans have been waiting on LP4—the tentatively and probably satirically titled Mitsubishi Macchiato—for years now, but it's hard to follow up anything as good as 2013's Modern Vampires of the City. The new album will be the band's first since the departure of Rostam back in early 2016, though in a 2017 interview with Entertainment Weekly, Ezra Koenig assured fans that Rostam would still be contributing. Haim producer Ariel Rechtshaid, who also worked on Modern Vampires of the City, is also collaborating with Koenig and co. this time. No release date yet, but Koenig has said the album is "done," so it can't be far off now.
Weezer, The Black Album
"Don't step to me, bitch," quips Rivers Cuomo on the Dave Sitek-produced lead single from Weezer's upcoming The Black Album. "Can't Knock The Hustle" marks a dramatic musical turn for the band, and comes with a music video featuring Fall Out Boy's Pete Wentz. Second single "Zombie Bastards" finds Weezer fighting the undead to the refrain of "Die, die, you zombie bastards." The Black Album is out March 8, the week before the band begins a tour with Pixies, TV On the Radio, and Basement.
Wicca Phase Springs Eternal, Suffer On
If you know Lil Peep, you know Wicca Phase Springs Eternal. His guest verses on the Crybaby cut "Absolute In Doubt" made for one of the most compelling collaborations in Lil Peep's entire discography. Now, Wicca Phase is releasing a new solo album called Suffer On, via Run for Cover. First single "Just One Thing" is out now, and the full project drops on February 15.