Lana Del Rey's forthcoming sixth album will arrive bearing the extremely good and on-brand title Norman Fucking Rockwell, the singer explained in an interview with Zane Lowe today. The announcement comes with another new song with a name almost as good as the album's: the previously announced "Venice Bitch," a 10-minute ramble through thickets of guitar and shimmering analog synth.
The new album was produced with the inescapable Jack Antonoff, whom Del Rey told Lowe was "funny" and put her "in a little bit of a lighter mood" while working. Here's what she said about the album title, via Stereogum:
So the title track is called "Norman Fucking Rockwell" and it's kind of about this guy who is such a genius artist but he thinks he's the shit and he knows it and he like won't shut up talking about it. So often I ended up with these creative types or whatever, and you know, they just go on and on about themselves, and I'm like, "Yeah, yeah." But there's a little bit of merit to it also. They are so good. I just like the title track so much that I was like, "OK, I definitely want the record to also be called that."
Speaking of genius creative types who are so good but also think they're the shit and know it and won't stop talking about it and go on about themselves and you're like, "Yeah, yeah": To my ears, the opening words of "Venice Bitch" sound like "Fear fun," a phrase you might recognize as the title of Father John Misty's first album. The two are friends, mutual admirers, and occasional collaborators, for the record.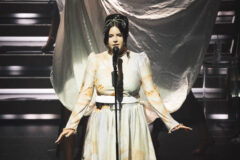 "Venice Bitch" follows "Mariners Apartment Complex," the cool and confident first single from a record that is apparently really actually called Norman Fucking Rockwell. Hear the new song below and the full Lowe interview after that. NFR does not yet have a release date, but will reportedly arrive sometime next year.