50. Purling Hiss, "Six Ways to Sunday"
//www.youtube.com/embed/SP4g-LOMGGg
Mike Polizze's solo-project-turned-band closes their latest album, Weirdon, with an eight-minute, guitar-obsessed epic that moodily ruminates with minor-key melodies and deadpan delivery. Layering downcast distortion and lo-fi vocals that borrow influence from early-'00s Brian Jonestown Massacre, mid-'90s J Mascis, and Crazy Horse-era Neil Young, Polizze practically portrays a broken-down Beatle on the song's refrain. Ooh, he needs your love, babe — six ways to Sunday. A.U.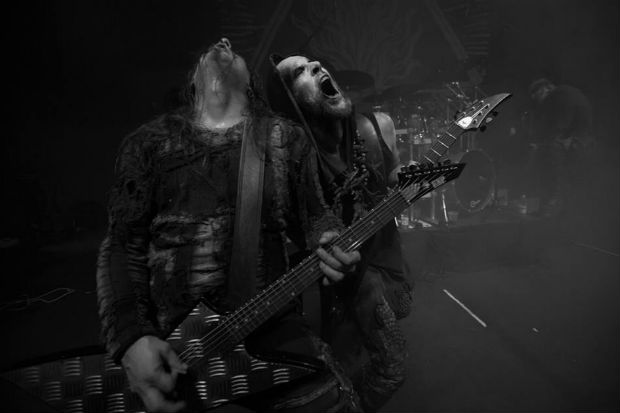 49. Behemoth, "O Father O Satan O Sun!"
//www.youtube.com/embed/DM-N4d8NLLo
By Behemoth standards, this probably ranks as a power ballad, but oh, what power. The seven-minute, shapeshifting closer to their unambigiously titled The Satanist has stretches of black-metal jack-hammering, tied together with Neil Peart-like drum fills and some surprisingly melodic guitar soloing, before it gives it up for the big guy: "Satan, Thou Eye, Thou Lust!… O my Father, O Satan, O SUN!" There's a whole lot of very nice music out there that's going to sound pathetically mortal after listening to this. A.U.
48. The War on Drugs, "Suffering"
//www.youtube.com/embed/o8R5frsqBDA
Not like there are a whole lot of War on Drugs jams out there themed around happiness and gratification, but even for WoD, "Suffering" is a particularly stark low on Lost in the Dream. A molasses-slow closing-time ballad to follow the album's arena-ready one-two opening punch of "Under the Pressure" and "Red Eyes," the song is soul-crushing, not just for its dragging tempo and bleak lyrics ("I'll be frozen in time but you'll be here, suffering"), but for its tenor of unbegrudging acceptance — there's no despair in "Suffering," just reality, in a way that's deeply depressing but also strangely comforting. It's impossibly lonely, but the loveliest, most dignified kind of loneliness. A.U.
47. Miranda Lambert, "Platinum"
//www.youtube.com/embed/rbIfI-8iYuA
The title track from the country queen's latest album, "Platinum" drips with sass and blustery shade. It's at turns both a self-empowerment anthem ("What doesn't kill you only makes you blonder") and a resigned rebuttal ("Don't you know I blazed a trail / But hell / You can come with me"). The song covers a lot of lyrical ground without ever turning preachy or silly, and her phrasing is captivating — can she teach us how to pronounce "ir-re-fu-ta-bly" with that twang? B.C.
46. ScHoolboy Q, "Man of the Year"
//www.youtube.com/embed/rEMsjeq43_U
Would the bleakest Black Hippy rapper have struck number-one gold without some commercial sweetening? Maybe sooner or later, but not in 2014. So we can thank the "Man of the Year" for setting aside his dark, multipartite demons to pen a Sellout Hook that people actually like — simple enough to repeat ad infinitum, with plenty of room for a menacing orchestral overlay to crawl beneath. Bounce! D.W.
45. Hamilton Leithauser, "Alexandra"
//www.youtube.com/embed/eTvcAm_BxQg
Hamilton Leithauser sounds like he's waited a long time to sound this happy. The exuberant "Alexandra," co-written by Vampire Weekend's Rostam Batmanglij, feels plenty light compared to his wise-owl days in the perpetually pained Walkmen. Now that he's solo and totally mingling, Leithauser gleefully hand-claps, foot-stomps, and jangles through this Black Hours single, which opens with the same "beat-punch-beat-punch" percussion from Iggy Pop classic "Lust for Life." OK, so he's still a little insecure ("Will you whitewash / Your memory / When I call you / From a crazy sleep?"), but hey, even the cockiest singer-songwriters have down days. R.B.
44. Mark McGuire, "The Instinct"
//www.youtube.com/embed/KGxosUuBg0A
The most impressive thing about Mark McGuire's 12-minute, not-as-ambient-as-you-think behemoth is the way it constantly fools you into believing it's settled into its stride, only to ascend to another level of gorgeously layered intensity. For a good three minutes, it seems like it's going to be little more than a Tangerine Dream-y cloud of circular guitar interplay, but it keeps building, until the beat — yes, there is a beat — kicks in around the seven-minute marker. By the time there are more strains of guitars assaulting your brain than you can possibly isolate, you might be a little sore that you weren't given a proper heads-up — but you'll be too busy floating in the musical aurora borealis to care too much. A.U.
43. Sun Kil Moon, "War on Drugs: Suck My Cock"
//www.youtube.com/embed/VjDwit8ryEA
Forty-seven-year-old Mark Kozelek says otherwise, but 2014 was his "biggest" year as a musician. His reviews were always good, but never this good. He was in the news more than ever, for better or worse. And even though he's stopped commenting on it, "War on Drugs: Suck My Cock" suggests that he had fun being notorious for a spell. For one thing, it was refreshing to see someone go overboard openly dissing a band that he just didn't like; even juicier was the fact that said someone was an artist as acclaimed as Kozelek, and just as "white" as the group he was targeting. Then there's the matter of the derided "hillbillies," a class that probably (by the singer-songwriter's own definition) includes at least some of the people eulogized on Sun Kil Moon's Benji. Come to think of it, they'd probably "rock out to some beer-commercial lead guitar," too. Over seven unprecedented minutes Kozelek sinks to (and below) everyone's level for the lulz, trolling us all with his own lead guitar, which is as pretty here as it was on anything else he did in 2014. There's a little Kanye in all of us. D.W.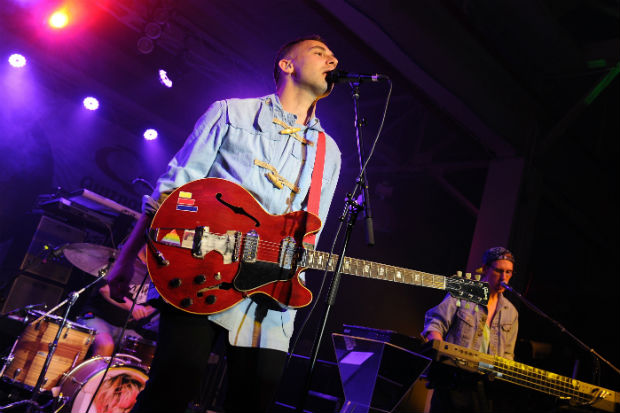 42. Bleachers, "I Wanna Get Better"
//www.youtube.com/embed/o5osPtE7kXI
Things might not be going great for Jack Antonoff on his Bleachers breakout, but his new outfit powers through the depths with determined optimism and an irresistibly energetic keyboard stutter. The former sideman's Fun. side eventually comes out during the anthemic chorus, a soaring chant to self-empowerment and a desire to, well, you know. Even if you can't relate to the sentiment — unlikely — it shouldn't stop you from skip-shouting along. J.G.
41. Cymbals Eat Guitars, "Warning"
//www.youtube.com/embed/-nFHXNN_dzk
The core-shaking quarter-life crisis surrounding Cymbals Eat Guitars' LOSE reaches an early peak on the album's emotional monsoon of a lead single, with a stadium-sized riff that could take down a couple of trees and power lines all on its own. And just when you think the storm might've let up after the final self-flagellating chorus ("I am some kind of handful / Empty as a dream Grand Central"), the band hits you with one more guitar downpour, in case they hadn't felt it in the back rows yet. Don't say you weren't warned. A.U.