It's been as wide-open a race for our favorite songs of the year as any 12-month period we can remember; without one specific artist or movement really putting their imprint on the year, just about anyone could've claimed for the top spot. Hence, our list of the 101 Best Songs of 2014 includes just about everything; our top 20 alone contains a pair of former child actresses, a band three decades deep into their career, an icon who's been dead for five years, and an artist that doesn't technically exist by some definitions.
Regardless of the improbability of some of the performers involved, though, the songs themselves were as strong as ever — songs that made us go up, turn down, and swing from the chandel-li-iiiiiieeer. Close your eyes, and let's start counting.
101. Nico & Vinz, "Am I Wrong"
//www.youtube.com/embed/bg1sT4ILG0w
"I ain't tryna do what everybody else doing," cross-cultural duo Nico & Vinz (born Kahouly Nicolay Sereba and Vincent Dery) declare on the inquisitive "Am I Wrong," a radio-ready Afro-pop banger with an irresistibly sincere spin. It's a melting pot of genres: hip-hop, R&B, reggae, and dance, accented with sharp horns, tribal drum beats, and vigorous step-dance-inspired hand claps. As promised, the guys aren't retreading well-worn territory: They might hail from Oslo, but Sereba and Dery — who are also of respective Ivorian and Ghanaian descent — saturate their soulful single with a south-of-the-equator edge. RACHEL BRODSKY
100. CFCF, "Windswept"
//www.youtube.com/embed/lID3o9W4-Bo
One of the most accurately titled songs of the year, arriving via zephyr, blowing through five gorgeous minutes of hushed vocals, lightly shuffling drums, and briefly flaring synths. The 50 or so people who were really excited this year to celebrate the 20th anniversary of Bark Psychosis' post-rock standard-bearer Hex probably think this track should be way higher. ANDREW UNTERBERGER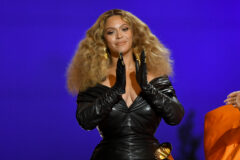 99. Slipknot, "Skeptic"
//www.youtube.com/embed/muSqlefHGVQ
Turn-of-the-century metal avengers Slipknot would be nobody's guess to make one of the year's most affecting love songs, but the death of bassist Paul Gray inspires the band to surprisingly maudlin heights on the scream-along chorus: "The world will never see another crazy motherfucker like you / The world will never know another man as amazing as you." Thankfully, the song is far too pulverizing to ever be considered their "Knockin' on Heaven's Door," but it's a rare unmasked moment for the enduring septet. A.U.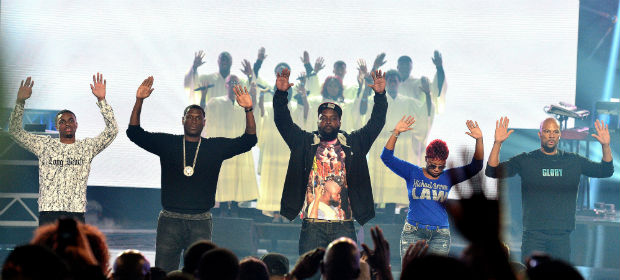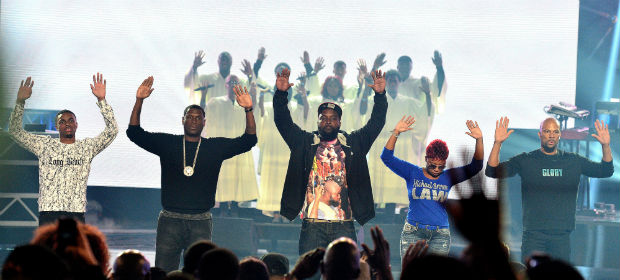 98. Vince Staples, "Hands Up"
//www.youtube.com/embed/UF7P2PlWdeA
Shortly after this song's release, 21-year-old Cali rapper Vince Staples took to Twitter to spell it out in no uncertain terms: "'Hands Up' is not about Ferguson." Still, the MC would have to admit that the timing was eerie — just a month after the Michael Brown shooting and subsequent riots engulfed Missouri (and to a lesser extent, the rest of the nation) in civil turmoil, there was Staples with a bullhorn and an air raid siren, rapping over a DJ Mustard-gone-horrorcore beat: "Shoot him first without a warning and they expect respect and non-violence / I refuse the right to remain silent." Even if it wasn't about Ferguson, we kinda needed it to be at the time. A.U.
97. The Black Keys, "Turn Blue"
//www.youtube.com/embed/C5a1Cl_JOJM
A band who grew formulaic fast without Jack's chainsaw riffage or Meg's cavewoman cymbal splashing, the Black Keys left oily blues behind long before they indentured Danger Mouse for chart hits. But like ZZ Top (one of the last 12-bar chart-toppers), Dan Auerbach and Patrick Carney just kind of stopped knowing their next move. Then they laid down this cast-iron bassline. Who knew meat-and-potatoes tour monsters could be so graceful with textures? Your future's in mournful ballads with druggy-elegant "Shaft" strings, boys. DAN WEISS
96. Candy Hearts, "I Miss You"
//www.youtube.com/embed/5CIWlHMsF3g
New Jersey pop-punk foursome Candy Hearts ooze childlike infatuation on the bouncy puppy-love single "I Miss You," a wide-eyed ode to such kissy-smoochy activities as penning love notes and (literally) sleeping together. Narrating her affection with punchy three-chord melodies and racing-heart percussion, "not sentimental" lead singer Mariel Loveland is so can't-eat-can't-sleep enamored that she'd totally spend "forever hanging out with you." It's almost enough to make you miss high school. Almost. R.B.
95. Ga-In (??) feat. Bumkey, "Fxxk You"
//www.youtube.com/embed/VSAVsstaj4E
"Fuck you / Don't want it now" are the least mistakable lines to us Westerners in this singular K-pop hit. The fatalistic video and shards of English lyrics display rape and domestic violence in jarring contrast to the loungy, tropicalia-style beat, while the odd chords and inverted "oooh-oooh" response vocals travel backward. Supposedly about the aftermath of a woman beginning to say "no" to her partner, the visuals of "Fxxk U" spurt blood while the jazzy calm of the music never tips its hand. It's upsettingly fitting. D.W.
94. Travis Scott feat. Young Thug, "Skyfall (Chopped Not Slopped)"


"Skyfall" was already plenty head-fucking in its original form as a centerpiece to Travi$ Scott's 2014 mixtape, Days Before Rodeo, with its circular vocals and forebodingly groaning beat that complements the spinning-out lyrics just fine. But Slim K's "Chopped Not Slopped" remix drags it down into a whole new dimension, turning the track from a run-of-the-mill lousy buzz to a hellish descent into oblivion, as Scott wails like he's stuck in the Phantom Zone: "I DON'T WANNA BUYYYYYYY NO MORE! / YO SHIT AIN'T GETTIN' ME HIIIIIIIIIGH NO MORE!" Say no to drugs, kids — the bad ones, anyway. A.U.
93. Ten Walls, "Walking With Elephants"
//www.youtube.com/embed/rymUSbYQjw8
It leads you in with about a minute's worth of "Unfinished Sympathy"-style weeping strings, and then heeeeeeeere come the elephants, a booming brass procession that serves as the ultimate juggernaut house riff of 2014. There's actually a vocal version of this out there, but it's no wonder that you've never heard it — any singer who dared to step on this track was bound to get crushed in the stampede. A.U.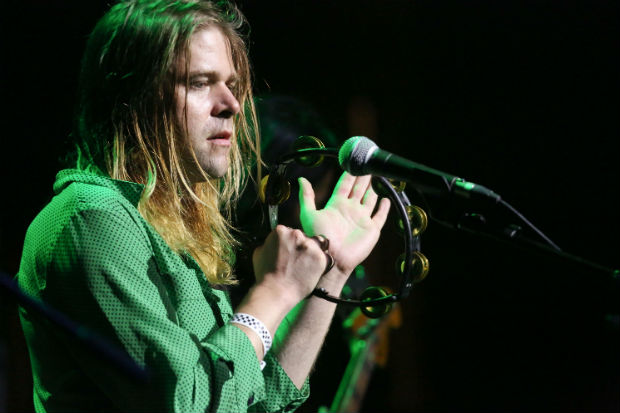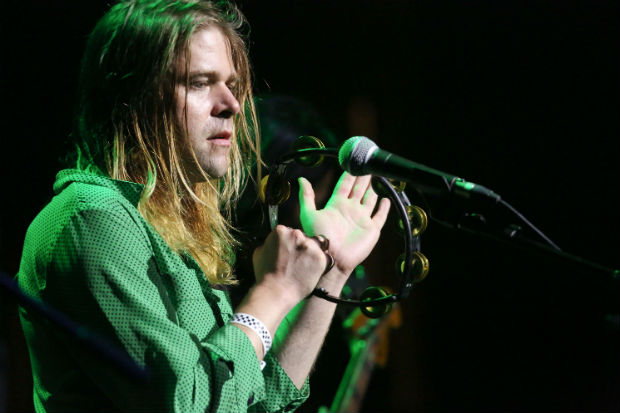 92. Ariel Pink, "Sexual Athletics"
Cocksure creeper strut + floaty ad-jingle pop + carnivalesque swirls that would give Panda Bear a headrush = "Sexual Athletics." This is unfiltered Ariel, Pink at his purest. Don't call it perversion. KYLE MCGOVERN
91. Toni Braxton & Babyface, "The D Word"
//www.youtube.com/embed/qPyrfVdndP8
Toni and 'Face were definitely on some grown-up shit for their excellent collaborative album, Love, Marriage & Divorce, the last phase of which obviously gets the focus on closing track "The D Word." After an album of mostly raw emotion, the song is startling in its evenness, Babyface's voice never raising above a resigned sigh as he moans, "There's so much I want to tell you / But I really need to forget" over the song's warm, sympathetic groove. It's a pretty devastating listen, but hey, we're all adults here. A.U.