90. Perfect Pussy, "Interference Fits"
//www.youtube.com/embed/_R4YuekVuNY
A distortion-dipped treatise on love, commitment, and tradition ("When did we all decide to give up? / Since when do we say yes to love?") that grafts riot grrrl ferocity onto "Cherry Chapstick"-flavored chords, then lingers for an extended fadeout, leaving you behind to survey the blast radius. K.M.
89. The Chemical Brothers feat. Miguel & Lorde, "This Is Not a Game"
//www.youtube.com/embed/_bXP89Q_Vg0
Remind us how well these unlikely collaborators meshed whenever we question the legitimacy of future one-off supergroups. "Game" sounds as close to Kanye West and Jay Z's "H.A.M." as any pop song since has gotten, a brash and howling scorcher of a track that never relents its hard-edged grip, but Miguel's impassioned yelps ("Talking 'bout a revolution!") keep the suspense in check. BRENNAN CARLEY
88. OG Maco, "U Guessed It"
//www.youtube.com/embed/kT3OQwyvKmk
The guerilla hip-hop hit of the year: just a graceless Fisher-Price piano hook, cheaply booming drums, and a rapper who can't seem to locate the volume knob for his own vocals. It might not sound like much, but the party-crashing élan of "U Guessed It" is absolutely exhilarating — like going nuts in a hotel hallway at 3:36 a.m., as the video ably illustrates — and Maco's delivery is so volatile and unpredictable that he makes Lil B seem like a stuffed shirt by comparison. A.U.
87. Vic Mensa, "Down on My Luck"
//www.youtube.com/embed/5jUGAVUwhRU
A rapper from Frankie Knuckles' city whose first hit went Top 40 in the U.K., Vic Mensa was born to deep house. But the way his half-sung rhymes pile up and logjam over the burbly beat, you'd never know there's ice cold loneliness at the center of this unrelenting party. "You need to know someone to know no one," he spits in regards to Hollywood, as if the Frank Ocean of "Novocane" had a few more numbing years (and relationships) under his belt. "I know my fate like bullets in a shotgun." Kind of a lot for an artist barely into his twenties. D.W.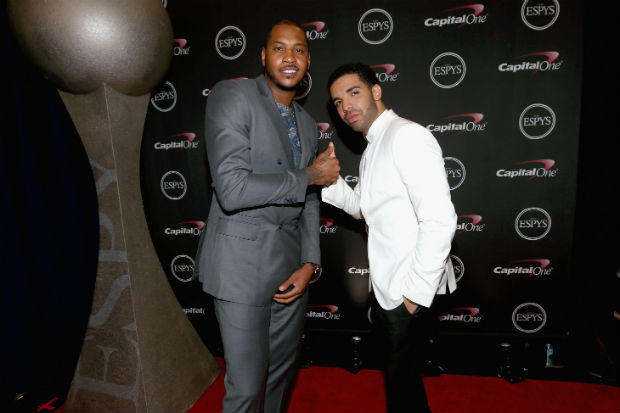 86. Drake, "0 to 100 / The Catch Up"
//www.youtube.com/embed/I2bBZvSPpOo
Wherein Drake inspires speculation as to the release of his fourth full-length ("We already got spring 2015 poppin'"), mints yet another catchphrase ("Real quick… real fuckin' quick"), and targets pretty much everyone else in the game ("I'm only 27 and I'm only getting better / If I haven't passed you yet, watch me catch up now"), doing so with a two-part mini-epic that's already faded on its own myth. K.M.
85. Soft Pink Truth, "Black Metal"
//www.youtube.com/embed/cEC2hUHqEg4
The best IDM cover of a subgenre-defining metal song you'll hear in 2014, to be sure. Soft Pink Truth's "Black Metal" takes Venom's critical '82 classic in directions the British thrashers never would have dreamed: a clanging industrial thump that stops and starts with the sneered-not-screamed vocals of singer Bryan Collins, a pogoing double-time breakdown section where the majestic fret-racing solo should be. But like all of parent tribute album Why Do the Heathen Rage?, "Metal" is ultimately more reverential than disdainful. It takes a very different path towards laying its soul down to the gods' rock'n'roll, but gets there with similarly incendiary verve and wicked glee. Shredding guitars or skittering beats, Satan doesn't discriminate. A.U.
84. Sun Kil Moon, "Carissa"
//www.youtube.com/embed/GBNdOTu2Wn0
Say what you will about Mark Kozelek the Internet-baiting crank, but no amount of ornery dick-swinging will rob this plainspoken eulogy of its poetry. An acoustic play-by-play of the days following the sudden, tragic death of Kozelek's 35-year-old second cousin, "Carissa" devastates and demands reverence in the same wounded breath. It's the only song released this year that deserves a dress code. K.M.
83. Claptone, "Control"
//www.youtube.com/embed/OisNn_sKPhw
One of the best Lou Reed tributes to come in the past year was this free download from German house producer Claptone, who wove the instantly recognizable (and oft-sampled) bass hook from Reed's "Walk on the Wild Side" into a "Loaded"-esque spoken-word anthem about recapturing the (non-chemical) ecstasy of dance music. Finding the dance-floor rapture in that played-out three-note bass pattern gives the sample a life it hasn't had for decades, and the song's principal thesis is so pure and inarguable ("Maybe we need to stop… and let the music take control") that even the Queen Bitch himself would have to grumble in approval. A.U.
82. Eric Paslay, "Friday Night"
//www.youtube.com/embed/BhQbhDjtreI
Calling "Friday Night" the country "Call Me Maybe" is probably overstating the case a little, but not too much. The song packs the same kind of giddy, getting-ready-for-life rush, and the clipped strings of the intro and post-chorus will absolutely give you those "Hey, I just met you…" acid flashbacks to the summer of 2012. Paslay had actually already farmed this song out to Lady Antebellum for their 2011 Own the Night album, but he was right to reclaim it here; hell, the Lady A version doesn't even have handclaps. A.U.
81. Sharon Van Etten, "Your Love Is Killing Me"
//www.youtube.com/embed/nyuPWHwZru0
As violent, cinematic, and sweeping as David Fincher's latest cold-blooded domestic drama, but here the destructive power dynamic is used to break hearts, not fuck minds. K.M.