10. Jenny Lewis, "She's Not Me"
//www.youtube.com/embed/k9hKp2zm6X4
Those polished-to-perfection guitar licks. That incessantly singable chorus. That gorgeous bridge, with its weepy, sneak-attack strings and always-devastating lyric about damaged drywall. That confident strut, the kind an artist can only develop after she's fully come into her own. That solo's soft fade. That endless replay value. K.M.
9. Childbirth, "I Only Fucked You As a Joke"
//www.youtube.com/embed/0u4tpZFf5xI
Even Christopher Hitchens would've conceded that "I Only Fucked You as a Joke" is hilarious. "Hear" isn't a strong enough verb for this minute-and-45-seconds of proof that "Stairway to Heaven"-caliber classics can be recorded for $100 — as your mother would tell you, you have to experience Childbirth, whose definitive rave-up sounds like the Chastity Belt/Tacocat/Pony Time supergroup was practicing a half-song before singer-guitarist Julie Shapiro received a text from a deleted number that she couldn't help responding to aloud. Second-best line: "Oooh… I hope I'm not pregnant!" Best: "I can't make good decisions every day!" D.W.
8. Sia, "Chandelier"
//www.youtube.com/embed/2vjPBrBU-TM
Australian hit-making machine Sia swings from the highest heights of her career on "Chandelier," a scraped-knee-raw pop anthem that gets right to the marrow of surviving in the mainstream music industry. Another gem initially meant for Rihanna, Sia's sobering lyrics land so close to home that 2014's true elusive chanteuse straight-up kept it for herself. Good thing, too: Spilling her soul into an organic stew that evaporates steam from Beyoncé's "Pretty Hurts," Ri's "Diamonds," and Britney's "Perfume" (all of which Sia wrote), the 38-year-old's morning-after sentiments on "Chandelier" go down easier than the smoothest vodka. R.B.
7. Beyoncé, "XO"
//www.youtube.com/embed/3xUfCUFPL-8
What's left to say about Queen Bey that hasn't already been said? Her entire catalog bows down to her once-in-a-generation, arena-filling voice, but here's what makes "XO" extraordinary: Its message is so much simpler than Bey's stockpile of recent high-powered, politically loaded, glass-ceiling-shattering anthems ("Run the World (Girls)," "Flawless," "Pretty Hurts"). Of course, it's not to say that we don't need Beyoncé's call-to-feminist-arms — it's just that gender equality leaders are still allowed to act earnest and display affection, too. And here, Beyoncé does exactly that: Penned by Ryan Tedder and produced by Hit-Boy, "XO" is a considerably softer, mid-tempo sing-along tailor-made for scoring cool, responsibility-free summer nights. B's profound message doesn't require much close-reading: "I love you like XO," she croons. "Your face is all that I see, I give you everything / Baby, love me lights out." Simple pleasures, guys. R.B.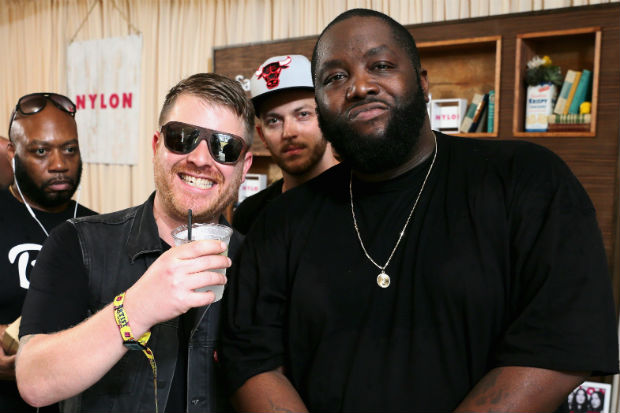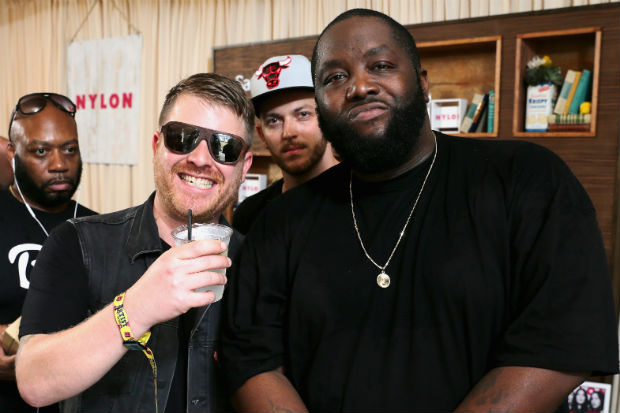 6. Run the Jewels, "Close Your Eyes (And Count to Fuck)"
//www.youtube.com/embed/UvVuEEPM3j0
Run the Jewels joining forces with Zach De La Rocha almost makes too much sense, but then again, RTJ's El-P and Killer Mike don't have the time or patience for subtlety. They're too busy lobbing lyrical grenades every which way, cheering on prison riots and threatening to swallow cyanide pills to avoid prosecution, all while El's bruising, body-checking production wreaks havoc. And even if we didn't consider De La Rocha's iconic CV, the Rage Against the Machine frontman more than earns his keep on this sorta-supergroup-powered salvo from Run the Jewels 2 — he spits the chopped and looped hook, and fires off the phrase "Philip AK Dickin' you" on his casket-slamming guest verse. In short: Fuck the slow-mo. K.M.
5. Parquet Courts, "Instant Disassembly"
//www.youtube.com/embed/mKVARXSHZD8
In a year that wasn't necessarily pummeled to the ground by rock bands with future stadium sing-alongs, the most ambitious indie-rock breakup ballad of the last ten years will have to suffice. Over a ramshackle Stones groove, singer Andrew Savage reads something more emotional than his deadpan would seemingly allow: "I can't breathe, I can't breathe / It's hard to inhale" sounds more convincing because the band is gently strumming the same chords Andrew Bird needed for "Scythian Empire." But the more you listen, the more his pain makes itself known: "I kept explaining that I was too tired to continue to speak," "You did your heart no favors / When you taught me to crawl," every stanza comically addressed to a "mamacita" by an ex-Texan who has yet to prove on record that he can roll his R's. By the time he's out of breath, 2014's had a rock anthem after all. D.W.
4. QT, "Hey QT"
//www.youtube.com/embed/z6_ikWlJu_0
We may deny our collective fascination with manufactured pop, but by now even its satiric deconstructionists know how to get an unforgettable jingle lodged in your ear. QT claims to not be a pop star but a soft drink; that's a new one, even by the corporate-pop-parody standards set by 2Gether and the live-action Josie and the Pussycats film. But this is where Sophie and A.G. Cook, the big movers behind the so-called PC Music collective, eclipse high-concept hijinx with songcraft: joining Hall and Oates — or if you'd rather, Warren G and Nate Dogg — with a gigantically irresistible pop song that leaves all thinkpiece-worthy subversions offstage. (Literally — Sophie's been known to hide in the crowd during "live" QT performances.) But despite both clever producers' attempts to make QT more brand than person, they humanized "her" enough so she can feel her own qt's warmth, drive around, and even criticize music: "Last weekend I was out at this new place / Dancing with friends but the music was so sad." Hey, corporations are people too. D.W.
3. Nicki Minaj, "Anaconda"
//www.youtube.com/embed/LDZX4ooRsWs
At this point, "Anaconda" is much more than just a song — it's a cultural movement that furled itself around the national conversation and squeezed. When a low-quality snippet leaked back in late July, a fuzzy Sir Mix-a-Lot sample didn't do much to inspire faith in Minaj's return to the pop well, but oh how "Anaconda" takes pains to shut down what anyone has to say about it. Minaj borrows, but she flips to her narrative advantage; she raps, but she gets all sing-song at times, purring her way through lines like, "Gun in my purse / Bitch I came dressed to kill / Who wanna go first? / I had them pushing daffodils." She talks about her ass, she talks about your dick, and best of all, she sounds like she's having the time of her life. "I wanna see all the big, fat-ass bitches in the motherfucking club / Fuck you if you skinny, bitches / What?" she raps, putting the hit out on the year's other rear-minded songs. B.C.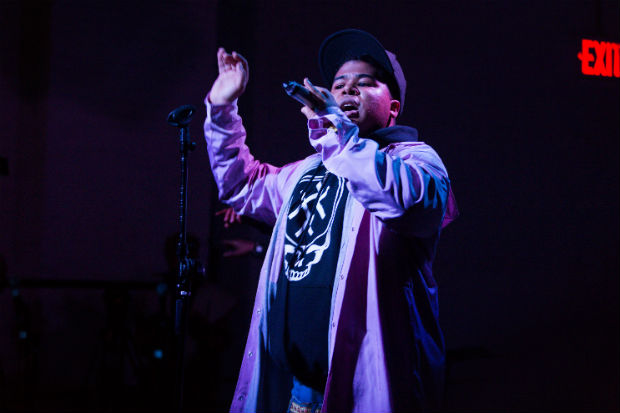 2. iLoveMakonnen, "Tuesday"
//www.youtube.com/embed/avFq9errZCk
With his breakthrough single, Makonnen managed the absolutely impossible: He made Tuesday exciting. Tuesday has long been low-key the worst day of the week, lacking the weekend afterglow and built-in conversation topics of a Monday, without even getting you halfway to Friday by day's end. Makonnen could've chosen any day to make the club go up, but being naturally sympathetic to the outsider, and not generally one to go the easy route in the first place, he accepted the degree-of-difficulty of setting his soon-to-be-signature jam on a Tuesday. And now, if you can make it through one day-before-hump-day without joking about something "going up…" Well, you don't work at the SPIN office, anyway.
"Tuesday" is a whole lot more than just an inspired oddball catchphrase, though. There's never been a radio hit quite like it before, with the cadence and brio of hip-hop, the musicality and patience of R&B — good R&B, at that — and the strobe-lit sonics and spaciousness of EDM. And there's definitely never been a performer quite like Makonnen, with his angelic falsetto, wicked sense of humor, endearing giddiness, and druggy malevolence. He's the most left-of-center new artist we've seen break out on this scale in some time, but also the most straightaway likable. The Drake cosign was valuable, but Drizzy's guest verse is ultimately unnecessary: Tuesday is Makonnen's day, and he's pulling it out of the cellar single-handedly. A.U.
1. Future Islands, "Seasons (Waiting on You)"
//www.youtube.com/embed/-5Ae-LhMIG0
Sometimes the number-one song of the year chooses you, and sometimes you actually choose it yourselves. The story of "Seasons" is the story of Future Islands alone — it has no obvious peer, is part of no larger movement, and speaks to nothing of significance culturally or historically. It is, however, the year's most enjoyable song, and rather obviously and comfortably so: a synth-pop gem with an instantly familiar hook, an anchoring bassline worthy of New Order, and some of the best vocal histrionics since the days of Marc Almond, courtesy of inimitable frontman Samuel L. Herring. The lyrics have a Motown feel to them in their passed-down wisdom, and are as affecting as a classic Smokey Robinson hit. There's nothing you want a pop song to do that "Seasons" doesn't.
Would it be our top song of 2014 without the brain-searing Letterman gig, which launched the Baltimore trio to national renown and quickly became inextricable from the song? Hard to say, since the memory of Herring's singularly full-bodied performance — alternately alienating, seductive, and threatening, never less than transfixing — will forever inform our impressions of the song, giving it both a malice and a desperation that it may have lacked as an isolated text. But even without the depth added by the YouTube classic, "Seasons" would stand alone as the most purely satisfying song of 2014, not a second or word wasted, and utterly impossible to get sick of — like Dave, we've taken all of it that Future Islands have got, and we're still good for another listen when you are. A.U.