The cover photo of Lady Gaga's fourth album ARTPOP depicts a nude, statuesque Gaga straddling one of Jeff Koons' electric-blue "gazing ball" sculptures, and on Sunday in New York, her artRave revealed — among other things — a larger than life, original Koons statue replicating that. But this was not our first clue that Gaga would hinge her new record cycle on the visual art world as a way of pushing her aspirations to loftier realms.
Before Koons, there was Inez van Lamsweerde and her partner Vinoodh Matadinh. The Dutch duo created the art for first single "Applause," depicting Gaga's face layered with makeup — smudges of yellow smeared across her lips and blue cascading from her eyes like watercolors — so it appeared to be a particularly vigorous painter's palette. The work of Inez and Vinoodh has been pushing fashion photography into a new era of visual art, and with their assistance, Gaga seemed to be saying that whether or not she lives for the applause, she herself is the canvas.
"One second I'm a Koons, then suddenly the Koons is me," she sang. "Pop culture was in art, now art's in pop culture in me!"
Of course, this art and music moment didn't just pop up out of nowhere: Even before Andy Warhol slapped a peelable banana on the cover of 1967's The Velvet Underground and Nico, pop music and pop art were intermingling, informing, and referencing one another. And bless Lady Gaga, but it ain't just her: In the past five-plus years, we have entered a new era of musicians interacting with formal art disciplines and formal artists nodding to music, from Madonna's prison-protest song at the Gagosian Gallery to Jay Z's totally unexpected Marina Abramovic performance-art flip for "Picasso Baby." British feminist artist Tracey Emin created George Loves Kenny, one of her celebrated neon signs, for friend George Michael and his partner Kenny Goss; painter Rita Ackermann and multimedia artist Jess Holzworth were in a band with Gang Gang Dance's Lizzi Bougatsos and Brian DeGraw, latter both visual artists in their own right. Santigold's last album cover was an original painting by Kehinde Wiley; Solange has collaborated with the visual artist Mickalene Thomas; Yoko Ono exists; it's all happening.
[fgallery gallery_id="104080"]

Meanwhile, audiences are ever-receptive to the exploding lines between musicians and artists, almost to the point where such intermingling has become expected — multimedia is the language of the Internet, after all. But this moment is particularly rich with collaborations, at a time when Art Basel has transformed from an avant-garde exhibition created by Swiss gallerists to nurture young artists into a celebrity-laden, Miami Beach partyfest with total sales of more than $1 billion.
For musicians in this new art-pop era, visual art has become a signifier of wealth and extravagance as much as it is a sign of openness, exploration and creativity — but both aspects still play a part. While people like Swizz Beatz (also a painter), Diddy, and Pharrell have been quietly collecting pieces for years, the current boom began with Kanye West, a man who now spends his free time touring iconic Le Courbusier villas with Romanian architects. Publicly, he first expressed his love for art in 2007, when he called upon Japanese pop artist Takashi Murakami to design his Graduation cover art, drawing the College Dropout sad bear as a just-launched, varsity-jacket-wearing space traveler. (Murakami also devised for West a wacky-eyed, star-crowned Jesus piece, no doubt presently languishing in a drawer somewhere.) Privately, West spent $350,000 in 2005 for renowned artist Ernie Barnes to paint a depiction of the star's life-altering car accident on the ceiling of his dining room, Sistine Chapel-style. Every move since has been about West refining his taste, moving on from pop's inherent gaucheness to the tony heights of the Paris elite, introducing mainstream audiences to the likes of George Condo and Maison Martin Margiela (as arty as fashion gets). He's transitioned through his own artistic periods, as well — 808s was about symmetry, while My Beautiful Dark Twisted Fantasy embraced surrealism — to the point that DONDA's design aesthetic now has pared down to a spare, sleek starkness, letting fans create their own Yeezus cover art.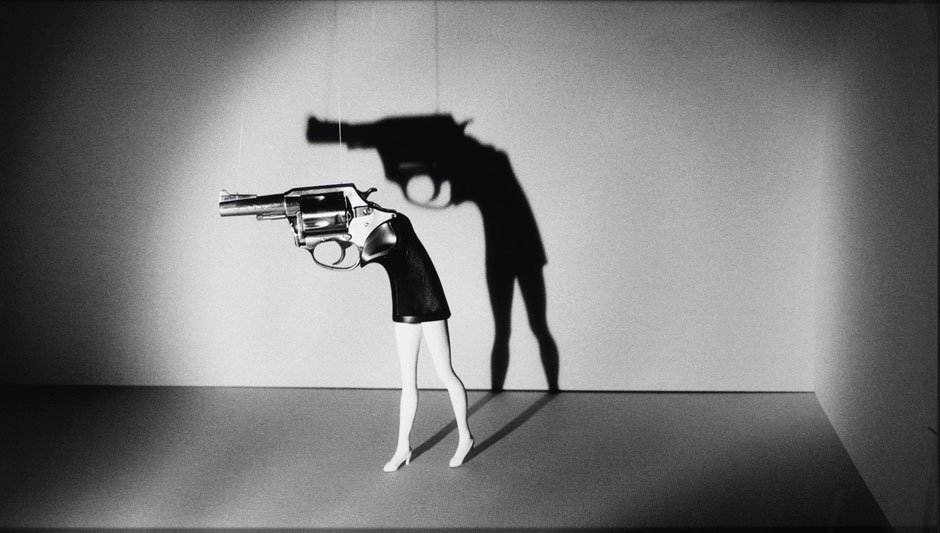 For at least a few artist-musician forays, controversy seems to be the primary impulse and, perhaps, the ultimate point. The tour merch being sold on the Yeezus tour includes several t-shirts and tote bags embossed with the image of the Confederate flag; in one case, the flag is draped reaper-like around a skeleton holding a scythe. You could think of all this as West's attempt to reclaim racist imagery, but the shirts were designed and drawn by the white artist Wes Lang, whose work depicting slave-era black stereotypes once caused him to be pulled from a group show at the Deitch Projects gallery. No doubt the provocative nature and, to some, subjectivity of Lang's work is what appealed to West — he's always courted conflict and contradiction. Meanwhile, Gaga's frequent collaborations with the aforementioned Inez & Vinoodh include a coyly theatrical V Magazine photo, which could be called gyno-realism if not for a strategically placed hand. And her early-career concerts appropriated the tenets of cabaret and elevated them to the level of performance art: Remember all the blood at the VMAs? What Would Karen Finley Do?
There really is no more effective strategy for a pop musician who wants to be Taken Seriously than to show that they are fluent in, or at least mildly aware of, the art world. This was certainly part of West's original motivation, and princess provocateur Rihanna's recent video for "Pour It Up," which featured all manner of twerking, was inspired by Kehinde Wiley as well as dancehall queens (in some kind of alt-Susie Bright, unionized sex-worker universe), while the work of breakout music-video director Vincent Haycock shows the clear influence of Nan Goldin. Miley Cyrus' '80s-style porno shoot with former punk-band bassist Terry Richardson — who, I guess, you could categorize as an art photographer based on where he's shown — was the only thing that could supersede her "We Can't Stop" video, which was like Cai Guo-Qiang's replica animals crashing a Richardson-lite pictorial, with a little Ryan McGinley soul thrown in.
Sometimes, though, a musician may be exploring the art world simply because he or she is bored. "Picasso Baby" was glorious, with Jay Z re-creating Marina Abramovic's "The Artist is Present" piece in a small New York gallery, but other than that you have to wonder about the motivation. "The Artist is Present" was about incorporating the viewer into the art piece, and like all of Abramovic's work, it uses ritual to test the limits of human emotion and endurance. Was Jay, like Abramovic, trying to heighten the experience? Probably, but I'd also guess that he has gotten to the point where he's done everything, and anything that he hasn't done yet must be incredibly tempting. Of course, such an auspicious performance and show of adventurousness is both an artistic sentiment, and a gesture of the high life befitting his wealth and high-society stature in New York City, where his truncated Brooklyn Nets ownership was small potatoes compared to his usual business deals — this is, after all, a man who's hawking a $33,000 Hublot as a stocking stuffer. And in a town where the market (real estate, art) has been so inflated that it's become an exclusive playground for the rich, Abramovic is certainly one of the most commercially viable, innovative yet recognizable choices. She was in Sex and the City, for goodness sakes! And she's continuing to get a lot of play in this sphere; Gaga's ARTPOP project will include work from her as well as Robert Wilson. Recently, even Ciara Instagrammed a flick of them together (best comment: "The lady on the right look like Michael Jackson!"), calling her "my friend."
Sometimes, a musician may explore the art world simply because he or she is bored.
But anyway, did you hear about the time Beyoncé rejected a work by Lena Dunham's mom? A fun anecdote: Jay Z wanted to buy "Walking Gun," one of the most famous images by noted feminist artist Laurie Simmons, which depicts doll legs sticking out of the end of a pistol. (And you thought Tiny Furniture wasn't autobiographical!) But once it arrived, Beyoncé promptly shipped it back, opting for a less gun-glorifying piece with a perfume bottle on it. The point is, Jay Z is a known collector — beyond his namedropping of Mark Rothko, Francis Bacon, and "Jeff Koons balloons" on Magna Carta alone — but perhaps his most significant shout-outs go to Jean-Michel Basquiat, who he first referenced in 2006, and who's smattered all over Magna Carta Holy Grail, probably his highest-art release.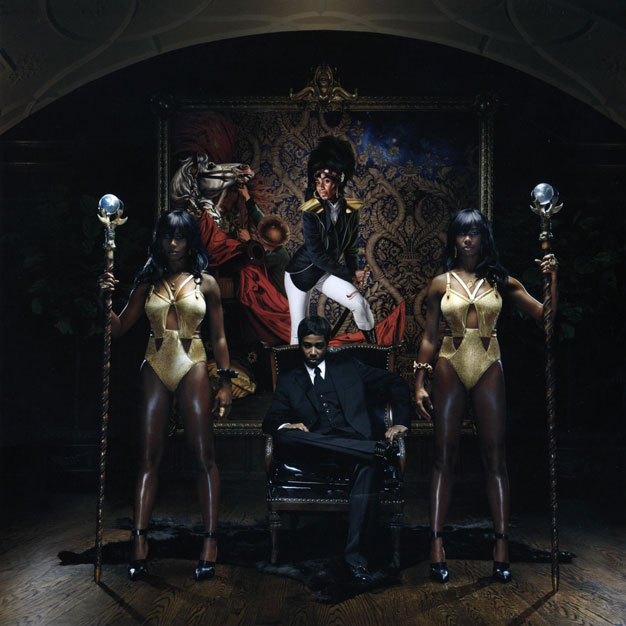 As a downtown denizen, Basquiat, of course, walked on the absolute edge between music and art, not only making some of the most compelling paintings in contemporary art but also playing in the industrial no-wave band Gray and producing the groundbreaking "Beat Bop" single. He appeared in Blondie's "Rapture" video, played at CBGB, briefly dated Madonna (who got a fist in the face for it from his girlfriend Suzanne Mallouk, according to the documentary Radiant Child). As a black icon, a true transformer of black and street culture in a gallery setting, he has been namechecked by countless rappers: Jay, 'Ye, Rick Ross, Danny Brown, Lil Wayne, and J. Cole, among others. His signature crown has been adopted as a visual cue of late by the likes of King Louie, Mack Wilds, and Maino, an example of artistic innovation and personal excellence at the same damn time. Meanwhile, the sale of Basquiat's Profit I is captured in Metallica's documentary video, for which Lars Ulrich received more than $5 million from a Christie's auction. And what was the font inspiration for Kanye's Yeezus tour merch, as designed by Wes Lang? Yes, Metallica. And so it goes.