PARTYNEXTDOOR's P3 somehow becoming one of the summer's most talked-about albums is a noteworthy achievement, especially when you consider how much the singer/producer had to live up to after mysteriously appearing in 2013. Being the OVO label's first official signee, PND — born Jahron Anthony Brathwaite — must have felt the burden of weighty expectations. Plus, he had the unenviable task of proving he wasn't just a stand-in for fellow Canadian enigma the Weeknd, who was a proven phenomenon by the time PND debuted with "Make A Mil." But as the OVO roster grew and the Weeknd went on his own path toward the flash and pyrotechnics of "The Hills," PND became the label's most bankable star not named Drake.
The Ontario native's nocturnal songs — as sleek and smooth as shuttle buses that beeline from the strip club to the bedroom — have attracted a dedicated fanbase over the past few years. He was a charismatic lothario presence on Drake's two most recent releases, and his own projects have grown from demo-quality teasers to big-budget aphrodisiacs. Like, this is the guy who wrote Rihanna's "Work."
What really makes PARTYNEXTDOOR a valuable asset to Drake's crew is his versatility. As a lead performer, he's undoubtedly a capable vocalist; his penchant for wringing sanguine emotion out of his limited range is evident on his heart-quaking standout from If You're Reading This It's Too Late, "Wednesday Night Interlude." And as a producer, his tools — skittering 808s and synths of varying oscillations — construct soundscapes that alternate between post-coitus frost and sour romantic heat.
With his recently released third effort, P3, PND decides to follow Drake's lead by doubling down on his shtick. Views again casts Drake as the worrywart narcissist that he's always been, and it's an overblown gasbag of a record, one that people are happily huffing up in record numbers. For his part, PND is still a sociopathic lover. On "Problems & Selfless," he's watching two women argue over him and is aghast that either would think they're entitled to him; on "Transparency," he's high and suddenly thinks, damn, "I'm f**king somebody's daughter," then admits that he'd rather spend church donations on BAPE attire.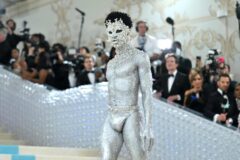 Views is indisputably a commercial phenomenon after spending 12 non-consecutive weeks on top of the Billboard 200 and birthing hits like "Controlla" and "One Dance." It's been talked about plenty already, but its dominance is an engineered phenomenon — Drake's pimping streaming rules to run the charts. And P3 is, in its own way, a victory, one that shows PND's marked improvement as both a producer and songwriter. But it's a small-scale achievement.
Part of the reason his latest project feels so transient is because of fatigue. We've been bombarded with images of the emotionally distant male crooner over the past few years. The started-from-the-bottom narrative that's defined Bryson Tiller's rise is supposed to trick us into thinking that his neon-lit dirges are somehow unique. Tory Lanez constantly takes shots at Toronto rival Drake (and I mean "rival" in the same way Maria Sharapova is Serena Williams' "rival") even though he's been jockin' for his biggest hits: "Say It" is a glorified Brownstone remix and the dancehall-flavored "Luv" is eating off the plate lain by "Controlla." And, oh, look — here's his "6PM in New York" impersonation.
Their prominence is very much of the times, too. The artists mentioned above tend to address interpersonal complexities like physical and emotional companionship in backhanded ways; they sing in relationship memes. (Views, as well as Drake's entire discography, is rife with examples, like this one from "Fire & Desire": "You just like my sidekick, I just wanna wife.") PND's lyrical ability is leaps ahead of Lanez and many others, but he still spins hooks from that same worn-out simulacrum. The hook on "Spiteful" — "Don't hate on my new bitches / 'Cause you got you a nigga" — is sung in a charismatic way, sure, but how many times have you heard that sentiment? A line like "Don't judge me I got demons and you know, you know," from "Transparency" no longer feels illuminating once you realize that it's literally applicable to every single adult ever.
It was just five years ago that singing through miasmas would land you a spot under the pointlessly hip PabstBlueRibbon&Blues umbrella. But even the Weeknd eventually abandoned his cloak of mystery to chase Michael Jackson's stardust. The subgenre's ethos has spread in so many directions since 2011: Miguel transfigured sex positivity into opuses like the WILDHEART LP and "Adorn," Jazmine Sullivan's Reality Show is a tour de force expression of black womanhood, and Anderson .Paak's live musicianship on Malibu has led to some powerfully humane material (though, to be fair, the man can sing, drum, and charm a crowd simultaneously, all without missing a step. You're either born Anderson .Paak or you're not).
Then, of course, there's the wayward Frank Ocean, who also has a knack for interpreting intimacy via lyrics that find a balance between being just-vague-enough and specked with details. The submerged piano chords of "Thinkin Bout You" propel the channel ORANGE knockout forward, but it's the sketches of Southern California and the non-existent beaches (Idaho has no beaches — it's Idaho) that help the song transcend every time you hear it (along with Frank's sumptuous voice and the spiritual yearning it communicates). Frank's latest rigmarole of an album rollout just produced Endless, so P3 is already in the rearview a week after its release. Do you think P4 — or anything PND-related — is getting four years of sustained anticipation?
PND's songwriting doesn't have that definition, and the production — as pristine as it is (check the Supernatural-esque guitar outro on "Spiteful) — covers only a fraction of a potential expanse. He ends up spreading himself thin on an album about love and loss — and how we forget.