Miguel isn't a big man but he knows how to fill the space that he's in. That's not a metaphor — not yet, at least — because we're sharing a booth at a Venice Beach bar, and his five-foot-seven, 140-pound body seems to be everywhere. His arms stretch across the top of the dimpled brown vinyl like wings (to be fair, that impression may be coming from the feather tattoo on his left forearm), and every time he moves at all there are flashing lights — the product of three neck chains, four bracelets, four rings, and one watch, all tasteful. And he doesn't know it, but at this exact moment, his foot is on top of mine, tap-tap-tapping away, way over on the opposite side of the table. It's a miracle his head hasn't sunk below the booth's horizon line, as sprawled out as he is, but Miguel is the picture of confidence and comfort. I, on the other hand, will spend the next five minutes trying to liberate my foot without making it weird.
[caption id="attachment_id_150561"]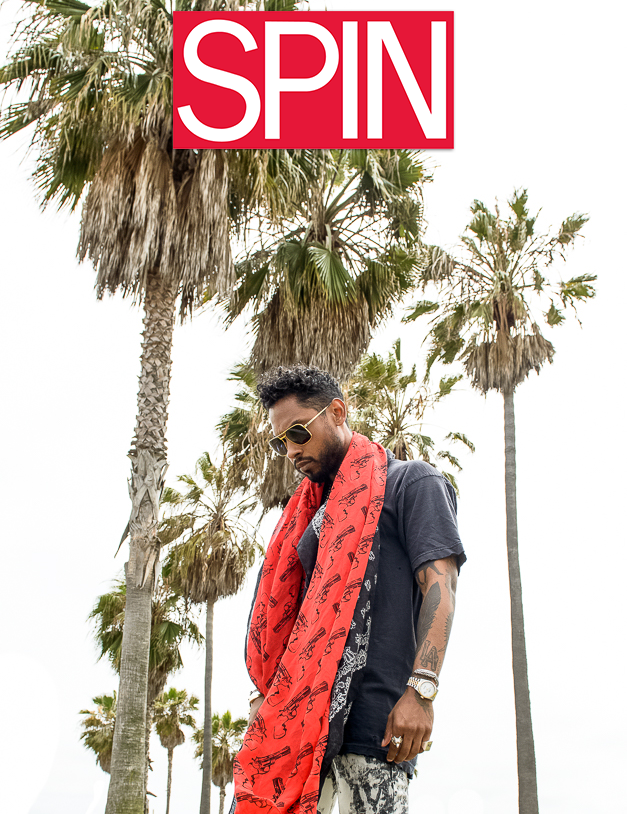 Wilson Lee[/caption]
On June 30, Miguel Jontel Pimentel, 29, releases his third album, WILDHEART. It'll be nearly three years since his last LP, Kaleidoscope Dream, which served as a proper introduction to the guitar-slinging soul man and his swirly, moody, Marvin Gaye-owing, Zombies-interpolating, rockish, poppish, synthy sound. The star-making set also spent 20 whopping weeks on the Billboard 200, snagged him the 2013 Grammy for Best R&B Song (Miguel's signature hit, "Adorn"), and secured his place among a vanguard of left-leaning artists whose music felt so much bigger than its prescribed genre that critics gave it two extra letters: PBR&B.
Of course, that name was inspired by Pabst Blue Ribbon, the tasteless beer preferred by those who most often tout their good taste, but Miguel has embraced the deeper significance. "I'm an acquired flavor," he admits. "I had to realize that's good for me. It does stuff like keep me on the charts a lot longer than the song people hear and immediately think is amazing. When you get it, it's like, 'Ohhhhh shiiiiit,' and then it lives. That's fine. I want to be here for a while — past my time on this earth."
[featuredStoryParallax id="150428" thumb="http://static.spin.com/files/2015/06/26120914/SPIN-10-250x250.jpg"]
"There's no box for me," is another thing he likes to say in interviews, and he does seem to outgrow his confines, physical or imagined, with some regularity. To call his latest sonically expansive is a gross understatement. Its peaks are psychedelic and bright. Its gulfs are slinkily bleak and almost industrial. Contributors include Dogg Pound MC Kurupt, ex-Tony! Toni! Toné! neo-soul genius Raphael Saadiq, EDM/pop odd couple Benny Blanco and Cashmere Cat, and actual rock god Lenny Kravitz.
"That's big bro," says Miguel of Kravitz, whom he FaceTimed before visiting in the Bahamas last March. "I flew out to his place, but we were prepping for the album's visuals, so I was on a strict exercise regimen. My trainer even came. I landed and had to work out before we could record. We'd just met, and Lenny says, 'I'll join you.'"
If you've Googled "lenny kravitz shirtless 2014," which is an actual auto-complete result, you'll know how terrifying a proposition that should be. But if you've seen the WILDHEART promo photo (where Miguel no doubt perfected the legs-akimbo booth sprawl), or the album art where he's maybe completely naked, then you also know what Miguel is working with. His physique is part and parcel of an identity that's got everything to do with sex and style. It's the solid core upon which he drapes so much boho-hipster frippery, from flowy linen capes to acid-thrashed jeans to vintage biker jackets to a multitude of scarves. He is fit to a finely honed point, but his expression is inventive and alt. It's kind of like how boning is the backbone of his songbook, as Miguel sees it.
"You can listen to the new album and be like, 'Oh, this song is about love. This one is about lust,'" he says. "But I shroud my beliefs in those concepts. It's about love and lust with my aspirations, my relationship with my dreams. I want to awaken your desire to embrace your purpose as an individual, but I write that way because it's easier to digest. I mean, at the end of the day, I'm still selling fucking music."
I don't think he literally meant "songs to fuck by," but that works too.
https://www.youtube.com/embed/9Z55sZ2oVY4
Miguel's aspirations began not far from here. He actually remembers seeing this bar when he was a kid, wondering what grown-person pleasures lay beyond the black doors. Upstairs, where he and I are talking, is Townhouse, and it's aces — all velvet curtains, burnished wood, and leather stools. But what makes the place truly curious is beneath our shoes: the Del Monte Speakeasy, which served hooch to thirsty souls during prohibition. Miguel knows the lore, that thanks to a network of bootlegger tunnels, this establishment has been pouring strong drink continuously since 1915.
"I kinda frequent this spot," he says sheepishly. It's the middle of the day, so he's wearing blue track pants and a crisp, white Suicidal Tendencies tee — a skull-faced skater shredding an empty pool over the word "Venice." He admits he lives nearby. "There's something special about shit that has been here a long time. Not having money growing up, always being at thrift stores, you learn to love old things."
Miguel spent his childhood largely in the projects of San Pedro, a "quaint" former fishing village 20 miles south that's technically part of Los Angeles. After his parents split when he was eight, he'd regularly visit his Chicano father, a teacher, in Inglewood, a city just six miles inland. They'd come to this beach together. "He fought to stay in my life," says Miguel. "That was a huge blessing." His African-American mother, a clerk at an architecture firm, was "super religious" and kept an eye on his friends to make sure he didn't go the gang route. But that wasn't really an option anyway. "My head was always in music," he says. "When I was three years old, I'd be at family parties, dancing like Michael Jackson and singing the wrong words."
[featuredStoryParallax id="150470" thumb="http://static.spin.com/files/2015/06/SPIN-111-250x250.jpg"]
There was another reason he didn't fall in with the bad kids.
"I always stuck out like a fucking sore thumb," he says. "Shit, look at me, man. My name is Latin, but I'm obviously black too. And my eyes make me look Asian. I've always been creative, always dressed the way I wanted, always spoke properly... You know how middle school can be. It was like, 'What the fuck is he?'"
He stops short of saying he was bullied, but there were fights.
"I got jumped a couple times, punched my way out a couple times. You win some, you lose some," he shrugs. "That stuff builds character. You learn who you are."
L.A. in the late '80s and early '90s was lousy with racial tension, and Miguel was caught in the middle. In a way, the alienation gilded his individualism. He wished he could fit in until he realized he couldn't, and then he looked elsewhere. At 14, he stole a four-track recorder from his uncle, a small-time Cholo-rapper named Perro (his "Lowrider" video is such vintage gangsta ish it should be entered into the San Pedro Hall of Records). And as Miguel began to experiment with songwriting, he started to study the music careers of other odd men out: Prince, David Bowie, Jimi Hendrix, Freddie Mercury. It occurred to him, "The name of the game is to not fit in."
"When I first met him, he had eyeliner on," says Mark Pitts. Today, he's the President of Urban Music at RCA, but before that he was the A&R guru who discovered Miguel in 2007. He's also wrestled the Notorious B.I.G., a former management client, to the ground. "Everyone knows I wear everything on my sleeve," he continues, "so I'm like, 'What's up with that eyeliner?' Miguel starts explaining that he's on this rock'n'roll vibe, but then just stops. He looks at me with this cockiness, and says, 'I just like this shit, dog.' He said it in a way that made me feel wack for not wearing makeup."
https://www.youtube.com/embed/tnfm1EeW8wQ
By that point, he'd made it through high school spending extracurricular hours in the studio with a production crew called Drop Squad. "I was a sponge," he says. He'd also dropped out of community college when he was offered an artist contract with the independent Black Ice label. But the title of his would-be 2006 LP turned out to be ironic: Young & Free has been aging, unreleased, on some shelf somewhere ever since. The one by-product of that relationship was the "Getcha Hands Up" video, an attempt to turn Miguel into a blingy party-rap icon by swathing him in baggy jeans, lavish clubs, and luxury cars. It didn't stick. He left and, again, looked elsewhere.
Pitts was at Jive when he heard something that caught his ear — a heartfelt love song called "Sure Thing," by Miguel. He earmarked the track for Usher to rewrite and record, but the more he listened — "It was his tone," Pitts recalls — the less he wanted it to change. He signed the guy within the month.
[caption id="attachment_id_150479"]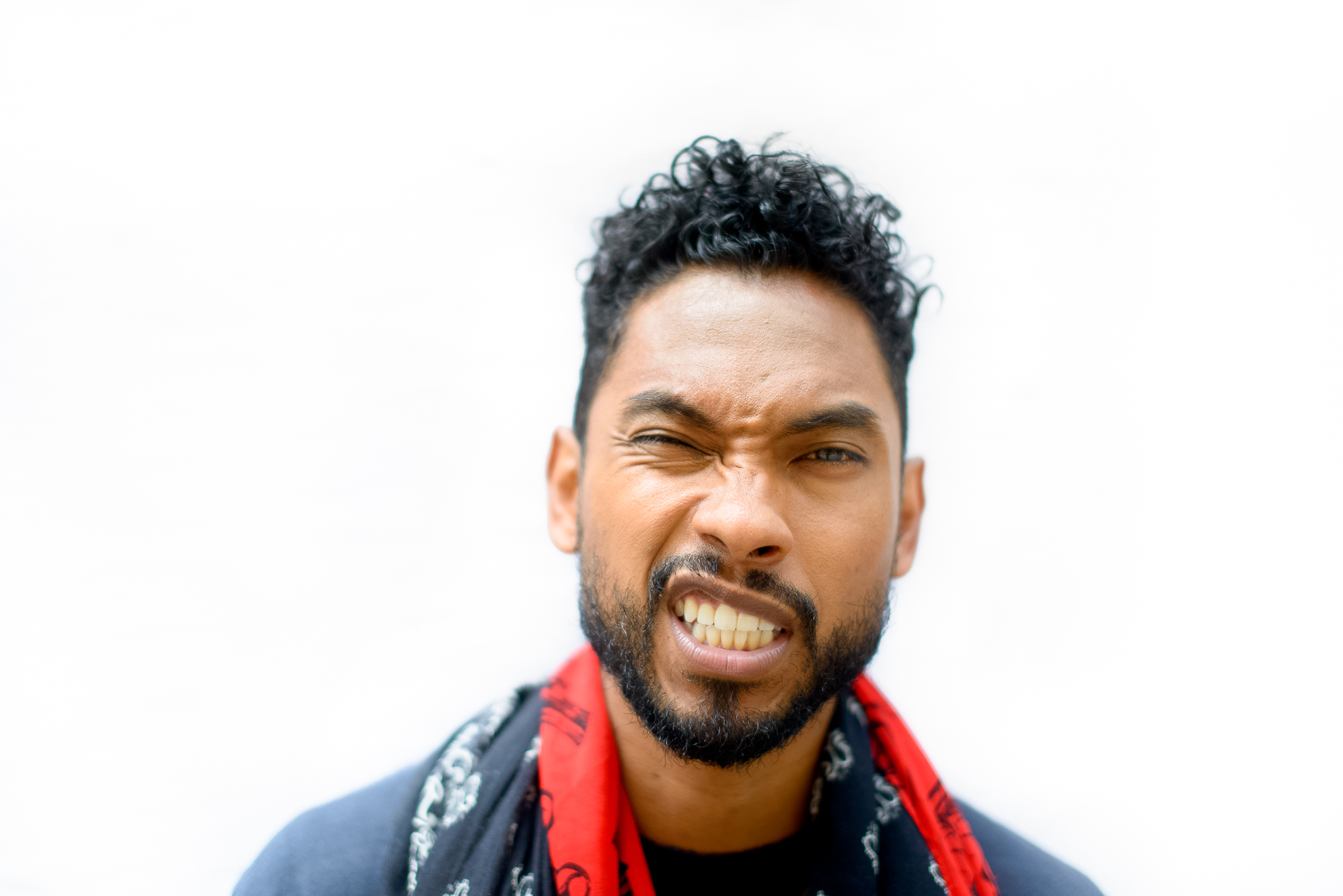 Wilson Lee[/caption]
Now consider Miguel's major label debut, All I Want Is You. First, the cover: Instead of the trademark pompadour, Miguel's got a shiny stubble-stippled dome, plus huge red sunglasses with a single blocky lens, and a leather jacket whose outsized popped collar brushes his ear-tops. He is Future Usher and it's weird. Second, the drop date: November 30, 2010. The album should've come out two years earlier, and certainly not during the new-release dead zone that is holiday season, but Black Ice had sued for contract breach, delaying the release. Also, Jive was beginning to disintegrate.
"You're giving your body to someone else and that's deep." — Miguel
It was all wrong, and All I Want Is You was dead on arrival, selling 11,000 copies on week one. But then something happened: Without proper marketing or support, that old song "Sure Thing" began climbing the charts and the album followed, spending 45 weeks on the Billboard 200. That's a few days longer than the label lasted.
"I ain't gonna lie," says Pitts. "I know my mom's looking at me from heaven saying, 'You should never talk like that,' but my reaction was, 'I told you!' The label didn't appreciate his artistry, but he just started grabbing fans one by one. It was organic."
In 2012, "Adorn" would do a similar trick, digging its tunnels beneath a prohibitive industry and smuggling Kaleidoscope Dream from obscurity into daylight. The death of Jive was a boon. Miguel moved up to RCA proper and he could finally be himself. He grew his hair, plugged in his guitar, and wrote a bunch of existentially searching, arty-sounding songs about getting high, getting some, and getting it before you die.
[caption id="attachment_id_150476"]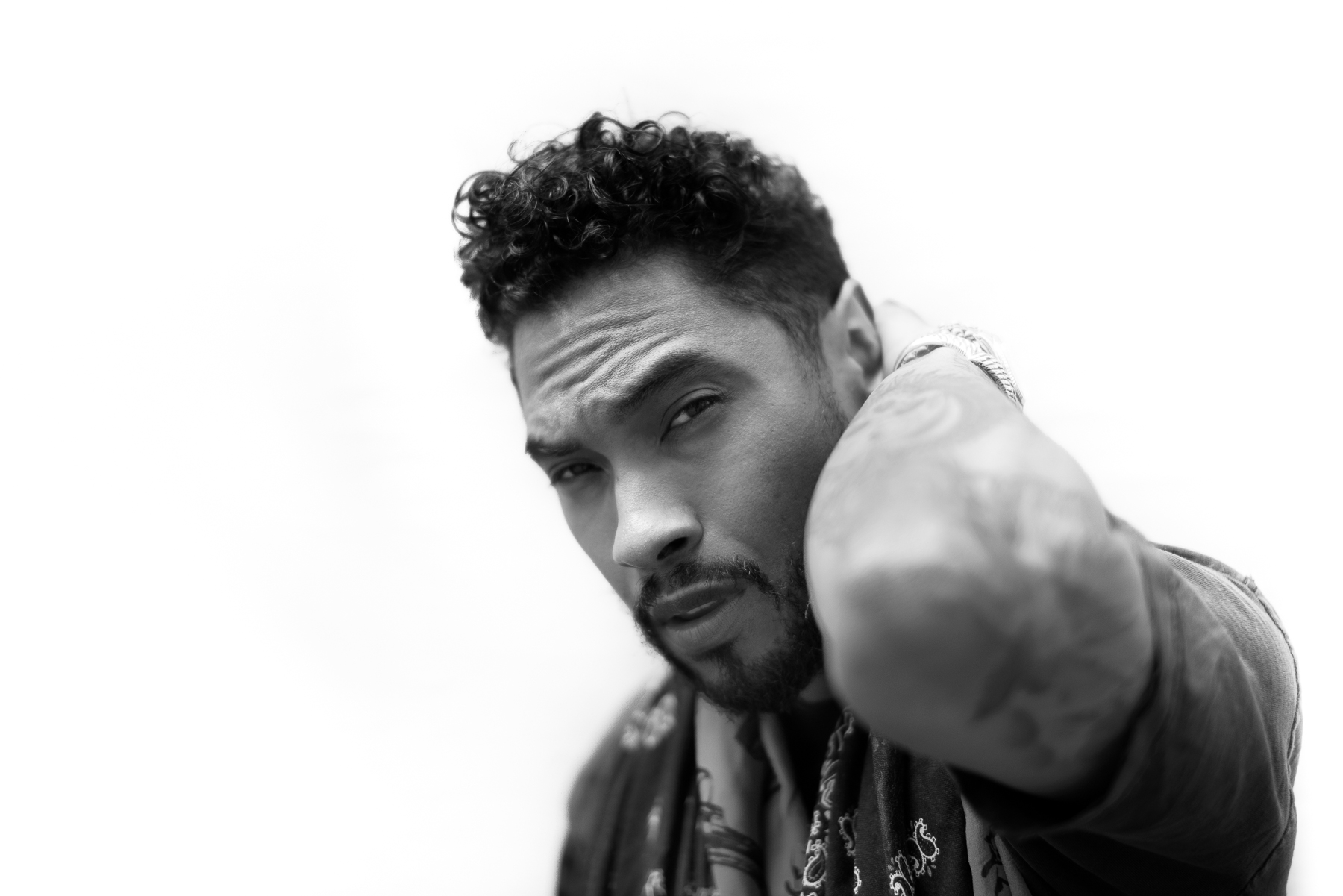 Wilson Lee[/caption]
"It's my job to take whatever I see and hear and feel and taste and want and fear, and spit it out," says Miguel. He seems antsy, like sitting in one place for an hour isn't a thing he normally does, and it's probably not these days. Since Dream, he's had tours with Drake and Bruno Mars, remixes featuring Wiz Khalifa and Kendrick Lamar, a Beyoncé co-write, and collaborations involving Mariah Carey and the Chemical Brothers with Lorde. I'd just asked him why WILDHEART didn't come sooner. "As creative people, we are in the business of giving, but you can't give more than you have. You have to feed yourself. I had to come home, rebuild my relationships, have my conversations, and fuck off a couple nights too. I had to let it be a blur."
Miguel's pastimes make him out to be some kind of Kerouacian dreamboat. He takes his Harley cruising. He shoots at the range. He watches documentaries and collects art books. He goes on hikes, smokes weed, drinks whiskey, and meditates. He wants to do ayahuasca in Peru under a shaman's watch. He's not into church, but believes "we are spiritual beings, inherently." He has a cat named Munchie. Jack loved cats.
He likes travel, but also likes being home, and it makes sense that Venice is where his heart is. The new album bears marks of the neighborhood's surf culture (the guitars on "Face the Sun"), of the rap dudes selling their CDRs on the boardwalk (the beats of "NWA"), of the glitz ("Hollywood Dreams" seems self-explanatory), of the grit (police sirens on "A Beautiful Exit"), and of the freakiness art vendors and exhibitionists that abound on this beach ("DEAL" nods to Funkadelic). He can't sit in one for place too long — "I'm way too unruly," he says — but he needs to stay grounded, near his family, his friends, and his old haunts.
https://www.youtube.com/embed/-EWnpPmJ1BQ
Miguel has also been with the same woman, model/singer Nazanin Mandi, for a decade — they met on the set of that goofy first music video. From a public perspective, the relationship has been confusing, sometimes characterized as "on and off," but never coming across as cheap. They give each other emotional support on social media, do events together, and have matching infinity tattoos on their ring fingers. But Miguel also says he's not ready to propose, and in a May Hot 97 interview, implied they may have an open relationship: "I really am wild-hearted... I think she's learned that and had to adjust and I love her for that." If Mandi is muse, though, she's done him well.
The thing about Miguel and sex is how refreshingly, sometimes cringe-ily, honest he is about the act. His alt-R&B peers apply affectations to varying degrees of aesthetic success. For the Weeknd, fucking is soulless business. For Drake, it's just business as usual. For How to Dress Well, it's so soulful. For Frank Ocean, it's kinda baroque and filled with symbolism. Miguel is different. Take the hook of his biggest hit. "Let my love adorn you," is both plainly sentimental and unabashedly, um, cummy. Lest you think that's an unfairly priapic reading of the work, consider that it's on an album with a song called "Pussy Is Mine," in which he flips expectations by playing the sub to his mate's dom, begging her to affirm that her genitals prefer him to other men.
WILDHEART also treats coitus as multifaceted. It can be corny, like "FLESH" when he gleefully puns, "This is body language... deep diction." It can be depraved, as on "The Valley" (a reference to the historic seat of the porno biz 20 miles to our north), whose chorus goes: "Lips. Tits. Clit. Slit." It can also be sweet like the single, "Coffee," where stimulating conversation turns into an overnighter, with a fresh pot in the morning to extend the stay. Desire is simple. Our motives are not. Miguel gets it.
[featuredStoryParallax id="150478" thumb="http://static.spin.com/files/2015/06/Faves-20-250x250.jpg"]
Is it challenging to write about sex gracefully?
"I don't know. I just write about it," he says, perfectly. "Sometimes it's vulnerable. Sometimes it's crass. Sometimes it's sensual. You're giving your body to someone else and that's deep. There's a lot of emotion to be explored. I like the whole range."
And he's right, it turns out, that all of that relates to the bigger picture.
"It's bright and it's dark. It's beautiful and it's dirty," says Miguel, describing the feel of the new album, getting a little heated. He's punctuating each sentence by slapping the table between us. His bracelets rattle. The recorder bounces a little. His presence is felt. "That's Los Angeles and that's the dynamic of anybody chasing something real for themselves. There are intense moments of hope, and of desperation. But you shore yourself up, get sturdier as you go through life. You've got to embrace the little bit of crazy that you have to do what the fuck you wanna do without feeling bad about it."
There's a song dead center on WILDHEART which suggests this is still a work in progress. "Too proper for the black kids, too black for the Mexicans," he coos over warm keys, clean guitar, and a simple beat. It's a story he's been telling in the press for years now, but never in his lyrics. As he lists off all of these uniquely Miguelian dilemmas involving rich people, pacifists, Christians, and fashionistas, he ends each couplet with a laissez-faire "what's normal anyway" (the track's name), as if he's content to shrug it all off. But as the song drifts away with all the sleepy aplomb of a lullaby, he leaves us with these final words: "In a crowd and I feel alone. Look around and I feel alone. I never feel like I belong. I want to feel like I belong...
"Somewhere."