With the 2015 Grammys coming up this Sunday the SPIN staff takes a look at eight of the biggest categories to determine who should will, who will win, and who was unjustly left out of the running altogether. May the best artist win, unless the best artist wasn't even nominated.
ALBUM OF THE YEAR
Nominees:
Beck, Morning Phase
Beyoncé, Beyoncé
Ed Sheeran, x
Sam Smith, In the Lonely Hour
Pharrell Williams, G I R L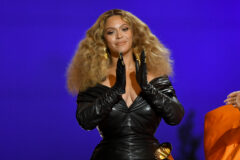 Who Will Win: Beyoncé, Beyoncé
This isn't as much of a slam dunk as it probably should be: Sam Smith has nominations in all four major categories, and arguably more momentum going into Sunday's ceremonies, having the more recent hits. (Plus, as little fondness as Smith may have for the "male Adele" tag, this is one of those nights where that might not be such a bad thing.) Still, it's hard to bet against Beyoncé in the year where her commercial and critical success have hit a simultaneous (and virtually unprecedented) apex. The Queen stay the Queen.
Who Should Win: Beyoncé, Beyoncé
Pharrell and Beck deserve golf claps for their better-than-they-had-to-be veteran efforts, while Ed Sheeran and Sam Smith's breakout LPs proved their respective pop-soul bonafides in a way that makes their presence in this category surprisingly unembarrassing. But only one of these albums stopped the music-listening world for a solid month, only one of them has gone a year without its radio dominance diminishing, only one of them spawned its own soundboard, and only one of them has "Flawless" on it. Hint: It's not Morning Phase.
Who Got Snubbed: Eric Church, The Outsiders
There's probably no point in complaining about the lack of tUnE-yArDs or Against Me! in this category, but Eric Church's career apex served as a Trojan horse to the Billboard 200 in 2014, topping the charts while unloading all sorts of personal demons and genre subversions on the country radio landscape. Considering the pervasive inoffensiveness of most of the nominees, it would have been nice to get a touch of commercially accepted weirdness in there. ANDREW UNTERBERGER
SONG OF THE YEAR
Nominees:
Meghan Trainor, "All About That Bass"
Sia, "Chandelier"
Taylor Swift, "Shake It Off"
Sam Smith, "Stay With Me" (Darkchild Version)
Hozier, "Take Me to Church"
Who Will Win: Meghan Trainor, "All About That Bass"  
Granted, this is a slightly cynical guess that expects the worst of the Recording Academy. Despite critics' understandable skepticism and Trainor's publicized misinterpretation of the term "feminism," the popular music industry insists on lauding her as a beacon of body positivity and famous-person physical diversity. Listeners don't appear to care, either — her debut album, Title, topped the U.S. charts with the best sales week to date for a 2015 album. Frustratingly, Trainor — who also has the growing-in-credibility "songwriter" credit to her name — is not going away. The Grammy universe loves making a show of "acceptance," so chances are they'll be "All About That Bass" this Sunday.
Who Should Win: Sia, "Chandelier"
With her radio-ready yet broken-down-party-girl anthem, this in-demand Australian songwriter managed to reach more listeners in 2014 than the whole of her decade-spanning career. Perhaps her long-overdue success has something to do with the fact that "Chandelier" was initially meant for Rihanna (for whom Sia has written smashes in the past), or maybe it's her adrenaline-rush delivery and uncannily soaring vocals that makes the song. Whatever it is, Sia's hard-earned ubiquity came as a result of one of the best songs of the last year, and one worthy of taking home the top honors this weekend.
Who Got Snubbed: Beyoncé, "XO"
Caught behind sexed-up radio smashes like "Drunk in Love" and "Partition," it's easy to see why the slow-burning "XO" was overlooked by the Hive at large (and, of course, the Academy). It might not deserve the Grammy itself, but at the very least, "XO" deserves a hat-tip for being one of the year's best mid-tempo sing-alongs — more so than Hozier's Mumfordized attempt at emulating Antony and the Johnsons, certainly. RACHEL BRODSKY
RECORD OF THE YEAR
Nominees:
Iggy Azalea feat. Charli XCX, "Fancy"
Sia, "Chandelier"
Sam Smith, "Stay With Me" (Darkchild Version)
Taylor Swift, "Shake It Off"
Meghan Trainor, "All About That Bass"
Who Will Win: Sam Smith, "Stay With Me"
Sam Smith's Grammy dominance starts here. Few songs are as Grammy-designed as "Stay With Me," with its cross-platform mutability, pristine production, vague sense of uplift and show-stopping vocal performance. If Smith does get shut out of the Album and Song categories, it's hard to see him going 0 for 3.
Who Should Win: Sia, "Chandelier"
At the risk of being redundant, "Chandelier" is just as impressive a production as it is a song: From the drum-stutter intro that drops you straight into the opening verse's deep end, right up to the Homogenic-like strings that sees it to its climax, the thing is a sonic marvel. But it'd be hard to begrudge most of these winning — even "All About That Bass" is pretty sparkling from a studio standpoint.
Who Got Snubbed: Lana Del Rey, "West Coast"
Lana got snubbed across the board this year, for both her gorgeous sleepwalker of an LP, Ultraviolence, and its hypnotically lethargic lead single, "West Coast." It's not surprising, given just how far she pushed off from mainstream pop, but "Coast" did enrapture enough people to become a surprise top-20 hit, and help propel its parent album to the top of the charts. A nomination wouldn't have been unthinkable. A.U.
BEST NEW ARTIST
Nominees:
Iggy Azalea
Bastille
Brandy Clark
HAIM
Sam Smith
Who Will Win: Sam Smith
Nobody could really harp on a Smith victory here, as the British crooner made one of 2014's splashiest chart debuts with his inescapable "Stay With Me." Although his debut album, In the Lonely Hour, mucks about in treacle-laden despair a tad too often, the immaculate vocals and robust production ("Restart" and "I'm Not the Only One" especially), and overall emotional accessibility make this prize Smith's to lose.
Who Should Win: HAIM
Due to the Grammy's archaic timeframe of album eligibility, the HAIM sisters sneak in for their late-2013 debut, Days Are Gone. It's one of the most fun "we're making rock music but we all know it's basically gussied-up pop" records of recent memory, and it's rightly launched the trio to quasi-stardom.  Now they're off on yachts with Taylor Swift — and they're set to open her 1989 tour this summer — but their winking, crunchy tunes remain the coolest thing about them.
Who Got Snubbed: Charli XCX
If there's a British act other than Smith that should've gotten the nod, it certainly shouldn't have been Bastille, who had a successful single in "Pompeii" but mostly stalled with their lesser follow-up attempts. One of the only reasons that Iggy Azalea's "Fancy" seemingly spent the entire summer at No. 1 was Charli XCX's bratty chorus, and the singer's euphoric "Boom Clap" burst its way into tweens' hearts after The Fault in Our Stars picked it up. Surely here career will outlast Bastille's, though this award's notorious "kiss of death" curse might secure that fate for the band anyway. B.C.
BEST POP VOCAL ALBUM

Nominees:
Coldplay, Ghost Stories
Miley Cyrus, Bangerz
Ariana Grande, My Everything
Katy Perry, PRISM
Ed Sheeran, x
Sam Smith, In the Lonely Hour
Who Will Win: Sam Smith, In the Lonely Hour
The Smith victory is assured. Besides having an innocuous-enough album to win over many of the Grammy Awards' older, stodgier voters — especially as contrasted with the youthful brashness of Miley Cyrus and (to a lesser extent) Ariana Grande — Smith has the polished pipes and cheery attitude that plays well to the show's masses. The fact that he's frequently played up the "my music is for everyone, not just gay people" angle certainly won't hurt his odds.
Who Should Win: Katy Perry, Prism
Though it's more than a year old, and was mostly overlooked by critics at the time of its release, Perry's third full-length shows the maturity and creativity befitting a third album from of one of the world's biggest pop stars. It's not a timeless classic by any means, but "Birthday" is cheese-pop at its winkingly dumbest; "Walking On Air" warps the '90s house formula around Perry's increasingly stronger vocals; and "This Is How We Do" might fall back on corny tropes and often un-PC moments (the gag-inducing "Getting our nails did all Japanese-y"), but it soars in its inclusive sound and head-smacking hooks.
Who Got Snubbed: Lily Allen, Sheezus
Coldplay most likely snagged a nomination here because they're a name, but the bolder, better choice would've been Lily Allen's underappreciated Sheezus. The album may have been less consistent than Ghost Stories, but the British trash-talker took far more risks, with playfully antagonistic songs like the 'net-baiting "URL Badman" and the pop-idol throwdown that is the title track. B.C.
BEST ROCK ALBUM
Nominees:
Ryan Adams, Ryan Adams
Beck, Morning Phase
Black Keys, Turn Blue
Tom Petty & the Heartbreakers, Hypnotic Eye
U2, Songs of Innocence
Who Will Win: Black Keys, Turn Blue
In a non-Foo Fighters year at the Grammys — Sonic Highways, released in November, will almost certainly be next year's frontrunner — the Black Keys bear the burden of being contemporary rock music's mainstream representatives. Turn Blue wasn't the Keys' biggest or best album, but that doesn't usually matter a ton to Grammy voters (see: Green Day, 21st Century Breakdown), and it was still a chart-topper with one of the biggest rock-radio hits of the year. Petty is the sentimental favorite, Beck has the Album of the Year nomination to his credit and even with all of their bad press, U2 can't be counted out, but Turn Blue's combination of oldster mentality and modern-rock viability makes it the favorite until proven otherwise.
Who Should Win: Ryan Adams, Ryan Adams
Ryan Adams' self-titled debut, released nearly 15 years into his solo career, was the chest-pounding, chill-inducing throwback guitar record his fans had no idea they had been waiting for all along. Equal parts Paul Westerberg and Tom Petty — the latter of whom is up for the same award this year, but can't quite compete with the urgency of this next-gen effort — Ryan Adams was the tightest, sharpest, and most stirring collection of rock tunes released last year, and would be the most-deserving winner this award has seen in years.
Who Got Snubbed: The War on Drugs, Lost in the Dream
Of course, as long as we're talking about Petty-derived lead guitar, we'd be remiss not to include Lost in the Dream — our No. 1 album of 2014, and likely the year's consensus crit pick. Then again, it's close to impossible to tell if the album would be eligible for this category, or the amorphous "Best Alternative Music Album," or both, or neither — Beck was recently shuffled from the latter to the former, while Coldplay has been jettisoned altogether to the pop categories. Tough to get too hung up on snubs when you're not totally sure what qualifies in the first place. A.U.
BEST R&B SONG
Nominees:
Beyoncé feat. Jay Z, "Drunk in Love"
Chris Brown feat. Rick Ross & Usher, "New Flame"
Jhene Aiko, "The Worst"
Luke James feat. Rick Ross, "Options"
Usher, "Good Kisser"
Who Will Win: Beyoncé feat. Jay Z, "Drunk in Love"
Only a fool would bet against Destiny's actual goddamn Child. Mrs. Carter, armed with her most ambitious benchmark ever — the multimedia feminist-domestic sextravaganza Beyoncé — were so fated to conquer the Grammy Awards that the queen might as well flood the building and ride in to collect via serfbort.
Who Should Win: Usher, "Good Kisser"
Now that we're done talking about Beyoncé, let's just have a quick moment of silence for Usher's wonderfully percussive "Good Kisser," and the quiet creative peak that the 36-year-old pro has been enjoying and fostering since "Climax."
Who Got Snubbed: Tinashe, "2 On"
While the 21-year-old newcomer's full-length Aquarius didn't drop until October, her sinuously addictive debut single "2 On" has been Grammy-ready since it dropped last January, and does breathy intimacy much better than Jhene Aiko's chart-topper. DAN WEISS
BEST RAP ALBUM

Nominees:
Iggy Azalea, The New Classic
Childish Gambino, Because the Internet
Common, Nobody's Smiling
Eminem, The Marshall Mathers LP 2
ScHoolboy Q, Oxymoron
Wiz Khalifa, Blacc Hollywood
Who Will Win: Iggy Azalea, The New Classic
The New Classic isn't actually the worst of this not-quite-exceptional lot — that would be the rote, unimaginative Wiz Khalifa — but boy would the Rap Internet shit a redwood forest if Azealia Banks' arch-nemesis took home this gramophone. Luckily there's decent odds that Eminem's actual quasi-triumph could swoop in, but after Macklemore's dominance last year, it'd be tough to deny that Iggy's blockbuster success makes her a frontrunner here.
Who Should Win: ScHoolboy Q, Oxymoron
Too long though it might've been, ScHoolboy Q's Oxymoron succeeded at many things over its running time, from gloriously stoopid rumpshakers ("Man of the Year") to scary addiction threnodies (the seven-minute, Portishead-sampling "Prescription/Oxymoron"). And while Eminem hasn't been likable in years, don't discount The Marshall Mathers LP 2 entirely: Eminem's ability to rap his and everyone else's asses off reinstated itself with a vengeance on the comeback album, which even included a heartfelt ode to his mom with uh, no catches.
Who Got Snubbed: Danny Brown, Old
While you won't exactly hear him yowling "Pop that pussy on a handstand!" from an awards show stage anytime soon, Danny Brown's proper debut Old was far more nuanced and original than even longtime fans could have predicted, with the tragicomic "Kush Coma" picking up the Cautionary Party Anthem torch from Kendrick Lamar's "Swimming Pools (Drank)." D.W.