SPIN Rating:
Release Date:
June 17, 2014
Label:
Interscope
Sorry Mariah, but Me. I Am Lana…The Elusive Chanteuse is a title more fit for a think-piece queen, most especially Ms. Del Rey, who, critical screeds be damned, has become the biggest cult artist of her generation. Really, what current rapper or rocker's fans want to be their heroine more than Lana fans do?
Tagged a troll for singing lines like "Tell me you own me/ Gimme them coins," Del Rey freaks people out when she suggests that she'd rather be a swallower than a dick, that she wants to be Penny Lane, a Band Aid, a sugar baby along for someone else's ride (ignore those Jackie O fantasies from the "National Anthem" video—mistresses have fewer responsibilities). But even if she gave up a verse to Chimamanda Ngozi Adichie, these submissive fantasies wouldn't be mutually exclusive to intelligence, artistic or otherwise.
Likewise, there's an unfortunate double standard to the extreme reactions she elicits. We're desensitized to a rapper like Rick Ross or Waka Flocka Flame's murder threats if they're in the service of getting stacks, but when an avowed anti-feminist makes a song called "This Is What Makes Us Girls," our collective handwringing goes off the charts.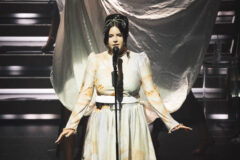 To our credit, we've come to realize these contradictions during the deep breath between albums, and Ultraviolence has been greeted with good reviews, albeit ones that have mostly maintained that Born to Die, the proper debut that launched a thousand Hipster Runoff linkbacks, sucked. It didn't, and it doesn't. Despite a formulaic chorus or two ("Summertime Sadness," "Dark Paradise"), Born to Die is lushly dark pop that works as satire or unsettling delusion. Either way, the album is chilling and sometimes hilarious, and it's full of hooks, or at least moving parts, a feat that's all the more impressive on such a downbeat collection. Not only does Ultraviolence jettison Del Rey's "gangster Nancy Sinatra" pose, it ditches the popcraft as well. No more shopping sprees or hip-hop beats is a hard pill for us Born to Die fans to swallow, and gambling with less humor and hooks reads like a death sentence.
In fact, Ultraviolence is firmly anti-pop, with a first single ("West Coast") that changes tempo entirely in the chorus a la Nancy Sinatra's "Some Velvet Morning," becoming even less catchy. There's a helpful "Radio Mix" of the song attached to some deluxe editions you may have pirated, but you can bet it won't blow up like that Cedric Gervais "Summertime Sadness" remix that eclipsed early blog favorite "Video Games" as her biggest hit.
Instead, she inches toward rock without rocking; see the Iron Butterfly-goes-chillwave opener "Cruel World" and Pink Floyd-styled tom-battering of "Pretty When You Cry." Wave goodbye to the Betty Boop affectations of "Off to the Races" and the stone-perfect Fiona Apple rip "Million Dollar Man." Del Rey has even gone as far as starting to kinda-disown Born to Die, expressing unhappiness with the production when what she probably regrets were her brazen claims to hip-hop imagery and the video chick lifestyle. This is a shame, her rapping was fun.
But Lana the songwriter is so strong that despite shedding the if-you-want-trolling-you-got-it humor of "Cola (Pussy)," or any lines as quotable as "Carmen"'s "She laughs like God/ Her mind like a diamond," or any chorus as breezily hummable as those of "Diet Mountain Dew" or "Radio," Ultraviolence survives yet another of Lizzy Grant's transformations.
Weird things make this less tuneful collection greater than the sum of its parts, like the quiet urgency as one tune moves to the next: "Brooklyn Baby" evokes a lone guitar on a hot St. Marks Place sidewalk before melting into "West Coast"'s ocean-glare blues. The settings shift so slightly you may not even notice when "Pretty When You Cry" becomes "Money Power Glory." This one-long-song effect turns out to be as grand as a recent Roots album—or yes, Pink Floyd. Producer Dan Auerbach pushes all the '70s guitar solos and protracted drum fills to the back of the sound field and the effect is convincingly like that of distant rock festival on the other side of the hill. Where she once put her every facet in our faces with a plausible deniability and lots of rap signifiers, here she takes even her musical cues from those faded Polaroids she wants us to associate with her—the intro to "Shades of Cool" is more hallucinogenic than anything by Black Moth Super Rainbow—and all that remains of gangster Nancy Sinatra is "flow."
There's also, well, feminism! On the previous Paradise EP's opener "Ride" she understandably, defeatedly sang "I'm tired of feeling like I'm fucking crazy," and Ultraviolence opener "Cruel World" answers: "You're fucking crazy—for me." That's after the inaugural kiss-off "Shared my body and my mind with you/ That's all over now." On "Pretty When You Cry" she grows impatient with being the stewardly girlfriend from "Video Games" ("I'll wait for you babe/ That's all I do babe") and takes back her over-scrutinized visage, "because I'm pretty when I cry." And when her "Brooklyn Baby" calls her dumb, she concludes he's not as cool as her anyway. Kim Gordon she's not, but she's willing to learn.
In a career fraught with obsessions over the perfection-imperfection dichotomy, it turns out to be a blessing that she put pop and its various pressures on the backburner just to deliver some real summertime sadness. Being "his bonny on the side" is starting to get to her in "Sad Girl," her most conscientious song yet. Hopefully she doesn't really want to die, as the headlines are saying. She's a public work in progress and proud of it, perfectly aware that the title "Fucked My Way Up to the Top" can be read as either fucking her way to it or fucking up trying to reach it. Ultraviolence is where Lizzy Grant stops giving a shit that the internet robbed her of her mystery — she'll take all the humanizing she can get. Hopefully she'll want to be herself eventually, too.