With her Vulnicura LP being announced, leaked, and then rush-released all within the past two weeks, Björk has come out of nowhere to totally own the music-listening world's January. At least, that how it feels at the SPIN office, where talk of Reykjavík's finest has dominated discussion, and where a steady rotation of her earlier albums has taken over the stereo, one full-length invariably leading into the next with every "You know which of her albums is really underrated, though?…" reminder.
The surfeit of Guðmundsdóttir-listening has inspired us to take at least one of our subsequent intra-staff debates out of the office: What's Björk's all-time classic album? The final choices ranged from her pre-solo work with the Sugarcubes to her occasionally maligned late-'00s material, and just about everything in between. See our editors and contributors stump for their particular favorites below — none of which are Vulnicura just yet, but check back with us in a few months to see if that's jump-starting the argument all over again.
//www.youtube.com/embed/BFQPNApwJGU
Rachel Brodsky: Before Björk morphed into the almighty celestial forest sprite that she is today, she fronted a couple of Icelandic post-punk bands in the late-'80s and early-'90s: Tappi Tíkarrass, who split in 1983, and the Sugarcubes, who called it quits in 1992. The Sugarcubes are, as an idea, comparable to Radiohead's The Bends: more rock than experimental, and, ultimately, a formative collection of songs that are nice to reference at cocktail parties. Of course, if you argued that the Sugarcubes are preferable to Björk solo, then you might find yourself getting kicked out of said affair. But to do so would be unfair: Unlike her mystifying, avant-everything solo work, the Sugarcubes is wholly accessible, free-spirited pop/rock Björk. Without taking anything away from her solo catalog, some simply prefer easygoing pop affability to more purposefully challenging throat-singing.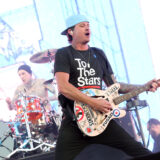 Each of the Cubes' three albums are worth spending ample time with — Life's Too Good (1988), Here Today, Tomorrow, Next Week (1989), and Stick Around for Joy (1992) — though their debut effort is by far the sweetest. Recorded before guitarist Þór (Thor) Eldo divorced Björk in 1989 (the two were married when the band first formed), Life's Too Good is home to such audio treasures as the howling, horn-accented "Birthday" (which John Peel famously played at one of his DJ sets in the '80s), the jangly "Motorcrash," and the spookily chanting "Delicious Demon." So before you immerse yourself in her legendarily prolific solo catalog, sprinkle a few Sugarcubes into your life.
//www.youtube.com/embed/urrbhgC8PB0
Kyle McGovern: Let's not overlook Debut (1993). Björk's first LP as an adult (technically her real solo debut arrived in 1977, when she was just 12 years old) may not be as critically lauded as, say, Homogenic or Post or Vespertine, but that works to the album's benefit: We have enough breathing room from Debut for it to feel surprising, even refreshing, while some of her other full-lengths can be a bit more impenetrable. Debut's avant-pop fusion of house, jazz, and Eastern instrumentation remains potent, and the wild-eyed enthusiasm that Björk brings to the songs is without peer. "Come to Me" and "Like Someone in Love" are some of her most enticing and dreamlike pieces, respectively, and "Human Behaviour" is as curious and inviting as any of her other opening tracks. This is the sound of someone proclaiming that she's "Violently Happy" and urging us all to take part in the "Big Time Sensuality." Does it get any more thrilling and wondrous than that?
//www.youtube.com/embed/tE11_5Spq1I
Andrew Unterberger: Start with the obvious here: There were six singles released off Post (1995), none of them sound anything like one another, and all of them are totally fucking awesome. What's more, they're all totally fucking Björk, from the string-soaked melodrama of "Isobel" to the rippling dance-pop of "Hyperballad" to the tech-samba frenzy of "I Miss You," each sounding definitive of their maker's uniquely expressive and effusive joie de créer. And of the five non-singles, two were co-writen and co-produced by Tricky (in the same year as Maxinquaye), one is the Black Lodge-spelunking "Cover Me," and one is… well, one's the intermissive "You've Been Flirting Again," but lord knows you won't get anywhere else on this album to catch your breath. Albums like Homogenic and the newer Vulnicura are stunning in their conceptual and tonal purposefulness, but after witnessing the eye-poppingly vivid color spectrum ran by Post, they can't help but seem a tad greyscale in comparison.
Think of it this way: This album's fourth track is "It's Oh So Quiet" — Björk's biggest international hit, a single of unparalleled exuberance, and the one non-swan-dress-related reason your grandma might know who she is — and you might totally forget that it's even on Post, so vast are the multitudes contained within.
//www.youtube.com/embed/qhkczZqSZdg
Sophie Weiner: Björk's new album depicts the heartbreaking end of a family, but the break-up anthems on Homogenic (1997) serve those facing a different kind of lost love, one dominated by self-righteous fury. Allusions to the body are brilliantly warped by harsh digital sounds; lyrics about gushing blood are cut through abrasive beats (assisted by the excellent Mark Bell) while her mangled, soaring vocals rise defiantly above it all. The fiery, classic "5 Years" admonishes an ex-lover with the damning refrain, "You can't handle love." Despite her sorrow, on Homogenic, there is no doubt that Björk can.
//www.youtube.com/embed/LVHpBCjUu8M
Dan Weiss: Björk's prettiest album is also her sexiest, two good reasons to wonder why many prefer the variety-show whiplash of Post. While the also-excellent Homogenic rode a similarly orchestral-minimal fence, it's much frostier. Vespertine (2001) beckons you inside her igloo, which has a fireplace, blankets, and — if you closely decipher her pixie melisma — a standing invite to "lean into the crack." With instrumental décor from wind-up music boxes to popping ice cube trays, trifles like "Undo" and "Cocoon" swirl into each other for the most sustained mood she's ever attempted on a full-length. By the way, a "vespertine" is a flower that blooms in the evening.
//www.youtube.com/embed/KqwJV449hnY
Theon Weber: Inflection is Björk's secret weapon, and Medúlla (2004) is practically all inflection: from the words she dismembers into elongated syllables and atomized breaths on the a capella "Show Me Forgiveness" and "Öll Birtan," to the way beatboxed tracks like "Where Is the Line" assault the listener with a hail of vocal gunfire. On paper, turning human vocals into stamping pistons and dark, stuttering beats represents the perfection of an old Björk fixation — the mutual pollution of warm and messy emotion with the cold precision of electronica — but the album is more than an academic success. Joyous pop songs ("Who Is It," "Oceania") rise like fertile islands in the album's little sea of soundscape; layers of clicks and growls and breaths recreate the sounds of Homogenic's sweeping romantic density and Vespertine's delicate frost as burbling human choruses. On Medúlla, Björk redefined everything she'd done — every mood evoked, every sound and inflection — as something deceptively simple: just another noise people can be moved to make together.
//www.youtube.com/embed/BjphPNThy84
Brennan Carley: When Timbaland and Danja brought squelchy, hip-hop infused beats to Björk's workbench, the singer refused to conform to what could've amounted to Shock Value III. Instead, the Icelandic firestorm actually let down her emotionally ensconced walls and took her unmatchably penetrating lyricism to the clubs. Sure, Volta (2007) is — on its surface — more approachable than any of her prior works, which could be seen as a creative knock against it, but for Björk to be able to draw all eyes to her with such big names involved (hey there, Antony, so surprised to see you again!) makes it a powerful statement that speaks to her brilliance. Years later, Damon Albarn would take many of Volta's most gripping moments — the echoing trumpets on "Pneumonia" especially — on Gorillaz's equally as misunderstood Plastic Beach. That's Björk's way: make music that sounds like nothing else, let it rest, and have others discover its influence years later.