SPIN Rating:
Release Date:
December 13, 2013
Label:
Columbia
Pop stars can be divisive. There are super-fans and super-haters, poptimists and rock-hardened cynics, Beliebers and… non-Beliebers. In 2013, "mainstream" itself is still a dirty word in certain circles; its antagonist (in seemingly every circle) is the "hipster," usually defined as "a young-ish person who likes stuff." There are few artists who can unite our fragmented, disparate listening cultures on a mass scale; Lady Gaga succeeded for a while, and Kanye West has been trying for years, but one artist has got them — and everyone else — beat.
It has been a joyful 80 hours and counting since Beyoncé released her self-titled fifth album at midnight on Friday morning, with no advance warning or traditional promo. The "visual album" — 14 new songs, 17 videos — just showed up on iTunes for $15.99, and you probably bought it immediately, because this sort of unannounced, airtight drop provided no free way to join the conversation. The move preyed on our addiction to immediacy. By Friday afternoon, it was the top-selling album on iTunes in 82 countries. By Saturday, we'd all captioned selfies with the album's most crucial, damn-girl-ya-look-good lyric: "I woke up like this." By Sunday, sales reached more than 400,000. To doubt it is delusion: With all due respect to the competition, Beyoncé is the biggest pop star on the planet.
And this is her best album, more textured than its predecessors in both sound and content. Big-hook message pop ("Pretty Hurts," "XO"); multi-directional, mood-shifting suites ("Haunted," "Partition"); and delicately resonant R&B ballads ("Rocket," "Superpower") share space on an unquestionably personal tour de force that's as much about love and motherhood as it is about sex. Timbaland and Pharrell are mighty, combining forces and tapping into their proven genius on the nimble and funky "Blow." There is a gorgeous, cascading chillwave song, "No Angel," co-written by Caroline Polachek of Chairlift — evidence of sister Solange's influence. And rounding things out are a couple of elbows-up boom-trap anthems ("Drunk in Love," "***Flawless") ready to soundtrack both dive-bar antics and bottle-service quasi-sophistication.
But what's most interesting about Beyoncé is hearing (and watching) a performer so tied to a singular trope (diva-pop R&B) move into a different lane, albeit subtly and gracefully. Her last record, 2011's relatively mellow 4, hinted at a change with more mature themes and a more pronounced Motown influence, but unlike Madonna or Rihanna or Gaga, Beyoncé's never needed to completely reinvent herself: She's the pageant queen of pop, and here she triggers a seismic shift simply by letting her hair down — just a little, and totes flawlessly — in order to be just a touch more relatable. And it's so fun. On "Haunted," she lifts Kendrick Lamar's alien-robot cadence and sings in a pinched choral croon that recalls Bat for Lashes' Natasha Khan. Her wacky, liquored-up 2 Chainz flow enlivens "Drunk In Love," and she's cool with being pitchy and imperfect on "No Angel." On "Mine," written by Drake and Noah "40" Shebib, she does her best Drizzy; he features (and continues to make a case for himself as a better singer than rapper), but is obviously outperformed.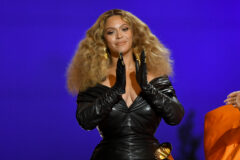 And then there's the relentlessly perfect succession of videos, 17 impossibly detailed vignettes of expensive, fashionable, highly GIF-able Tumblr fodder that makes for a multi-sensory listening experience. There are elaborately choreographed set pieces, flagrant stripteases, abstract oddities. Jonas Akerlund fills a bright manse with freaks and weirdos to better channel '90s Madge erotica on "Haunted." Hype Williams references his own work (Faith Evans' roller-rink boogie "Love Like This" and Belly's blacklighting) for "Blow." And Bey's unafraid to get a little ugly in "***Flawless" or stand among other beautiful women (and have one of them lick her breast) in the model-saturated pose-off "Yonce."
Vintage footage of Beyoncé as a young performer is spliced throughout the collection, culminating in the adorable VHS-art video for the Afrobeat-indebted "Grown Woman." And even when these videos are relatively mundane — like the hokey faux protest in "Superpower" or the Coney Island-shot "XO" — they're feats of production value and styling, right down to the lingerie. Throughout, there are allusions to motherhood, and near the very end — after the moving story of a miscarriage on "Heaven" — we get a glimpse of Bey in mom mode with the toddling, babbling Blue Ivy herself on "Blue."
Earlier this year, Beyoncé released a laptop-filmed HBO doc and allowed a GQ writer to report on her personal archive. For someone so visible, she's fiercely hands-on with her material and personal image; in a man, that might be seen as shrewd and private, but critics seemed to brand her as some kind of Vaseline-teethed control freak. Perhaps her particular brand of feminism isn't the genteel faux-humility of Lean In — it's a bit more brashly capitalist — but isn't that just good practice and brilliant logic for someone who is an industry unto herself?
Launching an album's worth of music and video — and making us pay for it, or at least coming closer to making us pay for it than anyone else — is just another way of staying visible on her own terms. If we want the details of her sex life with Jay Z (eeeeew) or her childhood (her mother may have been more overbearing than we know, sez "Pretty Hurts"), it has to come from Beyoncé herself. And not only is Bey helming the churn, she has a team expert in listening to the feeds. This is how we get the direct lob at snarky feminists in the form of a sampled treatise from writer Chimamanda Ngozi Adichie, a variety of fresh and vibrant sonics that truly reflect contemporary pop music, and even things like that pizza outfit. Beyoncé's creative handlers have managed to collate the relentless feeds of our Tumblr dashes and Twitter pages into a vivid, banging pop opus. The result is artistic click bait, and its genius and connective power is that it doesn't treat music fans as factions. This one is for everyone, all at once.