Sometimes, Sia Furler writes songs in gibberish. During an August appearance on E!'s since-defunct late-night show Chelsea Lately, the fame-phobic singer-songwriter offered a peek into her creative process: scatting nonsense noises like "squidly-doo" and "blah-blah-blahhh," wiggling her head, shaking the ends of her bright-blonde bob, and eventually connecting the words "bye-ayy-ayy" to "diamonds in the sky," all while turned away from the camera.
The studio audience, who could only see the back of Sia's head, cheered and chortled at her babbling. "If [the song] starts with just 'scoobidy-boo,' that means it's a hit," Sia explained, still chuckling, clawing the air as if to grab an invisible, floating turn of phrase. Naturally, the talk show's host was curious as to how Sia crafted "Diamonds," a mammoth 2012 single she wrote for Rihanna's seventh LP, Unapologetic. Since then, the prolific Australian's audience has grown exponentially, resulting in a backwards-facing (and slightly discomfiting) interview about songwriting.
Considering her soaring voice, A-list collaborations, subsequent solo success, and ability to dictate an unconventional high-profile career, Sia is a singular pop star. In 2014, she released a titanic, chart-topping album — the diary-of-a-recovered-alcoholic that is 1000 Forms of Fear — and crashed the Billboard Hot 100 with her most successful single to date: the bizarre, powerful, and personal bellwether "Chandelier," a top-ten hit that's inseparable from its striking music video, which is, in its own right, a blunt yet graceful performance-art piece that illustrates an inebriated crackup. She's also contributed to the soundtrack for the upcoming Annie reboot, appeared on Ellen, Seth Meyers, Jimmy Kimmel Live!, Nightline (and the aforementioned Chelsea Lately), and recently earned four Grammy nominations: Record of the Year, Song of the Year, Best Music Video, and Best Pop Solo Performance.
Most important, though, is the often contradictory way she vacillates between ubiquity and anonymity that makes her the premier player of the year. The 38-year-old has simultaneously kept her demons at bay — alcoholism, pill addiction, Grave's Disease, manic depression, the death of then-boyfriend Dan Pontifex — and successfully transitioned from an in-demand songwriter to an equally sought-after solo artist. In essence, she solidified 2014 as the Year of the Songwriter.
This unlikely success story characterizes the pinnacle of a burgeoning trend: the songwriter-singer. Like Sia, a number of the year's mushrooming talents got their start in the background, including Swedish dark-pop import Tove Lo, who is part of Max Martin's songwriting team and has developed material for Girls Aloud and Cher Lloyd. Then there's Charli XCX, who, before she landed a co-starring role on Iggy Azalea's "Fancy," famously co-wrote Icona Pop's room-spinning anthem, "I Love It." Jack Antonoff of fun. and Bleachers is also riding a wave of recognition thanks to his confessional work for Taylor Swift, Sara Bareilles, and Tegan & Sara. Even Meghan "All About That Bass" Trainor had a publishing deal with Big Yellow Dog Music (Rascal Flatts, Macy Kate, Common Kings) before achieving her own solo success. But even though her contemporaries each possess their own unique strengths, Sia has some distinct advantages — namely, age and experience.
"It's hard to explain, but I think that when people hear a Sia song, they know." — Jesse Shatkin
After a decade of under-the-radar work with jazz-funk outfit Crisp, downtempo duo Zero 7, and a handful of solo albums (as well as a well-respected placement on the 2005 series finale of HBO's Six Feet Under), Sia began assembling a menagerie of hits for music's elite (Britney Spears, Eminem, Beyoncé, Rihanna, to name a few). With a nudge from French EDM-pop juggernaut David Guetta — who enlisted the singer-songwriter's headstrong vocals for the hook to 2012's "Titanium" — Sia secured a double-platinum single in the United States and her first-ever No. 1 in the United Kingdom.
"[Sia's voice] needed to be heard," Guetta says in an email. "She wrote 'Titanium' from her heart and soul over my music. The idea was to give ['Titanium'] to another singer, but it was impossible. No one could sing it better. We sent it to many artists; even Katy Perry said no one can beat [Sia's version]."
When a verified EDM cash king and a multi-platinum-selling pop megastar argue that the songwriter — not the world-famous singer who audiences already know — should stay on a track marketed to Top-40 outlets, well, that's as typical as the Grammys televising their technical awards. With the release of "Titanium," Sia's vocal and writing gifts were, for the first time, in "the deep end of pop," as she tells SPIN in a November email exchange. So when Sia announced 1000 Forms of Fear in September 2013, the impending release of "Chandelier" — an octave-climbing, heart-heavy ballad — was her shot at achieving the same level of success as the very stars for whom she writes.
A sonic foil to 2002's downtempo Healing is Difficult, 1000 Forms of Fear is a towering 12-track opus buttressed with ominous production courtesy of Greg Kurstin. It's also a chameleonic song cycle that echoes Sia's most prominent collaborators. Spotlighting phresh-out-the-runway vocals that sharply peak and curl over its words, "Chandelier" bemoans drinking's downsides ("Keep my glass full until morning light, 'cause I'm just holding on for tonight / Help me, I'm holding on for dear life, won't look down, won't open my eyes"). The disc does lighten on the echoing, reggaeton-tinged "Burn the Pages," which seeks a new beginning ("Yesterday is gone and you will be OK / Place your past into a book / Burn the pages let them cook").
"Sia adheres to the process of 'first thought, first instinct," says "Chandelier" co-writer Jesse Shatkin. "There's a rawness. It's just like pure, unfiltered emotion. I think that a lot of the time a [typical] song will have ten percent of that. It's hard to explain, but I think that when people hear a Sia song, they know."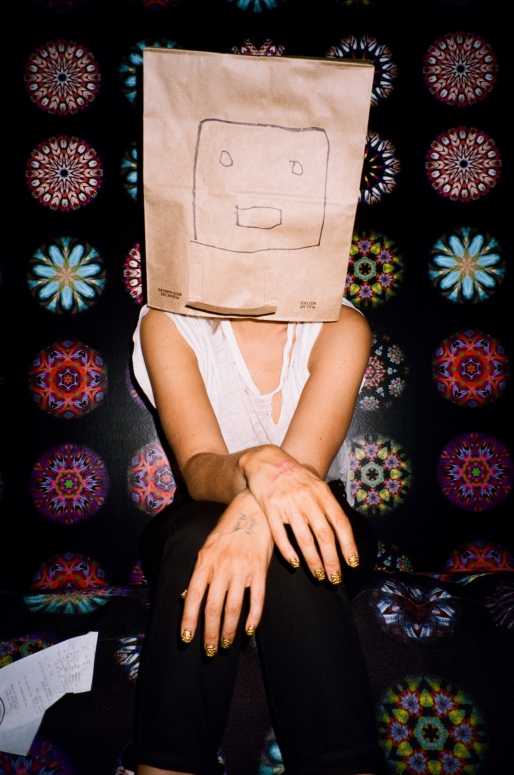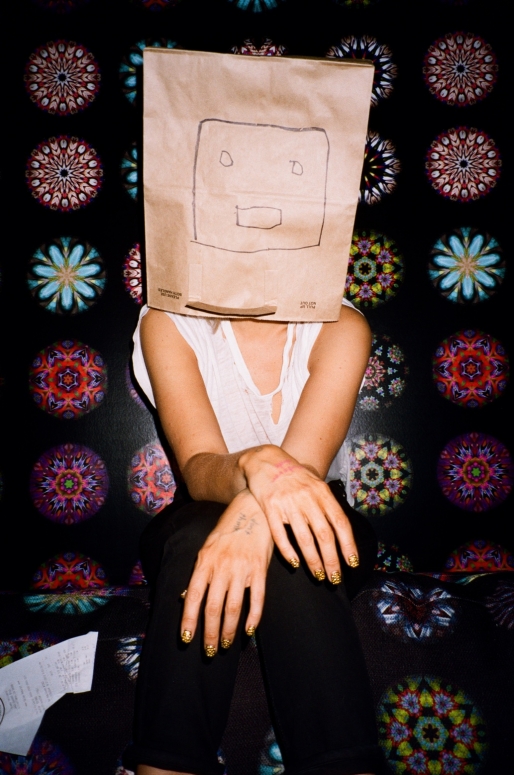 Despite her solo (semi-)visibility in 2014, Sia still wants to be a behind-the-scenes presence, assisting other talents with both writing and production. She co-wrote and executive produced Kate Pierson from the B-52s' forthcoming solo debut, out February 17, and recently confirmed that she has written songs for Selena Gomez. She doesn't tour and rarely does interviews. The only press photos available are ones with a paper bag over her head. She's also cultivated a "Blonde Bob Brand" where, much like Terry Richardson's use of hipster-cool-dad glasses, Sia plunks a flaxen wig on somebody else ("Chandelier" dancer Maddie Ziegler, Lena Dunham, the New York City Gay Men's Chorus). And though she might strive for invisibility, Fear is rife with taboo subjects most people are discouraged from publicizing: alcoholism, depression, drug abuse, co-dependency, suicidal thoughts, desertion, loneliness.
Still, even with its heart-in-hand lyrics and "Chandelier"'s pop cultural omnipresence (lampooned earlier this year by a leotard-wearing Jim Carrey on Saturday Night Live's Halloween episode), Fear hasn't achieved chart-busting numbers. Sia's latest debuted atop the Billboard 200, but it only sold 52,000 copies in its first week — 548,000 less than Taylor Swift's 1989 sold in its first day. And yet, come February, Sia will be facing off against pop's upper-crust — Swift, Pharrell Williams, Sam Smith, and Iggy Azalea — at the Grammys.
Whether she'll show for the 57th Annual Grammy Awards remains to be seen, but Sia has attended award shows from time to time — especially if they fit her pro-tolerance values. Performing at the 2014 Logo Trailblazers Special — which honors achievements in LGBT rights — Sia, who identifies as bisexual, found a way to participate in the televised event without putting the spotlight on herself.
Facing away from the audience, she serenaded a blonde-bobbed NYC Gay Men's Chorus and "Chandelier" choreographer Ryan Heffington, who danced shirtless onstage. Chorus art director and music coordinator Charles Beale experienced Sia's fair-mindedness firsthand when he asked if the singers should change their look for the show. "We have young, cute guys who would have looked feminine in a blonde bob," Beale says. "And we have bearded, masculine guys. We said [to Sia], 'Do you want us to represent our full diversity? [Or should we] shave off our beards? The message we got back loud and clear was, 'Be yourselves.'"
Sia's activism, however, has been publicly called into question. Late last year, she received blowback for collaborating with Eminem, who has long been reviled for his homophobic lyrics. Handling the delicate situation like a pro, Sia tweeted steady, reasoned responses, citing the "performance art" in Em's "alter-ego," Slim Shady. And to smooth over any lingering controversy, she also donated the proceeds from their work together to the Los Angeles Gay & Lesbian Center.
Another beneficiary of Sia's altruism is also one of the first people to wear the now-famous platinum hairpiece: 11-year-old dancer Maddie Ziegler, star of Lifetime's bonkers-bitchy and hyper-competitive reality show Dance Moms, and the dancer from Sia's "Chandelier" video. "I was so nervous," Ziegler tells SPIN, recalling they first met. "But she ran and gave me a humongous hug. I realized that she doesn't care if anybody is perfect."
Co-directed by Sia and Daniel Askill, "Chandelier" begins with the Pittsburgh-based competitor balancing in the doorway of a poorly lit, unkempt apartment that could pass for an SVU crime scene. Twisting, turning, and pretzeling her body into an unfathomable series of contortions, Ziegler mimes brushing her teeth at the kitchen table, limps around rubbing her belly, and twitches and jerks as if puppeted by an invisible set of strings. The arthouse-looking clip — which has racked up more than 300 million views — utilizes Ziegler's lanky, undeveloped frame to portray an adult on the verge of a nervous breakdown — a challenging, grim concept for a mainstream audience to absorb. "Chandelier" isn't selling sex, making fun of anyone, or endorsing substance abuse — it's a gritty, high-concept example of what Sia does best: honesty.
As Sia made the rounds on this year's TV circuit, she never showed her face. When live performances were necessary, she arranged for another famous face to be her stand-in — a face like Lena Dunham's. For a June performance on Seth Meyers, Sia sang facedown on a bunk bed, while a bewigged Dunham clumsily pranced and lip-synched the words to "Chandelier" (to which the Internet responded with begrudging praise).
A few weeks later, on Kimmel, Sia had three dancers (including Ziegler) dress up in circus clown-like costumes and neon face paint. When performing on late-night TV, artists rarely vary their performance styles. In Sia's case, every televised performance has been a new experience — new set design, new props, new concept, new costumes. It's always conceptual, yet still accessible. Sia won't show people her face, but she will give people a show.
Greg Kurstin, Sia's 1000 Forms of Fear producer, says the industry needs Sia's high-art appeal. "Sia's the perfect place to go for something a little more artistic and not so 'typical' because she comes from a very genuine, inspired place. It's not manufactured; it's coming from something much more inspired. Some people craft great pop songs, but Sia can do something that has depth to it," he says.
"I'd like 2015 to look like it's been fucked." — Sia
Now that she's been in recovery for a few years, "got hitched to the best earthling" she knows (filmmaker Erik Anders Lang), and assumed control over how much access the public gets to her, Sia can use her songwriter-singer status to its greatest advantage. "I used to overprescribe myself," Sia explains. "Now if I say yes to something, you can be assured I will actually be able to show up and be fully present."
Her quantum career leap suggests an evolution in what the songwriter's role has been in 2014. She's the most powerful silent investor in the music industry's current support-the-scribe campaign. And though she's still not entirely comfortable with her center-stage placement, she's pressing ahead with the solo act. Asked what's next for 2015, Sia shares, "I have two [more records] completed and ready to go." Then, her cryptic yet revealing closer: "I'd like 2015 to look like it's just been fucked."