The word "feminist" is in the cultural crosshairs. In 2014, seemingly every young woman on the precipice of fame has been pressed to clarify whether or not she identifies as a feminist. True, punting "The Feminism Question" at celebrities is lazy journalism; such an exploration would be best served if brought up organically. But considering the setbacks that women — famous and otherwise — have faced this year, it's still a very necessary conversation. Rolling Stone tackled on-campus rape in a deep-diving article — but botched the assignment and blamed the victim in a poorly worded apology. A staggering number of women have come out with sexual assault accusations against Bill Cosby — and yet it took some of the victims more than 40 years to speak out. For all of the leaps feminism has made in 2014, it's still painfully obvious that the fight for women's equality has a ways to go.
Women in the music industry are no exception, when even Iggy Azalea, who by most accounts owned two of this year's Songs of the Summer, had to double up on underwear lest she be sexually assaulted at her own concert. Beyoncé famously helped shoot #feminism to trending status after the 2014 MTV Video Music Awards, but Fox News rolled their eyes at it. Meghan Trainor challenged traditional beauty ideals in her runaway body-positive smash "All About That Bass," but told Billboard that she "does not consider [herself] a feminist" (and many feminist bloggers were quick to respond that the song is not either).
Trainor is hardly alone among 2010s pop stars. In fact, her opinion summarizes where feminism stood just two years ago. "I am not a feminist," Katy Perry declared at Billboard's 2012 Women in Music event. That same year, Taylor Swift told the Daily Beast, "I don't really think about things as guys versus girls." In a Norwegian interview, Lady Gaga was even less ambiguous: "I'm not a feminist. I hail men, I love men, I celebrate American male culture — beer, bars, and muscle cars." Not helping was Lana Del Rey, who told Fader this year that she doesn't find the concept "interesting." Meanwhile, media exhibitionists like Miley Cyrus have borrowed from the term to further their career agenda of giving zero fucks. "I feel like I'm one of the biggest feminists in the world because I tell women to not be scared of anything," she claimed in 2013. (Not quite the definition, but we'll take it.)
But for all the pushback feminism has received from elite female singers in recent years, the movement's agenda has made progress. After forging a friendship with famously feminist Girls creator and star Lena Dunham, Swift smartly realized her mistake and told the Guardian that, by hoping "women and men will have equal rights and equal opportunities," she'd "actually been a feminist all along." Neko Case blasted Playboy this year for fencing her off as a "woman in music," an increasingly tone-deaf phrase in entertainment journalism. The B-52s' Kate Pierson echoed Case's sentiment in a recent email to SPIN: "[The phrase] 'Women in Rock' implies just that — like we are some sort of Adam's rib, alien species, valkyrie invaders of the male rock realm."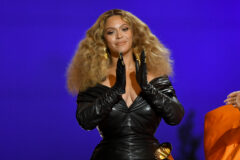 Though each of the aforementioned artists has portrayed feminism in a positive light this year, no one has (literally) spotlighted the term more than Beyoncé, whose 2014 VMAs performance proudly proclaimed her mindset by flashing it across every TV screen in America — a considerable tightening of her loose grasp on the term in 2013, when she told Vogue U.K., "I guess I am a modern-day feminist. I do believe in equality. Why do you have to choose what type of woman you are?" then back-peddling, "Why do you have to label yourself anything? I'm just a woman and I love being a woman."
Beyoncé's actions marks a shift in how pop stars — and their fan armies — think about feminism, particularly young women who rarely hear an accurate portrayal of the term outside of a classroom.
"Whatever gets 'em in the door," legendary riot grrrl and Julie Ruin singer Kathleen Hanna tells SPIN over email. "Some people who see that Miley Cyrus or Beyoncé are calling themselves feminists will dig deeper and find out about feminist history and think about how they can continue it and some won't. But if even one person does, it's worth it."
Hanna is a fervent Beyoncé supporter — something she touched on in a conversation with Grimes at last year's VMA pre-show. "I used to worry about 'feminism' being capitalized on, like in the '90s by the Spice Girls, etc.," Hanna says. "But when people like Beyoncé step forward and claim [feminism] as positive, it legitimizes the resurgence in interest we're seeing today." She'd also "like to see men in the music industry asked if they're feminists."
"Superficially, feminism is easy to sell, and so is Beyoncé," says Marissa Paternoster of Screaming Females. "But do the pubescent kids watching the VMAs know why it is so dire for us all to align with feminism?"
Beyoncé hasn't been the only torchbearer for gender equality in music this year. Country newcomer Kira Isabella addresses date rape in her SPIN-approved song "Quarterback," while the Seattle punks in Childbirth and Tacocat make light of female-specific hurdles like periods, menopause, and street harassment. Mish Way of White Lung addresses sexual victimization as well in the band's song "I Believe You," about a woman too frightened to come forward about her assault.
Having so many prominent musicians bring women's issues to light will bring us closer to destigmatizing a term which, at its core, only promotes equality. Too many influential figures have already given this generation the wrong idea — Time actually slapped it onto their annual "Words That Should Be Banned" poll for 2015. Feminism is not slang like #YOLO or #YAAAAS, something to be ousted from the lexicon for overstaying its welcome. The fight for women's rights should be fundamental, evolving to a place where female musicians can safely crowd-surf without being violated and aren't at the lyrical mercy of their male familiars or harassed on social media. Just because it's a trending topic doesn't mean it's simply a trend.
In order for feminism to transcend its current status and be truly cemented in everyday conversation, we must turn to public education — a tool for which Hanna argues diligently. "I think the only way things will really change, deeply change, is if there is education about sexism in public schools," she says. And while we wait for a typically regressive Congress to influence change, there are more immediate avenues: namely, music and female solidarity.
"I was never taught anything about women in history beyond women's suffrage," says Paternoster. "I had to dig up the rest myself, and I have punk to thank for taking me on that journey." Pierson, meanwhile, argues that we "decategorize ourselves is to get out there and play: write our own songs, play an instrument if possible, and express ourselves as true artists doing it our own way."
Paternoster, Hanna, and Pierson precisely pinpoint changes the music industry — and American society at large — would do well to absorb. If put into practice, perhaps the next time an up-and-coming ingenue tackles "The Feminism Question," they won't bob and weave, call it "uninteresting," or divert the conversation to how much they love men — they'll address this easiest of questions with the easiest of answers: Yes, I believe in gender equality.