On a balmy June night, humid and dank from the early summer rain, all the girls are screaming. Shrieks, really, the kind you emit in the airport when greeting a long-lost family member — elated, surprised, relieved. But these girls are at a metal bar in Greenpoint, Brooklyn, and their screams are for a song, and an icon.
Kathleen Hanna, feminist artist, is onstage with the Julie Ruin — her first band since Le Tigre went on "extended break" in 2007 — and guitarist/shredder Sarah Landeau has just played the minimalist opening riff of "Radical or Pro-Parental," a song that, if some in the crowd are too young to remember, they've clearly discovered and cherished since. After 20-plus years of performing, Hanna's an expert at keeping all eyes on her; she bops and sneers through the track, which led off her debut solo album, 1998's Julie Ruin, as the room bops along, some even tearing up from teen-feminist memories, or nascent fandom, or sheer pent-up joy at finally seeing a band that hasn't been onstage for three full years, now ready for its close-up. Despite the fact that it's a song describing divisiveness ("She says it's for my own good / Smashes my face in the car hood"), "Radical" exudes an acute sense of straight-up happiness. Hanna, as ever, is at the center of the scene, flexing the pancake-sized heart tattoo on her right bicep — her microphone arm.
Eighteen years ago, armed with a Roland TR-606 Drumatix and a sampler gifted to her by Kill Rock Stars founder Slim Moon, Hanna recorded Julie Ruin in her Olympia, Washington, house; it was the bedroom album of a typewriter-clacking, gum-smacking leader of a one-woman Valley Girl intelligentsia army. Reeling from the breakup of her band — now-legendary riot grrrls Bikini Kill — and disillusioned with the direction that underground punk feminism was taking, she launched full-bore into an album that became both a referendum on riot grrrl and a way to surface from the didacticism that had poisoned it.
"I was at this transitional moment in my life where I was leaving Bikini Kill and I'd been really associated with it, and I was like, 'the militant asshole bitch from Bikini Kill'… but also, I was supposed to be 'the tough-ass feminist from Bikini Kill,' which really wasn't what I was offstage; I was really not very confident," Hanna says in late June at a Williamsburg, Brooklyn, cafe. "It was also so much more personal, in a way. I wasn't trying to write 'Rebel Girl' over and over again. I wasn't trying to write a feminist anthem. I was writing the shit that was in my diary. I disguised a lot of things. I mean I wrote about an invisible friend that I had who was getting me through this bad time. Well, it was really my cat, but…"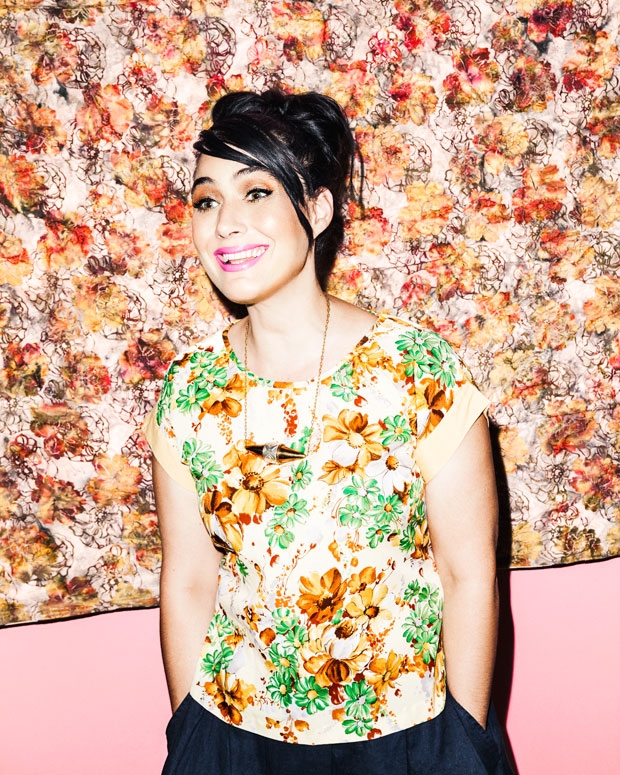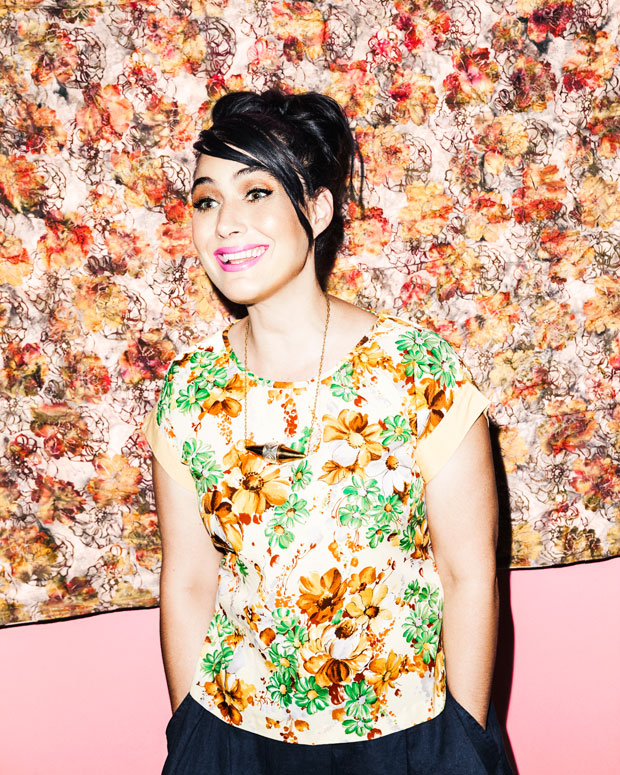 She had also been inspired by hip-hop, in part courtesy of her now-husband, Beastie Boy Adam Horovitz, who she'd just begun dating; but she was also thinking about her go-to album during Bikini Kill tours— Public Enemy's It Takes a Nation of Millions to Hold Us Back. "I was like, 'Man, some of these rappers are bragging and boasting, and I wanna brag and boast!' Like, why do I feel like I have to try to write the song I'm supposed to write, and not the song I wanna write?" Hanna always had a hip-hop quality to her lyrics, storytelling-wise, on anthems like "V.G.I.," singing lyrics like, "I'm not a genius, I'm more like a genie / Granting girls' wishes from my stone-cold bikini, yeah." Her beats were simple, but the melodies were unstoppable, and Julie Ruin helped usher in a new era in which punk kids experimented with electronic music. After the unrelenting intensity of the riot grrrl years, hearing something with the same politics but that sounded so slack-jawed, was a relief, like permission to put up your feet and catch your breath. As the millennium flipped and Hanna left Olympia for electro-thirsty New York, she got together with longtime friend Johanna Fateman in an attempt to play the Julie Ruin songs live. It was, she says, a disaster, but those sessions evolved into the synthy dance-punk trio Le Tigre, which at times felt like Julie Ruin writ arena-size. That band released three albums and seven EPs before, in 2007, embarking on a continuing "sabbatical."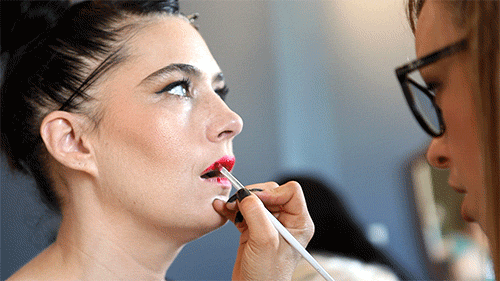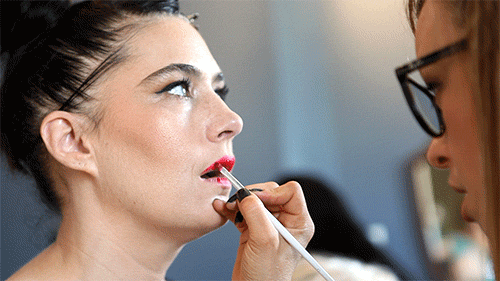 After a few years spent mostly out of the public eye, Hanna, then a young-looking 41 and facing another kind of crossroads, began dreaming of a new Julie Ruin project, one that would incorporate the earlier songs with new material. She handpicked what she calls her "dream team": Landeau, a guitar instructor who met Hanna at the Willie Mae Rock Camp for Girls; drummer Carmine Covelli, who had toured with Le Tigre and worked on the band's documentary, Who Took the Bomp? (produced by the Adam Yauch-founded Oscilloscope Laboratories); keyboardist Kenny Mellman, formerly of drag-cabaret duo Kiki and Herb; and Kathi Wilcox, who'd played bass with Hanna in Bikini Kill. They were all friends, and became something of a democracy, in part, because playing in a band is easier at 40 than it is at 20. "Maybe this is only specific to our band, but nobody's ego is raging, whereas I feel like if we were all younger, that would be a problem," Mellman says, laughing. "But I'll admit something: It's a dream to be in Kathleen's band. It's like, total wish-fulfillment of 'weird thing that could have happened in my life.' It's awesome that we're at our ages now, and all these bands from our era are out there too, and it's not like 'the Golden Oldies' tour, they're out there rocking. I think that wasn't the case a generation earlier."
In early September, the Julie Ruin will release Run Fast, a raucous album that unites Hanna's songwriting strengths — punk wailing, pop hooks, '60s girl-group harmonies, synthy squelches, and of course, lyrics that waver between polemical and terribly personal. Their first single, "Oh Come On," could almost be a Bikini Kill track with its power chords and sneering vitality, yet it still sounds fully contemporary. It was written three years ago, however, because between forming the band and recording the album, Hanna got sick.
[ooyala code="93eHJwdTq1EfIjQdTl6mQJYdWaj72vRk" player_id="8bdb685537af477d8cd5ea1ebd611511″]
It all started with upper respiratory infections, about every three weeks. She would go to doctors and be diagnosed with various relatively minor illnesses — bronchitis, sinus infections, walking pneumonia — prescribed antibiotics, and sent on her way. But soon the sickness was more frequent, and it was clear there was something more serious. "I'd be looking at WebMD trying to figure out what I have. I'd go to all these specialists, and I got told that I had Crohn's Disease and MS and maybe I was starting to show symptoms of having Lupus." Hanna trails off. "I remember the day when I leaned up against the wall outside on the street on the Upper East Side and just cried, because I was told that I had Degenerative Arthritis. I couldn't walk. That's one of the reasons they thought I had MS. I would walk really weird and talk like I was drunk," she says.
Eventually, an eagle-eyed Ear, Nose, and Throat doctor recommended she be given a Western Blot test for Lyme Disease which, she says, "lit up like a Christmas tree."
Hanna was relieved, but the treatment proved harder than the illness. She was fitted with a PICC line, an internal IV that laces through a vein in the arm to deliver medicine closer to the heart, and she wore it for nine months — in her microphone arm. "I wasn't allowed to take showers, I had to take baths with plastic over my arm! I'd be taking baths [with my right arm out] and trying to shave my legs [with my left arm]." It was difficult for her to walk up and down stairs, so she and Horovitz left their house in New Jersey and moved into an apartment in Manhattan.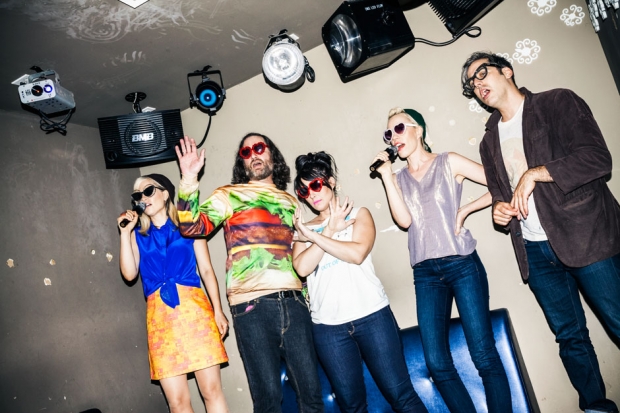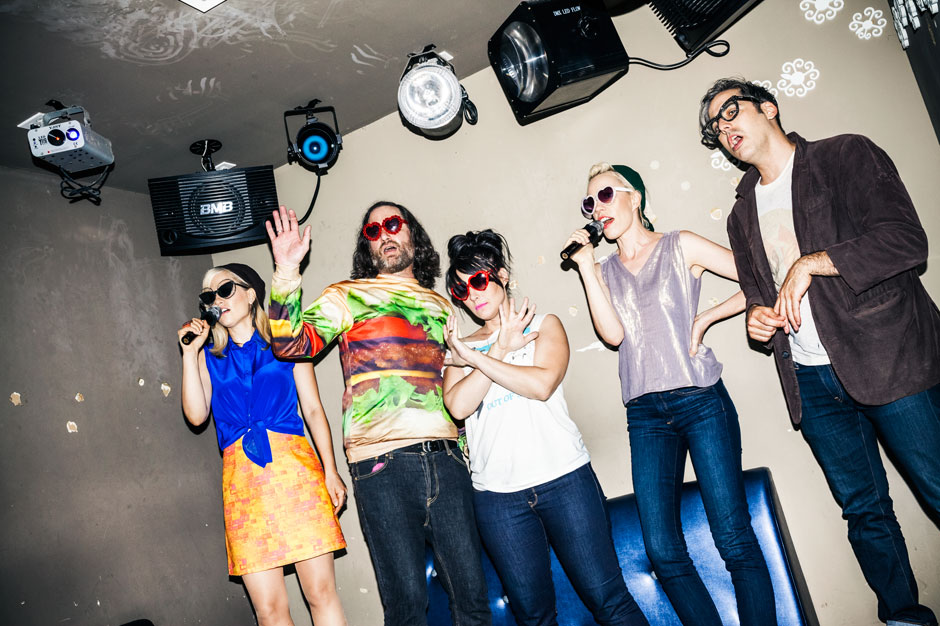 To so many of Hanna's fans, she seems anything but fallible. Even decades after riot grrrl, they idolize her as though she is perfect, or at least close to it. She sings about that sentiment in "Oh Come On" — "Represent! Oh oh!" — which is a direct line from the subject matter of Julie Ruin. "I was like, I'm not gonna do what people expect me to do. And maybe this song fits in with peoples' expectations, but the lyrics are about not fitting in," she says. "Not to rag on myself, but when people say, 'What does it feel like to be an icon?' I'm like, my dog does not think I'm an icon, my cat does not think I am an icon, my cousin does not think I am an icon. I have a really lovely group of friends, and I just don't think about it."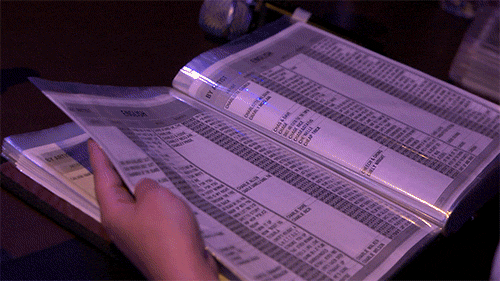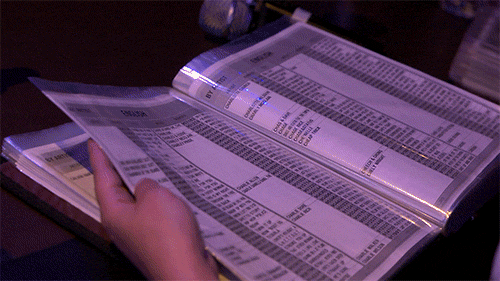 Hanna is standing on a Williamsburg street waiting for a taxi to take her to this magazine's photo shoot, when a young, tattooed woman walks by with her hair in a cheeky updo and sideswept bangs, eyes locked forward. Hanna absentmindedly says, "Oh, this girl has the same hair as me," and seems not to notice that it's the same chignon she has been wearing since the insert image of the Julie Ruin CD depicted her, glasses in mouth, reading a text called Radical Feminism, big hair tied into a swoop. There's a good chance that the young, tattooed woman has that updo precisely because of Hanna. Since the early 1990s, she has indeed been an icon, someone that young woman have emulated not just for her strong feminist message and influential output, but for her innate buzz of energy. Hanna possesses a magnetism equal to far bigger stars. Even her tactics for putting together the Julie Ruin were based on a kind of shock-and-awe, popping-the-question kineticism.
"I knew she had been playing with people, but she was like, it's really low-key, it's really casual. And I had come up to New York because she asked me to see The Runaways movie premiere," says Wilcox. "So we went to the movie and as we were walking up to the red carpet, it was really stressful because we were trying to figure out how to get in and there were all these celebrities around, but right then, she's like, 'Do you think you'd wanna be in a band with me?'"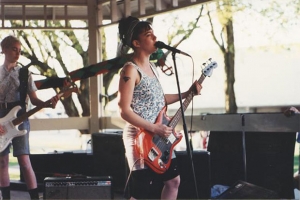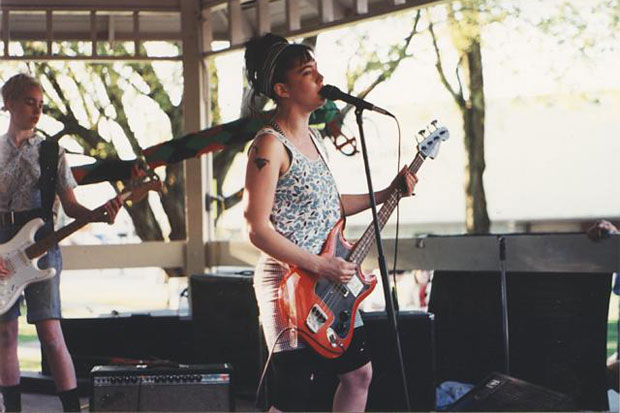 Hanna is also the kind of person who works on projects, a lot of them, all at once. Fans didn't know about her health struggles until this March, when Sini Anderson's extensive documentary of Hanna, The Punk Singer, debuted at SXSW. They wouldn't have known, either: Hanna seemed publicly busy during that time, not just working on the documentary, but speaking out for Planned Parenthood at women's-health rallies and compiling her archives of fanzines and writings for the riot grrrl collection at New York University's Fales Library. She recorded and rehearsed with the band when she could, and when she was well enough to sit at a computer, she was also working on a television show, "Bridget Drives a Bus," for her friend, the cabaret artist Bridget Everett. She says, "[Adam and I] saw a thing on NY1 about this bus driver who got caught with a big bottle of gin in between her legs, and as soon as we saw it, we both looked at each other like, Bridget!" Horovitz helped Hanna with the writing of the show.
"Stay Monkey" was Julie Ruin's iconic love song, and Run Fast has one that echoes it. "Just My Kind" is a minimal, bass-centric track, on which Hanna employs her sensual, punky Ronnie Spector voice. "Don't you know I really like how you know my mind?" she sings. "But even more to the point is the fact, you're just my kind." During a sushi lunch, Hanna will mention that she and Horovitz, her husband of seven years, don't have a special song, they have a special roll: salmon-avocado maki with regular mayo. She wears a gold nameplate on her wedding finger with the name "Adam" spelled out in cursive script. (He wears a matching one that reads "Kathleen.") "We have been together 17 years. Seventeen years, isn't that crazy? I feel so lucky that I met the love of my life. You know somebody's in it to win it when they're changing your IV bag or you're having a seizure and they're holding you. And helping you to the bathroom. You know that they love you."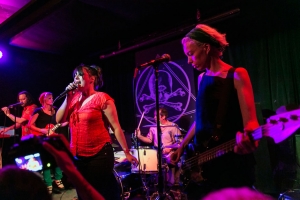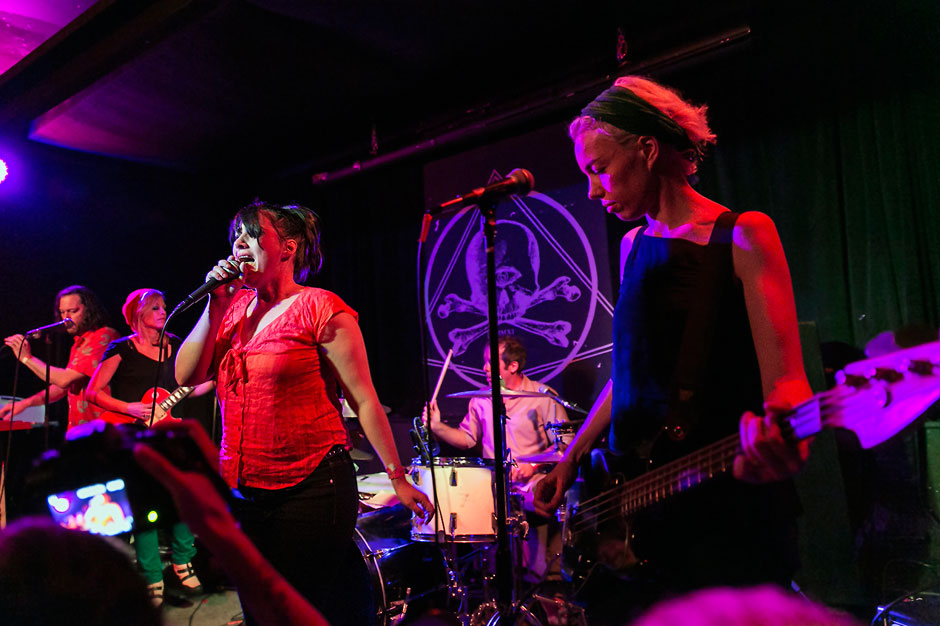 Run Fast includes a lot of songs that continue a theme — if Le Tigre's "My Metrocard" expressed the disorientation of a newly transplanted New Yorker, "Kids of New York" now shows how much has changed since 9/11, both in Hanna's own life and across the city. "Kathleen was definitely downplaying this project, like, 'Oh, I don't really know, I've been out of the scene for awhile, people probably forgot,'" says Covelli. "But there's been a huge riot-grrrl resurgence, and a huge '90s resurgence. There's a lot of momentum behind things that she's connected to. And I think we were kind of recognizing that, like, Kathleen, this is… people want to hear your voice." Some of the lyrics derive from conversations the band had before practice; others are more diaristic. Bedroom new-wave track "Girls Like Us" is about defying the idea that there is any one definition of what it means to be a girl. The sweet lullaby "Goodnight Goodbye" reflects on aging within punk, and accepting yourself at 40 even if you're not sure if your 20-year-old self would like you. It underscores a truth about the entire Julie Ruin project: While the music's keyboard stabs, beefy guitar riffs, and TNT vocals don't diverge from Hanna's logical lineage, the subject matter has become more rounded-out. That doesn't mean the edges are softer, but philosophically, there are newer topics to consider — and new ways for her to be vulnerable, with the perspective of true-life adulthood and the balance that often comes with what they used to call "middle age."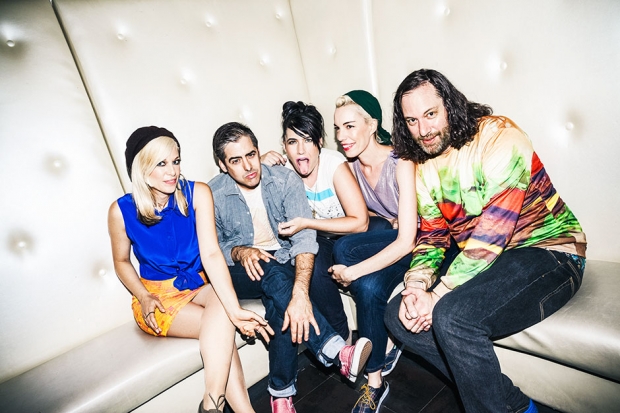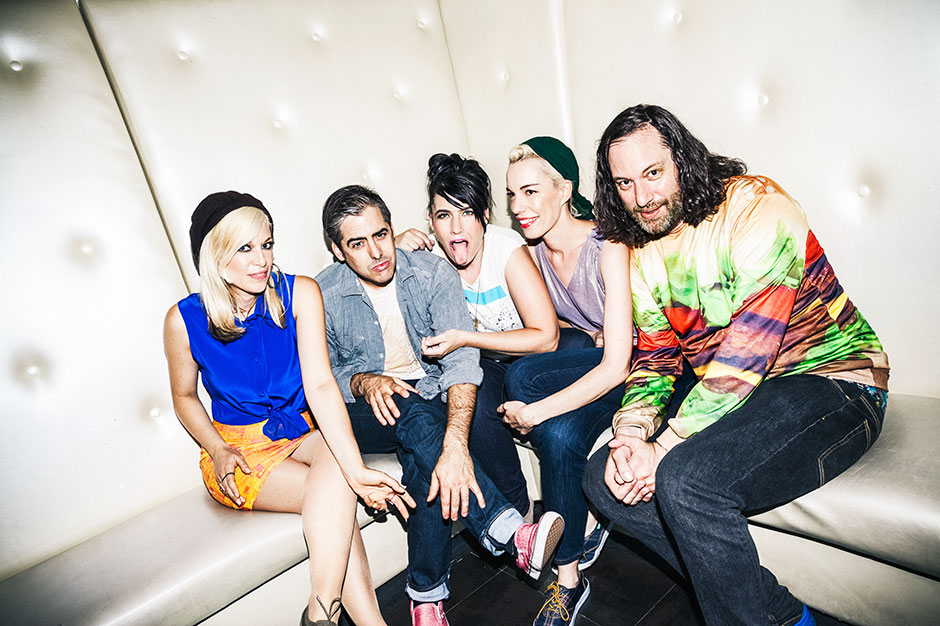 "People are constantly asking if I'm still angry and wanting me to be this person that I'm not anymore," she says. "Also, I married the guy from the Beastie Boys and live in a nice apartment in New York? And I'm ill. Would the me that I was back then even know the me that I am now? Would we be friends? Would we like each other? I have actually gotten asked that question and I'm just like, 'Ahhhhh, I just feel like I'm on acid.'" She laughs. "It's something I thought about during the archival process. Also making the movie, because before that I'd never seen myself onstage, except for the Le Tigre stuff. I had never watched Bikini Kill footage, ever. I had no idea why people reacted so strongly to us until last year. I was like, who is that person? I didn't even recognize myself. I mean, I was a total freakazoid ball of energy? All of those things people said that I would be like, 'She's a she-devil! She's a tornado! She's a little spitfire! That big voice comes out of that little person?' or whatever. But then I saw the videos and I was like, man, that's intense, I was actually really proud. It looked like they were fun shows to be at!"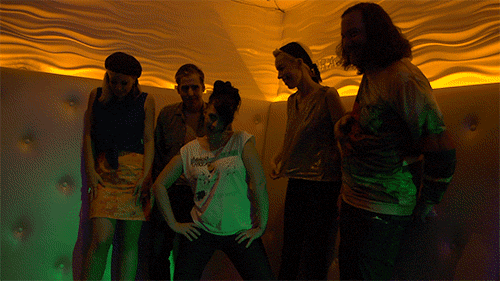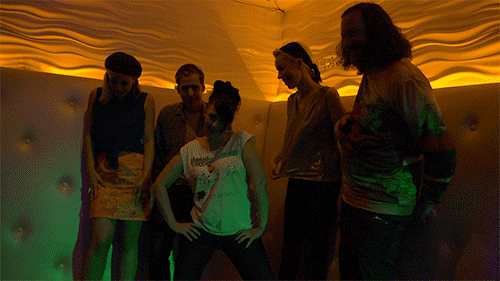 While "Goodnight Goodbye" deals with aging, Run Fast also looks at the past few years with a different sense of the defiance — one that's more personal and profound. In "Party City," she plainly reflects on her own mortality, but flips it into an upbeat dance song. As Mellman punctuates the chorus with his barking vocals, and adds a Sparks-style synth line, she sings about the isolation of illness, audibly resolving that if she's going to die, she's going to have a party. It might be the realest song in her repertoire, because before she knew she was in remission, her minutes were packed with activities: going to Koreatown with her friends, to Joe's Pub to see comedy, staying up late to get as much work done as possible. It was the definition of doing as much as you can with the time you've got left.
"For so long, I didn't know what [illness] I had and I was just deteriorating. So, to be honest, the reason I archived all my shit and did the documentary about myself was because I didn't know what… was going to happen." She's speaking quietly, explaining why, after a long time spent trying to move on from riot grrrl, she suddenly dove right into preserving its history.
"But then, I lived. And now I have to live with all of this shit! [Laughs] Now I have to live with the fact that I let my bad menstrual blood-as-Jesus photography in college and my bad 'I hate my dad' poems be in my archive! Those are all in there and, oh man, it's like showing your pimpled butt to the world." Hanna laughs again. "At the time, I was like, I don't really know how much longer I'm gonna be… not dead, but like… functioning. So that's part of [why I put together my] archive. I was like, I wanna be remembered. I wanna be a legend, I wanna be a cult hero. I do! So now I have to live with it. At least I didn't write a book. Gawwwd. It would be so depressing." She laughs once more, looking out the window of the cab as it drives past Tompkins Square Park. "I know I'll do it when I'm 60. I'm not done with that."
We're heading to a karaoke spot on St. Mark's Place, the New York street where musicians like Lou Reed and the New York Dolls used to lurk on stoops and take band photos and get into trouble. As Hanna bounds out of the car and heads upstairs, it seems like as good a place as any to underscore where she is on the musical continuum: Though sprouting in the Pacific Northwest, Hanna has become a true New York punk hero. She's wearing blue jeans, Jil Sander lace-up platforms, and an old Minor Threat shirt with the sleeves cut off. Hanna might be reckoning with her illness, her survival, and even planning what she'll be doing 20 years from now, but there's a quality about her that is timeless. She doesn't have to want to be a legend or a cult hero; she's achieved it.
In "Valley Girl Intelligentsia," from Julie Ruin, she sang: "I'm extra special and I'm burning bright / I'm a UFO blazing through your starry night." Manifest destiny.