SPIN Rating:
Release Date:
November 05, 2013
Label:
Shady/Aftermath/Interscope
Eminem is the greatest rapper alive, sort of.
Okay, there are rappers who carry more emotional weight (Kanye, Drake); there are rappers who tell more evocative stories (Meek Mill, Ghostface); there are rappers with better hooks (Migos, Rick Ross); there are rappers far more resonant and meaningful and relevant, with a stronger grasp of what living in 2013 is like (take your pick, since Rap Game Jay Leno here spends his eighth album steady rapping about Monica Lewinsky and Lorena Bobbitt). Kendrick Lamar and Chance the Rapper, for starters, are better at all of the above.
But if rapping were a purely athletic competition, Eminem would be Michael Phelps and Mary Lou Retton combined: pure agility and flexibility, like an unstoppable bullet with only white-hot hate in his wake. His flow only gets more baroque and knotty and Nutrageous with age: syllable-cramming, unnecessarily complicated assonance ("I hope foxtrot gets an aerial shot of your burial plot"), a Minaj-erie of silly voices, blink-and-you-miss-it punch lines that range from slow burners to total groaners. This, the "sequel" (or whatever) to his landmark 2000 LP, is little more than a rapsploitation vehicle where practically every line is gratuitous, beyond ridiculous, an effortless and almost empty display of showboating, a carnival trick.
The Marshall Mathers LP 2 is almost completely devoid of actual content or actual emotion beyond Bad Grandpa thinking he can beat Mike Tyson, but actually having the skills to back it up. Kendrick is maybe the only dude who can murk Em in a battle right now, and accordingly, he's the only guest star here allowed to rap. This is basically a 79-minute "Oh, yeah?" response to Kendrick's "Control" verse — and handily the best one yet.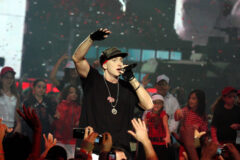 So, fine, Eminem will never be Jimi Hendrix, but it's astounding to watch him settle into a weird life as another Eddie Van Halen, Les Claypool, or Neil Peart — an artist forever balancing life as the most chops-heavy dude in the Top 10 with a tenuous grasp on the pop smarts that got him there. He's not doing a lot of the self-reflexive, self-fulfilling grandstanding once favored by the so-cute-though tabloid character who made the original Marshall Mathers LP so appealing. Here, the rhymes are the stars, and it's quite a year for them to shine, since chops seem to be en vogue again, and the best young(er) rappers out are acknowledging Em's influence. Kendrick admitted, "I don't think nobody's matching him now"; Danny Brown called him "the best to ever rhyme words." Earl Sweatshirt called himself "the reincarnation of '98 Eminem." Chance the Rapper confessed his own Em phase.
In turn, it's almost insane to think that Eminem didn't use this time to make his lo-fi, chainsaw-goth Odd Future record (though Tyler, the Creator is going to be beyond geeked when he hears how "Bad Guy" rips off his Codiene-soaked therapist voice). It's also insane that he's not just cravenly trying to repeat the huge, huge, huge success of 2010's five-times-platinum Recovery, which was mostly "screamo raps plus huge goofy choruses." (Only three songs here attempt that formula — "Legacy," "Stronger Than I Was," and "The Monster" — and they are, accordingly, the only three songs worth skipping.)
Instead, Eminem is mostly making his version of John Lennon's Rock 'N' Roll, or Billy Joel's An Innocent Man or U2's Rattle and Hum or the Beastie Boys' Hello Nasty: one of the biggest artists in the world indulging an elaborate revisionist fantasy where he gets to goof around in the era right before he started making music. In his case, it's rap's Golden Era, and MMLP2 co-executive producer Rick Rubin brings an arsenal of the type of glue-sniffer rock riffs that peeled the sod off suburban lawns in the Beastie Boys' 1986 (Joe Walsh, Billy Squier), not to mention the type of Cold Lava Lampin' acid-rock kitsch that lured us into 1989's D.A.I.S.Y. Age (the Zombies, Wayne Fontana and the Mindbenders).
The sonic reducer pulls the rug out from under everything with the cross-fader and adds those "Back to Cali" dugga-dugga scratches. On "Survival," DJ Khalil rigs up an electric-guitar riff that sounds like the days when Fat Boys, Original Concept, and Whodini were trying to get in the post-"Fight for Your Right" heavy-metal-parking-lot cipher. I can't imagine this appealing to anyone in the age groups between "Aging Rap Fan Who Likes to Hear Schoolly D Samples" and "Young Joey Bada$$ Enthusiast." But if you are in one of those camps, then the world's most famous rapper just made an album where one of the best jokes involves knowing who Kwamé was.
So, yeah, can we just marvel for a second at what a weird, unlikely album this is? Where the internal rhymes get so berserk that he's rapping about pigs flying out of his ass in a flying saucer full of Italian sausage; where the LP's Evel-Knievel-jumping-20-cars moment finds him Twista-style chopping over the flow from J.J. Fad's "Supersonic"; where he shouts out Kool Keith, and then Rihanna sings. Opening track, "Bad Guy" (which deserves giant quotation marks) is a seven-minute Charlie Kaufman movie that Rap Genius should have a heck of a time untangling, cast-wise: It sounds like Eminem, Slim Shady, Marshall Mathers, Stan's little brother Matthew, adenoidal '98 Eminem, his own conscience (or lack thereof), 8 Mile protagonist Rabbit Smith… there's a lot going on. The album's final line is an anti-climactic fuck-off from a guy who's named albums after three different personas: "We are the same, bitch."
All of which keeps this from being a true "sequel" to a 2000 album about blurring the lines between identity and fiction, between theater and threat. Stakes is low: There's plenty of "bitch" and "fag" on here, but Rick Ross, Kanye West, and Odd Future have long since replaced Em as lightning rods for conversations about misogyny and homophobia. Is anyone listening? He even does an uncensored do-over on the "take seven kids from Columbine and put 'em all in a line" bit that was bleeped out of even the dirtiest versions of the original Marshall Mathers LP, adding the telling, "See if I get away with it now that I ain't as big as I was."
These rare moments of self-parody or self-reflection — the stuff that the original was built on — are this record's highlights. A fan points out Em's crow's feet at Kroger's. Our antihero comes to terms with the fact that 15 years of machine-gun misogyny doesn't exactly gel with raising a daughter about to graduate high school. At one point, he reduces his own style to "insert insult here"; at another, he gets downright 40 Is the New 40, complaining about how many buttons are on a PlayStation controller and how complicated it is to download a Ludacris song. In the spot where the brutal slasher flick "Kim" lurked on MM1, he instead delivers a warm apology to his mother after years of cleaning out his closet with lyrical abuse — his voice still rises to a crescendo, but the music conjures Andrew Lloyd Webber goose-pimples instead of Wagnerian drama.
Those moments are rare, so this album will never top MM1 or even 1999's Slim Shady LP for the visceral thrill of watching a celebrity twist and distort his own identity like a comic strip transferred onto Silly Putty. But we get rhymes. So many rhymes. More rhymes than some rappers manage in a whole career. Eminem is rap's agoraphobic Howard Hughes, finally out joy-riding in the Spruce Goose; rap's Chris Carrabba, doing a little more bloodletting these days; rap's Ozzy Osbourne, having a self-aware larf at the old days when he used to scare people; rap's Woody Allen, out for another round of artful self-negation. And it was only 13 years ago when he was just rap's Great White Asshole. He's already been the lead actor. He deserves to play the stuntman for a while.