The numbers are in, but they might be a little disappointing. Yes, Justin Timberlake's The 20/20 Experience (one of SPIN's 50 Best Albums of 2013) was last year's biggest selling album, as Billboard reports, using Nielsen SoundScan data. And sure, Robin Thicke's "Blurred Lines" (one of SPIN's 50 Best Songs of 2013) was the single-song champion.
But those were the top sellers in a dwindling market. 20/20 was the only album with sales of more than two million this year. Its 2.4 million units shifted made it the lowest selling year-end leader of the SoundScan era, which began in 1991. Perhaps more significantly, digital download sales decreased for the first time. The possible role of streaming in all this is an open debate.
Overall, domestic album sales last year totaled 289.4 million, down 8 percent from almost 316 million in 2012. Sales of physical CDs dropped 14 percent. Digital album sales slipped to 117.6 million, a less than 1 percent decrease from their best-ever total of 117.7 million a year earlier. But that's still their first drop since SoundScan started keeping track in 2003. What's more, digital track sales were 1.3 billion units, down 5.7 percent, according to Billboard. Vinyl sales kept rising — to 6 million, up from 4.6 million a year ago.
Timberlake's 20/20 displaces Lil Wayne's 2008 album, Tha Carter III, the previous lowest selling year-end champ with sales of almost 2.9 million. The two are the only full-year top-sellers since SoundScan that failed to crack the three million mark. For comparison, the biggest selling release of 2012 was Adele's 21, which moved 4.4 million copies in that 12-month frame. The year before that, the top-seller was … also 21, which sold 5.8 million in 2011.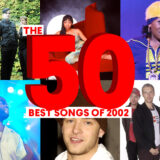 As for the rest of the top-selling albums: Eminem's The Marshall Mathers LP 2 is, as befits its title, No. 2 (1.73 million), marking his sixth time in the year-end top 10 — 2010's Recovery and 2002's The Eminem Show were their years' respective victors. Luke Bryan's Crash My Party ends in third (1.52 million), the best showing for a male country singer since the time of Billy Ray Cyrus and Garth Brooks.
Next up were Imagine Dragons' Night Visions (No. 4, 1.4 million), Bruno Mars' Unorthodox Jukebox (No. 5, 1.4 million), and Florida Georgia Line's Here's to the Good Times (No. 6, 1.35 million), followed by Drake's Nothing Was the Same (No. 7, 1.34 million), Beyoncé's Beyoncé (No. 8, 1.3 million), and Blake Shelton's Based on a True Story (No. 9, 1.1 million). Jay Z's Magna Carta…Holy Grail closes out the top 10 (1.1 million), the first time a husband and wife have separately fared so well with SoundScan.
Among tracks, Thicke's Pharrell- and T.I.-assisted "Blurred Lines" sold almost 6.5 million copies. No. 2 was Macklemore & Ryan Lewis' "Thrift Shop" (6.1 million), followed by Imagine Dragons' "Radioactive" (5.5 million). In 2012, Gotye's "Somebody That I Used to Know" led the way (6.8 million).
Rounding out the top 10: Florida Georgia Line's "Cruise" (No. 4, 4.7 million), Lorde's "Royals" (No. 5, 4.4 million), Katy Perry's "Roar" (No. 6, 4.4 million), Pink's "Just Give Me a Reason" (No. 7, 4.3 million), Macklemore & Ryan Lewis' "Can't Hold Us" (No. 8, 4.3 million), Bruno Mars' "When I Was Your Man" (No. 9, 3.9 million), and Rihanna's "Stay" (No. 10, 3.85 million). Incidentally, none of these can touch the Black Eyed Peas' "I Gotta Feeling," the best-selling digital track ever with 8.4 million.