SPIN's 50 Best Songs of 2013
Depending on whether you're a teen girl or a soccer mom, a teen mom or a soccer girl, a subscriber to Spotify or Sirius, a resident of New York City or the Montana wilds, an industry weasel or a fanatic from afar, a risk-taker or a comfort-seeker, a blogger or a hedgehogger, your Songs of the Year likely varied tremendously. As has been the case since the Internet made it Christmas Past/Present/Future year-round, there was no legitimate consensus in 2013: You could've inhabited a world where "Versace" was an omnipresent refrain, or "Random Hi5s" or "Royals" or "Bound 2" or "Roar" or "Cruise" or "Harlem Shake" or "You Might Think He Loves You for Your Money But I Know What He Really Loves You for It's Your Brand New Leopard Skin Pillbox Hat" could've been your soundtrack instead. (Likely your Albums of the Year varied wildly, as well). Is this ongoing lack of a monocultural anthem a tragedy worth bemoaning? We suggest you ask the "Fox" and heed her advice: "Hatee hatee hatee ho!" So, to complement our 50 Best Albums of 2013, here's 50 of our favorite toons. CHARLES AARON
Tech note: If you're using Google Chrome and the slideshow is giving you hassles, trying disabling AdBlock.
1. SPIN's 50 Best Songs of 2013
1/51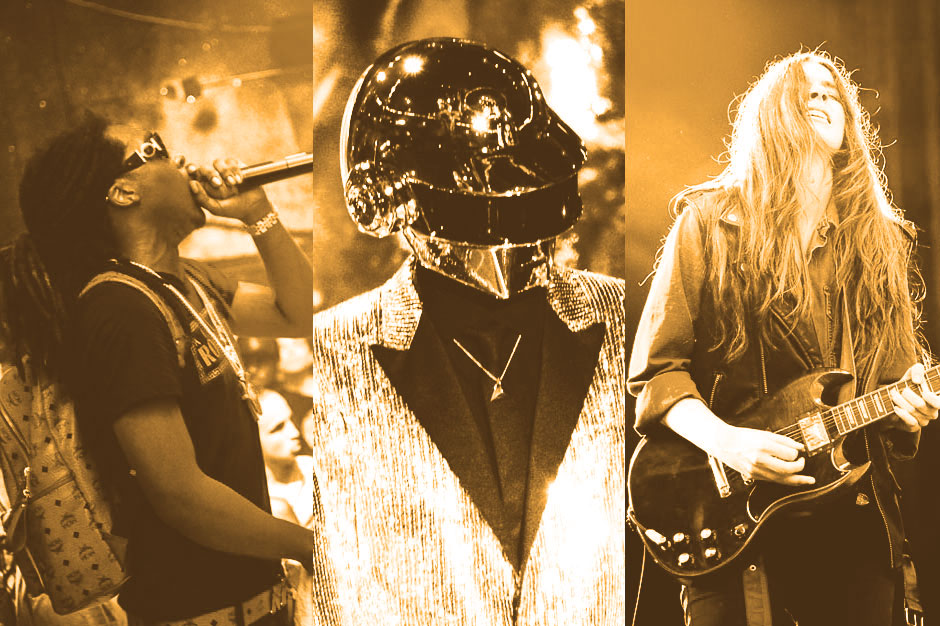 2. Tech N9ne – "Dwamn"
2/51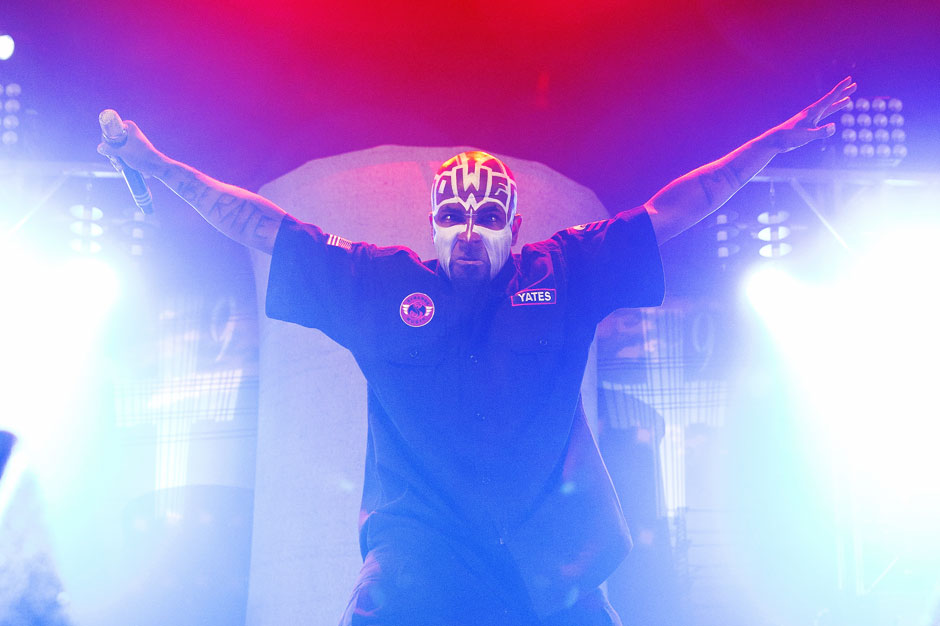 Despite the fact that he had a better first week than Tyga or French Montana, you're probably not gonna hear Kansas City, Missouri oddball Tech N9ne on rap radio anytime soon — he's prone to fits of chops-heavy stunt-rap, partial to Twisted Sister makeup, hasn't a cog of major-label machinery behind him, and is twice as old as Chance the Rapper. But in a fair and just world where his growl could melt your FM dial, he'd meld hyphy, trap, and Diplo; channel bass deep enough to blow up a Bugatti; reduce Pootie Tang to a single entendre; and wish he was your loofah. CHRISTOPHER R. WEINGARTEN
3. The Band Perry – "DONE"
3/51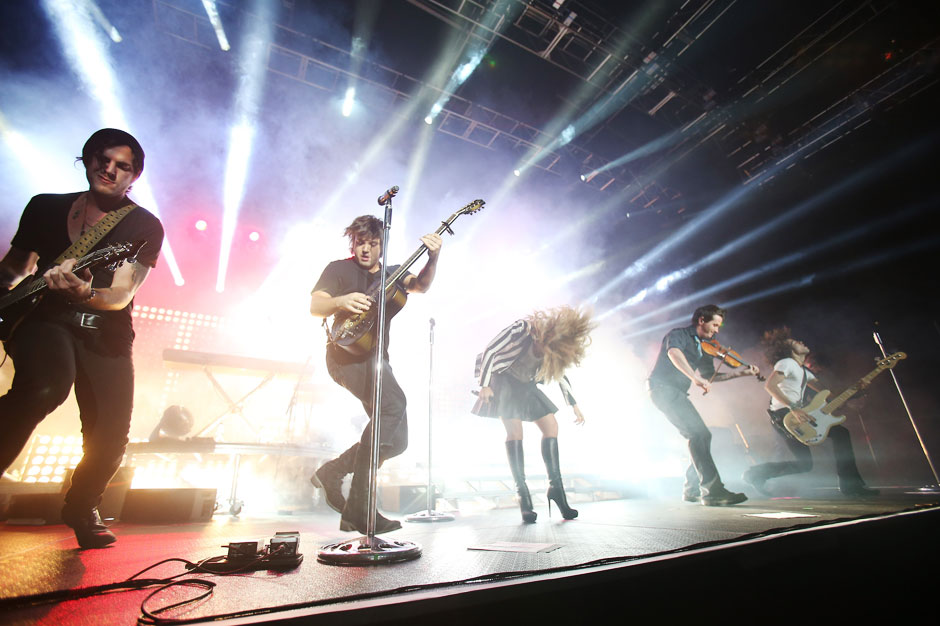 Nashville finally said uncle to this long-running family trio in 2010, granting platinum status to a debut album that occupied the slightly less cheeseball, slightly more "rootsy" lane to the left of Lady Antebellum. Then the Perry sibs teamed with Rick Rubin to explore their authentic core, realized they didn't have one, said nerf it, and eventually unveiled this faux-'80s pop-rock cheeseball revenge jam (co-written by emo-banged bros Reid and Neil) that's got leather-gloved frontwoman Kimberly swinging her dye job in a wind machine and blowing up in your face like dynamite while a keytar-ish solo wails into a fiddle-ish breakdown and the cheap seats erupt in a shower of Red Solo cups and spray-tan flop-sweat. Ta! CHARLES AARON
4. Chris Malinchak – "So Good To Me"
4/51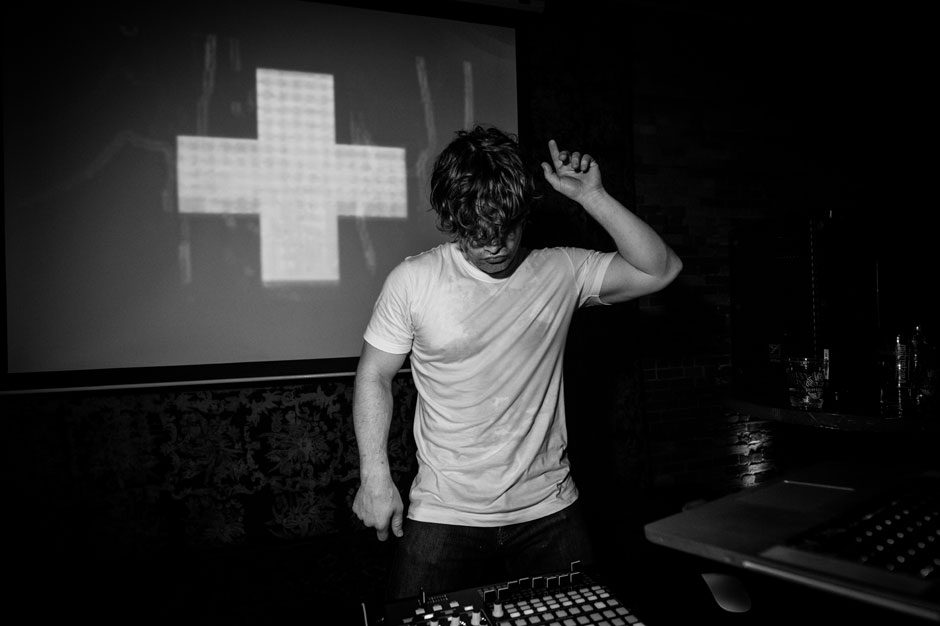 From New Jersey's reliably buoyant house label French Express, it's the most sublimely soothing deep-house track of the past year. With a muted keyboard pulse and the trace of a guitar lick building into a surge of elation that crests and then recedes, "So Good to Me" emanates a wistful, summery coastal glow that almost imperceptibly melts your reserve. There's a droning coo (Soul II Soul's Caron Wheeler?) that tingles your heart rate just a bit, and then it hits you out of nowhere, almost unfairly, as Malinchak masterfully fades in and fully integrates the tragic swoon of Marvin Gaye and Tammi Terrell's deathless duet "If This World Were Mine." When Marvin croons, "Aww, baby, you're my consolation" — which actually sounds more like "cancellation," love being the obliteration of the individual self and shit — it's over. Imagine a montage of hugs like the final scene of Cinema Paradiso that goes on and on until the snow starts to fall. C.A.
5. Kvelertak – "Bruane Brenn"
5/51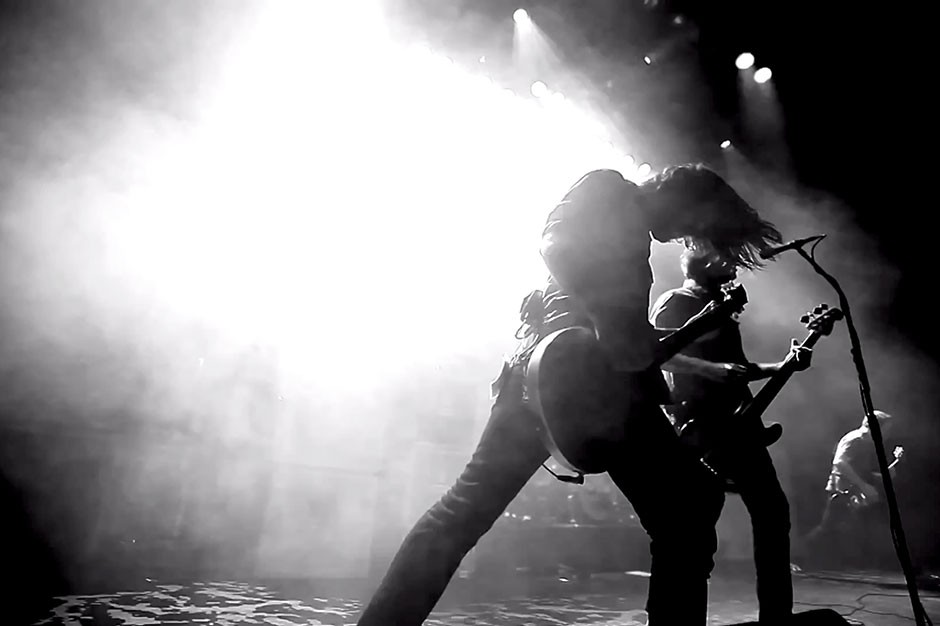 The black-metal "Freebird" or "Bat Out of Hell" or whatever power ballad you choose to envision soundtracking a rampaging escape from a wintry Norwegian snow-prison. In league with Converge (whose Kurt Ballou recorded their first two albums) and Baroness (whose John Baizley did the cover art for the second), these guys are modern-day hard rock's burning core, fusing various metals, punk, and thrash with a screamingly melodic flourish. Dig when the outlandish, top-hat-and-speedball guitar solo appears like an apparition at 2:45; you may shed a frozen tear. Fuck Varg and Burzum and all that evil church-burning nonsense — Norway's been through enough. Time to straight-up sweat through your flannels and rawk. C.A.
6. Volcano Choir – "Byegone"
6/51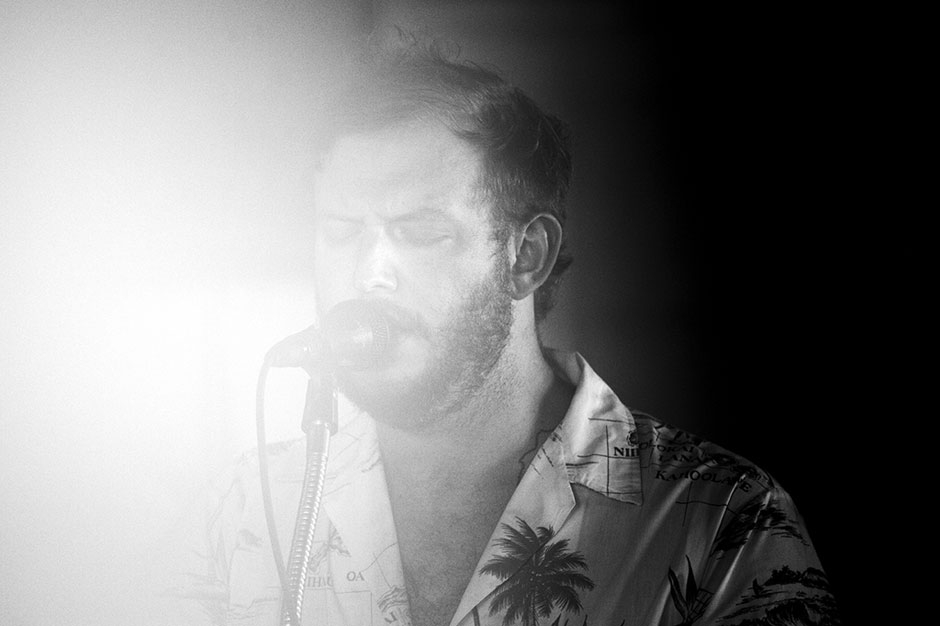 On which Kanye plaything, one-man Bruce Hornsby revival, and indie-hater's-straw-man-made-flesh Justin Vernon ditches Bon Iver to reunite with some old buddies for the best Wisconsin power ballad since Killdozer's "I've Seen Grown Men Cry" and, without question, the best Collective Soul song of all time. If that "SET SAIL!" chorus doesn't get you waving your iPhone lighter app in the air, then just delete it already. Guaranteed to make your beard hairs stand on end. ROB HARVILLA
7. Eminem – "So Far…"
7/51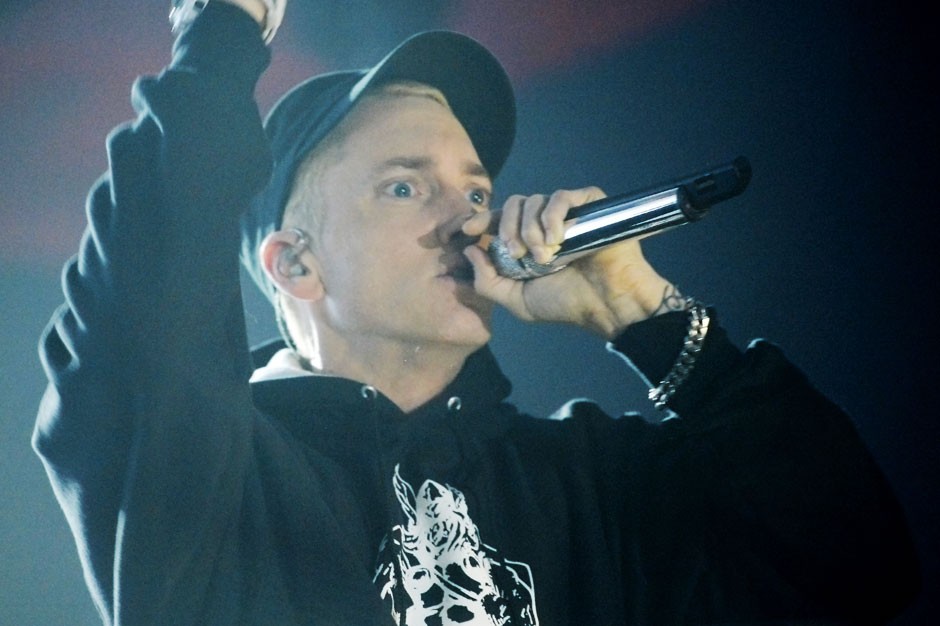 The "Mo Money Mo Problems" for rich dudes who just wanna drop a deuce in a McDonalds bathroom. Forty-year-old Marshall Mathers wrestles the fame monster, and it doesn't get Eddie Vedder than this. C.W.
8. Young Thug – "Picacho"
8/51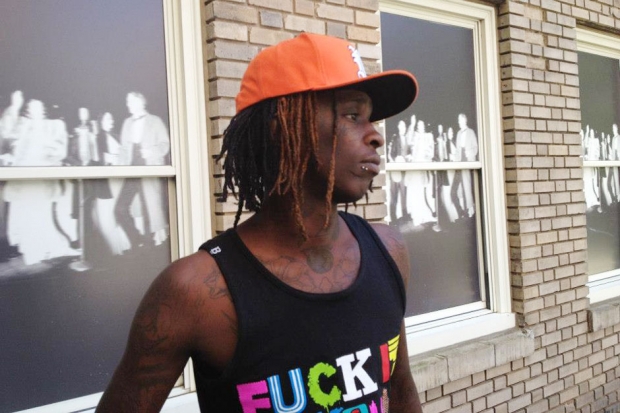 With Lil Wayne now on a puckish crusade to orally pleasure yo mama and foul every punch bowl he can reach with his still-rich-as-fuck, post-incarceration pimp stick, it's left to this Atlanta MC to push the boundaries of what's rapping and what's hysterically spontaneous jibber-jabber. And he's up to the task on this hysterically spontaneous track, jibber-jabbering his own jabberwocky hypnotically, with a constantly fluctuating tone and accent, sounding like he's always clearing his throat, navigating a cubistic cascade of synths (from producer Jay Neutron), bragging that his diamonds can wink and his watch is Italian and he wears slippers and yacht shoes and he'll hoot and screech "Picacho" (pronounced like both the Pokemon character or "peek at you") at anybody in the club. It's no "Ha," but it's a new day. C.A.
9. Major Lazer – "Bubble Butt"
9/51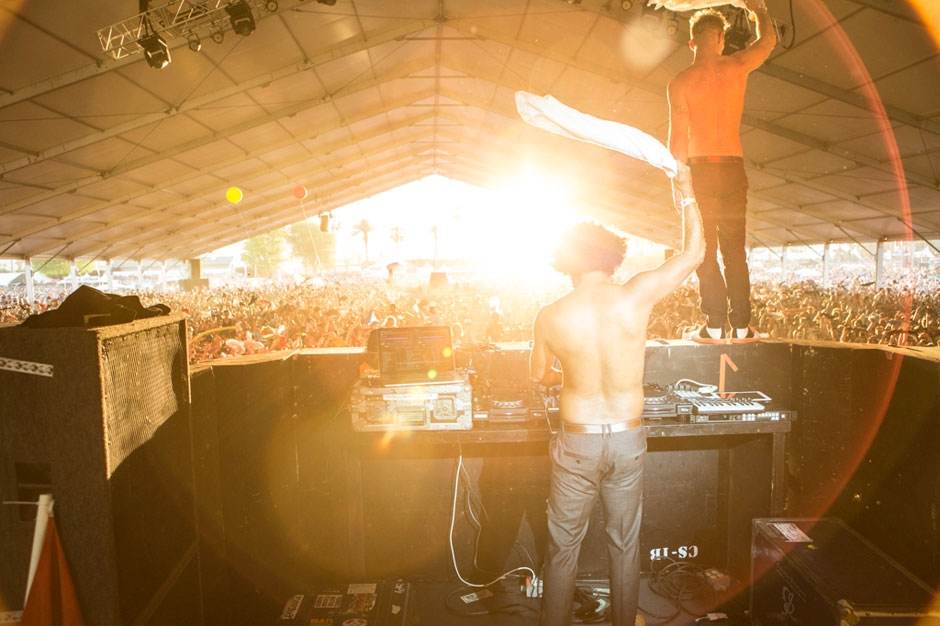 A heartfelt tribute to old-schooler Jimmy Spicer's "The Bubble Bunch" and the totally, um, understandable male obsession with a certain exceptional female body type. As 50 Cent once put it, "I love you like a fat kid loves cake." Essentially, it's "Rubber Baby Buggy Bumpers" over electro cursor-squiggles, b-b-b-b-but that's exactly what it needs to be. C.A.
10. Ylvis – "What Does the Fox Say?"
10/51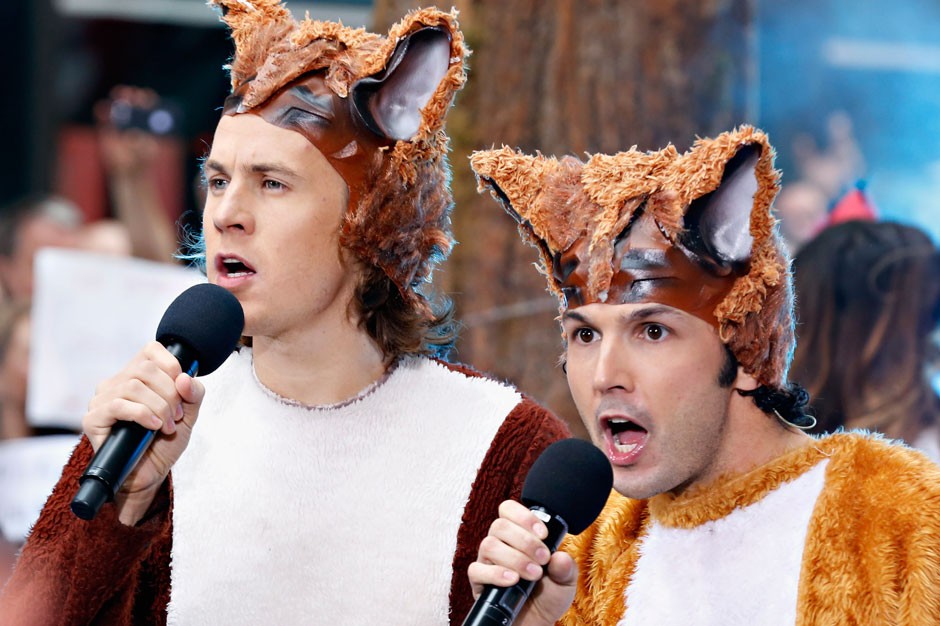 The "Gangnam Style" of 2013 (unseating "Harlem Shake," and not a moment too soon) is the both the pinnacle of brain-dead, bro-heavy stadium EDM and a slyly devastating critique of same, as delivered by a fraternal comedy duo who really oughta join up with Kvelertak for the What the Hell Is Awesomely Wrong With Norway All of a Sudden? world tour. Watching a two-year-old dance to this is a transcendent experience; it's also available as a Halloween Light Show. (Every voice gets its own window!) Also: YAKYAKYAKYAKYAKYAYAKYAK. R.H.
11. Travi$ Scott, feat. 2 Chainz – "Upper Echelon"
11/51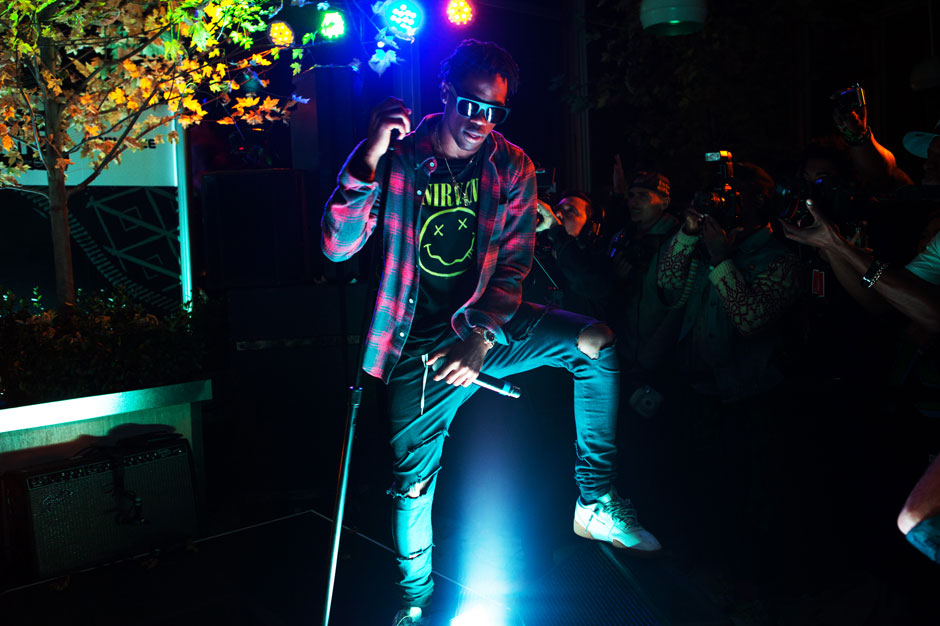 You could retitle Owl Pharoah, Travi$ Scott's debut full-length, as Children of the Screw, for how this manic Houston producer-rapper (and Kanye sidekick) taps into his hometown's tradition of dank, turgid, spooky dislocation and shoots it up with a we-so-fuckin'-high, kid-like bravado. Everybody's poppin' Xannies and partyin' at the Sphinx, while T.I. shouts, "I'm a king, motherfucker, who the hell are you?" amid incessant horn fanfares and snares stretched into pinpricks. Basically, this couldn't be more of an invitation for 2 Chainz to slide down the chimney and bless all the good little boys and girls with a bounty of naughty punch lines: "Uh, pull up in the 'rari / My ho beside me / It's a two-seater / Your bitch can't ride / Ho, I'm sorry." Ho, ho, ho to one and all. C.A.
12. Parquet Courts – "Stoned and Starving"
12/51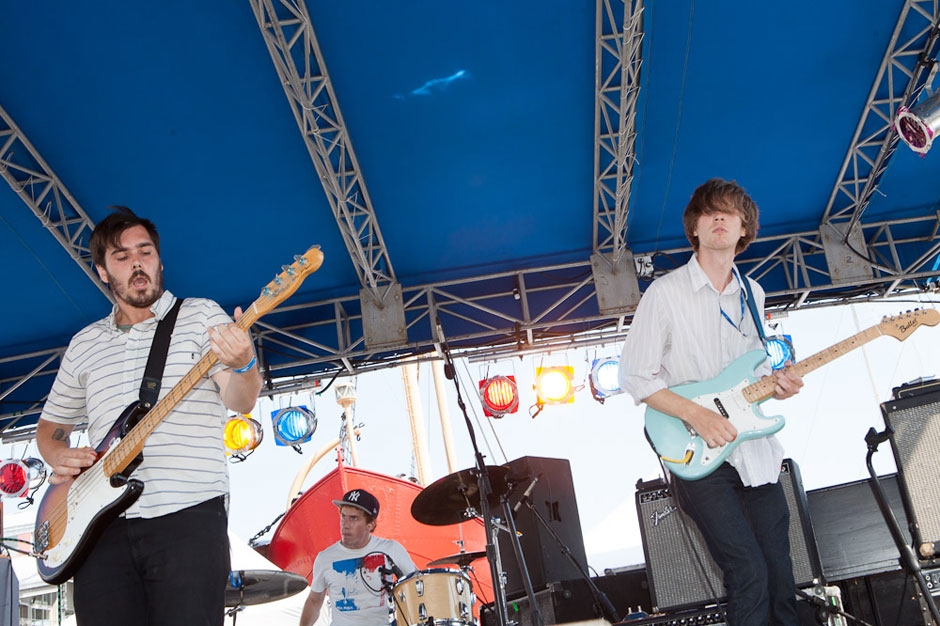 From the Velvet Underground to the Modern Lovers to Richard Hell to Jim Carroll to R.E.M. to the Dream Syndicate to Galaxie 500 to Pavement to the Strokes to countless others, there have always been heady rock bands trying to lock down an agitated, trance-like guitar-bass-drums groove over which some poetically inclined wannabe Childe Harold can intone cryptic lyrics with a flat affect and vaguely nihilistic/existential swagger. In 21st-century #Condoburg, New York, Parquet Courts are keeping the faith, shuffling nervously through Ridgewood, Queens; flipping through magazines; perusing the junk food; playing scratch-offs; and savoring the feedback loveliness of the extended outro. C.A.
13. Brandy Clark – "Take a Little Pill"
13/51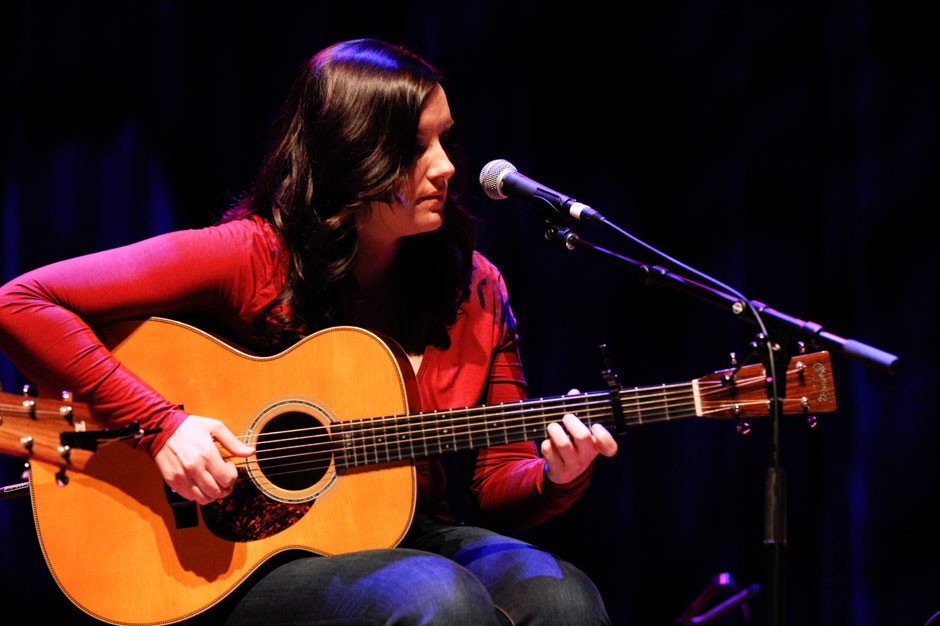 A sterling Nashville storyteller who knows how to balance wit and pathos via piercing detail — the yellow, red, and pink medication lined up on a depressed mom's shelf; the limping soldier/drug dealer down the road with his pit bull — plus indelible choruses that could snap any long-haul trucker out of a fade. Clark's voice soothes just fine, but it's her rewind-that-shit songwriting that keeps your emotions on a swivel. Laughing to keep from crying and vice versa, even when that makes no sense at all. C.A.
14. DJ Rashad – "I Don't Give a Fuck"
14/51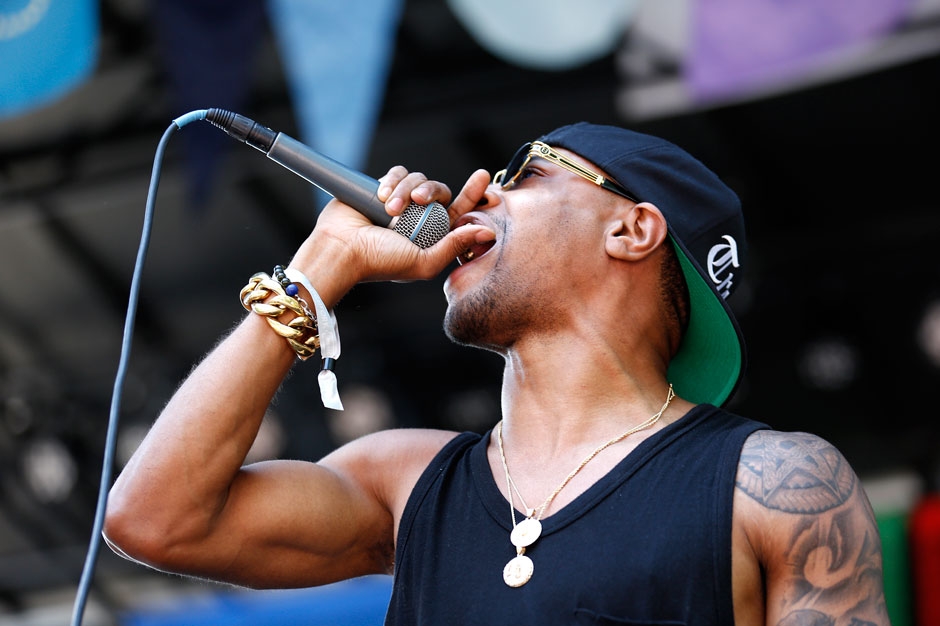 An ominously chattering synth overture and racing sub-bass yank you into a maelstrom already in progress, with the Chicago footwork guru sampling Tupac as "Bishop" going at Omar Epps as "Q" in Juice. A ghostly voice warns: "You know what? I am crazy. And you know what else? I don't give a fuck," and suddenly a flatline siren goes bonkers, the bass turns into a mad tremor, and Rashad starts flexing the wound-tight dialogue, chopping and extending it as the drama escalates: "I don't give a fuck about you / I don't give a fuck about myself." When the latter phrase repeats, hi-hats cut loose like mice skittering across the floor of an abandoned building, and when Pac spits, "Remember that, motherfucker!" the snares roll. Some have grumbled that this track lacks real emotion and is just macho posturing. I don't give a fuck. C.A.
15. Eric Church – "The Outsiders"
15/51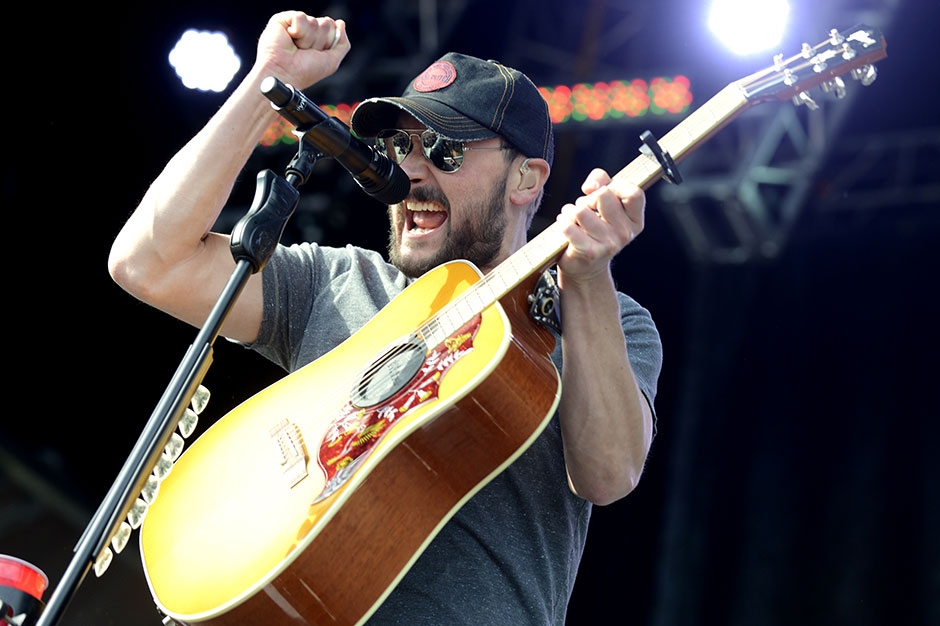 Welp, this guy gets to do whatever the hell he wants now, so please enjoy a full Black Sabbath album distilled down to 60 seconds at the end of this fantastically standoffish backwoods-metal ode to an outsider status he's way, way, way too industry-anointed to actually claim anymore, but that's what makes Eric Church just the best. This sounds hilarious on country radio. Yearbook quote: "The players gonna play / And the haters gonna hate / And a regulator's born to regulate!" Next stop is the East Side Motel. R.H.
16. Autre Ne Veut – "Gonna Die"
16/51
If you're ever trying to kill someone, just slip this lethal bedroom-soul falsetto meltdown into the karaoke queue, a deep cut that cuts right through the bone and out the other side. If you found Usher's "Climax" too anticlimactic, or have ever daydreamed about the lead singer of the New Radicals auditioning for Les Misérables, well, hold on to your butts. The "I Will Always Love You" of PBR&B. Also: He does this live, and does not alter or otherwise bullshit a note of it. R.H.
17. Janelle Monáe, feat. Erykah Badu – "Q.U.E.E.N."
17/51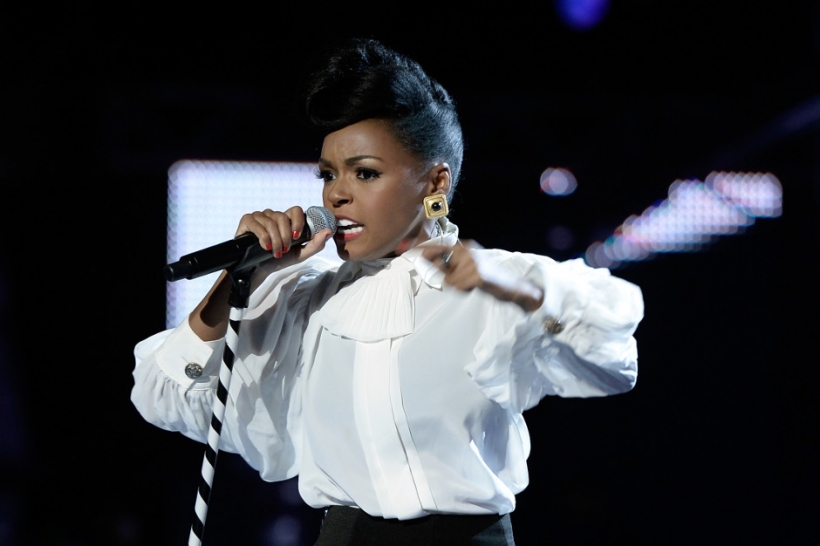 Both of these ladies are about atomizing soul and funk and pop with technical virtuosity, conceptual dazzle, and general sophisticated freakiness. Oftentimes, that's so much of a mouthful that you wish they'd go ahead and, you know, just sound like Prince. Which they do here. And if you can't feel Monáe's badassery when she spits, "Let them / Eat cake / But we eat wings / And thrown dem bones on the ground," then maybe the problem's not hers, but yours. To wit, "The booty don't lie." C.A.
18. Yeah Yeah Yeahs – "Sacrilege"
18/51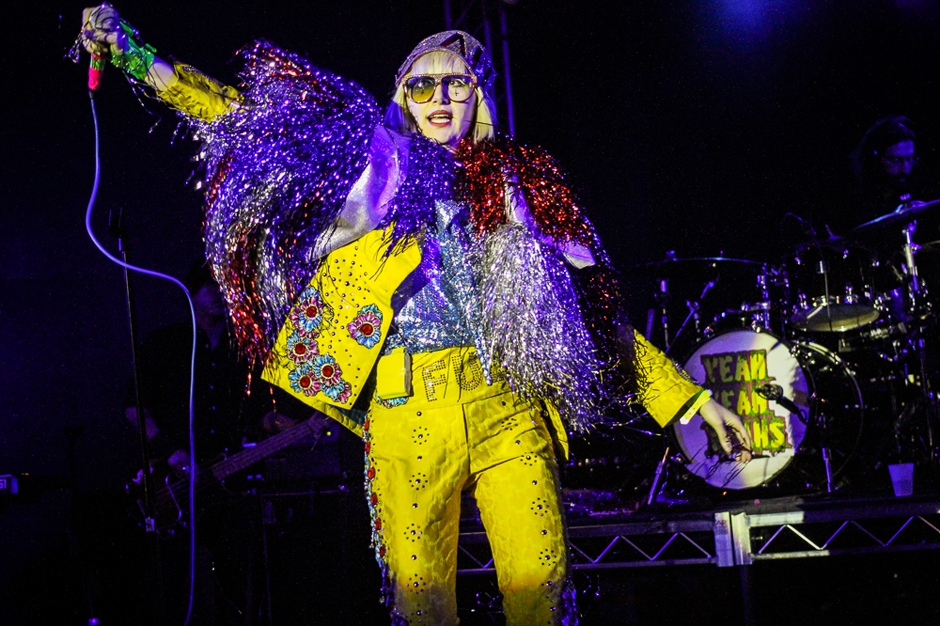 The only song on the more somberly introspective Mosquito that's got the post-punk-electro sashay of 2009's It's Blitz, "Sacrilege" is perhaps the Yeahs' grandest, edgiest, most straightforward anthem yet. Wailing about an angelic-seeming yet forbidden love, Karen O's voice has a tenderly corrosive, talkin'-square-biz-to-ya-baby quality, and Nick Zinner's guitar stomps and pirouettes and fan-dances around her with prickly aplomb. Then a 24-member "Like a Prayer" gospel choir appears to consecrate Karen's supposed transgression. Praise, Yeezus! C.A.
19. Green Velvet – "Bigger Than Prince"
19/51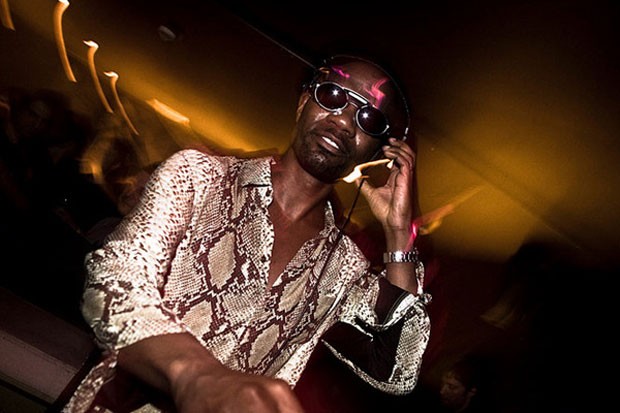 In the year's most low-key-fab return, Chicago house-music icon Curtis Jones reboots his waggish Green Velvet techno guise and sprays filth-synth shade all over this methodical, shudder-funk groove like it's 1999 (literally). As the Prince signifiers start dropping — chirpy-then-shadowy analog synths — and Linn shots ricochet into corner pockets, Jones never succumbs to any sort of impulse to provide an EDM pep-rally climax (despite having cashed recent EDC checks). He's still a tough-minded trickster. C.A.
20. Arcade Fire – "Reflektor"
20/51
The trick, if you are a terminally dorky, catastrophically overserious, insurmountably stiff indie-industrial-complex band, is to make all those theoretical impediments work for you, to turn into the skid of your own whiteness, to go ahead and bitch about cell phones amid sublimely neurotic James Murphy disco-clatter if your arrow points you thus, to let those bongos sound as nasty/incongruous as they wanna be, to achieve a transcendent dance-punk uber-stiffness worthy of David Byrne himself. The bridge rules. R.H.
21. Charli XCX – "You (Ha Ha Ha)"
21/51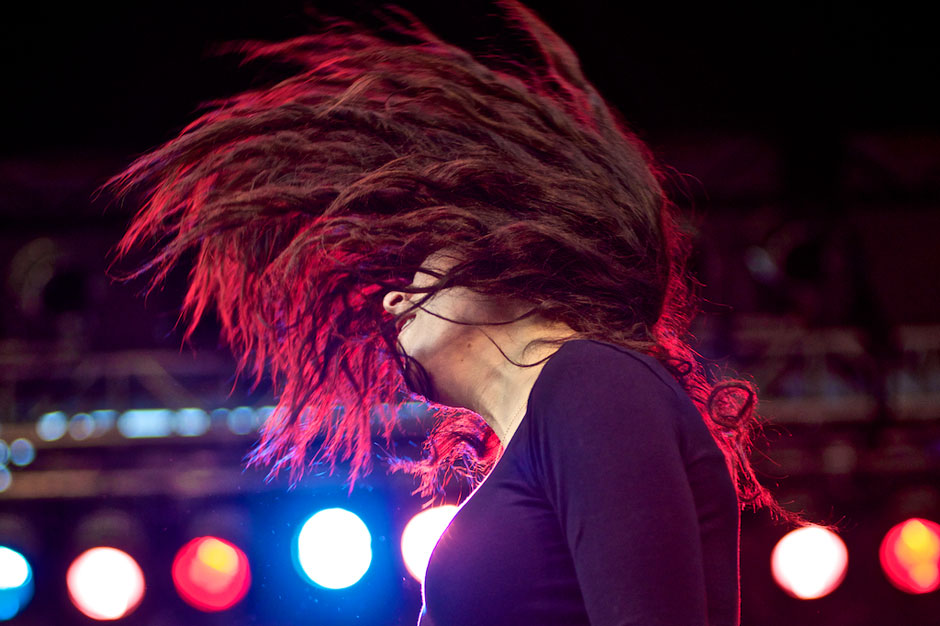 The subtler, sharper, sleeker, more vicious ghost-echo of "I Love It" (right down to "You were old-school / I was on the new shit") is an impossibly sumptuous electro-pop kiss-off that imbues a furious-text-message chorus — "You, you lied / Ha ha ha ha, I was right / All along / Good job, good job / You fucked it up" — with the decapitating wit of Dorothy Parker and the gleeful vengeance of an enraged Cyndi Lauper. Also, secretly the air-piano jam of the year. R.H.
22. Ciara – "Body Party"
22/51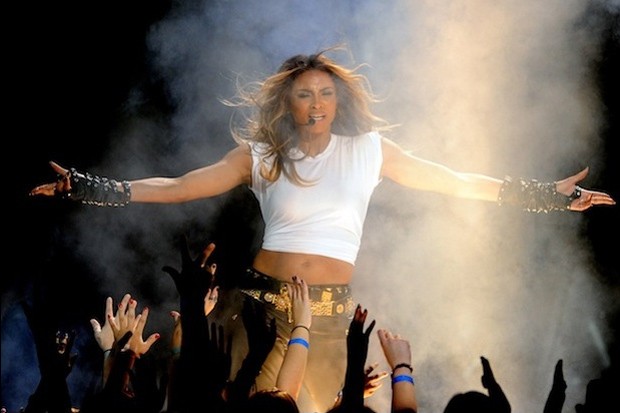 Wherein the freshly anointed First Couple of R&B (Future with the digital gurgles, Ciara with the wonderstruck moans) meet impossibly cute by recasting Ghost Town DJs' "My Boo" as the dirtiest aural bubble bath to hit the radio in ages. Like one of those Internet memes where a tiger somehow ends up cuddling with a rhinoceros or whatever. Note: If Chappelle's Show were still around, Dave totally would've done a remake/R. Kelly sequel called "Body Potty." R.H.
23. Duke Dumont, feat. A*M*E* – "Need U (100%)"
23/51
Sierra Leone-born teen vocal scamp Aminata Kabba (a.k.a. A*M*E*), Nigerian-descended teen production whiz Uzoechi Emenike (a.k.a. MNEK), and Switch protégé Duke Dumont team up for a finger-wagging, crossover-house throwdown that stalks you with an utterly contemporary strut, but that you could easily imagine Strictly Rhythm's B-Crew (Barbara Tucker, Dajae, Ultra Nate, Mone) turning it into an Olympic-level diva par-tay. C.A.
24. Ashley Monroe – "The Morning After"
24/51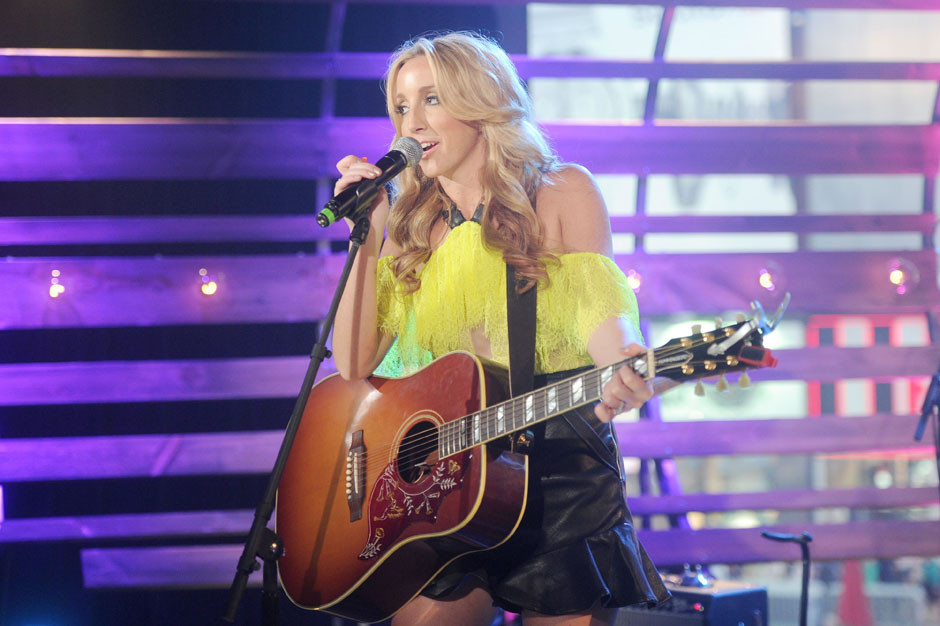 The Pistol Annie gives her sassy shtick a rest and hushes the honky tonk with a slug-in-the-gut, steel-guitar weeper about what a young girl can give away forever to a dude with nothing to lose but a bar tab. Interesting sidenote: "The Morning After" is co-written by Caitlin Rose's mother, Liz, who helped shepherd Taylor Swift through her first two albums. C.A.
25. Phoenix – "Trying to Be Cool"
25/51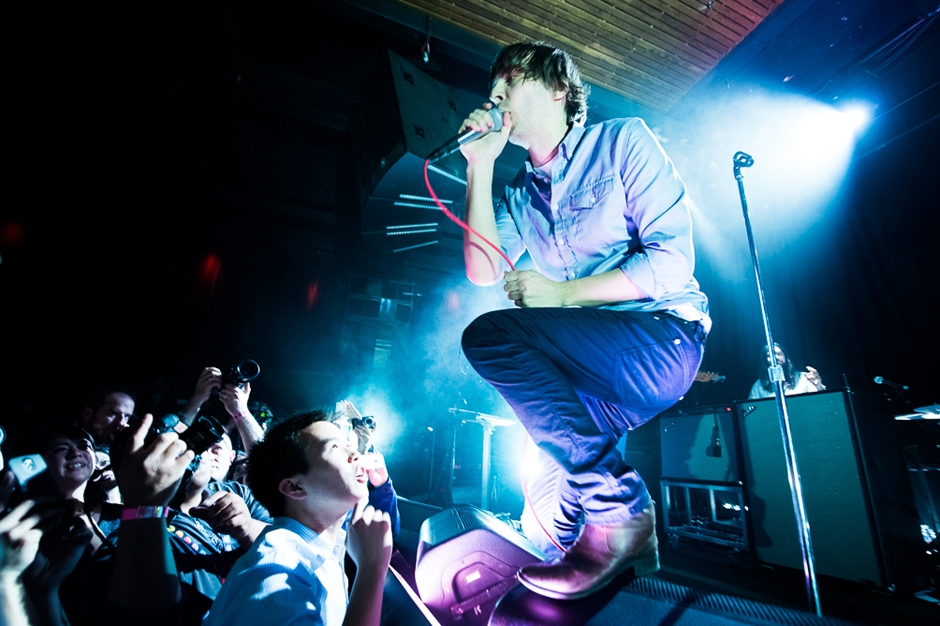 Here are some of the words to a perfect, effervescent, 20-point-bold-type festival-headliner pop song: "They teach you suffer to resist / Too much intention Presbyterian / Mint julep testosterone / Tell me that you want me, tell me that you want me." You may still prefer their 2009 (to say nothing of their "1901"), but this exotic puff of painstakingly effortless, forthrightly inscrutable cotton candy still purrs sweet nothings in the most literal sense of both "sweet" and "nothing." The lilting, pristine synth line clears it all up — honest. R.H.
26. Paramore – "Still Into You"
26/51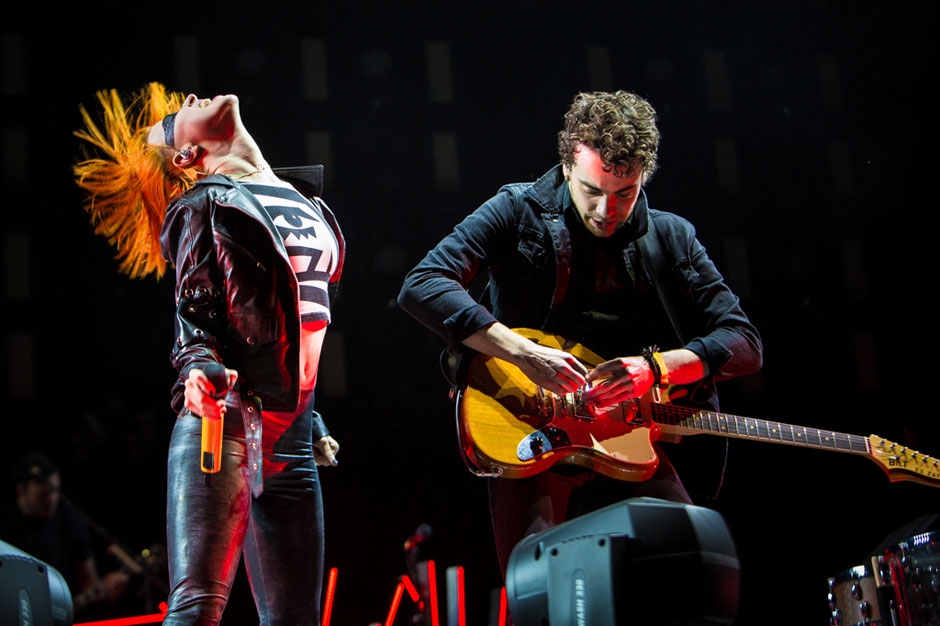 The year's best pop-punk song, best arena-rock song, best love song, best Katy Perry song. The way Hayley Williams pronounces "your mother" alone — yo' mutha — should inspire symphonies, dissertations, marriages; coupled with equally gigantic monster 2010 power ballad "The Only Exception," we've basically got the 21st-century "Faithfully"/"Don't Stop Believin'" here. Renders the possibly apocryphal emo revival both tolerable and pointless. Try to block out the fact that it's about the guy from New Found Glory. R.H.
27. Drake – "Hold On, We're Going Home"
27/51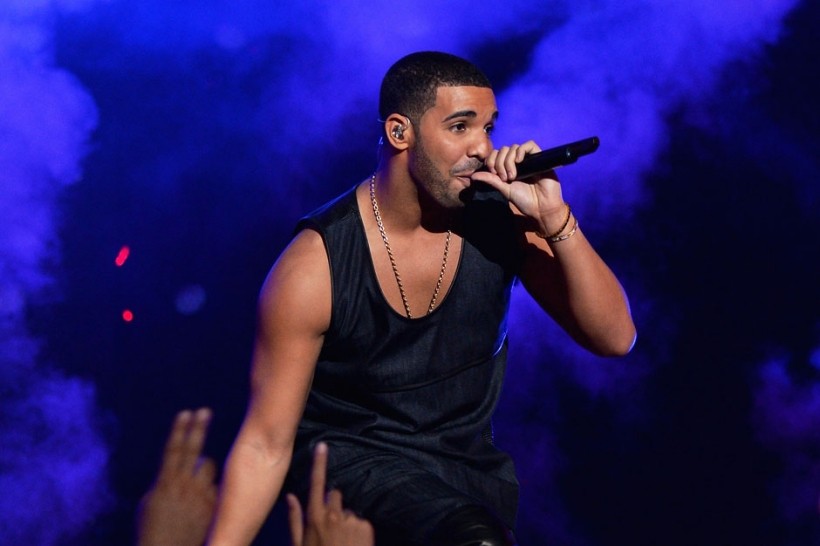 Nothing Was the Same's one genuinely sublime moment is, not surprisingly, it's calmest, kindest, least aggrieved and aggrandizing. This is a relative scale: "'Cause you're a good girl and you know it / You act so different around me" is not exactly the come-on of a guy familiar with the Bechdel test. (It's actually Robin Thicke's come-on, but never mind.) Yet Drake excels at burying all such unease — his, hers, yours — in waves of immaculately moaned R&B-lover-man sumptuousness. Utterly beautiful in spite of itself. Better you go home with him than the dude from the Weeknd. R.H.
28. Sleigh Bells – "Bitter Rivals"
28/51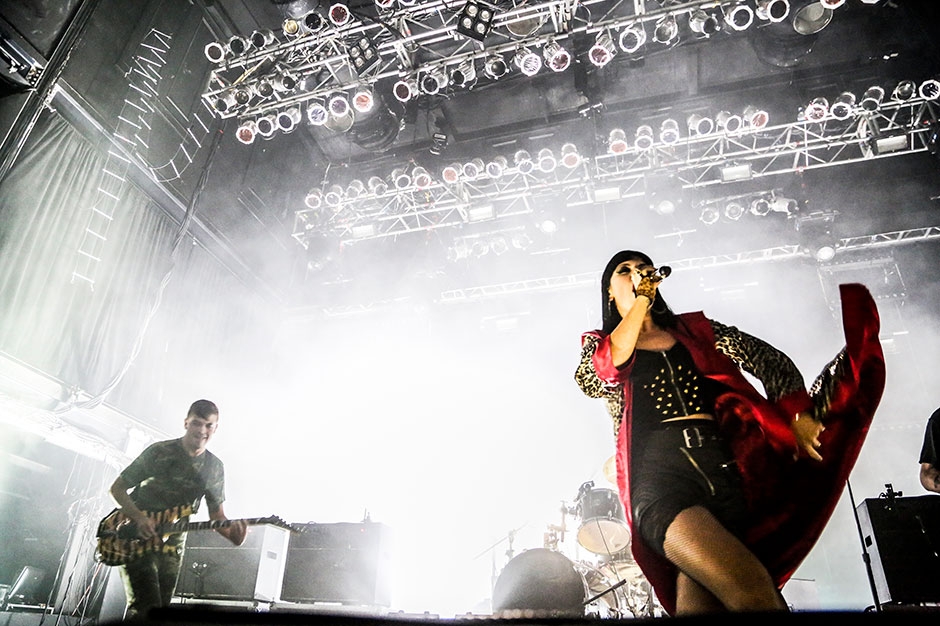 With its girlish yip; "Been Caught Stealing" barks (and whimpers); Shangri-Las finger-snaps; and Alexis Krauss' nihilistic, Dickensian throwdown ("It was the best of times / It was the worst of times / I had to kill the new sheriff in town"), every sound in "Bitter Rivals" is taut and targeted, blowing out your speakers (again) with renewed vigor. A brittle acoustic strum busts into an adrenalized rumble that builds to the almost whispered chorus, backed only by a cozy 808 clap: "You are my bitter rival / But I need you for survival." Though the album of the same name has been less than an event, Sleigh Bells remain one of pop music's most combative, compelling outliers. C.A.
29. CHVRCHES – "Recover"
29/51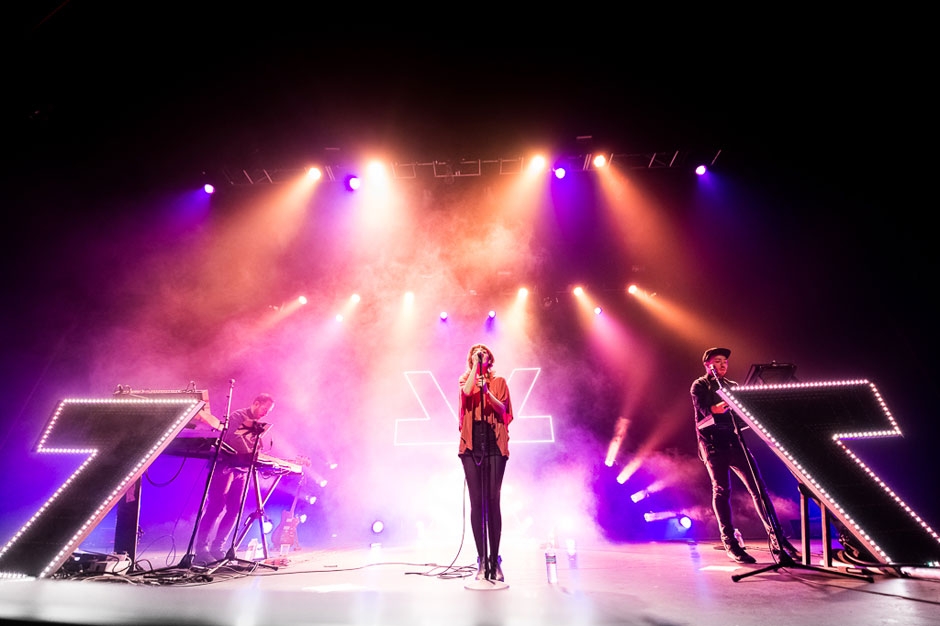 The key to killer synth-pop is to use a buoyant delivery to smuggle in lyrics worthy of black metal: "Carved / Earth / Cold / Hiding from you in this skin / So / Old," and that's in the first 11 seconds. From there, you get jaunty handclaps, opulent laser-beam arpeggios, Lauren Mayberry's elegantly aggrieved staccato, and a startling bridge that feels like the world's saddest submarine breaking the surface of the world's coldest, loneliest ocean. Bonus points for the Carnac the Magnificent shout-out. R.H.
30. Big Sean, feat. Kendrick Lamar, Jay Electronica – "Control"
30/51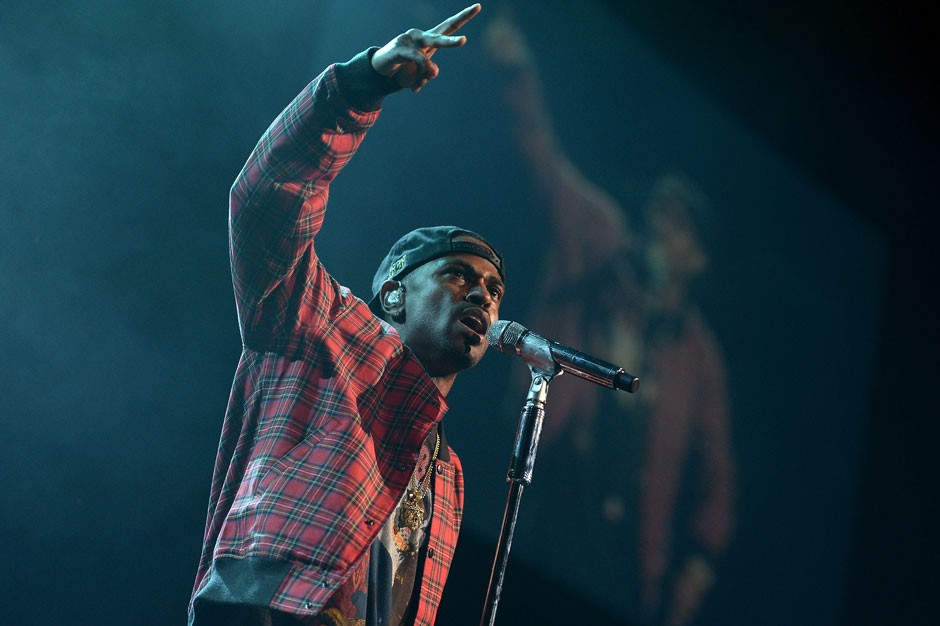 And with a single verse, the rap game changed forever. "I had women on women, yeah that's bunk bed bitches." "You gon' get this rain like it's May weather." "Forever hot-headed but never got cold feet." By gosh, Big Sean just slays here, a brash, confrontational tour de force that brought Twitter to its knees, inspired bar-raising answer records by everyone from Fred the Godson to Papoose, and totally established Big S as the hottest MC in the game, let alone on this, his own song, which in a bittersweet addendum, also featured two other rappers so thoroughly clowned by his typhoon of lyrical acumen that they were never heard from again. May weather! Mayweather! Like the boxer! This one gets five out of five Big Seans. R.H.
31. Kacey Musgraves – "Follow Your Arrow"
31/51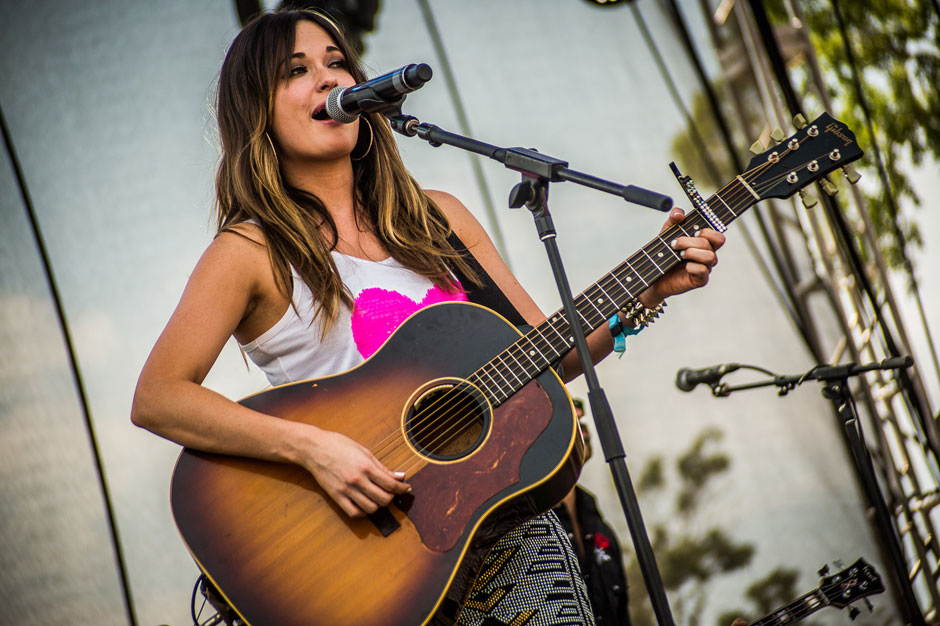 The bad news is that they repeatedly bleeped out "roll up a joint" when she played this at the CMAs; the good news is that she played this at the CMAs. The idea here was that buoyant cries of "Make lots of noise / Kiss lots of boys / Or kiss lots of girls if that's something you're into" would revolutionize country radio and turn all the red states rainbow, and while we'd better get back to you on that, this goes a long way toward making up for "Courtesy of the Red, White, and Blue." Miranda Lambert is so pissed she didn't think of that "whore-ibble person" thing. R.H.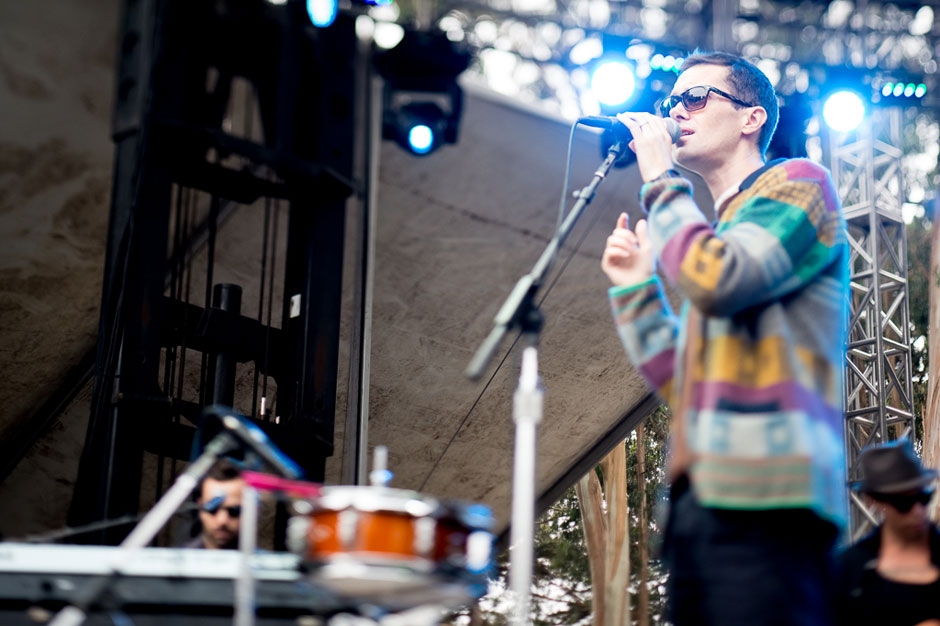 Violins cry, horns sigh, an oboe kibitzes, fingers snap, and Mike Milosh's androgynous voice flutters its falsetto in the most luxuriously, exquisitely delicate plea for us to please "stay." But who is this wispy creature cooing, "I'm a fool for that shake in your thighs" like he/she's got all the time in the world to explore this subject further? How did we get here, and is this creepy or rapturous? Oh, come on, who are we kidding? That "hmmm" on the chorus just sealed our fate. C.A.
33. Rich Homie Quan – "Type of Way"
33/51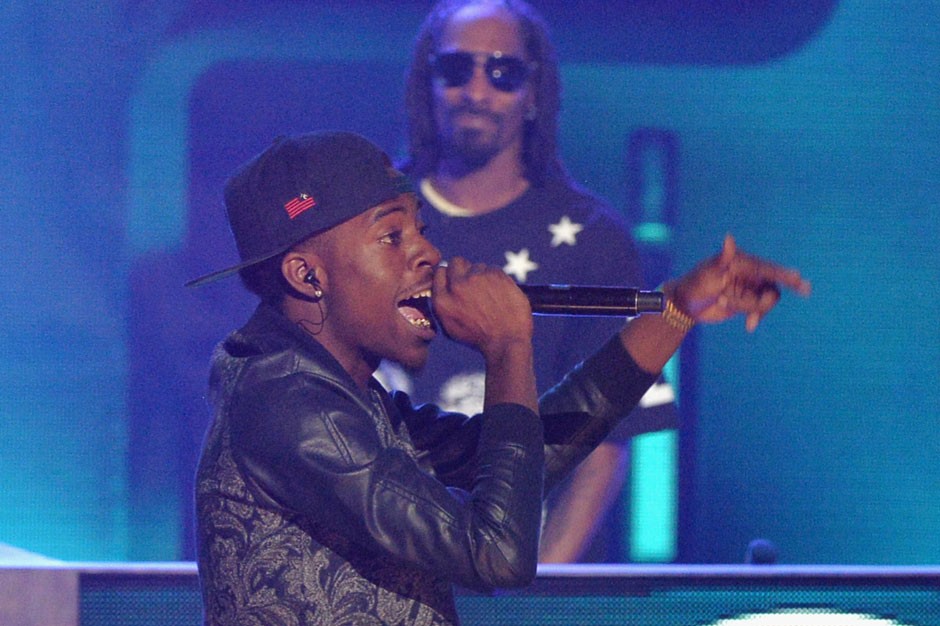 With producer Yung Carter's vaguely eerie suite of synth guitar/horns/what-have-you hovering (like a Mike WiLL Made It preset) and Atlanta MC (and Future stan) Rich Homie Quan's crying-style of vocalizing, one might be tempted to shout foul. But the more you let Carter's track drift along, the more you become entranced by its peculiar, light-on-its-feet, almost dancehall riddim ("My Jamaican Guy"?), and RHQ's odd, anxious #hashtag exploration of the emotion behind other people's jealousy, peppered with his own moments of raw, fourth-wall-breaking honesty: "I got a hideaway / And I go there sometimes / To give my mind a break." Ultimately, these guys find their own type of way. C.A.
34. Superchunk – "Me & You & Jackie Mittoo"
34/51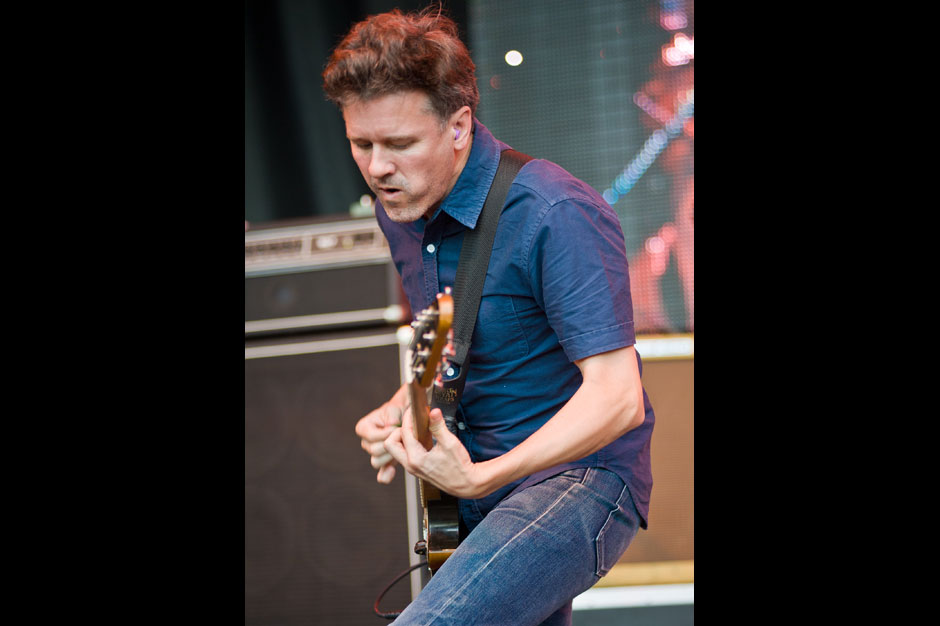 Thirty years after Replacements frontman Paul Westerberg, then 21, sputtered, "I hate music / It's got too many notes," Superchunk frontman Mac McCaughan, now 46, yelps, "I hate music / What is it worth? / Can't bring anyone / Back to this earth," and the indie-punk cycle of life rolls on, guitars and hearts heaving. But of all people, indie-punk lifers are always aching for the next musical epiphany to sustain their flagging spirits, and unsung reggae MVP Jackie Mittoo (an exquisite keyboardist, Studio One musical director, and co-founder of the Skatalites) is just the sort of revelatory discovery that an aging American record geek would stumble upon and be transfixed. Maybe that's not enough, but it's close. C.A.
35. Todd Terje – "Strandbar (Disko)"
35/51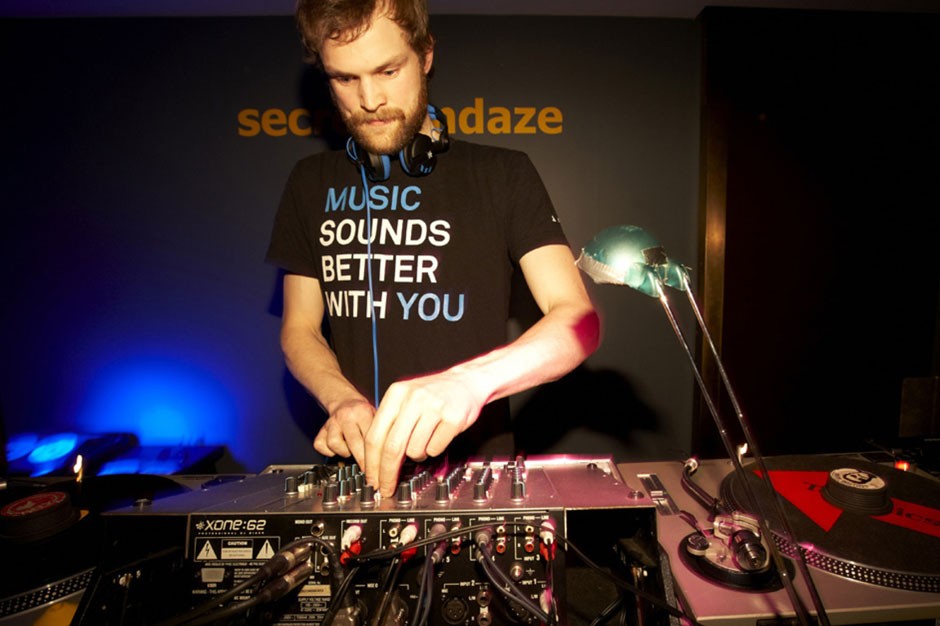 It begins with a chunky disco shuffle not unlike many of the Norwegian producer's records — big fat breakbeats, insurgent cowbells, whippoorwilling oscillators, crabwalking clavinets — and it's perfectly fine, enough to keep you from checking your cell phone or moseying off to the bar. And you go on like that for a while, content but not particularly committed, until four minutes have passed, and a flurry of MFSB strings gives way to those chords, and Terje's textbook nu-disco explodes into the sunniest, most transcendent piano-house anthem to come around since Reagan was in office. Meteorologists are predicting that this will be Europe's coldest, wettest summer since 1816; leave it to a Norwegian to come up with the only possible solution. PHILIP SHERBURNE
36. Vampire Weekend – "Ya Hey"
36/51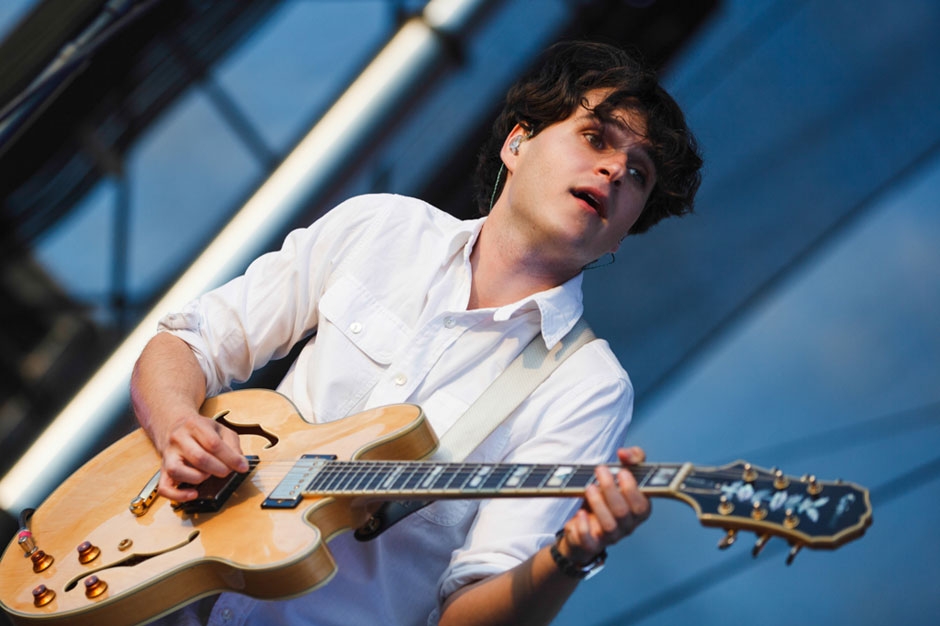 "A-Punk," this ain't; what we got here are deep thoughts on a deep cut on a deep album. But for a song that explicitly grapples with the divine — quoting one of God's more inscrutable Twitter bios ("I am that I am"), conjuring up a celestial choir with nary an R. Kelly-style wink, grappling with fraught locales from Zion to Babylon to America — this is a light, gentle, soothing, effervescent thing, profound in its ease, every handclap and pitch-shifted funny voice and piano-recital flourish and deadpan spoken-word breakdown arranged exquisitely, mingling the devout with the profoundly silly. If not their best, it's certainly their most them. Put it on repeat for an hour and it's the equivalent of a Master of Theology degree. R.H.
37. Lorde – "Royals"
37/51
There are methods of pop provocation that don't involve foam fingers and/or exploited backup dancers and/or disquieting racial fetishization, y'know, so please enjoy this 10,000-word, sociocultural-rant party-starter distilled down to a chilly, bracing, immaculate 3:10, as delivered by a then-16-year-old New Zealander who stole her far more famous (and garish) peers' thunder in 2013 with just a hint of lightning, a booming swing-low-sweet-chariot voice issuing into a mesmerizing void of undead space and unearthly echo. Rage against its squirmy anti-bling themes and debilitating ubiquity if you wish, but those are just other ways of watching the throne. True artpop rarely announces itself as such. R.H.
38. Miley Cyrus – "Wrecking Ball"
38/51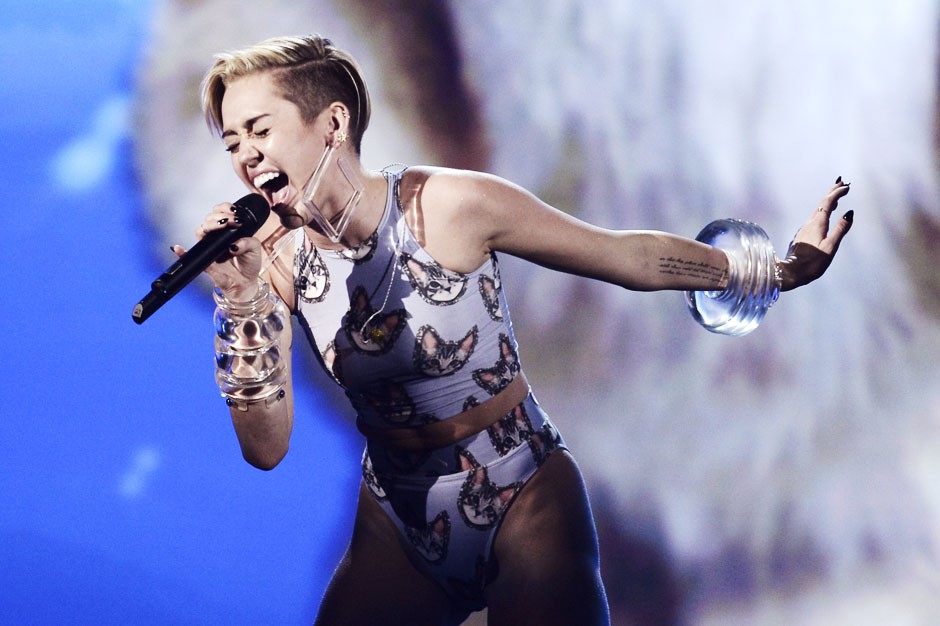 Right, yes, OK: No way history remembers this as anything other than the One With the Video Where She Licks the Sledgehammer. Which is a shame, because this is just astounding, the enormity of its delicacy, the Jumbotron-shattering grandeur of its intimacy, the way that weeping gut-punch of a bridge shatters your psyche and renders you unable to even remember which Hemsworth this is probably about. I could not be more serious about this; I will fight with you on the Internet about this song. (Fine, though, if you'd rather sub in "We Can't Stop," which history will, of course, remember as the One Where Robin Thicke Lost His Virginity Onstage on National Television While Dressed as Beetlejuice.) R.H.
39. Chance the Rapper – "Chain Smoker"
39/51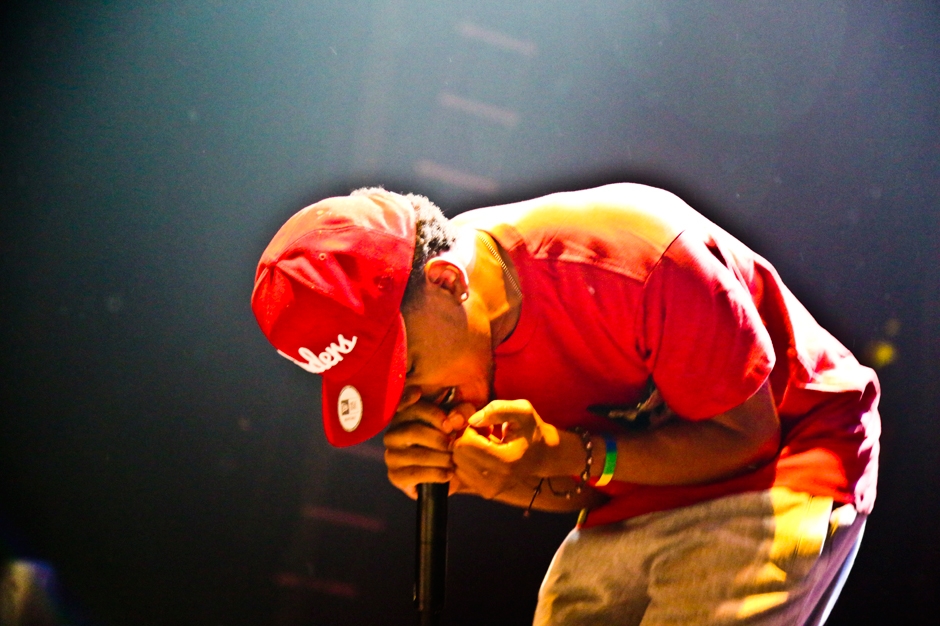 This prodigiously talented, "brain-broken, Frank Ocean-listenin', stain-hittin', satin-wood-grain-grippin'" Chicago rap nerd writes songs with such a boldly multifaceted whir of implied emotions and points of view that for any slumming outsider to try and elevate it above the genre and call it, say, refreshing, should be grounds for beef. C.A.
40. Caitlin Rose – "Only a Clown"
40/51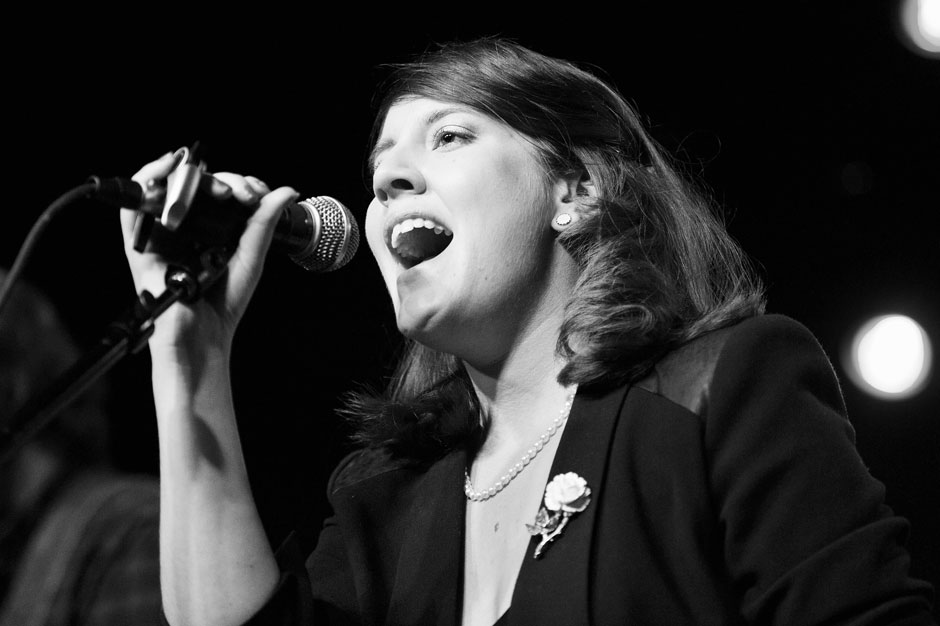 You've gotta savor a song that leaves you feeling carefree about being lost and alone and wanting to be in love or wanting to be out of love or resigned to never being in love or being drunk and getting into the wrong car and not being able to sweet-talk your way out. Caitlin Rose's voice is that of an unsettled yet supremely steely writer, not a spangled-hot-pants performer of emotional clichés, but that doesn't mean you have to give her the benefit of the doubt. She'll tug at your regret, and you'll thank her later. Especially when backed by a pedal steel. C.A.
41. Rocko, feat. Kendrick Lamar, Schoolboy Q, Ab-Soul & Jay Rock – "U.O.E.N.O." (Black Hippy Remix)
41/51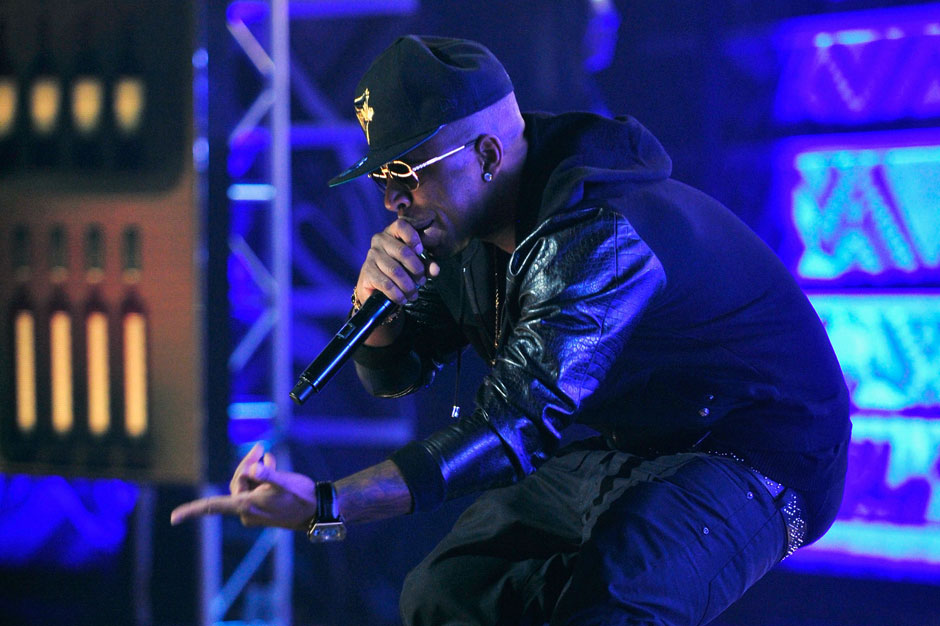 So Rick Ross (the rapper not the drug dealer) matter-of-factly boasts about drugging and date-raping a girl, and after a groundswell of opposition (his murderous-international-drug-lord character finally crossed the line, apparently), he gets tossed off the track like so much recycled garbage, metaphor intended. No problem, since Childish Major's production was the song's nerve center all along — the quixotic, trapped-in-a-cloud beat woozily shielding its eyes from the sun, again and again. Black Hippy's remix was the most memorable of many, amping up the flow as Schoolboy Q brazenly subtweeted Ross: "Molly in her drink, but she asked me to." C.A.
42. The Knife – "Full of Fire"
42/51
At nine minutes and 17 seconds, this is a gobstoppingly pretentious yet overwhelmingly powerful art installation rendered in clattering, rutting, piercing, squawking techno-pop that brings to mind a runway show on a runaway train plunging into the personal-political maw of cocks and vaginas and domestication and power roles and the object (and subject) of desire, etc. For the last 13 seconds, Karin Elisabeth Dreijer Andersson, her devilish, teasing voice growing increasingly distorted, chants, "Let's talk about gender, baby." Meanwhile, the song's just convinced you that the only rational thing to do is scream for help. C.A.
43. Kanye West – "Black Skinhead"
43/51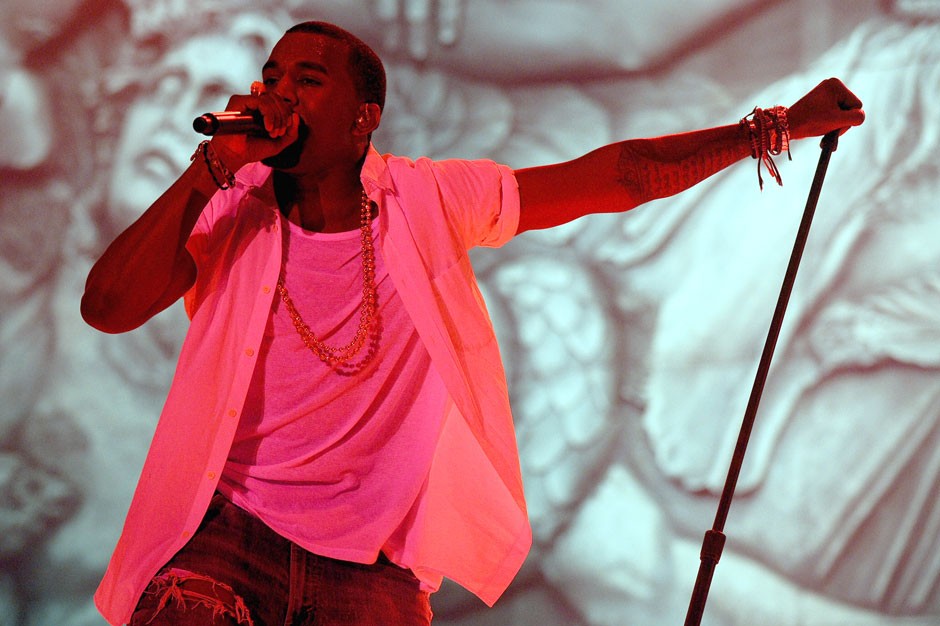 With a death-grip on the mic amid a cataclysmic, industrial-punk thud (courtesy of Daft Punk and French techno ruffian Gessafelstein), Our Lord and Savior Yeezus Christ blacks out about mass incarceration and never-not-mutating racism atop a vaporous mountain of Louis Vuitton pipedreams, then instructs his minions to burn their gold, grind it to powder, scatter it on a glass of water, and swallow the bitter result. Wait, that was Black Moses, right?! Regardless, here is Yehovah's Cray-Baldheads communiqué for Americans who find him (and other African-American agitpoppers) a nuisance or hypocritical or worse: Slavery and its ongoing damage ain't your fault, huh? You're bummed you can't say "nigga" like all those entitled nasty rappers? That's not the fucking issue, cowboy. C.A.
44. Disclosure, feat. Aluna George – "White Noise"
44/51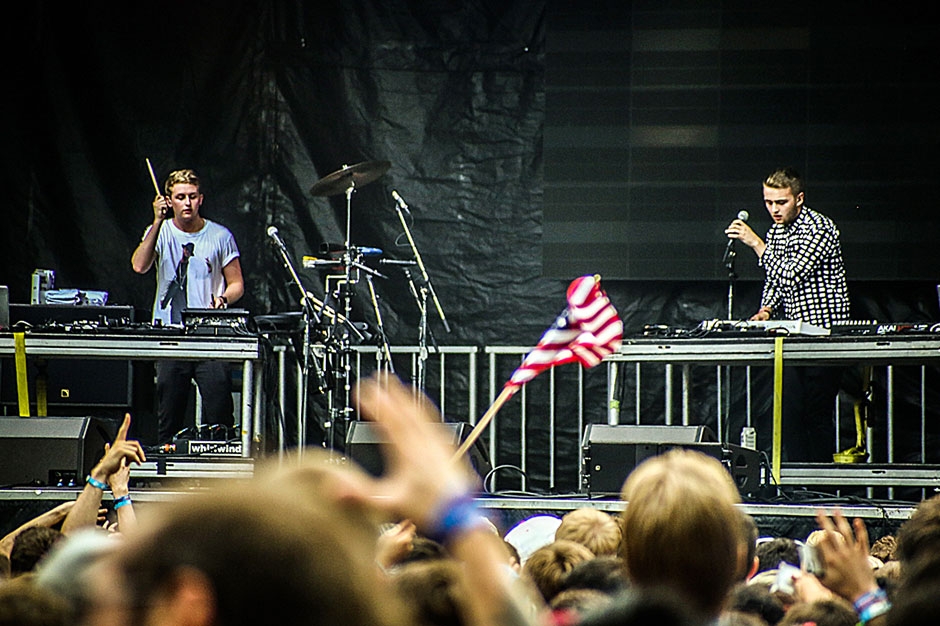 A meticulous masterpiece of U.K. garage-house dynamics and delirium from two of the year's most stylishly efficient duos, "White Noise" mesmerizes you with its mercurial ping-ponging glockenspiel-ish melody, always scampering forward, even as Aluna Francis rolls her shoulders and coos in that babyish alto, pitched just so: "If you wanna get tough, then let's play rough." Still, the song's palpitating thrill lies in the hold-your-breath pre-chorus, a zero-gravity echo-chamber that swirls until the Lawrence brothers click Francis' warble and send it spinning back through the steps of co-dependent static and gradual independence. The echo chamber keeps reappearing, as it often does during this sort of clingy pax de deux, and Francis always seems on the verge of telling her disdainful partner to sod off. But for now, the nervous energy lingers. C.A.
45. Neko Case – "Man"
45/51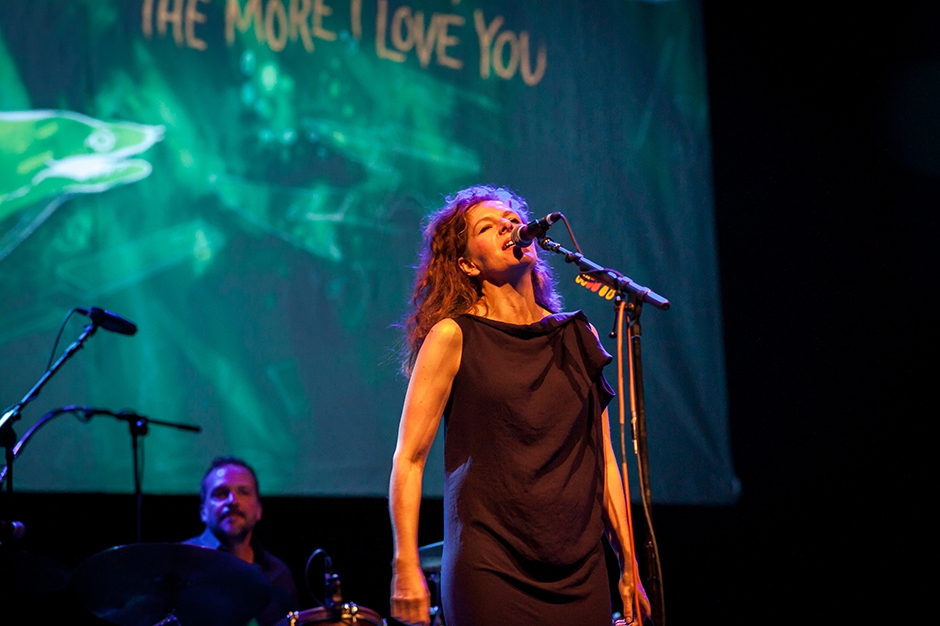 She's embodied tornadoes, killer whales, lions, tigers, serial killers, the moon, and various other permutations of man-man-man-man-man-maneaters, but for her wildest, rowdiest, most shambolic country-punk broadside yet, she seizes The Pants as though pulling Excalibur from the stone: "I'm a man / That's what you raised me to be," it begins, and only gets loudier, gnarlier, lewder, and more breathtakingly macho from there. If you can't beat the patriarchy, join it. R.H.
46. Tegan & Sara – "Closer"
46/51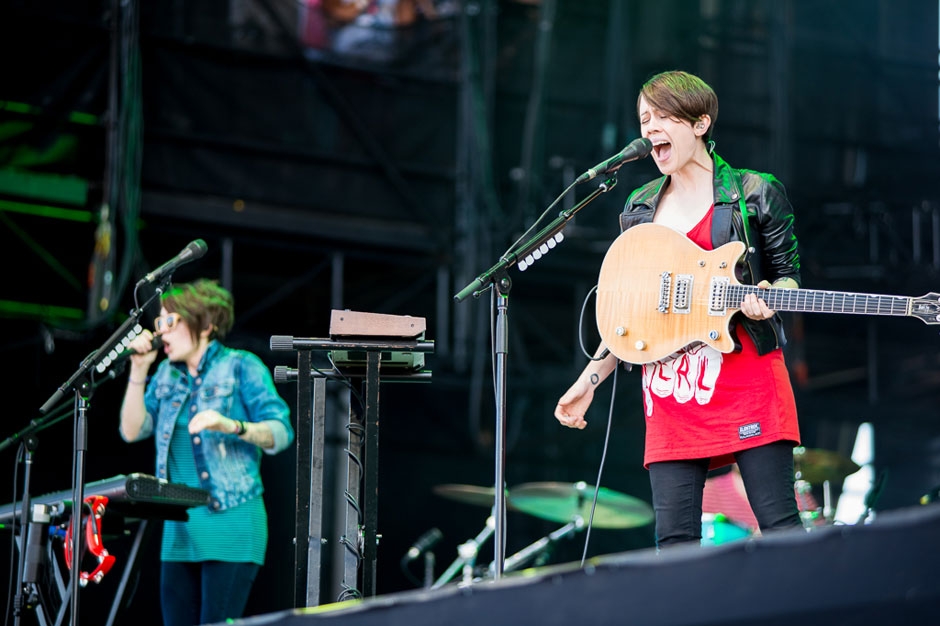 After a decade-plus of strumming, often solemnly, around the pop margins with their emo-folk tribe trailing devotedly, the Quin twins crash the synth-pop main room with an unmistakable, irresistible come-on — rushing, touching, dreaming, breathing, heating up, sparking in the dark, making things physical, both literally and with the twinkling, whooshing, bass-hurtling EDM beat, alongside a simmering whoo-ooh-ooh breakdown that has you panting for the chorus to finish the job. It's as if their world just got a whole lot brighter. C.A.
47. Migos, feat. Drake – "Versace (Remix)"
47/51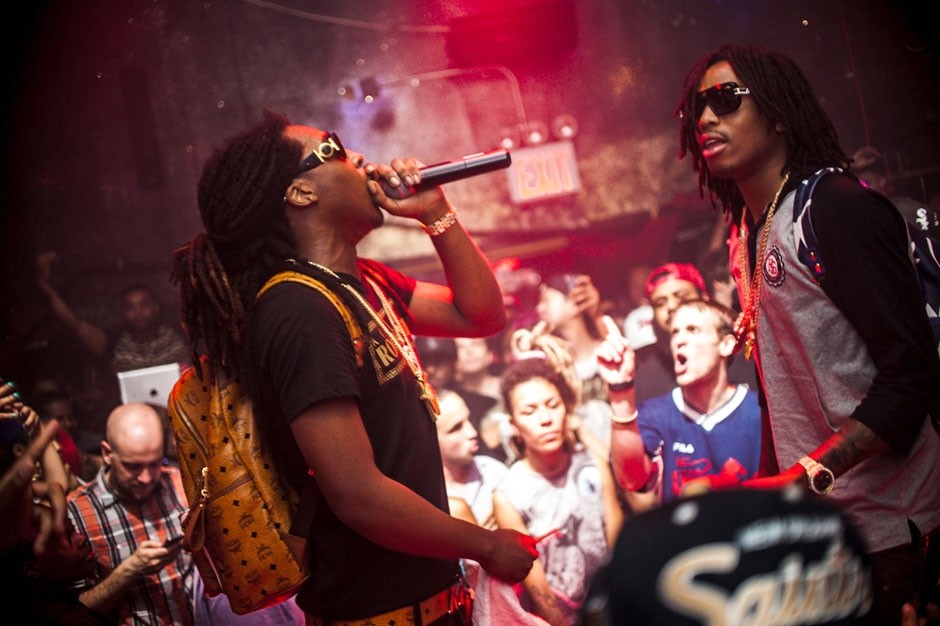 "Oh, shit, man, who that is?" It took 21 long years for Toronto/Atlanta relations to thaw in the wake of 1992's contentious Blue Jays/Braves World Series, but here, finally, is the endearingly cocky, magnificently knuckleheaded, triumphantly infectious one-word-repeated-until-it-scans-as-glorious-nonsense earworm upon which both David Justice and Dave Winfield can agree, here with a bonus Drizzy verse full of the most endearing lies he told all year (his record didn't quite crack a million first week, and we're assuming that whole Halle Berry thing didn't work out). The love child of Steve Reich and Gucci Mane; hopefully, Versace wrote 'em a golf-tournament-sized novelty check. R.H.
48. Haim – "Falling"
48/51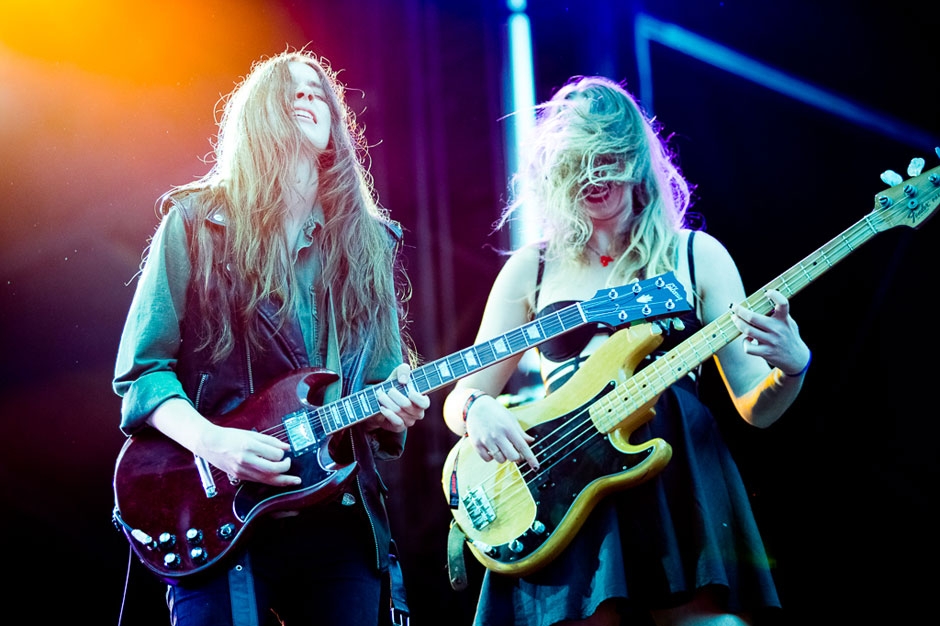 Whoever says pop music isn't evolving at warp speed is just whistling through their PoliGrip, because these three fresh-faced Los Angeles sisters (who are, of course, seasoned industry pros) come prancing up the charts melding snippets from multiple eras of radio hits (from "Dreams" to "Cherish" to "No Scrubs"). And here, Este, Danielle, and Alana reclaim this '80s yearn-pop classic, excise the corny mom-jeans empowerment, and recast it with a lushly contemporary, gauzily mysterious, West Coast-is-the-Best Coast, Etsy-boho Instagrammar that results in a far funkier nymphs-in-the-canyon fairy tale. C.A.
49. Ace Hood, feat. Future, Rick Ross – "Bugatti"
49/51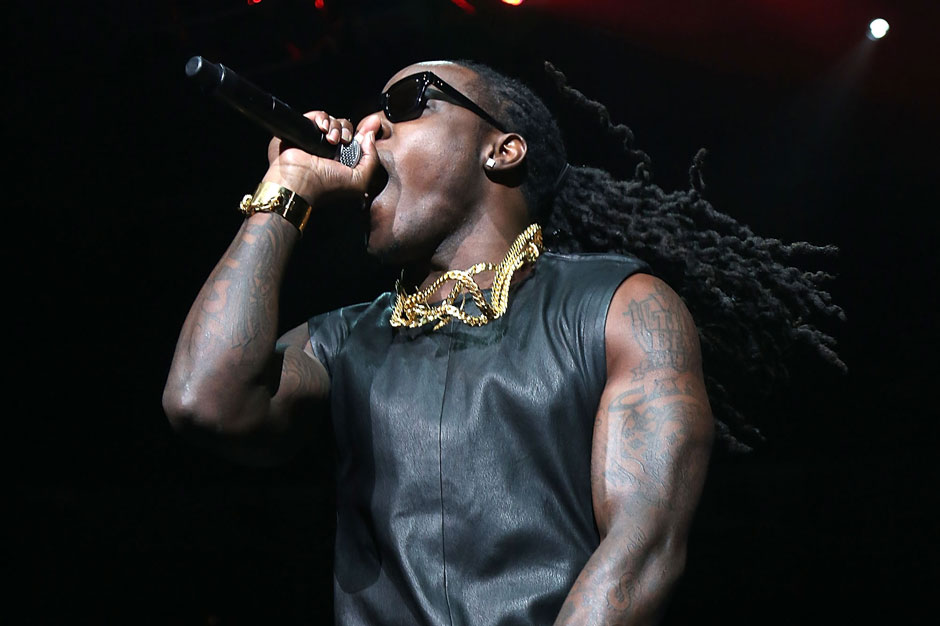 Hard-hustlin' South Florida Lotto winner hides in the trunk of reigning club-rap production auteur (Mike WiLL Made It) and unassailable hook-captain (Future). The beat creeps and races and shivers like an anxiety disorder orchestrated for lazer synths, while the Auto-Tune sing-song and agitated verses lure you into a Grand Theft Auto hellscape of Haitian gangsters, omni-racial orgies, stacks stained with blood, discussion of Ace Hood's mortgage ($4,200!), and Officer Jelly Belly braggin' about his "D-League" hitmen (what, dudes who shoot like Travis Leslie?). But that's all noise: Bottom line, the chorus will make any dance floor go kablooey on impact, like a dubstep drop without cartoon quotes around it. C.A.
50. Robin Thicke, feat. T.I. and Pharrell – "Blurred Lines"
50/51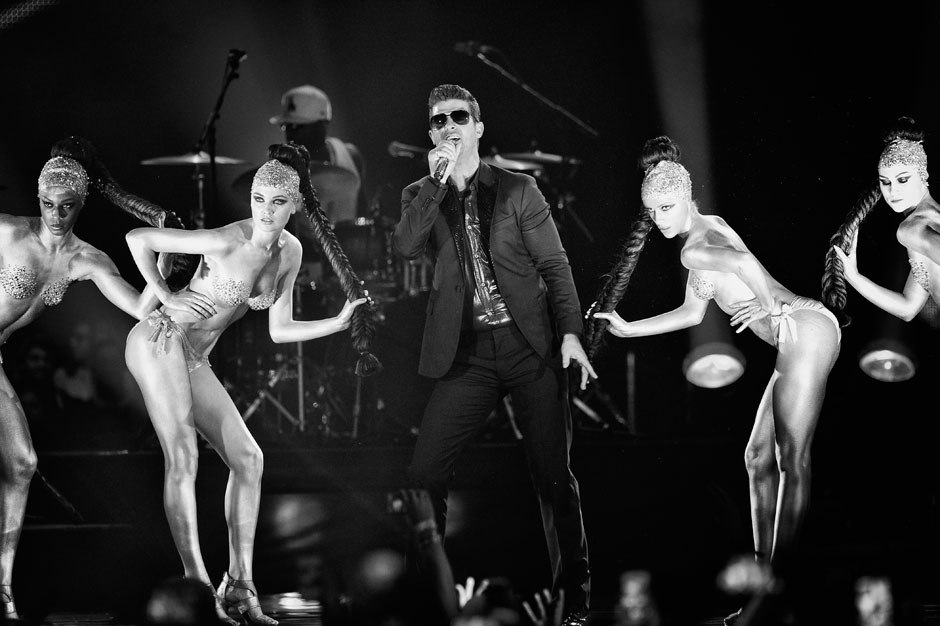 In the immortal words of Nigel Tufnel, "What's wrong with being sexy?" Whether you found this irresistible or just inescapable, our host a lovable doofus or a craven predator, the beat a loving tribute to Marvin Gaye or bullshit grounds for a preemptive countersuit, this will survive its summertime oversaturation to fill karaoke parlors and wedding-reception dance floors with delight for decades hence. Be careful who you point to when you sing, "You the hottest bitch in this place." The video really is the best thing ever, BTW, but not for the reason you think. R.H.
51. Daft Punk – "Get Lucky"
51/51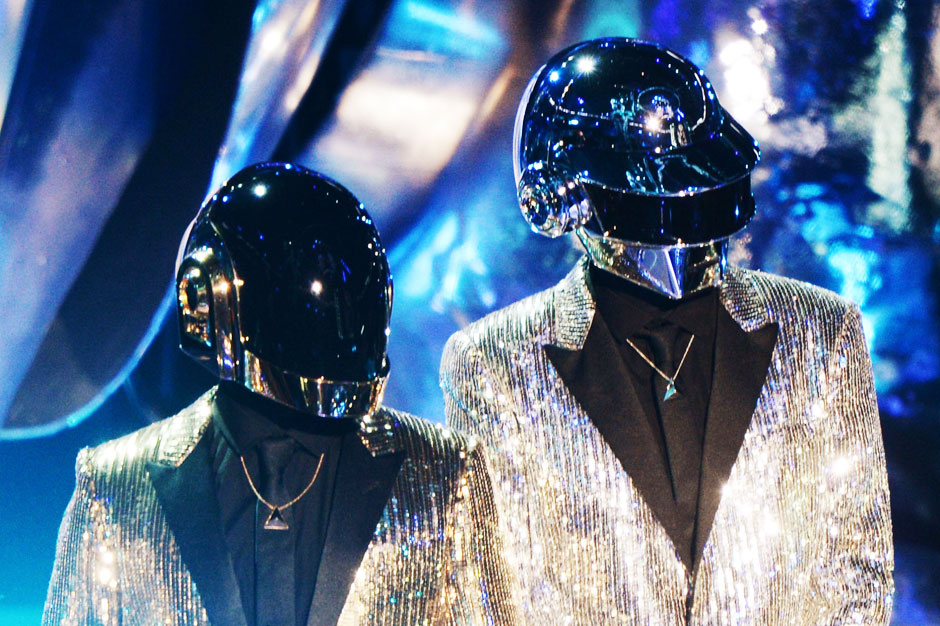 The retro-future clufu has defeated all comers— now it's simply called the eternal Present, i.e., the dizziness of the nonstop kulcha-bizness sic transit Gloria. Meanwhile, the French woebots (who have been instrumental in dancing this decade-skipping mess around, of course) blithely boogie and play conventional instruments (well, sorta) fronted by the Commander of Happy, who obviously cut a Faustian bargain to become pop's 2013 toastmaster general (and to flaunt smooth-as-a-bébé-bas 40-year-old skin). "What keeps the planet spinning?" Cdr. Happy implores. From the evidence presented here, it's Nile Rodgers' guitar. C.A.