On Saturday Night Live's Seth MacFarlane-hosted season debut, Frank Ocean brought out John Mayer, as promised. And rather than try to duplicate the album versions on SNL's notoriously unforgiving live stage, Ocean offered up yet another change-up on channel ORANGE's electro-R&B ballad "Thinkin Bout You," swapping out the stripped-down electric-guitar take from his recent MTV Video Music Awards performance for a similarly jazzy but full-band approach. Then, during a more rock-oriented rendition of sprawling album centerpiece "Pyramids," Ocean stepped aside and fiddled with some vintage arcade games while Mayer, whose influence on channel ORANGE is unsubtle but also perhaps unexpected by PBR&B 2.0's indie demographic, ripped a bluesy guitar solo.
The arcade-game deal wasn't exactly Arcade Fire smashing a guitar, but the whole unlikely affair was very much in keeping with Ocean's rules-defying M.O. so far, from sidestepping his label by releasing last year's nostalgia, ULTRA mixtape to streaming channel ORANGE a week early after an atypically secretive promotional run-up.
Ocean wasn't the only music-related highlight on this weekend's SNL. South Korean musician PSY showed off his "Gangnam Style" dance moves in a skit involving depressed clothing retailers. And Chris Brown's bonkers neck tattoo took flak from SNL's Seth Meyers during the weekend update: "You know you've made a terrible decision when having a neck tattoo is the second-worst thing about your neck tattoo."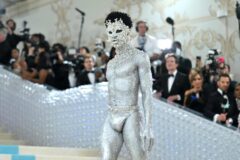 Post-SNL, Ocean still had one more bold and bizarre gesture to pull out from his headband: The video for "Pyramids," (via Dajaz1) helmed by Australian director Nabil, who previously worked on Ocean's "Swim Good" and "Novacane" videos, plus clips for Kanye West and Bon Iver. The results include wanton destruction of perfectly good bar glassware, a besuited Ocean gunning a motorcycle through the desert, and a druggy, stripper-laden freakout on what might be the edge of Barstow, culminating in a slow-handed Mayer solo that isn't on the album version. It all reinforces an impression of Ocean as an artist who marches to his own beat while also potentially broadening his appeal. A snippet of Ocean's "Voodoo" ends things, a ghostly pyramid standing off in the distance.
https://player.vimeo.com/video/49497576