The sacred and the profane have always enjoyed a close relationship in the world of the R&B slow jam, particularly given the close ties between gospel and soul. The interplay between these two polar opposites takes an eccentric yet tantalizing turn on a new song posted over the weekend by Frank Ocean on his Tumblr.
[Flash 9 is required to listen to audio.]')
Built around jazzy electric guitar, seesawing synths, and a loping rhythm section, the 90-second "Voodoo" (a nod to the return of D'Angelo, perhaps?) stands out most for its oddball lyrics, also helpfully posted on Tumblr. "She's got the whole wide world in her juicy fruit," Ocean croons earnestly, finding a surprising point of overlap in a Venn diagram that would have to include Sunday school singalongs, the Wm. Wrigley Jr. Company, and the female anatomy. "He's got the whole wide world in his pants." As if those lines weren't enough, a disorienting, double-tracked vocal also sets the recording apart from other midtempo bump 'n' grinders.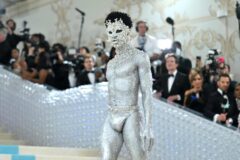 So, "Voodoo" doesn't particularly make much sense, its most memorable images aren't particularly sexy, and it's over almost as soon as it begins. You still might find yourself playing the Odd Future member's first new song since December's airy electro-R&B ballad "4 Tears" on repeat for the rest of the day. No wonder Ocean's nostalgia, Ultra mixtape made both SPIN's 20 Best R&B Albums of 2011 and SPIN'S 20 Best Albums of the Year overall.
See Ocean talk about his upcoming debut album, expected this spring. "It's about the stories," he says. In this particular case, that story might just happen to be about a couple whose sexy parts contain multitudes.