5
Joy Division
Known Origins:
Oh boy. After deciding that their original name Warsaw was insufficiently suffused with Nazi-tinged gloom and dread, the Manchester, England boys instead derived inspiration from a 1955 novel written by a concentration camp survivor, which took, as Simon Reynolds explained in post-punk bible
Rip It Up and Start Again
, "the point of view of a 14-year-old girl sent to Auschwitz's 'Camp Labor Via Joy,' the 'joy division' where females were kept as sex slaves for German troops fresh from the Russian front."
Why It's Great: It's the gold standard for grim, deathly band names, and because the entity responsible for "Love Will Tear Us Apart" could be called nothing else. (P, WP, I, T, JNSQ) R.H.
4
Big Star
Known Origins:
When Alex Chilton (the mysteriously deep-voiced kid singer for pop group the Box Tops) joined Memphis locals Chris Bell, Jody Stephens, and Andy Hummel (then known as Icewater and, with another singer, Rock City) to record what would become their debut album,
#1 Record
, the foursome were nameless. But one day on a smoke break behind the studio, they spied a grocery store, part of a Southern chain at the time, and its familiar logo — a big, blue, five-pointed star with the words "Big Star" in the center. When it was suggested as a name, everyone laughed, then froze, silent.
Wait a minute
…
Why It's Great: Self-mocking, grandiose, inscrutable, copyright-infringing, "Big Star" wryly captured Chilton and Co.'s slouchy posture as bold rock aesthetes and reluctant pop pros (thus inventing the '90s indie/alt-rock template). Led by a restless former teen idol who actually believed he had a vision for improving upon the Beatles and the Beach Boys (and he was right), Big Star responded to a chaotic, disillusioned era with songs that felt like youth blooming and burning to ash, three minutes at a time. Sold in aisle four, next to the strawberry Pop-Tarts. (P, WP, I, VA, JNSQ) C.A.
3
N.W.A
Known Origins:
The incipient Compton supergroup were practicing in Eazy-E's garage, trying to come up with a name more evocative than Dr. Dre and DJ Yella's former act, the sequin-clad World Class Wreckin' Cru. Ice Cube tells the story in the movie
Straight Outta L.A.
: "Then Eazy saved the day. He said, 'How about N.W.A?' We were like, 'What's that mean?' He said, 'Niggaz Wit' Attitude.' We were like, 'Hell yeah.'"
Why It's Great: Sure, it forced suburbia to confront the most taboo word in the English language. But the genius of N.W.A's name was that it framed them not as a band that included an architectural-drafting student and a couple of electro-jam veterans, but as a gang — its scrawled, curveless initials marked territory like graffiti. There were plenty of acronymic hip-hop acts in their wake (BWP, AMG, KMD, the UMC's, the D.O.C.), but none of their names were as impressively mean and mysterious. (T, P, VA, JNSQ, I) D.W.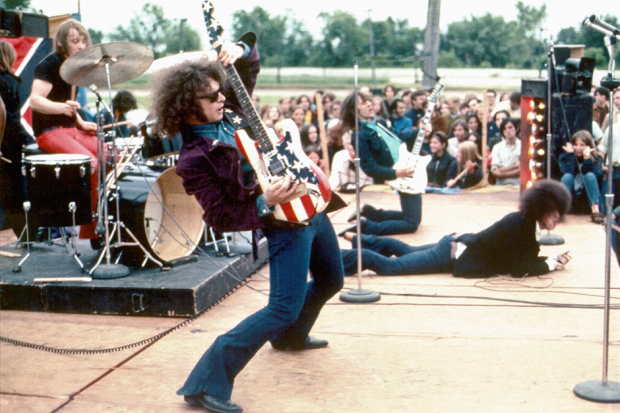 2
MC5
Known Origins:
Coined by the band's singer Rob Tyner, because, as guitarist Wayne Kramer explained in punk oral history
Please Kill Me
: "It sounded like a serial number….You know, we were from Detroit, and the 'MC5' sounded like it had been stamped out of the auto factories." Ideal for a bunch of mid-'60s suburban grease monkeys who were obsessed with big-engine cars (Kramer even worked at a drag strip selling ice cream!).
Why It's Great: So many reasons, both serious, silly, and otherwise: One, it could've been either a sports car or a weapon. Two, the local connection was powerful — in addition to the auto-industry nod, "MC5" stood for "Motor City 5" — forever linking the group to the fiery crucible of Detroit, home to the era's most visible African-American progress (socially, economically, musically) and violent, racist pushback (on their debut album Kick Out the Jams, the 5 covered John Lee Hooker's "Motor City Is Burning," shouting out the Black Panthers' role in the 1967 12th Street conflagration, which resulted in 43 dead and 467 injured; later, the 5's manager John Sinclair cofounded the White Panthers as an antiracist collective in support of the Black Panthers). Three, the name was a winking dig at the Dave Clark Five and the squeaky-clean, Beatle-wannabe white mug that was being plastered on the burgeoning youth culture; plus, prophetically, after the 5's show outside the 1968 Democratic National Convention (which turned into a police riot), the name also resonated like a radical lefty political group (à la the Chicago Seven). And four, it spawned a logo — the winged white panther by activist/artist Gary Grimshaw — that ultimately rocked as hard as the band. (VA, I, P, JNSQ, WP) C.A.