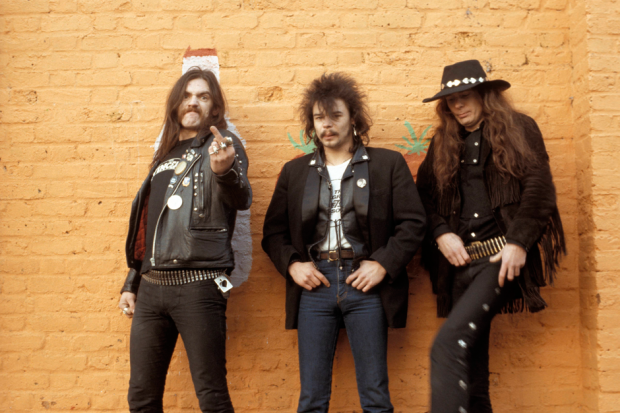 1
Motörhead
Known Origins:
Vocalist-bassist-God Lemmy Kilmister wrote a song titled "Motorhead," a '70s slang term for a speed freak, when he was a member of psych-rock astronauts Hawkwind. But it would be the last song he'd write for the group. Hawkwind fired him in '75, he says, for "doing the wrong drugs." He then started a new group called Bastard, but his manager convinced him that the name would keep him off TV, so Kilmister changed it to the name of his last Hawkwind banger. As for that totally, awesomely superfluous umlaut? "I copied it off Blue Öyster Cult," says Kilmister. "I thought it looked mean. That's the thing, innit? It's like the guy in
Slap Shot
when he takes the sledgehammers to the bus. 'What are you doing?' And he goes, 'I'm making it look mean!'"
Why It's Great: Lemmy's right: "Motörhead" looks and sounds vicious, conjuring visions of pumping pistons, dripping sweat, and copious drugs — images that complement the trio's gritty, raspy, three-minute rawkers. And just like a Motörhead song, the name is short and not so sweet. "I always say one-word names are good," Kilmister says. "Probably the greatest name in the history of rock'n'roll is the Who." But the Who's fans haven't repurposed their heroes' name with as much spirit as Motörhead's maniacal followers. "There's a Motörhead bicycle rental shop in Cypress run by one of our fans," Kilmister says with a laugh. When he went to register Motorhead.com online, a car repair shop had beaten him to the punch. "That's why our website is iMotorhead.com." (P, I, VA, T, JNSQ)
Did the name catch on immediately?
Lemmy Kilmister: No. We've been called Motorhome. And we've been called Motor and the Heads. And Lemmy's Motörhead. Jesus, it was awful for a while. We'd see it on the billing outside of clubs: "Tonight, Motorhome!"
How did you get people to pay attention to the name?
Once, when we first started the band, we had this manager named Tony Secunda. He used to manage the Move in the old days. He was great at publicity. When he managed us in 1977, there was a block of houses by Shepherd's Bush Roundabout in London that had been bombed [during World War II] and the end house was gone. This was the row everybody had to take to come into Western London. There was just a wall at the end of the houses. So he got ten students and put them on some scaffolding. And he asked them to paint one square each. And when they were done, they had the Motörhead logo about 20 feet tall at the end of this block of houses. And it stayed there for months while the government argued about it. [Laughs] It was great publicity. Everybody who came into West London saw "Motörhead — England" on the side of that building. It was excellent.
Once it did catch on, what are some of the most gratifying places you've seen the Motörhead logo?
A lot of people put the logo on their cars. And a lot of people put it on the side of buildings. It's not much the graffiti thing now, though. It's a shame, really. It would be an ideal subject. You'd probably need a stencil; otherwise you'd be there all day.
Where would you like to see the band name in the future?
I was always hoping we'd get our own jet plane by now, so we could put it on the wings. Fly the friendly skies. K.G.