It's true: You never get a second chance to make a first impression. Honestly, would we still love Pink Floyd if they were called the Screaming Abdabs? Would we be defacing our jean jackets if Led Zeppelin were still the New Yardbirds? Would we maybe listen to Umphrey's McGee if they were called literally anything else besides Umphrey's McGee? The SPIN staff gets approximately one Them!-sized anthill worth of promo packages a day, and we can assure you that band names matter (we'll get riiiight back to you, Cocaine Mustache). Our nerd cabal decided to get downright technical about it, crafting a faultless mathematical theorem for figuring out the most timeless, iconic, critic-proof, world-changing, desk-despoiling names of all time — and we even caught up with a few bands to better understand their techniques! This list includes the 40 highest scorers extrapolated using qualitative data and the following scientifically sound blueprint:
P = Perfectly and succinctly embodies the spirit of a band's sound or era (3 points)
This is the most important aspect of any name and makes grokking the band's style as effortless as understanding Ivory Soap, Fatburger, or the Snuggie.
VA = Graphically or typographically appealing (1.5 points)
If the letters look cool on a piece of notebook paper, they will definitely look amazing on a T-shirt or tattooed on your forehead.
WP = Clever wordplay (1 point)
There's a fine line between clever and stupid. But there's a thick shark-filled moat between clever and Timbuk 3.
I = Creates an image (1 point)
Names you can see, touch, and possibly smell.
T = Transgressive (1 point)
The Revolting Cocks of yesteryear pave the way for the AIDS Wolfs of tomorrow.
JNSQ = Has that certain je ne sais quoi (2 points)
We're invoking the Justice Potter Stewart defense here. Honestly, no one needs to think very hard to know that Slayer rules.
40
Scraping Foetus off the Wheel
Known Origins:
Australian expat experimental musician JG Thirlwell released his debut seven-inch under the name Foetus Under Glass in 1981. Its back cover teased a future release by a group called You've Got Foetus on Your Breath; from there, he began naming all his releases with different "Foetus" phrases. This approach lasted for two albums of spastic, rhythmic, and catchy mindfucks. He then abandoned it for Foetus Interruptus and a bevy of other versions before eventually settling on just plain Foetus in 1993.
Why It's Great: Thirlwell best explains the appeal: "A foetus is such a fundamental, universal thing. We have all been one. Additionally, I use the Anglicized spelling, which is confusing to people who only know the spelling 'fetus.' The extra 'o' is so much cooler." (T, I)
From the Band: "I would hate to exclusively be known for having unusual names," Thirlwell says. "Each of the Foetus variations had a different sound musically — Foetus Art Terrorism was heavy programmed beats and the main song on the Foetus All Nude Revue was like grinding strip music. Scraping Foetus off the Wheel marked my move to working with bigger budgets and in 24-track recording studios, so the sound is bigger and more realized. I stopped doing these variations about 20 years ago. By the time I signed with Sony, it was just Foetus. I was over the variation thing. I always hated it when people suggested Foetus-variation names." KORY GROW
39
Three Times Dope
Known Origins:
The underheralded Philly trio originally recorded as 3-D on the local Hilltop Hustlers label. The name extension may have been thanks to Arista not wanting the rappers to get confused with the early-'80s new-wave band of the same name…but we like to just think it's due to its general acknickulousness.
Why It's Great: Because it's three times as dope! (JNSQ) CHRISTOPHER R. WEINGARTEN
38
Behead the Prophet No Lord Shall Live
Known Origins:
These metal-punk, art-damaged Northwesterners borrowed their name from the fifth track on Deicide's 1992 album
Legion
, whose lyrics also feature the great, as-yet-unused band name "Behead the Prophet and We Win."
Why It's Great: The true test of a band name is how it plays in a radio DJ's back-announce: "Before that, we had the new one from Behead the Prophet No Lord Shall Live" stands in the company of any sentence involving Shit Horse. Bonus points for its cool throwback to the immortal initials-punk era of the early '80s: On sleeves, the name was sometimes rendered as "Behead the Prophet N.L.S.L." (JNSQ) JOHN DARNIELLE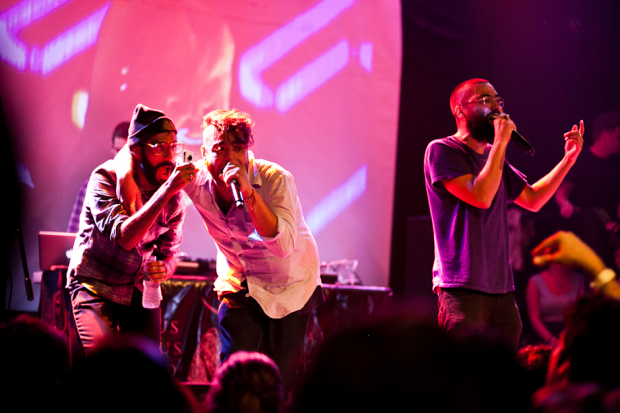 37
Das Racist
Known Origins:
"'Das racist!' is something we would yell at the television when something racially insensitive would pop up in an ad or on a TV show, which is basically a longer ad," explained DR rapper Himanshu Suri to
The New York Times Magazine
's Deborah Solomon in 2010, shortly before defusing a minor argument about politics with "Deborah, chill. Fall back."
Why It's Great: The moniker conveniently encapsulates the hilarious dilemma of white listeners worrying if it's racist to laugh at jokes made by people of color about how racist white people can be. Names that squares can mispronounce hilariously (saying "Das Racist" like it's a submarine, for example) are always prized too. (WP, T)
From the Band: "We don't really like the band name anymore," says Suri. "It takes too long to explain to people. We've been thinking about changing our name, but that's corny too." ROB HARVILLA
36
Television
Known Origins:
A few years after singer-guitarist Thomas Miller rechristened himself Tom Verlaine (after Symbolist poet Paul Verlaine), he reconfigured his band, the Neon Boys, and named the new lineup after another TV entirely. Though Verlaine explained that "Television" referred to "the visionary aspects of art, rather than the media aspects. It's really not like TV as something 'supermodern' or something 'media' or 'electronic' or that kind of far-out William Burroughs kind of stuff."
Why It's Great: In the '70s, band names tended to be pretty concrete; it was a poetic leap to name a group after a form that specifically didn't embody anything — think how different "The Television" would have been. Verlaine loved to toy with the name's poetic resonances, too: One early song was called "Elevation"; another included the line "He's just trying to tell a vision." (WP, I, T) DOUGLAS WOLK