Days before Bruno Mars and the Red Hot Chili Peppers brought the only thrills to an otherwise dull Super Bowl, the Foo Fighters helped kick off the pre-game festivities by playing a titanic show in New York City on February 1. Dave Grohl and co. took the stage at the Bud Light Hotel Amphitheater — a temporary, two-story venue housed within the iconic Intrepid Sea, Air and Space Museum — to pound out a two-hour-plus set mixing well-worn classics and fresher material. The first 45 minutes of the performance were live-streamed, and, luckily, are still available to watch via FooFightersLive.com.
Check out the video above to see the Foos dust off "My Hero" from 1997's The Colour and the Shape, "Learn to Fly" from 1999's There Is Nothing Left to Lose, "All My Life" and "Times Like These" from 2002's One By One, "The Pretender" from 2005's Echoes, Silence, Patience & Grace, and "Rope," "White Limo," and "Arlandria" from 2011's Wasting Light. Sadly, there's no footage of the Foos' newest songs, the ones that are destined for the arena-rock giants' upcoming eighth album, which, by the way, is "Fucking ON."
As a consolation prize, scroll down to find video of Grohl rehearsing with Nine Inch Nails, Queens of the Stone Age, and Lindsey Buckingham, as they warm-up for their show-closing (and unfortunately abbreviated) performance at the 56th Annual Grammy Awards.
//www.youtube.com/embed/Sa_wV_TQLoM?rel=0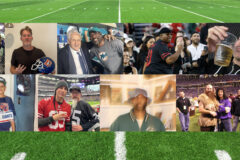 Foo Fighters @ Bud Light Hotel Amphitheater webcast setlist (February 1, 2014):
"All My Life"
"Times Like These"
"Rope"
"The Pretender"
"My Hero"
"Learn to Fly"
"White Limo"
"Arlandria"