Bruno Mars has answered the doubters. The former Elvis impersonator born Peter Hernandez's pick for the Super Bowl XLVIII Halftime Show had a few eyebrows headed pompadour-wards when it was announced last September, but his Unorthodox Jukebox was one of SPIN's 20 Best Pop Albums of 2012. He rewarded those hopes tonight at East Rutherford, New Jersey's MetLife Stadium, proving himself to be a consummate entertainer. (The game was such a blowout at this point, there was more suspense about Mars' set than the actual game.)
An opening children's choir and pyrotechnics display gave way to the unexpected, clever sight of Mars alone at the drum set — afterward, broadcaster Curt Menefee compared his skills on the skins to Cream's Ginger Baker, though Wayne Campbell might be a more apt, also undisparaging comparison. Then came brass smash "Locked Out in Heaven," Mars and band in golden jackets and skinny black ties, lots of energetic jumping. "Treasure" brought Off the Wall disco-funk that led to an Isley Brothers' "Shout" nod ("A little bit softer now") and a winningly crazy-legged dance routine. The lights cut out, and we saw them all in silhouette.
A soulful "Runaway Baby" set up the arrival of Red Hot Chili Peppers — shirtless of course, though the Groundhog Day temperatures were warmer than they could've been. RHCP confirmed a new album on the way while headlining at Brooklyn's Barclays Center the previous night, but here it was all "Give It Away," from 1991's Blood Sugar Sex Magik, which while fresher than the falsely rumored Led Zeppelin cover was still best critiqued back when The Simpsons was at the height of its powers — did it always end so much like House of Pain's "Jump Around," though?
And then the tone changed markedly with messages from the troops to their loved ones, followed by Mars' rather generic but still polished and effective love song "Just the Way You Are." The fireworks really helped sell it. The whole thing ended quickly, but that was it — unless the on-air performance was cut off early like on the Grammys, that is. Mars couldn't match the Seattle Seahawks' first-half dominance, or Beyoncé's lights-out performance last year (who could), but for those who may have been afraid this would be another Black Eyed Peas debacle … the "Grenade" guy had this.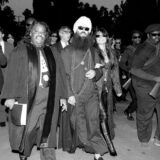 Bruno Mars' Super Bowl XLIII set list:
1. "Locked Out of Heaven"
2. "Treasure"
3. "Runaway Baby"
4. "Give It Away" (with Red Hot Chili Peppers)
5. "Just the Way You Are"