Let the Super Bowl weekend planning begin. The Foo Fighters and the Roots stand out on the bill of New York City concerts specially timed to welcome the big game on February 2. The lineup was announced by Bud Light, a fact we'll explain shortly.
Foo Fighters are booked for February 1. Fresh from their first gigs in more than a year, Dave Grohl and co. will be joined by Zac Brown Band, the country-repping roots-rockers whose latest EP Grohl produced. Grohl has said the follow-up to 2011's Wasting Light is already in the works. His promise of a "little secret" just got a higher bar to meet thanks to the all-secret-everything success of Beyoncé's Beyoncé.
The Roots get the pre-Super Bowl music-making underway on January 30. "The Roots Present Hip Hop NYC" will also feature Run-D.M.C., Busta Rhymes, and guests yet to be revealed. This one goes down after the EA Sports Madden Bowl XX, which involves NFL players and celebrities playing Madden NFL 25. When the Roots aren't playing as the house band on Late Night With Jimmy Fallon, drummer ?uestlove has been beautifully bidding farewell to his fried chicken joint, cameoing on Top Chef, and because he wants to make everyone look lazy, authoring a couple of books.
Ahead of the big game on February 2, Fall Out Boy and country star Jake Owen will perform. Also on the bill are "Radioactive" crew Imagine Dragons, whose "Pandora Presents" party takes place January 31.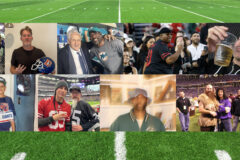 What's beer got to do with all of this? Well, before Super Bowl XLVIII at MetLife Stadium in East Rutherford, New Jersey, a cruise ship in the Hudson River is becoming the Bud Light Hotel. The pre-Super Bowl shows will take place in a specially built, heated concert venue across the street. The main event's haltime show performer, Bruno Mars, might be envious of that heat if the weather turns wintry.