Last week we learned that Kanye West's incredibly ambitious Yeezus tour had been derailed by a truck accident, resulting in several dates being postponed while expensive, custom-made equipment integral to the stage show was refabricated. Now West's team has released the updated, final tour schedule and though three of the skipped cities will be serviced in December, several others will not.
Those who will be blessed not only by the presence of West but by a guy dressed up as White Christ himself (not to mention that massive freaking pyramid they're traveling with) include Chicago, Detroit, and Toronto. Actively snubbed by Jesus and his favorite "Christian warrior" are Vancouver, Denver, Columbus, Montreal, Minneapolis, and St. Louis. Guess Bonny Bear bro is gonna hafta sit this out.
New dates below. Meanwhile, when's the last time you communed with Yeezus? Review SPIN's in-depth breakdown of the 67 names in the credits of that hulking beast of an album, plus our critical roundtable "Sheezus Talks," wherein seven badass literary women psychoanalyze West's LP-length bachelor party.
Kanye West's Yeezus tour dates: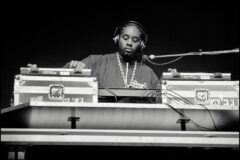 November 16 – Philadelphia, PA @ Wells Fargo Center #
November 17 – Boston, MA @ TD Garden #
November 19 – Brooklyn, NY @ Barclays Center #
November 20 – Brooklyn, NY @ Barclays Center +
November 21 – Washington, DC @ Verizon Center #
November 23 – New York, NY @ Madison Square Garden #
November 24 – New York, NY @ Madison Square Garden +
November 27 – Nashville, TN @ Bridgestone Arena #
November 29 – Miami, FL @ AmericanAirlines Arena #
November 30 – Tampa, FL @ Tampa Bay Times Forum #
December 01 – Atlanta, GA @ Philips Arena #
December 03 – Kansas City, MO @ Sprint Center #
December 05 – New Orleans, LA @ New Orleans Arena #
December 06 – Dallas, TX @ American Airlines Center #
December 07 – Houston, TX @ Toyota Center #
December 08 – San Antonio, TX @ AT&T Center #
December 10 – Phoenix, AZ @ US Airways Center #
December 13 – Anaheim, CA @ Honda Center
December 17 – Chicago, IL @ United Center #
December 18 – Chicago, IL @ United Center #
December 19 – Detroit, MI @ Palace of Auburn Hills #
December 22 – Toronto, Ontario @ Air Canada Centre #
December 23 – Toronto, Ontario @ Air Canada Centre #
# with Kendrick Lamar
+ with A Tribe Called Quest