Kanye West stopped by Los Angeles' Power 106 for an extensive, fully fascinating talk with host Big Boy. The Yeezus auteur sat in the studio for just shy of two hours, and held forth on a handful of topics — his fashion ambitions, his love for fiancé Kim Kardashian, that whole Steve Jobs comparison thing, the paparazzi, etc. — plus held his own in a 10-minute freestyle session with Big, and performed his half of Watch the Throne's "Otis" as well as "Good Life."

The clip above is full of insights and memorable bits. A quick sampling: the lyrics of "Lost in the World" were originally a poem written to Kim; West made "Through the Wire" as a joke; this quote: "I'm Michael Jordan-ing people right now"; that quote: "I'm a visionary Christian soldier"; five songs that didn't make Yeezus may be released before the year is over; and West was genuinely nervous asking Kris Kardashian for her daughter's hand in marriage.
But the most interesting stuff came in the beginning, when West spoke about fashion. The man demonstrated an immense amount of deep geekery on the subject, and implied that his arrival in the world of clothing design will be more significant than his work as a musician. He likened his all-hands album-making approach to the way seasonal collections are created, but also expressed in interest in making high fashion accessible.
"One of my friends is the head designer for Louis Vuitton [but] if I had the opportunity to design for Louis Vuitton now I wouldn't because the prices are too extreme and I don't want to use my message to have kids saving up that much to be a part of what the ideas are." He elaborated upon the latter bit, digging into the false sense of luxury that is spread by misleading advertising and money worship. "The only real luxury is time."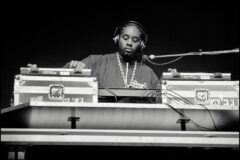 West said he aims to be the Tupac Shakur of fashion, and that he's frustrated by the fact that black designers are forced into an "urban" rubric. He said he's close to setting an office up for Donda, his "content, experience, and product" company (reports have emerged that he's looking at the San Francisco Bay Area), and let slip that he recently had dinner with Facebook founder Mark Zuckerberg.
He also came back around to his June comment to the New York Times in which he likened himself to Steve Jobs. West lamented that "good ideas usually aren't connected to money as much, [that] creativity and extreme genius is extremely cheap, [and] we live in more of a Microsoft era and mentality than an apple one." He also mentioned creating amusement parks one day, designing an app to usurp Instagram, and this:
"Ten years from now, I want to create for the church, period. I want to design the new Sistine Chapel."