On the occasion of Kanye West's sixth album, released the day before Juneteenth, 2013, Anno Domini, we are gathered here due to the dearth of Yeezus pieces written by women, which is a significant oversight since a) much of this album, and West's catalog, is about us; and b) it's 2013, call the freaking doctor. So we've amassed an all-star panel that includes frequent SPIN contributors Julianne Escobedo Shepherd, Puja Patel, Jessica Hopper, and Maura Johnston, Stereogum's Claire Lobenfeld, Toronto-based uber-freelancer Anupa Mistry, and SiriusXM's Sway in the Morning on-air personality and pop-culture writer Tracy Garraud.
JULIANNE ESCOBEDO SHEPHERD: For me, the album is sonically incredible: Producers Hudson Mohawke, Daft Punk, Arca, and Gesaffelstein went jamón, and West should be praised for his openness to bass-centric sounds that most people outside of the dance-music underground haven't really been exposed to. (Please, for the love of god's son, stop calling it "EDM.") These guys flipped some of the trillest Blade Runner dancehall and creepy, peeled-apart minimalism. Lyrically, I'm embarrassed by about 35 percent of it, though – not "I'm in It," so much as phoned-in lines like, "Mi casa es su casa / That's that cosa nostra" that are just like, dude, gimme a little more to work with here.
I'm going to be honest: I did not really blanche at the misogyny, because I expected it. He's been flossing his feelings about women since day one, from the body objectification of "Overnight Celebrity" to um, well, am I the only one who saw the "Monster" video? I don't think any of his misogyny is unaware, however. He's too smart to not know he's wrong for the "Civil Rights sign" lyric (or the racist Asian pussy lyric), but he's doing it anyway, just to prove fatherhood isn't going to dampen his loudmouth, even as it's grounded him. Note he equates fucking with liberation, like, eight times, too many to be coincidental, and interesting when abutted with actual liberationist songs like "New Slaves" and "Black Skinhead." I found the "she got more niggas off than Cochran" lyric disrespectful but brilliant, and believe that the "Hamptons spouse" lines were a metaphor for rich-ass, old-ass white people in general, which the Hamptons have in abundance. But my most pressing question is, when are rappers gonna stop dissing their rivals by telling them they fucked their women ("bitches")? We're not chattel. Anupa, what's your read on this?
ANUPA MISTRY: Hey, y'all. Just back from the gym, where I ran sprints to "On Sight." Incredible. Look, dudes equating TOTAL DOMINION OVER LIFE with (hetero) sex feels bigger than rap, so my real answer to that, J. Shep, and I both wholeheartedly believe this, is: When women begin to level up in a way that tips the balance, I encourage each and every one of you to partake in #femalegaze on a daily basis.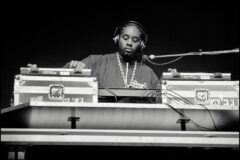 Yeezus sounds incredible. It's challenging and alienating and ultimately beguiling, but unlike Kanye's other records, which I've found easy to love, I'm still struggling to find a meaningful connection with the music. That seems intentional. It's funny that when Kanye seems to be at his most conventionally stable (boo'd up and smiling on national television, a new papa, fiscally and creatively on top), we get a record that's so lyrically and sonically ruthless. He totally is too smart to know he's not wrong, but there's a definite disconnect. I balked hard at the "Coch-a-ran" line – ew, really, though? How is Kim not flipping tables? – and rolled my eyes at the Asian girls gag. The first is just, ugh, uncouth, but the latter gaffe is an eediat ting that's been going on in rap for years and, more than goofy shit like "I be speaking Swaghili," is the kind of tiresome racist, sexist shit that really dumbs down otherwise good songs (for a recent example, recall Drake's "shout out to Asian girls, let the lights dim some").
Even the dependable Yeezy soul of "Bound 2," with that soaring Charlie Wilson hook, is withering and straight-up dead-eyed in chronicling his romantic life. With 'Ye, as with Drake, trading vulnerability for shit-talk is what's helped get me through the misogyny, but this is the first time it feels like Kanye's really distancing himself while simultaneously on this eternal quest to be received as an Artist (or, alternately, God). Kanye's never been a "rapper's rapper," but is there a heightened level of concern surrounding Yeezus and misogyny because, in some ways, he's creatively slippin'?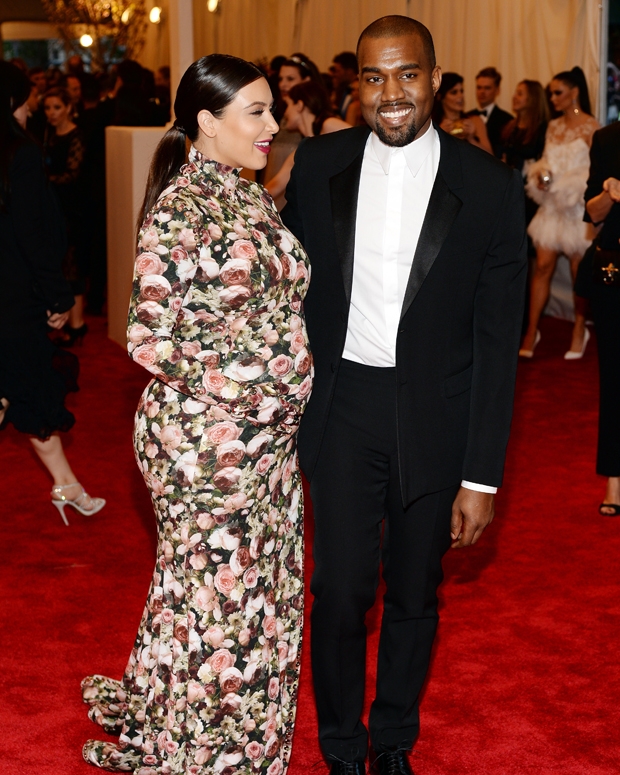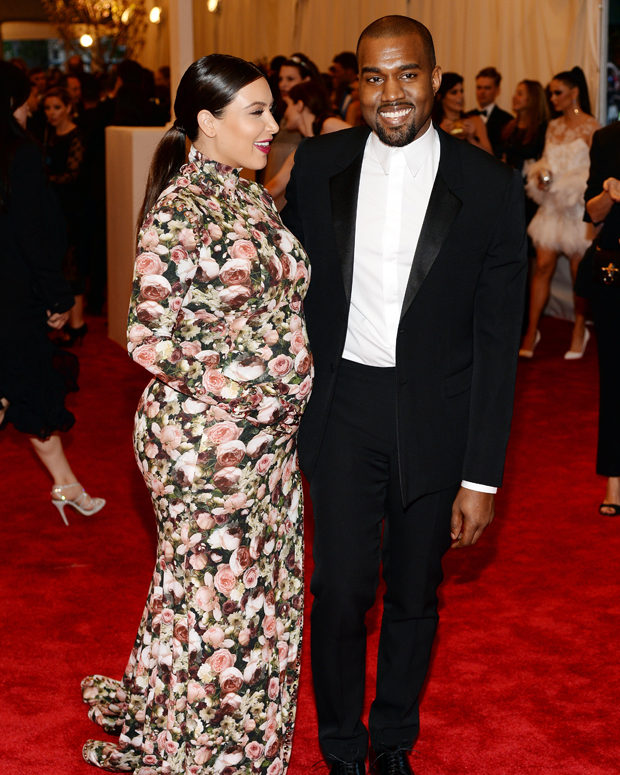 MAURA JOHNSTON: Maybe it was the torrent of pre-release hype or the expectation to Have a Thought Right Away, but I was kind of dreading listening to Yeezus. The synth blast that greeted me upon its arrival at least mirrored that dread, and it set the tone for what in a lot of ways is an ideal record for this dark, twisted cultural moment – for the first nine tracks, at least, it sounds paranoid, like Kanye's live-narrating an autobiographical horror movie about celebrity, fame, and the music business (and, naturally, the women getting all moth-like on our hero). The persistent use of breath as a percussive element introduces a feeling of claustrophobia; "Send It Up" sounds like a bad night in a full-of-itself VIP section, complete with words repeated incessantly to make a point (he rhymes "club" with itself five times and "again" with itself three times in the same verse). "Bound 2" is gorgeous, with a triumphant hook, and it's relatively romantic enough to sound like an off-into-the-sunset happy ending.
It's hard to not think about Kanye's desire to please others (as outlined in Jon Caramanica's pre-leak interview) when listening to Yeezus, or any of his albums, really. Like Julianne, I wasn't that surprised by the misogyny, which also just happens to be coming back in vogue across the board (shout out to Trent Franks!). Although it's dismaying that someone who wants to be such a serious artist, and who is still using his celebrity to directly confront American culture's decidedly überfucked racial politics, can fall in step with the narrative lines of patriarchy. Even "Bound 2" has a virgin/whore undercurrent.
Rick Rubin told The Wall Street Journal that Kanye laid down vocals for five tracks (and wrote lyrics for "two or three") over the course of one two-hour burst of creativity on the day of Kim Kardashian's baby shower. (A bit of gossip-page triangulation reveals that date to be June 2, or 12 days before Yeezus's Internet-suffocating leak.) "Don't worry, I will score 40 points for you in the fourth quarter," Rubin claims West told him. Rubin thinks he succeeded, but I'm not so sure, and West's repeated reliance on having women be vessels for, well, point-scoring is a big reason why. Jessica, do you think you'd crown Kanye MVP of his own game?
JESSICA HOPPER: Yeezus' sonic brutalism is much more compelling than the other strains threaded through the album. I have never been a Kanye true believer; been more excited by singles and some of his public diva turns than entire albums. The assault of the production here – its skittering, shuddering, lumbering, loping beats – is its triumph, a nasty, single-less, 10-song fuck-you that refuses to turn out its hooks easily and all the while makes you sit through all this discomfiting Kanye skeet-id.
I laud that punk move of making a jajillion-dollar record in the span of a few hours, even if it was just to be showy about his confidence. That is the part I like, along with the hula-hooping flow of "Black Skinhead," but I can't listen to the whole thing in a sitting. It's too much vagina-menace, and I need to palate-cleanse with something else. I mean, I certainly didn't imagine that his imminent fatherhood would have him waltzing ton la rue whistling "Free Man in Paris." Steven Hyden suggested a defense normally reserved for misanthropic black-metal bands in his piece for Grantland: "Anyone who accuses Yeezus of misogyny isn't heeding the context or the malevolent music; Kanye West the man may be a misogynist, but as an artist he was honest." And, in some regards, I agree, but I would buy the idea that he is interested in confrontational unease if he were a little more equal-opportunity about who he was putting his fist into. Tracy, who do you think Kanye is gunning for, ultimately? Who do you think he is trying to unsettle?
TRACY GARRAUD: Jessica, if Kanye were rooting for any specific assemblage with Yeezus, my bet is on thorny, horny (black) men who wouldn't mind blow-horning society's ears with Auto-Tuned commands. The album is definitely a snarled amalgam of anti-establishment meets pro-ménage meets an inappropriate appetite for Asian sauces, which is all polarizing to say the least, but fucking entertaining. And what makes O Holy 'Ye's incongruous ethos more amusing – for me, at least – is that the man behind the artist now owns first-time paternal duties to a newborn (biracial) daughter. Wowzers!
With that said, if we slow down this tour of all things brash and do some sightseeing, there's an issue to be spotted – this fickle craving for chauvinism. It's an issue that's always followed him, but becomes more glaring as he evolves professionally and personally. Is a god not really a god if there isn't a stable of jiggling jezebels to show for it? And as Yeezus comes to its final track, are we even sure this god has made a final call on whether to don a crown of thorns or jewels? It's an infinite parade of indecisiveness. And Kanye has the audacity to lead it.
Flaws and all, I have an appreciation for the almost-there punk campaign, and I appreciate how "On Sight" sends me hurtling down the throat of saber-toothed synths for an immediate shift in hip-hop aesthetics (though I'm still massaging my lobes), but most importantly, I appreciate the chance of it all. Because peeling off all the dramatics, Yeezus is an artist's exercise in straining personal catharsis from pandering entertainment. Mr. West is one hell of a tangled fellow. But that's what thinking and experimenting and creating will do to any curious human who's doing this life thing correctly, especially within the special circumstance of fame. So Kanye gets my empathy, even when I don't quite get him.
CLAIRE LOBENFELD: My immediate reaction to Yeezus upon first listen (which was actually at #kanyedock, not on B.A.D. Friday) was that the running thread throughout all of his records is that they always have a sheen of whatever is influencing him at the time, but still stridently sound like a Kanye West Record. The revelation that he listened to a lot of Joy Division is extremely instructive as to how Yeezus sounds, and the dark cloud of Ian Curtis looming over the album (although it has a thicker texture than anything JD or Warsaw ever made) is not just there sonically, but in the fact that Curtis also had a complicated relationship with women, including his rocky marriage to his high-school sweetheart and his alleged affair with Annik Honoré.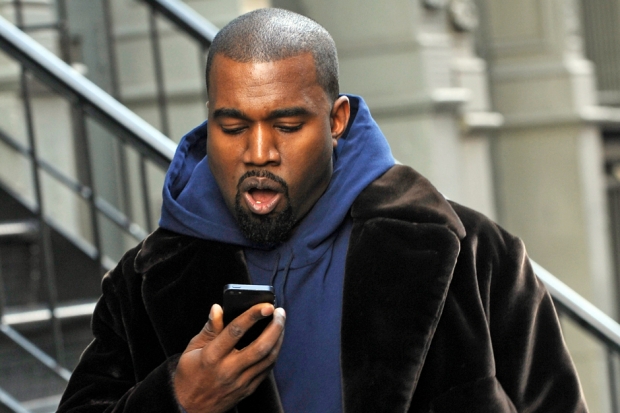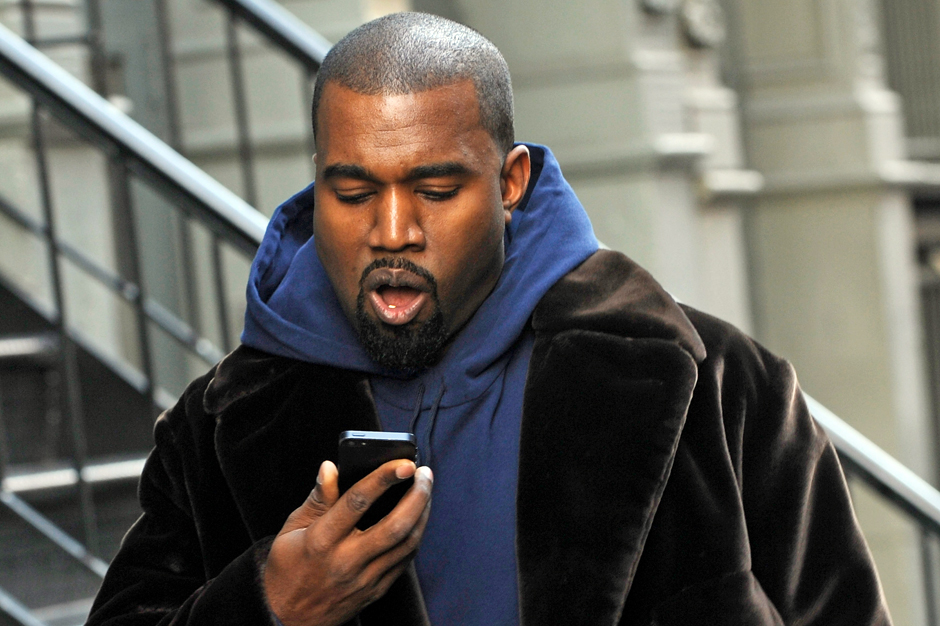 But that's also how I perceive Kanye's misogyny: gross but loving, yet also self-effacing. He's a weird mama's-boy woman-sorta-hater who throws feminist curveballs that poke fun at or critique men. It happened in the past with "Kanye's Workout Plan" and his fuck-your-breast-implants remix of "Throw Some D's." "Blood on the Leaves" is not a treatise on the horrors of marriage, commitment, or pregnancy, to my ears. With the last verse, especially, it sounds like an indictment of men's inability to keep it in their pants – you get your mistress pregnant, your wife leaves, you pay the price at every single turn in your life. This, in no way, lines up with the "Strange Fruit" sample and its significance to the Civil Rights movement, but I thought every public comment I saw about how Kim should be horrified by that song when she finally gets her now-ex-husband to sign divorce papers was really a bizarre imbalance. If we're really going to hold him up to the truly defunct standard of "keeping it real," every factor has to come into play. I'm at least starting a campaign to give Kim K her own agency, especially in 20 "I Hit It First" 13.
PUJA PATEL: Thank God we got to Kanye being a mama's boy. If Kanye has ever truly loved, by all accounts he has loved his mama. And if Yeezus is the son of God, then his mama is the Virgin Mary: pure, mythical, brave. Which on Yeezus seems to be absolutely everything a woman who would allow themselves to be fucked by Kanye is not. Yet here he is, ramming his fist up our vaginas in the name of Civil Rights and shaming those who get off when the hand of God has struck them.
Kanye's god complex is not new, though – it's hip-hop tradition. When Louis Farrakhan's Nation of Islam was popularly embraced in the Golden Era of Hip-hop, the Harlem-borne contingent of Five Percenters asserted that black man was God and black woman was Earth (ahem, the bearers of life). The word "Islam" was reinterpreted as "I Self Lord Am Master." Kanye's spin is abrasive in his tendency to turn self-enlightenment into ruling orders and decrees from his imaginary throne. Regardless, go ahead and count the number of self-acclaimed "Gods" in rap and you'll find almost as many "Baddest Bitches." And while bitches are surely a casualty of Yeezus, my disappointment is more focused at the dearth of Kanye's lyrical creativity than his commonplace misogyny. I have to wonder how my girl Bey (or fhe God [Jay]Hova) feel about being name-dropped on "Blood on the Leaves" as 'Ye wards off "second-string bitches tryna get a baby." It's the second time 'Ye's impulsively come to her defense (h/t the mic-steal from Tay that the world will never forget), and maybe, just maybe, it's in these lines that we've found his respect for at least one woman besides his mother. But Kim gets no mind (and the indignity of his comments on the "unholy matrimony" of having a child out of wedlock). Bitches, bitches everywhere, but not a bitch to wife.
For me, Yeezus is about rebirth, creation, power, and how insecure he is about all of it. The man has a habit of screaming about being out-of-body – a monster, a god, a wolf – and then retreating to the safe confines of his gargoyled castle to peer out at the response. Here the acid, the snares, the bass, the squeals of an industrial, get-off-my-lawn middle finger is a good enough place to be vulnerable as any. (He'll wear his black leather pants if you don't believe he's about that #gothlife.) And it's truly thrilling to hear. His ego ejaculates all over this record – on a Hamptons wife, in your white spouse, maybe near a condom from 7-11, at least near that mink coat – but what happens at the end is "Bound 2," a redemption track to apologize for the rage-blackout before. He'll tell you he is a god [repeat x3] and later, on "Blood on the Leaves," flip a Nina Simone vocal about slavery into a self-pitying yarn that scarily sounds like a request to emancipate himself from a woman he doesn't love carrying a baby he doesn't want. Turns out that it is the best song on the album.
But even "Bound 2" is no ballad to Kim, a woman who is practically owed one at this point. In fact, if it weren't for all the fucking, I'd like to consider the song's "One girl is worth a thousand bitches" a submission to North, his daughter born on Father's Day and the day before Yeezus' release. Kanye doesn't like to talk about fatherhood (or his own mother), and while we're all sure that he's as terrified of this as any father would be, I'm positive that fear extends outward to the entire female species: He is addicted to them, he is afraid they will fail him, he wants to love them with the same love he has for his mama. This guy is paranoid; he keeps his love locked down. And after waving his bejeweled dick around the Internet, he curls right back up into the fetal position. Shep, are you as nervous for North as I am? Also, can we make #SheezusTalks a thing?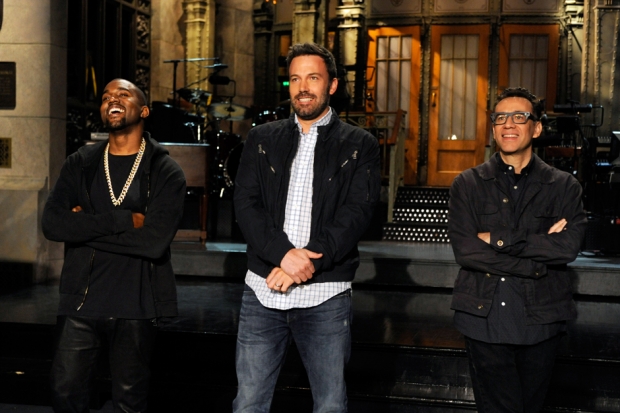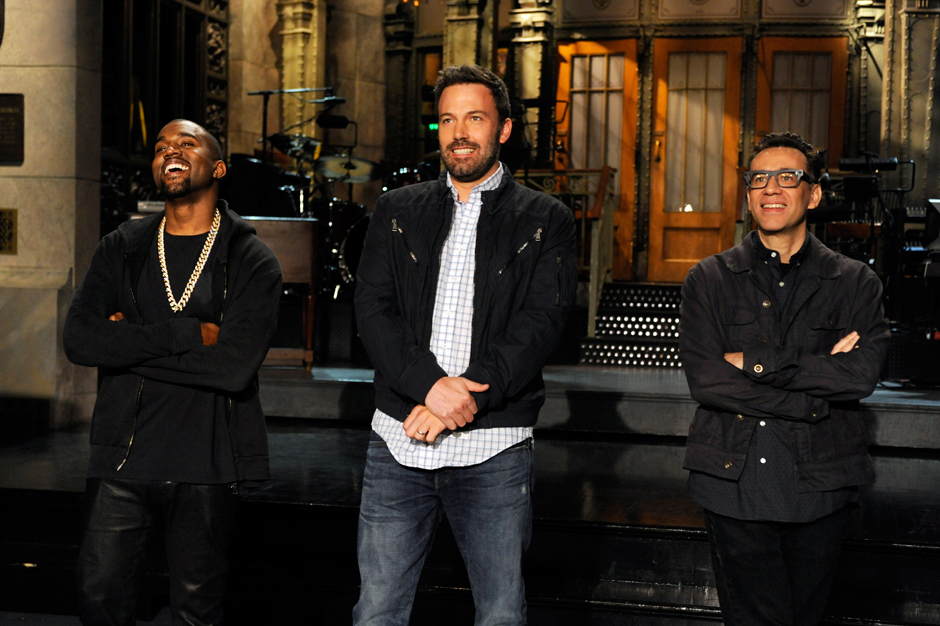 SHEPHERD: Puja, you make a great point, and it's not just that #SheezusTalks better be trending by the next time you hear a bar DJ mix "Beautiful People" into "Black Skinhead" (it's happened already, I was there). Kanye's gotten markedly angrier at non-perfect bitches (any woman who's not Beyonce or, ostensibly, Kim) since the passing of his mother. That's why I think he's raring to go into fatherhood – I don't hear fear on this, so much as sloppiness – and maybe that's why most of the lyrics don't singe as much as they should. It feels like he's fronting a little, rapping what's rote (and Maura's point about the expedited vocal tracks lands, too: We all know what our writing is like when we have to do a quick-turn) before he's rebirthed/resurrected through his daughter. Empathy, as Tracy put it, is the exact right word. And other than the seething salience and electric rage on "New Slaves," my favorite lyric on Yeezus is, indeed, about Beyoncé: "She Instagram herself like #Badbitchalert," an empowerment call for the selfie generation that went viral before he even thought it up. He'll allow leeway for his best friends, the visages of perfection.
One last thing: "I'm in It," aside from the lines we've already taken issue with, doesn't seem like Kim's in for that bad of a time, experientially (ahem) speaking. Sex is fun. Assassin's verse is maybe the best vocal on the album. The water's warm enough. They found the righteous one. I really like this album.
GARRAUD: Damn Puja, may I sprawl out on that chaise of yours once Kanye hops off? I mirror your sentiments to the 11th degree and sorta wish we could end by throwing our signature on a prescription slip for 'Ye.
This hyper-deliberate man is always twirling around in town squares yelping about the preservation of artistry, when Artistry 101 has taught us that art reflects life to some level. So Lord West, where art thou tweet-friendly quips on sweet Kimmy and that million-dollar belly everyone knew would deflate near album release? Yeezus is Kanye's bachelor party. Obnoxious, unapologetic, memorializing, asshole-y, the throwing of confetti on 300 naked bitches, followed by a partial regret of throwing confetti on 300 naked bitches and, most importantly, little to no explicit mention of the big leap that awaits in the morning. In closing, Yeezus is ear-opening if you're okay with unlearning a few rapper templates, and sounds even better if you have a thing for psychoanalysis and/or marijuana. I suggest Daft Punk as a best-man pairing for the royal wedding.
HOPPER: Like Tracy says, it's better if you have a thing for analysis – it's difficult not to associate this album with the TMZ-verified parts of his life (now he knows how Taylor Swift feels), which makes it that much more complex, because we want to see him publicly softened, though as he told the Times, this is not America's baby. Granted, no one (well, besides me) was crowing about how there is no mention of M.I.A.'s baby on the album she made when he was still fresh from the womb. And as some of our dad-colleagues have gotten at, the weight of impending fatherhood should be crushing: 'Ye's just giving us that paternal soul-terror on blast. I mean, it's hard to buy this as some purely artistic please-myself ish when as the Times interview proved, he's keenly aware of his place in the pop cosmos. Dude has sold progressively fewer albums with each release, so maybe he's feeling like there is less to lose. It's a kind of a backhanded pop-king move, giving the Macho American Terrordome the bachelor -arty jams it so desires. He may be verging on ex-pat, but he understands distinctly American desire better than anyone else.
LOBENFELD: I feel Tracy hard on calling this his bachelor party, but I'm not sold that Yeezus is the final word on Kanye and hypersexual lyrics. Echoing Julianne, "I'm in It" is not predatory – it's just not standard issue. If this is Kanye's most visceral album, then he's naturally going to provide a window to his preferred carnal pleasures. The most coercive line on the record is "Hurry up with my damn ménage," but misogyny is seemingly only cool to point out when it's not being overshadowed by the latest rap meme, i.e. the croissants he expects with the same immediacy. It will be interesting to see, though, if the seventh album has the same wash of bliss as "Glory" or The 20/20 Experience. We know he's a remorseful dude, given his Bush apology and "Runaway," but he always comes back around with an all-caps growl, and I can see his glow for North West not always functioning as a guiding light.
MISTRY: Remember that Kiese Laymon essay on being a fake-ass feminist? The one where he puts the burden of patriarchal dysfunction on Kanye by asking, "At what point does listening to artists obsessively encourage manipulative relationships, sociopathic deception, and irresponsible sex with women doubling as accessorized pussy become not just destructive but really, really boring? If Kanye West won't, or maybe even can't, explore the meat of that question, isn't he too great to exploit it?" (And then self-corrects, saying, "I have intimately fucked up women's lives while congratulating myself for not being Kanye West.")
Maybe fathering a girlchild will bring Kanye to the kind of placid clarity we saw snatches of on "New Day," maybe not. It's as a human, not a woman, that I feel weirded-out when he compares fisting with the Civil Rights movement. And if you're not there, that can't just be on Yeezy.
Puja's final point gets to why I wanted to go in on this barren, single-strobelight-in-the-corner, demented funhouse of an album (while also neatly deflecting the hand-wringing of writers like Laymon and the other fake-ass feminist dudes nodding gravelly at his revelation): Unlike them, Kanye is fallible with women. He allows them to consume him. Yes, his girlfriends are gilded, pneumatic, hyper-real arm trophies perfectly calibrated to complement his public persona, but like his mama did, these women have also shaped (exploited?) his narrative. Kanye West makes albums about these women and what they've done and could potentially do to him. Let's not forget that Kim is Kanye's equal in a way that does give her agency: capital. On Keeping Up, Kim did almost everyone in her life dirty in some way, simply to get money. For almost a decade, Kanye, more than any other rapper, has been in pursuit (in both his art and his persona) of this life, which includes the ultimate bad bitch. Now he's met his match, and debasing her on record – like when he lambastes the corporations he is complicit with, and the second-string temptresses who "lynch" his compadres with child support – is his one hand on the wheel. Without that, the pussy has him dead.
https://youtube.com/watch?v=NSQvJXOKCck
JOHNSTON: I don't watch Keeping Up (and I don't really care to), but as someone who walks by multiple tabloid-strewn newsstands on a regular basis, I've wondered if the cultural treatment of Kim Kardashian by American culture this 2K13 will serve as a final straw that pushes some people (anyone?) toward radical feminism. The Gabors never had it this tough: Week-by-week weight reports complete with swollen-ankle close-ups, plastic-surgery rumors, cheating whispers that sometimes have a "he's gay" tinge for extra hot-pink salaciousness. The other night at Target I saw a cover that was turning her pregnancy and Kate Middleton's into a race to the celebrity baby finish line. (Nobody will win in the long run, but that's probably obvious.)
So what to make of this yawp from the man who considers Kim to be his One True Twitter Pal? Perhaps Yeezus is a final purging of his fame-and-hedonism demons, so he can finally experience something resembling fatherly contentment (although if its wrenched squall is supposed to represent some kind of bachelor-party last hurrah, it makes me feel at least a little better about ladies' toilet-paper bridal-gown rituals). Or maybe it's just another fuck-you to the increasingly overheated world from a man who's delivered a few prior fuck-you's after being unexpectedly overcome with emotion while on camera and others out of attention-getting spite. Or both? Why do I have the feeling we won't have a less murky picture until the first picture of North gets an "exclusive" placement on the gossipnet somewhere?
https://youtube.com/watch?v=u2Ddju4lyr4
PATEL: I too am with Tracy and Jessica here. And while Kanye may superman his family to Paris, I'm not believing that he's not about that pop-star spotlight. The album's promo trailer, an American Psycho tribute, features Scott Disick in the role of the Yeezus-loving axe-murderer Patrick Bateman with Jonathan Cheban as his victim. Kanye is too smart to think we won't notice that these are Kim's people – her sister's live-in father-out-of-wedlock and her best friend, respectively – that he chose to represent himself. Even if it is in the name of Art.
Yes, Yeezus is bigger than Kim, fatherhood, and mommy issues. Sonically, it's stunning; HudMo! Arca! Daft Punk! Popcaan! Assassin! BEENIE MAN! I was floored by the dancehall on this thing! I've seen some reviews that associate dancehall patois with "provoking fear" and "menace" on this album, and encourage everyone listen to Beenie Man's "Memories" (sampled on "Guilt Trip") before buying into that mindset. Dancehall and reggae are slaves to dubs and love and women and sex and freedom – all of which are running themes here. This is his balancing act. I am right now realizing that I haven't outright said how much I like this album, btw. I love it.