Kanye West shows are where audiences get to watch a great artist in his element and enable a great artist's cranky delusions. On Saturday night, Seattle's Key Arena was the first stop on Kanye's first full-on solo tour in close to five years. It was not without hiccups. The show's opener, Kendrick Lamar, was scheduled to start at 8 p.m.; the doors didn't open until almost 9 ("hurry up with my damn arena!"); and it was nearly 11:30 by the time Kanye finally hit the stage, to chants of "YEE-ZUS! YEE-ZUS! YEE-ZUS!"
Or, rather, everyone figured (correctly) that the figure that hit the stage was Kanye: It was a guy with his general build, but wearing a sparkly black mask that concealed his entire head. (The hood didn't seem to hinder West's delivery for most of the show, although he sounded a lot more muffled when he paused to explain that he'd written "Coldest Winter" for his late mother.) At one point, he exchanged it for a sparkly white mask, although we didn't actually get to see his face until nearly the end of the show. But we'll get to that.
Kanye's stage set this time is relatively modest by his standards: a huge white icy-looking pyramidal mountain with a zig-zag path down it, connected by a walkway to a triangular stage with crinkled sides in the middle of the arena floor — it's probably meant to suggest an iceberg but actually looks like a great big wedge of Brie. He also had a group of identically dressed women who turned up on stage every so often, not so much to dance as to strike poses and bask in the glory that is 'Ye.
The point of these theatrics isn't to give his audience pleasure but to command their respect. In the course of a two-hours-plus set, West played all ten of the joyless, abrasive tracks on Yeezus — mostly toward the beginning of the show — and cherrypicked his back catalogue for the songs that match its tone best: "Power" and "Can't Tell Me Nothing," yes; "Gold Digger" and "Good Life," no. "Through the Wire" and "Hey Mama" were reduced to hit-and-run snippets. Even the punchlines were generally turned over to the audience to yell (or implicate themselves with) en masse: "I'D RATHER BE A DICK THAN A SWALLOWER!" "HURRY UP WITH MY DAMN CROISSANT!"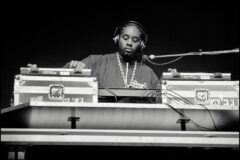 Fair enough; it's kind of great to see a pop star as big as Kanye brush off the idea of "a fun night out." In its final 45 minutes, though, the show's icy hauteur disintegrated into slush, as West charged into religious tropes a lot soppier and less bracing than, say, "I Am a God." To announce (through AutoTune) "live life to the fullest, 'cause that's the gift God gave you" is one thing; it's another to follow that with the stage's pyramid splitting open and a procession of figures representing the Father, Son, and Holy Ghost emerging (the last of these was represented by a Halloween-style sheet-over-head form with a cross on its face).
After a few more songs (and the joke everyone had been waiting for all night — "Thank you, Seattle — you are the Northwest!"), a white-robed figure approached Kanye on the Brie Stage. "Is that Kim? Omigod is that Kim?" burbled the drunken fan behind me. But no: It was Jesus Christ Himself, or rather some white guy dressed as Him. (He didn't give Kanye a "what up, Yeezus?," contra "I Am a God.") West answered the divine call by removing his mask at last and running through "Jesus Walks" (natch), "Flashing Lights," and "All of the Lights," followed by an extended take on Yeezus's bizarre, curdled approximation of his early style, "Bound 2."
But "Bound 2″'s over-and-out is no way to end a show, so there was a coda: Kanye and the Kanyettes dropping to their knees before the pyramid at whose top White Jesus (again) sat, raising his hands in benediction, while "On Sight"'s interpolation of a choir simpering "He'll give us what we need / It may not be what we want" played over and over — simultaneously a show of canned piety and a fuck-you to anyone who had hoped to see a side of West the performer other than the masked, entitled drama llama he plays on Yeezus. When the lights came up, the chant of "yee-zus yee-zus yee-zus" only lasted a few seconds before everyone made for the exits.
Set list
"On Sight"
"New Slaves"
"Send It Up"
"Mercy"
"Power"
"Cold"
"Black Skinhead"
"I Don't Like (Remix)"
"I Am a God"
"Can't Tell Me Nothing"
"Coldest Winter"
"Hold My Liquor"
"I'm In It"
"Drunk and Hot Girls"
"Guilt Trip"
"Heartless"
"Blood on the Leaves"
"I Wonder"
"Runaway"
"Hey Mama" (snippet)
"Street Lights"
"Lost in the World"
Encore
"Heard 'Em Say"
"Stronger"
"Through the Wire" (snippet)
"Jesus Walks"
"Flashing Lights"
"All of the Lights"
"Bound 2"