The opening night of Kanye West's Yeezus tour featured a highly unexpected cameo: Jesus Christ. Or, at least, a dude dressed as "White Jesus," as SPIN reviewer Douglas Wolk wrote. Like most things Yeezy does — I.E. rent an entire baseball stadium in order to propose to Kim Kardashian — the move quickly proved to be a conversation-starter. What's odd about this one is how ready and willing he was to personally join said conversation.
In back-to-back interviews with San Francisco Bay Area rap radio stations KMEL and Wild 94.9, West calmly and cooly explained the presence of (the likeness of) Jesus at his shows, and it basically amounts to this: Do you know what's awesome about Christianity? The clips shared from the two chats are chock-full of references to the G.O.O.D. Music creator's relationship with, um, G-O-D the Creator — basically, a full-court press to spread The Word.
"I think anytime the word 'Jesus' can be used more in our lives, I believe it's a good thing," he said to Wild. "So even if it's the title, Yeezus, what I say is like, with my heroes… People wanna be like Mike, I wanna be like Christ."
And then, to KMEL, again: "I'm Christian, and I'm hip-hop. So you mix those two things together, and you want to express yourself a certain type of way, and be bold […] I wanna be like Christ. That's not to say [I have] a god complex. But it's like, if people pick a favorite Halloween character it's like, that's what I would pick! Don't people pick people that they look up to?"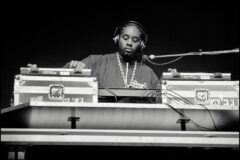 No, Kanye, people pick fictional things that terrify them, mostly. (So … maybe?). Of course, West's minting the word Yeezus, his calling himself a god on album (via "I Am a God"), and the bizarrely garish religious imagery that adorns his current tour have all raised eyebrows, so it's understandable that he feels the need to explain. It's just maybe not the explanation we were expecting. Here's this one via Wild:
"One of the things that I wanted to get across with that message was that you can have a relationship with Jesus. That you can talk to Jesus. This is my literal … in the same way someone would [say] 'Jesus is my homeboy,' that is how I would express it in the way I create."
"I had a friend of mine that's a pastor there as we started discussing how we want to [present the show]," he explained further. "My girl even asked afterwards, 'Is that weird that Jesus comes on stage?' And I'm like, 'No, we do plays all the time where people play Jesus.' You know what's awesome about Christianity? We're allowed to portray God. We're allowed to draw an image of Him. We're allowed to make movies about Him. Other religions, you're not allowed to. So that's what's really awesome about Christianity."
He pauses and then smiles widely. "That's one of the awesome things."
Later on in the same talk, he demystifies his creative process via further mystification (mysti-tivity?): "There's only two things on my mind when I create: God, and Jesus." And then one of the 94.9 hosts breathlessly responds, "That's awesome."
Over at KMEL, West spoke about his fiancé hours before he popped the question, and also Jay-Z, characterizing each relationship as a gift from on high, plus ending with a weird nugget that puts his love for Kim Kardashian in a very odd light.
"I love the fact that God has put her in my life every single day," he said. "One of the reasons I did Watch the Throne with Jay wasn't to do a dope album, which we did. It was because Jay-Z had the best social skills of anyone I knew then […] and I wanted to learn from him. Like he said, 'Teach you how to move in a room full of vultures.' He knows how to move in that room. I go in and be like, 'That's a vulture! That's a vulture! That's a vulture!' — a kind of robotic and intense personality. But [I] just [wanted] to knock the edge off and learn from Jay. And then God has now given me another master of the social skills and that's my girl. She's like, the number one socialite in the world."
Humblebrag much? We can't remember if that came before or after the part where West rapped his famous "Hampton blouse" verse about coming, but all of that happened and more (he also spoke about Drake, the Illuminati, and classicism) and there's video evidence below.