Good morning. In case you missed your music news over the holiday weekend, we have you covered. Here's what happened yesterday:
Cowabunga, dude! Trent Reznor and Atticus Ross are scoring the upcoming Teenage Mutant Ninja Turtles movie.
Keanu Reeves' band Dogstar played its first show since 2002. Check out the highlights.
Lana Del Rey performed her first full set in three-and-a-half years at a Brazilian festival.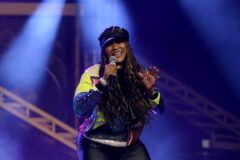 Foo Fighters returned to the festival circuit. The band brought up late drummer Taylor Hawkins' son Shane and Dave Grohl's daughter Violet to perform during their Boston Calling set on Friday, and on Sunday night at Sonic Temple in Columbus, Oh., the Foos performed a medley of songs by new drummer Josh Freese's previous bands. Grohl also dedicated "My Hero" to Matt Pinfield.
King Gizzard and the Gizzard Wizard debuted a thrashy new song called "Converge" during its Boston Calling set.
Taylor Swift got a little help from some famous friends at the first of three shows in East Rutherford, N.J.
Beyoncé paid tribute to Tina Turner at her show in London by covering "River Deep, Mountain High."
During their first shows in five years, Queens of the Stone Age debuted the new songs "Emotion Sickness" and "Negative Space" at Sonic Temple on Friday and Boston Calling on Sunday.