There are three things about Ty Segall that will probably never change: The San Francisco garage-rock icon is a prolific songwriter, plays the guitar very well, and seems to live and breathe to do both of those things. Other than that, over the course of his decade-plus career, not much else has been predictable — especially with regard to his release schedule. As if taking the ticking clock implied by "rock'n'roll 27" to heart, he put out four albums (Hair, Slaughterhouse, Twins, Sleeper) in 12 months, while his next one (2014's Manipulator) took him 14 months to write and record; he's been in so many bands they practically have their own glossary; and he puts demos out long after a finished album has been available on Amoeba Records shelves. And he's done all that while maintaining a certain level of quality, whether the record in question is a collection of T. Rex covers or a somewhat-surprise return to his lo(wer)-fidelity beginnings.
Even though Segall maintains that his output is nothing compared to the Rolling Stones' from 1964 to '72, the prolificacy of his releases is tangled up in how much they interweave and overlap with one another. His Discogs page is extensive and confusing. He releases limited-edition Flexi disc 7-inches like he's tossing rice at a wedding, only to have those singles show up as part of another vinyl compilation — all the time. It's thrilling and maddening for collectors and fans to keep track of them all. But, to celebrate Segall's latest album, Emotional Mugger, SPIN has attempted to methodize the madness by ranking all of his releases. In order to eliminate redundancies, we only included each song as it appears once. (For example, we didn't rank 2011's Spiders 7-inch because all of those songs appear in exact form on 2014's $INGLE$ 2. We included the LP of Horn the Unicorn, but not the cassette, for the same reason.) We also didn't include live songs/covers that never made it to a physical recording, or bands Segall formed without ever putting a song on public record.
Also, we stuck to releases on which Segall played an actual instrument or sang — not those that he's helped produce or had some other behind-the-scenes hand in. Finally, there are some sets you won't find anywhere online, such as 2006's nasty GG Allin tribute Scum F**k Revolt, which Husk Records was kind enough to send us in CDR form so SPIN didn't have to go looking for bootlegs. Not that we're encouraging that sort of thing. And with that…
59. Various, Scum F**k Revolt: A GG Allin Tribute (Husk Records, 2006) (Party Fowl, "Die When You Die")
58. Ty Segall, Caesar 7-inch (Goner Records, 2010)

57. Ty Segall, I Hate the Kids 7-inch (Nashville's Dead, 2012)
56. Ty Segall, The Hill 7-inch (Drag City, 2012)
55. Ty Segall, My Sunshine 7-inch (Trouble In Mind, 2009)
54. Ty Segall, San Francisco Rock Compilation or Food or Weird Beer From Microsoft LP/Cassette (God? Records/Social Music Records, 2010/2011)
53. Ty Segall/Armitage Shanks/UV Race/Strapping Field Hands, GonerFest Seven Golden Ticket Record (Goner Records, 2010) (Segall, "Annette's Got the Hits" [Redd Kross cover])
52. Ty Segall Band, Motörhead/Paranoid 7-inch (Drag City, 2014)
There's no record of Lemmy and Ozzy ever having a meeting and melding of minds with this particular San Franciscan, which is a damn shame. Undeterred, "Paranoid" slashes and slings down enough power chords to make a run for the latter's likely saved spot in Heaven's supergroup. — HARLEY BROWN
51. Party Fowl, Party Fowl 7-inch (Post Present Medium, 2008)
50. The Perverts, The Perverts 7-inch (Captcha Records, 2009)
49. Ty Segall/Black Time, Swag/Sitting In The Back of a Morris Marina Parked at a Pier Eating Sandwiches Whilst the Rain Drums on the Roof Split LP (Telephone Explosion Records, 2009)


48. Various, Live At Death By Audio 2012 (Famous Class Records, 2013) (Segall, "Imaginary Person")
47. Ty Segall, Skin 7-inch (Goodbye Boozy Records, 2008)
46. The Primate Five vs. The Traditional Fools, The Primate Five vs. The Traditional Fools Split 7-inch (Goodbye Boozy Records, 2007) (Fools, "Stash Comb," "Please")
You won't find any of these limited-edition nuggets anywhere online, but that doesn't mean what's lost can never be found. "Stash Comb" and "Please" dispense with the pleasantries immediately via ear-scraping squeals and a voice like the harshest of vibes, which would sooner melt wax than be preserved on it. — H.B.
45. Fuzz, Sunderberry Dream 7-inch (In The Red, 2013)
44. Sic Alps, Breadhead EP (Drag City, 2011)
43. Ty Segall/Superstitions, Halfnonagon Split Cassette (Wizard Mountain, 2008)
42. Ty Segall, Live in Aisle Five (Southpaw Records, 2011)
41. Fuzz, Live in San Francisco EP (Castle Face, 2013) 

40. Ty Segall Band, Live in San Francisco (Drag City, 2015)
39. Ty Segall, Cents 7-inch (Goner Records, 2009)
38. Ty Segall/Chad & The Meatbodies, Less Artists More Condos Series #10 7-inch (Famous Class Records, 2013) (Segall, "Music For a Film 1")
37. Various, Stuffs Vol. 1 (Compost Modern Art Recordings, 2010) (Segall, "Flys Better")
36. Ty Segall/Mikal Cronin, Reverse Shark Attack Cassette/LP (Burger Records/Shaman Records, 2009)
https://embed.spotify.com/?uri=spotify%3Aalbum%3A4cN3aqYuoMLhiAURSElAWr
Back in 2009, Segall and his childhood friend Mikal Cronin slapped together an album with serious bite, all scuzzy guitars and lysergic surf rock pushed far off the deep end. Thanks to popular demand, this once vinyl-only release is now available for everyone to sink their teeth into. — PAULA MEJIA
35. Party Fowl, STD's 7-inch (Goodbye Boozy, 2008)
34. Fuzz, This Time I Got a Reason 7-inch (Trouble In Mind, 2012)
33. GØGGS, She Got Harder/Billy Is A Runaway 7-inch (Iggy & the Stooges cover) (In the Red, 2015)

32. Ty Segall, Gemini (Drag City, 2013)
If you think Gemini is unnecessary, then you may as well say the same about Ty Segall's whole career. This collection of Twins demos, released after the more polished end product, is more utilitarian than anything else: giving the listener a peek under the banged-up hood of Segall's dented SUV. Ever jovial, the modern-day musical flower child satisfies both the more buttoned-up audiophile set and those who'd rather drive a rusted-up stick than the latest model. — H.B.
31. Ty Segall, Horn the Unicorn LP (HBSP-2X, 2009)
30. Ty Segall/Mikal Cronin, Pop Song 7-inch (Goodbye Boozy Records, 2009)
29. Ty Segall, It 7-inch (Chocolate Covered Records, 2008)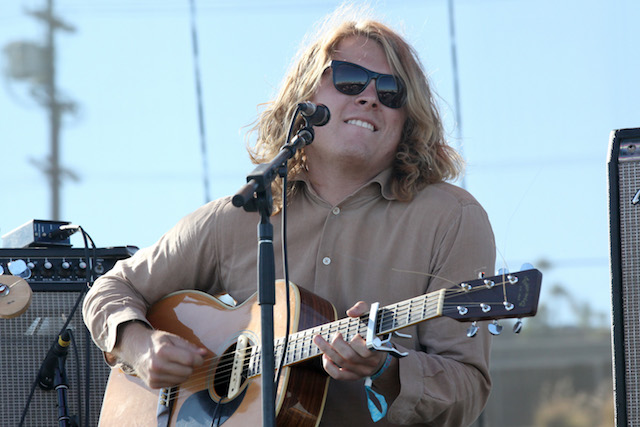 28. Ty Segall, Universal Momma 7-inch (True Panther, 2009)
27. Various, Live at the Empty Bottle LP (Shimby Presents, 2012)(Segall, "Girlfriend")
26. Various, Group Flex LP (Castle Face, 2011) (Segall/Cronin, "Fame" and "Suffragette City" [David Bowie covers])
25. The Traditional Fools, The Traditional Fools 7-inch (Chocolate Covered Records, 2007)
https://embed.spotify.com/?uri=spotify%3Aalbum%3A3RooWJ9ra6OKIjqxEeZa2X
24. Various, Our Boy Roy (Telephone Explosion Records, 2010) (Segall, "Pretty Woman" [Roy Orbison cover])
23. Ty Segall/King Tuff, Live at Pickathon, Vol. 2 (Easy Sound Recording Co.)
22. Fuzz, Sleigh Ride 7-inch (In The Red, 2013)
21. Ty Segall, Ty Segall (Burger Records/Castle Face, 2008)
20. Fuzz, II (In The Red, 2015)
This double album continues along the same path set by Fuzz's debut: II features terrific grooves, stoner-rock riffage, and sprawling, noisy tunes suitable for a zoned-out Friday night. — ANNIE ZALESKI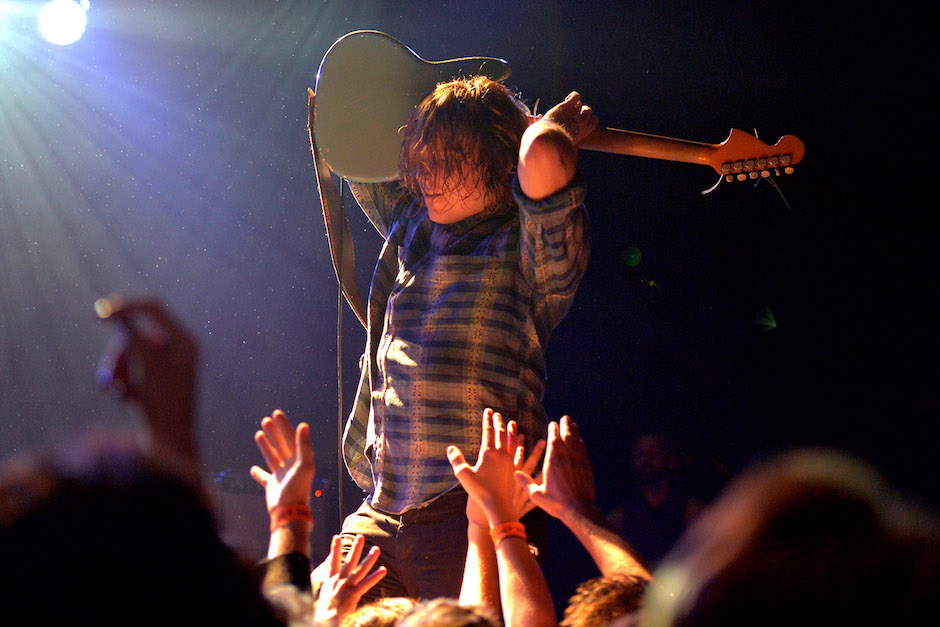 19. Various, Less Artists More Condos Series #10 7-inch (Famous Class, 2014) (Fuzz, "Til the End Of Day" [Kinks cover])
Featuring guitarist/vocalist Charlie Moothart and bassist Chad Ubovich, Fuzz is the trio Segall moonlights in when he's not touring with Ty Segall Band — or one of his many others. Known for their pummeling live performances and forging fresh, formidable versions of old favorites, they recorded a 7-inch of skull-crushing covers alongside their caustic Californians CCR Headcleaner; that song then appeared on LAMC #10. Fuzz takes on the Kinks' bouncy mainstay "Til the End of the Day" as Segall, filling the role of singer and drummer, transforms the 1965 single from a toe-tapper to positively radioactive. Ray Davies would be tickled. — P.M.
18. Epsilons, Killed 'Em Deader 'N a Six Card Poker Hand (Retard Disco, 2006)
https://embed.spotify.com/?uri=spotify%3Aalbum%3A2kPMzEUq7SlQzRtRlg0FmN
Epsilons is Segall's first band, practically prehistoric at this point considering his overflowing catalog. Their sophomore LP, Killed 'Em Deader 'N a Six Card Poker Hand, plays fast 'n' loose with a surfabilly blend of wayward guitar twangs and Hammond maniacs playing a Farfisa at breakneck speeds. It's rowdy and sloppy and you probably won't be able to feel your face afterward. — H.B.
17. Various, The Velvet Underground & Nico Tribute (Castle Face Records, 2012) (Segall, "Femme Fatale")
In honor of the 45th anniversary of The Velvet Underground & Nico, and its six-disc reissue, the noise bombers on San Francisco's storied Castle Face Records got a restless feeling to do gnarly justice to the songs themselves. In his bastardization of "Femme Fatale," Segall puts the original through a woodchipper, right down to his own shredded imitation of Nico's coo. — H.B.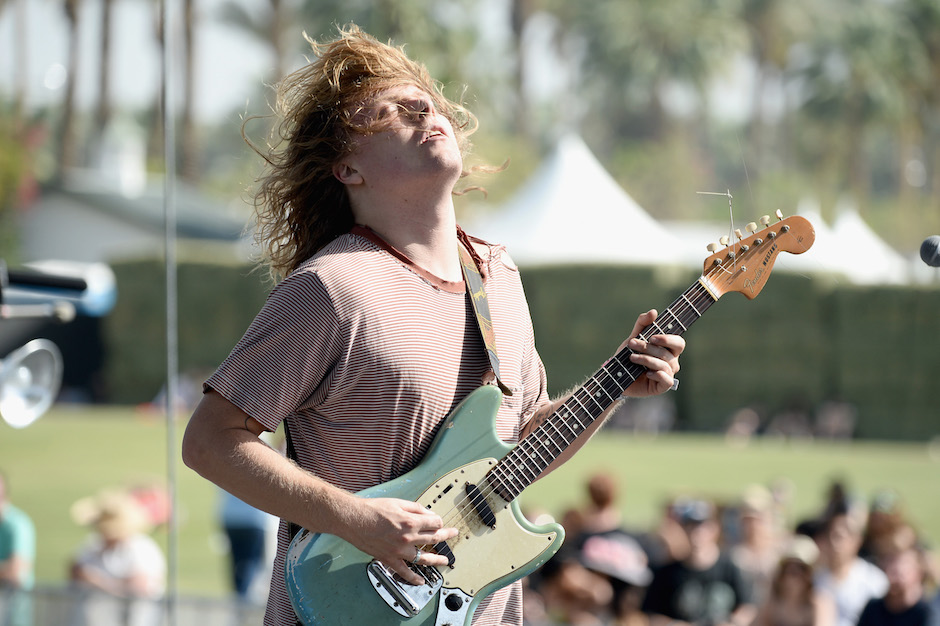 16. Ty Segall, Lemons (Goner Records, 2009)
Segall's second solo outing has no time for second thoughts or production finish — throughout its entire 26-minute run time, the psych-obsessed venture never once takes its foot off of the distortion pedal. — RACHEL BRODSKY
15. Ty Segall, Emotional Mugger (Drag City, 2016)
Ty's most recent LP, about the titular "subject-to-subject exchange formed as a response to our hyper-digital sexual landscape," mostly features the more conventional kind of rock-star mugging, its singer adopting Ariel Pink-like leering and psych-rock pomposity. Luckily, none of the album's put-on BS is thick enough that it can't be lacerated by the razor-sharp riffing of "Breakfast Eggs" and "Diversion," and Ty's predatory posturing is winking and goony enough that his demands for your candy make just as much sense taken literally. — ANDREW UNTERBERGER
14. Ty Segall, Singles 2007-2010 Double LP (Goner Records, 2011)
The critical success of Melted (2010) and Goodbye Bread (2011) — and the noteworthy pace and volume of his output in general — is why Segall's onetime label, Goner, honored him by letting loose a melee of previously unheard material. Therein, we get a good look at the West Coast caterwauler over 25 tracks: choppy blues-punk stomper "Where We Go," psychedelic instrumental "…And Then Judy Walked In," garage-pop jubilation "Standing at the Station," and so on, making for an essential walk on Segall's wild(er) side. — R.B.
13. Ty Segall/Feeling Of Love, Tour Split 7-inch (Permanent Records, 2012) 
"It's a Problem" is a journey through the first 20 years of rock history, stopping by the houses of Paul Revere and the Raiders, Slade, Big Star, the Who, and Phil Spector to take pictures. And that's all within the first 90 seconds, before the song explodes into a free-for-all of Nuggets shredding for its final few minutes. Few figures in 21st-century musicology have both the knowledge and the chops to host such a travelogue, but Ty does it with Ken Burns-like expertise and Robert Pollard-like casualness, as if he was comfortable visiting all these musical landmarks because he'd been living in their same neighborhood his entire life. — A.U.
12. Ty Segall, Mr. Face 7-inch (Famous Class Records, 2015)
https://embed.spotify.com/?uri=spotify%3Aalbum%3A5bXUYhd6yvmry49a8WpEqS
Billed as "the world's first playable pair of 3D glasses" (look through the translucent red-and-blue vinyl to properly feast on the EP's artwork), this four-track, double 7-inch scales back the size and sprawl of 2014's Manipulator. Traces of glitter-bombed glam remain, but most of the sleaze comes caked in muddy acoustic strumming; for peak decadence, confront "Drug Mugger." — KYLE MCGOVERN
11. Ty Segall, $INGLE$ 2 LP/Cassette (Drag City, 2014)
Yet another compilation album that doesn't skimp on cohesion, $INGLE$ 2 is an odds-and-sods collection containing B-sides, non-LP singles, and obscurities from Segall's 2011-to-2013 era. Weirdly enough, it boasts more internal logic than many of his proper albums: The grungy, teeth-grinding "Spiders" and the garage-pop flipside "Cherry Red" pair well with the more delicate, appropriately sparser "Falling Hair." $INGLE$ 2 is a good-natured middle finger aimed at the old "quantity versus quality" dichotomy. — A.Z.
10. Ty Segall/White Fence, Hair (Drag City, 2012)
When he's not busy writing, recording, releasing, and touring for his sometime-average of three-ish albums a year, Segall spends a generous amount of time flexing his collaborative side, like with diamond-in-the-riff songwriter Mikal Cronin and Nashville's king weirdo, King Tuff. Yet his sonic superpowers are exceptionally well-suited to complement those of Tim Presley, the warbling force behind flower-power rangers White Fence and psychedelic voyagers Darker My Love. His and Segall's 2012 album, Hair, is a knotty treat calling to mind Syd Barrett on a sugar high. Segall's characteristic fuzz-bombs shine alongside Presley's falsetto growls on the defiantly trampling "I Am Not a Game" and the Zappa-style freakout that is "Scissor People." Let's hope Hair II isn't that far away from being a reality. — P.M.
9. Ty Segall, Ty Rex (Goner Records, 2015)
Ty Rex is essentially a compilation LP bundling together a whole ton of T. Rex covers, culled from two Record Store Day releases (a 2011 limited-edition EP and a 2013 7-inch), as well as a new tune. Although there's the requisite take on "20th Century Boy" — here gloriously sped-up and unhinged — the nine-track album amplifies and honors the jagged, more experimental aspects of the influential U.K. band. Segall's glammy edge is often overshadowed by other influences, but Ty Rex demonstrates how much of his sound owes a debt to Marc Bolan and crew. — A.Z.
https://embed.spotify.com/?uri=spotify%3Aalbum%3A4l1dguE5eoTrKuyHZKVY40
8. Epsilons, Epsilons (Retard Disco, 2006)
It's still something of a mystery how this scrappy, raw-throated collective formed in oil-stained garages for Range Rovers and Escalades in the otherwise plush town of Orange County, California. Ironic origins aside, Ty Segall's mid-'00s ode to proto-punk released an abrasive debut record in 2006, featuring tear-away two-minute anthems like opener "The Train," the harder-rock "Snap Crackle Pop!," and the feedback-spiked "Fever to Kill." Judging from this 14-track firecracker, vehicle storage took a clear backseat in Epsilons' garage. — R.B.
https://embed.spotify.com/?uri=spotify%3Aalbum%3A5t0sEcpEgc4sFMMBFv2MV2
7. Fuzz, Fuzz (In The Red, 2013)
Segall's bong-ripping hard-rock trio is a loving, faithful homage to the interplanetary rawk gods everlasting: Deep Purple, Jimi Hendrix, and Hawkwind. But their self-titled debut isn't just some collection of slavish retro ripoffs: Freewheeling from the molten proto-heavy metal of "Sleigh Ride," space jam supernova "What's In My Head?," and the distortion-drenched surge "Preacher," Fuzz maintain impressive attention to detail. — A.Z.
https://embed.spotify.com/?uri=spotify%3Aalbum%3A1D3YttJsWvUUSvOVRbic0o
6. Ty Segall, Melted (Goner Records, 2010)
On Ty Segall's fittingly warped 2010 full-length Melted, things start to get real weird. There are odes to fingers, holes in heads, and Mike D's coke (among other things), and the softer ballads — like the murderously burbling "Bees" — could score a Lynchian nightmare sequence. Even the poppiest number, the charmingly schoolboy-ish "Girlfriend," kicks off with vocal emissions something between a gargle and a wail. Bizarre though it may be, Segall's continued evolution is analogous to the White Stripes' gradation from rawhide blues on their debut to De Stijl's iconic tumbleweeds ten years earlier. — P.M.
5. Ty Segall, Manipulator LP (Drag City, 2014)
This one goes out to everyone who's wronged Ty Segall, the manipulators named in the title and the fakers alike. Grappling with disingenuousness and truth, this meaty, 17-track LP is also a platform-shoe-step forward into glam-pop: It's not a coincidence that around the time of its release, Segall started wearing cosmic makeup at his shows. Glitter and doom aside, Manipulator's lasting charm lies in the fact that its mastermind manages to both honor and kill his idols (including Neil Young on the lickety-split "Stick Around," and Black Sabbath on the throaty "Feel") in the pursuit of crafting something of his own. — P.M.
4. Ty Segall Band, Slaughterhouse (In The Red, 2012)
One of three records Segall released in 2012, Slaughterhouse was a "totally collaborative" album made with his band, whose lineup featured Mikal Cronin, Fuzz pinch-hitter Charlie Moothart, and drummer Emily Rose Epstein. The camaraderie shows: While the overall vibe is somewhat loose, the record's forays into gravelly garage, warped '70s hard rock, and distorted indie rock are compelling and completely lucid. Standouts include the frayed surf-psych opener "Death," the howling title track, a grinding blues twist "Wave Goodbye," and a flailing, disheveled cover of Bo Diddley's "Diddy Wah Diddy." Chugging with speed-metal fury towards a flaming finish line, it's amazing that Slaughterhouse doesn't burn out. — A.Z.
3. Ty Segall, Sleeper (Drag City, 2013)
Back in 2012, when discussing his adoptive father's long battle with tongue cancer, Ty Segall told SPIN, "I grew up with [death], lived with it close by… I'm not searching for anything or trying to find some greater meaning. I'm pretty sure I've figured it out in my own mind: There is none." Not long after that interview, Segall's dad succumbed to his disease, family strife led to a falling out between Segall and his mother, and the singer-songwriter wrote and recorded Sleeper, the album that still stands as his most personal. Even if the acoustic-driven LP isn't questing for capital-a Answers, it's definitely unloading heaps of personal baggage, all while valuing mood and atmosphere over scuzzy solos, preferring smoky and subdued psych-folk to flashy coastal garage-rock. The lyric sheet won't convince anyone that Segall's a poet per se, but the directness of his words enhances the confessional feel, whether he's retreating from the world on the title track, addressing his mom on "Crazy," or, on penultimate song "Queen Lullabye," sweetly singing, "Please don't cry." The quietude says plenty. — K.M.
2. Ty Segall, Goodbye Bread LP (Drag City, 2011)
What's that chord progression opening "My Head Explodes," the central tenet of 2011's higher-fi Goodbye Bread? It's so close to the languid beginning of "Sex and Candy" you half expect Jon Wozniak's stoned meditations to come next. But they don't. It's almost as surprising as the once famously lo-fi Laguna Beach native's production upgrade. And without sacrificing any of his originally blown-out sound waves, Segall dredges even heavier than his scuzziest Discogs deep dives: Witness the progression of "I Am With You," speeding up and slowing down at the unhinged rate of the Electric Prunes' time-warped spirals of feedback. "I'm sick of the doubt," he snarls, and since Goodbye Bread proved him a songwriter first and foremost beneath all that racket, there hasn't been any more. — H.B.
1. Ty Segall, Twins LP (Drag City, 2013)
For a garage-rock demigod who traffics so often in one lane, Segall is many-sided. Twins, which features the S.F.-to-L.A. transplant playing every instrument himself, is his third full-length of 2012. That year, Segall's quarter-life crisis also birthed Hair and his Band's screamadelic Slaughterhouse — not to mention an avalanche of encore fodder, including covers of Brian Eno and the Velvets, along with assorted other 7-inches. It's also the mind-bogglingly prolific rawker's most emblematic LP, indulging in soft-loud dynamics to satisfy even the most ardent anti-audiophiles. (Even the fact that he released  Gemini a year later exemplifies Segall's compulsive inability to not release songs.) Twins bridges the fret-equivalent distances between his softer Sleeper side and the blistering murk of his Party Fowl days, as cotton-candy falsettos elevate "Love Fuzz," Sabbath sludge coats "Ghost," and breakneck tempos crackle like lightning through "You're the Doctor." If Segall's legacy is ever done the disservice of being defined by just one album, let it be the spit-shined, sand-blasted, crowd-surfer-pleasing Twins. Thank God for sinners. — H.B.