The conversation stops as a guy on roller skates glides across this intersection in San Francisco's Mission District, just beyond Ty Segall's dented SUV. He's in tight black shorts and a black Dixie Cup sailor hat, proudly displaying a message hand-painted across his sleeveless sweatshirt: "Mitt Romney Is A Douche." Segall and I repeat the phrase simultaneously inside the car, as the man vanishes into a corner store.
"That fuckin' rules," Segall says. "It's comforting to live in a place where you can do whatever the hell you want and no one gives a shit, where no one's judging." He's beaming now. "That dude makes me feel at home."
It's a crisp, unusually clear September afternoon and we've just finished stuffing Segall's grey Toyota Land Cruiser with as many amps, guitars, and boxes of vinyl as it can hold, three days ahead of a three-week, North American tour with fellow San Franciscan lo-fi love children Thee Oh Sees that starts in Las Vegas. Tomorrow morning, the cyclonic, stupendously prolific, 25-year-old garage-rock hellion plans to drive several hours south for a pre-tour visit with his family in Laguna Beach, California, a small coastal community in Orange County made famous by the MTV reality series that took its name. His bandmates — drummer Emily Rose Epstein, guitarist Charlie Mootheart, and bassist Mikal Cronin — and their van will meet him there with the rest of their gear.
According to Segall, the success of Laguna Beach: The Real Orange County triggered an influx of new money and tourism that would strip the town of all that made it unique, including a wealth of local, free-thinking personalities not unlike the gentleman on skates. "It just used to be so open-minded," he says of his hometown. "I remember being a little kid and seeing artists and hippies and acid-heads and burners and freaks all around. But they can't afford to live there now. And you can't get any of that rad, grimy shit back. Because someone's scrubbed it away."
Before that, though, in the late '60s, there was the Brotherhood of Eternal Love, an organization (area police called them "The Hippie Mafia") determined to inspire revolution through psychedelics, which infamous psychologist-guru Timothy Leary distributed from an orange VW bus parked outside a Taco Bell. More recently, there was "The Greeter," a cheery, white-bearded local who spent his days welcoming every visitor — Segall included — to Laguna's Main Beach, introducing himself as "Number One," brother to "Number Two," his identical twin. None of that made it onto TV.
But this month marks the release of Twins, the third full-length release bearing Segall's name this year and a solo adventure (he plays every instrument himself) that further charts his own evolving identity. "It's about split personalities in everybody, in all places," he says. "In you, in me, in California." The album is also Segall's most pivotal work to date, an adamantine, aerodynamic slab of head-splitting primacy that finds a gifted young songwriter coming to terms with the direction and impact of his voice, with what it means to be loud or quiet, clean or dirty, sunny or stormy, a battering ram or a breeze. If there is one constant to his career arc, it's the way in which Segall's all-welcoming, rock'n'roll-shaped worldview has proven a naturally unifying force when the notion of togetherness seems all too alien.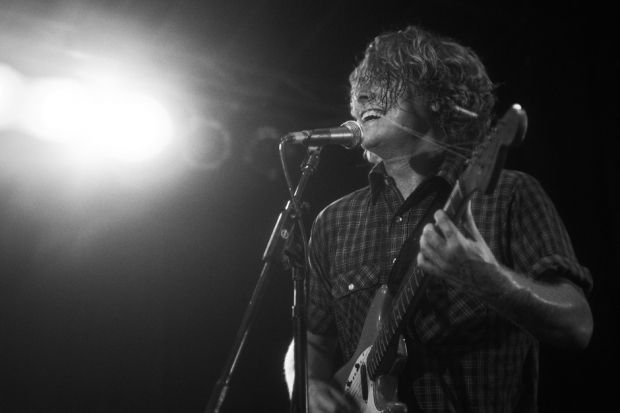 "[Ty] was talking to me about Jimi Hendrix the other day," says Rian Murphy, head of staff at the Chicago-based Drag City label. "And he was saying that, for the longest time, you couldn't really claim that you liked Hendrix in a straight way, because it had become a joke somehow. But he's so glad now that people can because that's the way he's always felt about it. To me, Ty's music represents a new place that people are coming from, where a lot of the irony and a lot of the battles of the 1990s are no longer issues. He's beyond all of that. He's doing this out of pure joy. A lot of people play music like a job, but he plays because it's the best time that he knows. And when people go to see him, they experience that, too."
"He has this way of saying 'Merry Christmas,'" says Mike Donovan, co-founder of San Francisco experimental psych-rock institution Sic Alps, a band whose lineup briefly included Segall on guitar. "Like, 'It's all good and you're all welcome here and we're going to treat each other right.' It reminds me of this one quote about the Beatles: 'They represented optimism and hope and a sense of fair play.' That's Ty."
The night before, Segall and I met for dinner at El Castillito, a Mexican dive in the Lower Haight that ranks among his "favorite places in the world, man." After seven years in San Francisco, he's spent the past several months contemplating a move back to sunnier climes. There was a brief flirtation with Nashville this past summer, a town whose burgeoning garage-rock scene was ultimately too far away from his dad and 16-year-old sister in Laguna. (His mother, an artist, now resides in Washington state.) He's decided on Los Angeles instead, a place "filled with weirdos." His plan is to move his belongings in waves, during breaks in a forthcoming tour.
Segall first came to San Francisco for two reasons: 1) To keep a promise to his parents that he'd see college through to graduation (at the University of San Francisco); and 2) To experience what was left of the city's late-'90s, early 2000s garage-rock scene, built by bands like the Mummies, the Numbers, and Coachwhips. But when Segall arrived in 2005, the Bay Area had become a West Coast hub for a far less aggressive form of psychedelic music: freak folk, as spearheaded by bearded minstrel Devendra Banhart. "Yeah, I didn't get it," Segall says of what he heard and saw his first year. "I was like, 'Where's rock'n'roll? Where is it? Where did it go? Living rooms? Acoustic shows? What?'"
Though he'd continue to write and perform with his high-school punk crew, Epsilons, a year into college, Segall also began playing drums with some classmates in a band named Traditional Fools. After catching a set that featured Segall wailing away despite a cast on his broken arm, Coachwhips founder and current Thee Oh Sees frontman John Dwyer was so impressed he approached the young SoCal kid to offer his compliments. And after accidentally booking a show his bandmates couldn't attend shortly thereafter, Segall decided to perform on his own for the first time, as a one-man act playing songs he'd written and recorded at home, with just a guitar, and a tambourine and kick drum taped together. Dwyer volunteered to release Segall's self-titled debut in 2008, also introducing him to an ever-tightening community of like-minded musicians, as well as a reservoir of new psychedelic music he's tapped to exhilarating effect.
"Should we get a beer and sit in the dog park?" Segall asks as we walk past a series of bars along Haight after dinner, each one louder than the one before it. "Or is that kind of sketchy? We'd have to be stealth." We buy a six pack to share and a loosie for Segall to smoke, his black, second-hand dress shoes clicking loudly on the sidewalk as we trot downhill to Duboce Park. The temperature has dipped and the Bay Area's infamous micro-climates seem to be conspiring to rustle this neighborhood's every tree, forcing Segall to light his cigarette while huddling against a garage door. "This is a magical place," says Segall, as we sit down under a large cypress, two Golden Retrievers racing in the grass nearby. "In the same way that the Pacific Northwest has supernatural vibes, to me San Francisco is purely psychedelic at times. It's screaming from everywhere. You go to Ocean Beach, it's psychedelic. Go to Golden Gate Park, man, that is a psychedelic place. It's hard not to imagine psychedelic music thriving here in the '60s. It's very, very weird."
Segall's father taught him how to surf when he was ten. Most summers, he and his friends would wake up early, run to the beach, and spend the first few hours of the day on their boards, coming back inside to munch on fresh donuts and watch Bruce Brown-directed surf films that the older, leathery contingent would recommend to them. They would repeat this cycle several times throughout the day, and those same older guys would introduce Segall to a wealth of surf music and Orange County punk that's informed everything he's done musically up until now. "It's all we did," says Segall. "We'd walk everywhere barefoot, buy tacos. All we knew was the beach."
But as Segall grew older, he also began to fall in love with records, opting to buy vinyl instead of CDs. And that's when he swapped late-'90s modern-rock radio for the more sinister hard rock sounds of the '70s; a neighborhood girl helped spur his interest by gifting him a stack of Alice Cooper and Black Sabbath LPs just before she moved away. "For me," he says, "music was the only thing I could really rely on. Records. I could always put one on and it'd make me feel better. I'd be in a different place. Sabbath? I'm in a satanic church. Ziggy Stardust? You're in outer space with Bowie doing cocaine and it's fine and no one cares. Different rules apply in the world of records."
Though he's reluctant to discuss the details, Segall is adopted. His biological father, with whom he says he now has a "great relationship," is a real-estate agent in Northern California who was once a drummer himself. His adoptive father, a lawyer, has been battling oropharyngeal (base of the tongue) cancer for the past 16 years, since his son was nine. "I grew up with it," says Segall of death, "lived with it close by. But you end up just wanting to live life, you know? You should try to be there. I'm not searching for anything or trying to find some greater meaning. I'm pretty sure I've figured it out in my own mind: there is none. All you have are the people around you: your friends and your family. When I was a kid, records were my religion, the glue that brought together like-minded people, people who feel that connection with something. To me, that is God. That is all religions, that is everything. Ozzy Osbourne is Jesus. Arthur Lee is the Divine Spirit. That's the point: Keep it alive, spread it around. I want to make records you don't have to think about."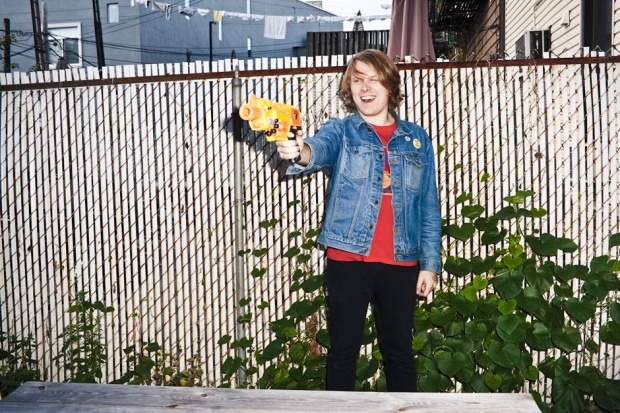 But Segall, a disciple of Neil Young (whose first name he recently inked across his right bicep), seems just as uncomfortable discussing his life as he does intellectualizing his work. Since he began releasing records under his own name, Segall has uncaged five staggering full-length studio albums in four years, adding to that tally a slew of singles, collaborative efforts, and compilations. And while nearly all of those records were haphazardly recorded in what Segall, a self-described "crammer," calls "a mad dash," it's his most recent work that boasts an attention to craft and detail that time constraints hadn't allowed him before. That craft was first heard on last year's Goodbye Bread, his relatively gentle Drag City debut and an album whose emotional origins and lukewarm reception he's only recently begun to confront.
"It's in the past couple of months that I realized, 'Wow, I was really having an intense time,'" he says of writing and recording Goodbye Bread. He'd just graduated from college and moved in with his girlfriend, a photographer, teacher, and ex-bassist in his band. The arrangement didn't work, and he quickly moved out. "I mean, I definitely like that [album] the best. It's different, it's special, it's an extremely personal record and one of the only moments when I've ever felt like I've really tried my hardest. A lot of my friends who make music are super into riffs and rocking and shredding and that's so cool, but there's more to life than just playing loud, obnoxious music. It's so hard to try to make a classic song, a song that in ten years, will still be a good song, you know? I was really, really in a bad place when I wrote it. I was fucked up, not happy at all, and listening to it can be very real. There are things in there I never would have, willingly or comfortably, done before. I should have had a filter."
We sit in silence for a moment, and Segall gathers himself. "I'm surprised people don't think I'm a fuckin' weirdo," he says. "My songs can be so negative." Another long pause. "I don't like talking about my issues or making it seem like I even have any. That's not fun to talk about, you know. I think everybody's just trying to be normal, trying to have a good life and a peaceful, nice time. I don't know if I've dealt with my problems in the right way, but I'm trying. You talk to Henry Rollins and he's a nice guy. He's a really nice guy. But when he was singing in Black Flag, that dude was fucking pissed."
During high school, Segall spent most of his time on the weekends in L.A., playing or catching shows at vaunted downtown all-ages venue the Smell. But his considerable energies found an additional outlet when his first band, a DNA-indebted, saxophone-heavy no-wave duo named Love This, was given a chance to play a house party. "I was a dude who was friends with everybody," he says. "I did drama, hung out with the drama kids. I was on the surf team, I hung out with the surfers. I played music, so I hung out with the punks. There were some football players there at the show that night, some of the cooler kids, some of the scholastic kids, some of the loners and the punks. I realized early on that everybody likes music. When people are dancing in a mosh pit, and someone falls, it doesn't matter who it is, we're going to pick them up. It gave me the itch to keep doing it, to be super positive, man." Look online for Epsilon's "Teeny Boppers" clip and you'll find a music video that doubles as a remarkably well-shot, well-edited, well-acted parody of Laguna Beach, whose production crews they'd pelted with water balloons and flipped birds years earlier. Its climax captures a party gone awry, played at his bandmate Cronin's house, where the group used to practice and perform all the time.
The impulse to stay positive remains in conflict with the sort of "dark, negative, sarcastic" emotional currents that permeate Segall's lyrics (see last year's "My Head Explodes" and its lip-curling chorus), the result he says of "dealing with [his] brain" while recording Goodbye Bread. It's a dichotomy best heard on Twins, recorded in the basement at Eric "King Riff" Bauer's studio in Chinatown, but mixed at Fantasy Studios in Berkeley using the same gear Creedence Clearwater Revival recorded with more than 30 years ago. It's pit-churning rock'n'roll whose volume often belies its sumptuous detail. "We had two goals," says Segall. "We wanted to make the drums sound huge and make the guitars sound like the biggest we've ever captured." They definitely succeeded.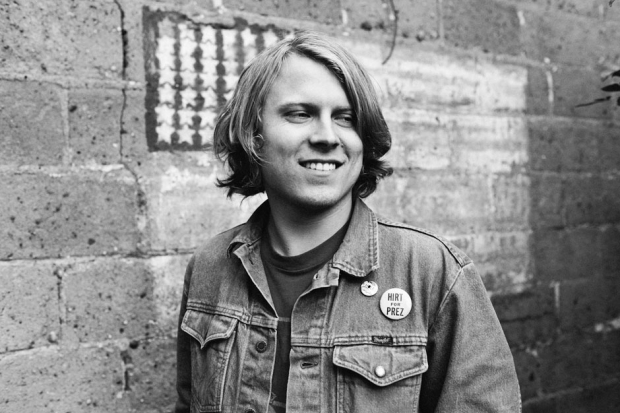 Before they leave for tour, Segall and his guitarist Charlie Mootheart have some work to do. The two are finally satisfied with a handful of recordings they've been collaborating on for several months under the sort of name you'd swear was taken decades ago: Fuzz. But before they leave for tour, the duo want to sit down together and mix them at Mootheart's home, a peeling white Victorian in the Mission that he shares with six other roommates. Segall calls it Casa Blanca, his "home away from home." We walk through the front door without knocking, down a dark hallway whose floor is lined with skate decks, past darker bedrooms crammed with loft beds.
In an open basement space below us, snarling surf guitar is coming up through the floorboards as Filth Mongers, a band comprised of Mootheart's roommates, are practicing downstairs. The dining-room walls are pasted with Bud of the Month posters ("Strawberry Kush," "Cherry Pie") as well as dozens of hand-screened show flyers for Culture Kids, a resident hardcore band in which Mootheart plays guitar and whose stoned frontman, Justin, currently looks to be disappearing completely into the couch. Bonham, a handsome sheepdog of some kind, barks at motorcycles passing in the street, but leaves the house cat alone.
Segall has brought along one of his eight-tracks, a boat-like, late-'90s cassette-to-CD console he's linking up to Mootheart's newly purchased eight-track. They sit across from one another, listening back, twiddling knobs, unfurling their tongues, and hoisting their fists in triumph each time a drum fill or a riff is to their liking.
Roland, a longtime friend and former drummer in Segall's high-school band Epsilons, wanders in and nods silently to everyone as he takes a seat. Neither he nor Segall can remember the last time they saw one another. One floor below, Filth Mongers have slowed their tempo and Segall removes his headphones for a minute. "Filth Mongers," he says admiringly. "So sleazy."
After an hour, mixing is complete, so we wait for the first CD to finish burning. "I don't really like touring," says Segall. "I've just done it too much. I've been on tour for three years straight, basically. It's not my favorite thing; recording is. It's so fun. You can get weird."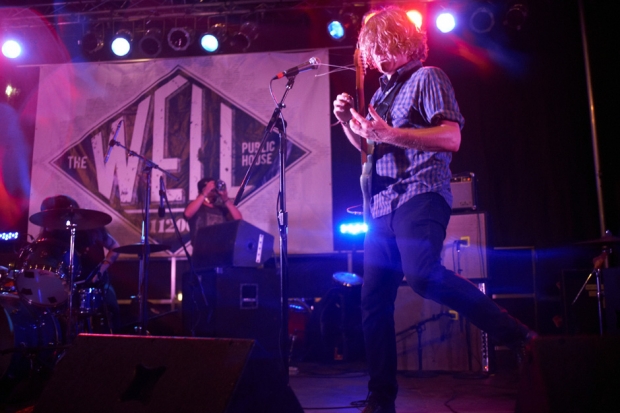 While we wait, he enthusiastically plays us some MP3s on his phone: a lost Blue Cheer side project he swears Mootheart will flip for and a solo record from Mountain's Leslie West; Segall sings "Mississippi Queen" in falsetto while resting his hand over an imaginary steering wheel in front of him, grinning as he pretends to suck on a joint. "How come no one sings like this anymore?" he asks. By now all of Filth Mongers have congregated in front of the television, fresh beers in hand. Segall announces to the house that they are all invited to a Fuzz listening party in the basement, a space you have to enter through the backyard, where the skeleton of a half-finished half-pipe sits dormant against the fence.
But downstairs, it's only Epsilons in attendance: Mootheart, Segall, and Roland. Either to fight off a chill or to get in uniform, Mootheart slips into his Hawkwind jean jacket before we get started. It's dank down here. The concrete floors are blanketed in dirt and dead cigarettes, old couches and drums stacked like wedding cakes line each wall. Mootheart hands out some cans of Coors, the CD is loaded, and the trio arrange themselves in a row before the massive stereo system atop a plywood riser, headbanging and genuflecting as an inordinately evil stream of sludge begins flying from the speakers. Segall, who sang and played drums, begins walloping the air, looking over at Roland and Mootheart every few seconds.
"Fuck, dude," he shouts. "This rules."
"Yeah, man," Mootheart shouts back, "it sounds fuckin' perfect loud. So cool."
"So cool, man." Segall says, still shouting. "So psyched. This fuckin' rules."