Despite clear-blue morning skies, the final day of Lollapalooza ended on a stormy note, sending crowds scrambling for shelter as ominous clouds rolled in the afternoon. Undeterred, festival organizers reshuffled the schedule and things went on as planned, with sets from Skylar Spence, Bully, A$AP Rocky, Florence + the Machine, and more. Below, SPIN rounds up the best things we saw on Lolla's last day.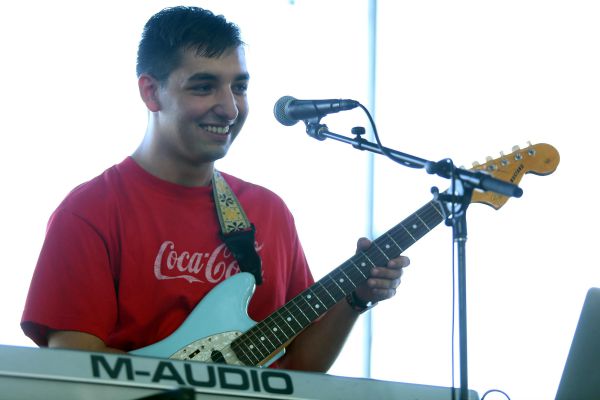 Skylar Spence
Dance-pop upstart Ryan DeRobertis looked crestfallen when festival organizers shooed attendees out right before his band was scheduled to appear on the Pepsi Stage (we were standing right next to him when it happened). Everything righted itself in the end, though, as the quartet played a (slightly) abbreviated set one stage over. The sweetly upbeat singer-songwriter — who used to go by the moniker Saint Pepsi before he changed it to Skylar Spence for legal reasons — repeatedly offered his thanks to the spectators who'd also switched stages to watch him croon swooning ballads like "Fall Harder," "Affairs," and DeRobertis' most recognizable tune, "Fiona Coyne." — RACHEL BRODSKY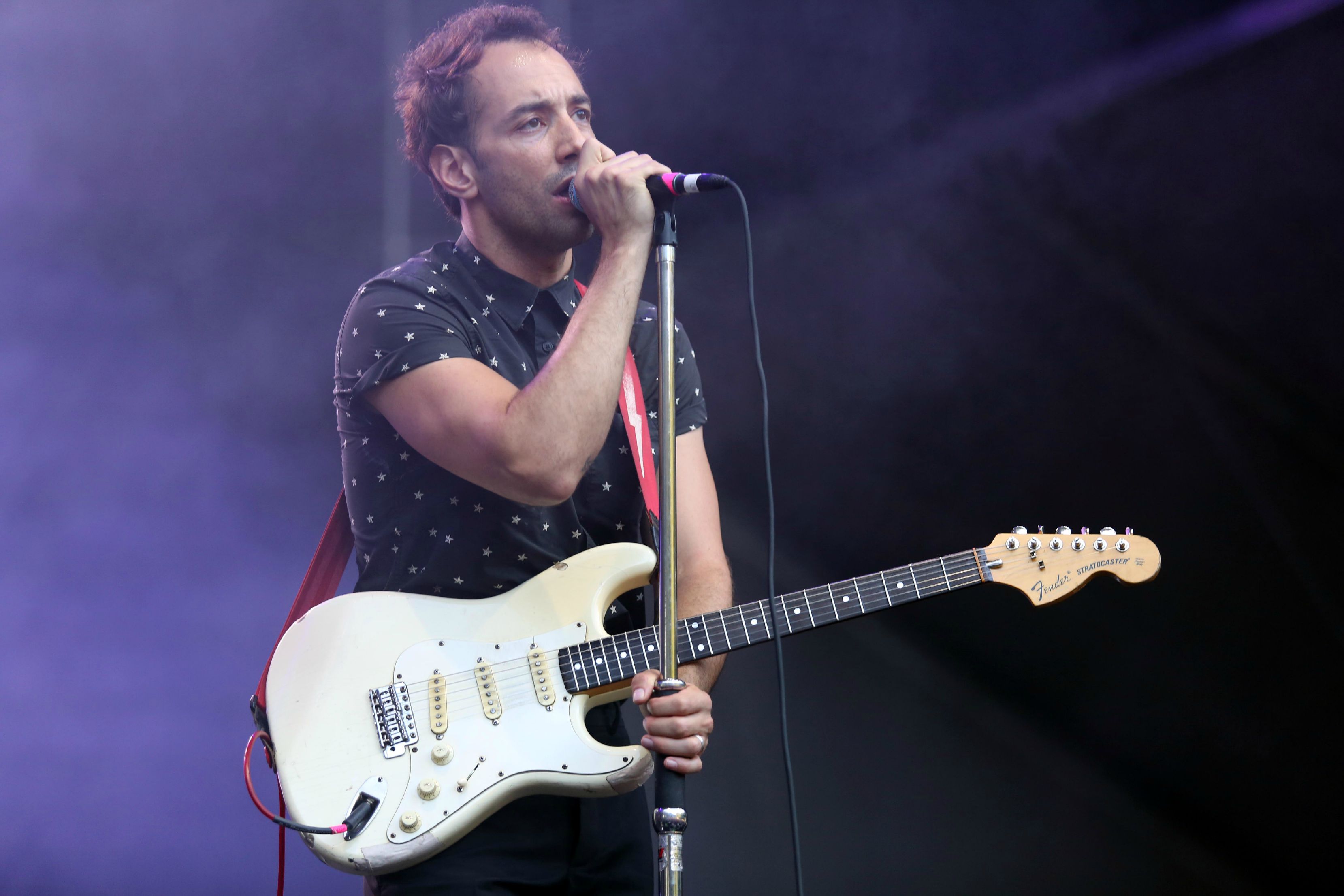 Albert Hammond Jr.
For those missing the Strokes, Albert Hammond Jr.'s performance was the place to fuel up. It's not just that he's a member of that band, too, it's that some of his solo songs are indicative of their original sound, with added power. That extra drive came courtesy of three guitars and walloping drum lines, which packed a punch on the winsome "Losing Touch" and "Drunched in Crumbs." — ALTHEA LEGASPI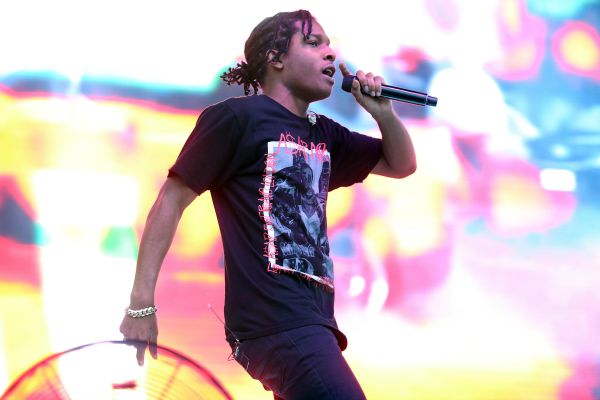 A$AP Rocky
Kicking off his hour with a tribute to fallen A$AP Mob founder A$AP Yams, Rocky got the crowd riled up, shouting, "I feel like having a big-ass party right now. Can we party with the people?" Well, if by people he meant Vic Mensa, then A$AP more than delivered: Between onstage banter, the two went head-to-head on "U Mad" (sadly minus one Kanye West), "Shabba" (sans A$AP Ferg), and, for good measure, two quick covers of House of Pain's "Jump Around" and Nirvana's "Smells Like Teen Spirit." — R.B.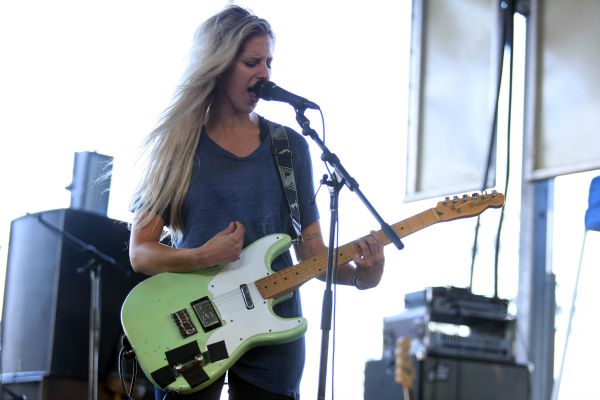 Bully
Whippet-thin Bully leader Alicia Bognanno has a knack for filling a room with fans and her screeching vocals, which sounded in top form as she crowed through a set of heart-in-hand grunge-punk cuts from the band's Essential debut album, Feels Like. Tossing her elbow-length platinum hair and accepting "I LOVE YOUs" from the audience with a sheepish grin, Bognanno ran through tracks like "Trying," "I Remember," "Brainfreeze," and more. Screaming your fandom can be a bad look, but we'll admit it was hard not to return the lead singer's scratchy cries with a few of our own. — R.B.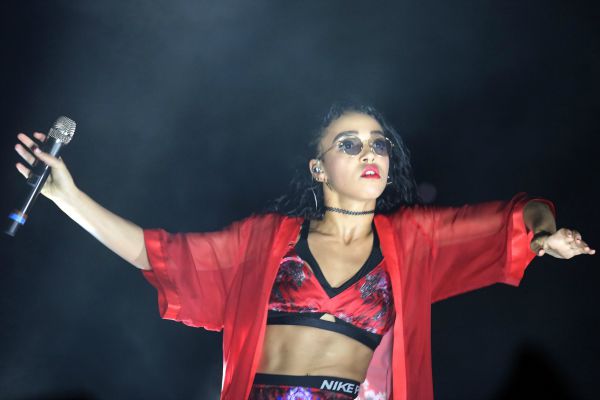 FKA twigs
The dance acrobat known as Tahliah Debrett Barnett — a.k.a. FKA twigs, a.k.a. soon-to-be Mrs. Robert Pattinson — greeted her surge of Pepsi Stage-side fans with an undulating midsection and echoing, ethereal trip-hop'n'b. Barnett's body really looked nothing short of outstanding as she slowly shed a red robe to reveal ultra-toned abs and a series of jointless moves set to falsetto tracks like "Video Girl" and "Two Weeks" — a timestamp that, coincidentally, made us think about how long it's been since we hit the gym. — R.B.  
Florence and the Machine ft. crazy lightning @lollapalooza pic.twitter.com/FDC3q1tVkI

— Anna Van Voorhis (@AnnaVanV) August 3, 2015
Florence + The Machine
Could Florence Welch's powerhouse vocals summon the rain gods? It almost seemed possible as everything felt in her command during her set, from her goose bump-inducing voice to her compelling presence, which included her jumping about the stage throughout the performance. And while Sunday's impending storm cut Florence + The Machine's headlining set short by 30 minutes, they more than made up for the abbreviated time frame with a riveting show.
It wasn't only her otherworldly vocals that showcased range — she and her adept band spanned styles as well, from the goth-tipped "Rabbit Heart (Raise It Up)" to the blissful "Dog Days Are Over." Coupled with her soulful, gospel-tinged delivery and unbridled enthusiasm (further evidenced by her quick jog through the crowd), the performance was a weekend highlight and a rousing way to close out the fest. — A.L.
All photos by Andy Argyrakis