SPIN Rating:
Release Date:
August 12, 2014
Label:
Young Turks
The FKA Twigs takeover began this time last year—August 1, specifically—when the "Water Me" video began trickling across the web. It featured a young woman in extreme close-up against a sickly green backdrop, head tick-tocking like a metronome to a broken beat, eyes blown up manga-size, singing directly into the camera as a single, insectoid tear trails her cheek. With a title that was poetic and sexually suggestive, lyrics about romance in abeyance, a vocal delicate and sure, and production shared by Twigs and Arca, Kanye's conspirator during the making of Yeezus, the leftfield clip was high drama engineered for a mobile-web audience, which was baited, hooked and landed in three minutes, 23 seconds.
In hindsight, FKA Twigs—born Tahliah Barnett in Gloucester, England, 26 years ago—could've seeped into popular consciousness any number of ways. Prior to signing with Young Turks, an imprint of UK mega-indie XL Recordings, she'd been a backup dancer in several music videos, performed as a chanteuse on the London cabaret circuit, and released a four-song EP on her own. Since then she's been involved in making her increasingly sophisticated videos and has gone on to direct clips and produce tracks for artists besides herself. Twigs is the new model of a new-media polymath: Her work across formats is consistently arresting, created with high-minded collaborators and presented with uncanny timing. In a relatively short time and without overexposing the product, she's created an entire avant-pop landscape and populated it with her weird, bewitching persona.
LP1, her generically titled first full-length, expands that landscape. The album doesn't so much broaden Twigs' scope as reinforce it. Over 10 songs and 42 minutes, Twigs seems unconcerned with minting easy hooks or delivering discrete moments; instead, she sustains vibe. And that vibe works like a pheromone, clandestine and seductive. The production, by Twigs, Arca, Emile Haynie (who produced Lana Del Rey's Born to Die), Lil B compatriot Clams Casino and others, is simultaneously mechanical and sensual, a deconstruction of hip-hop drums embellished by inscrutable instrumentation, fractured into staccato slivers and lumbering bass, all bound by Twigs' voice, bent and unpredictable and often overdubbed into octaves. This is unconventional stuff, drug-like, elemental and extraterrestrial. LP1 is music for nighttime and the untold things humans do in the deep dark.
The album is saturated with digital detail down to the atomic level. To get there, Twigs et al pull apart structure and decelerate tempo, disemboweling each song, tossing aside the flesh in favor of raw bones and connective tissue. That analogy is violent by intent: In all the breathless beauty here, anxiety hovers over the album, as if despite her mannered, feminine restraint, this woman could suddenly erupt in righteous fire like some kind of avenging angel.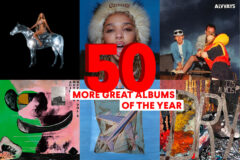 Take "Hours," for instance. Lyrically, the song zooms in on a single kiss that stretches into an eternal make-out session. Twigs sings, "How would you like if my lips touched yours/ And they stayed close baby til the stars fade out/ How would you like it if I sucked before I bite/ But it wasn't too hard so it felt alright." And the chorus: "I could kiss you for hours/ And not miss a thing." Matching the stillness described in Twigs' lyrics, the production, here abetted by Dev Hynes (aka Blood Orange), is almost tactile: liquid rhythm unwinding like a too-taut wire, the word "hours" down-tuned, opiated, eerie. Time slows, a cosmic kiss. So much significance suggested by so little substance—a feat not unlike lust itself. There will not be a more effective come-on in pop music this year.
First single "Two Weeks" is equally imploring, though thanks to Twigs' radiant vocal it rises where "Hours" plunges. It's even more sexually explicit, with Twigs proclaiming, "Feel your body closing/ I can rip it open" and "I can fuck you better than her!" like a Tantric enforcer. For all its erotic threats, the song crescendos in the heavens. On "Numbers," Twigs lets her voice flutter Mariah-like while a beat by dubstep outlier Sampha staggers erratically, flouting standard verse-chorus-verse for incalculable, hypnotizing repetition. "Pendulum" further explores romantic tragedy, layers of woozy effects remain sedate beneath a popcorning beat and R&B guitar. When Twigs sings, "You're younger than I am broken/ I dance feelings like they're spoken/ So my conversation's not enough," it's in a voice as clear and blue as the sky at dawn.
In its menacing incandescence, LP1 sounds like nothing else in the world right now. That said, Little Dragon embraces a similar languid pace and late-night aesthetic. Both of those artists—along with Chicago's Wild Belle, London's Jungle, Seattle's Shaprece and the internet's Doss—could be grouped with the trip-hop revival currently taking place around the globe. Twenty years ago, bands like Massive Attack, Portishead, and Everything but the Girl reacted to pre-millennial tension and newly available technology by blending hip-hop, electronic, dub, soul and pop for the first time. Now all those genres live side-by-side in the average music fan's playlist.
As it deconstructs now-common tropes to rebuild new monuments to groove and ambiance, today's trip-hop operates in the same gloomy, cavernous musical space as the original. But Twigs in particular exposes a different tension. This one's based not on the potential end of the world but the end of human relationships as we know them, mediated and removed as they are. Look at her videos, her album cover—she's unafraid to distort her own image, a beauty inexplicably twisted. The surface says nothing about what lies beneath, but lately neither can be trusted. The truth is in the music.