We've hung on every word of Kanye West's for so long — in his verses, on his Twitter, in his interviews — that it's hard to remember sometimes that he first came to prominence saying nothing at all. By the time of his debut single, 2003's "Through the Wire," West had been building his resume as a producer for seven years, manning the decks for hits, deep cuts, and one-offs for Cam'Ron, Talib Kweli, Jay Z, and more. Guest features were sporadic, but generally speaking, Kanye let his beats speak for themselves, with their pitched-up vocal hooks, knocking drums, and instantly striking melodies.
Since then, Yeezy has obviously grown more loquacious, to the point where his lyrics and quotes have become such an integral part of the pop vernacular that you can echo him regularly without even realizing it. But every now and then, he'll still offer a beat to a worthy (or occasionally less so) contemporary without speaking on the track, just to remind us that even if he can change the musical conversation with a single line, he hasn't forgotten which half of the rapper/producer equation he made his bones with.
Hence, Kanye Without Kanye: SPIN's list of the 101 greatest Yeezus-produced, but not Yeezus-rapped, tracks. It spans from the work Kanye did on forgotten Chi-town rapper Grav's Down to Earth album back in 1996, all the way up to his work on Madonna's Rebel Heart album from earlier this month, without a single rap from the late registrant featured. (He does chime in on a couple tracks, but stops well short of an entire verse on any.) Read on, discover songs you never even knew were 'Ye's in the first place, and gain a new appreciation for West's legacy as a dude who (sometimes) lets other people do the talking for him.
(Listen to our list-accompanying Spotify playlist here.)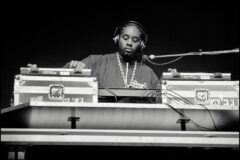 Not the most enduring thing Yeezy's ever done, but thickening the drums and backing vocals, then laying some strings over the closest Maroon 5 has come to legitimate funk was an idea worth pursuing, at least. — ANDREW UNTERBERGER
100. GLC, "I Did It" (Love, Life & Loyalty, 2010)
Before referencing it in "H.A.M.," Kanye's love of Eli Porter and his signature line manifested itself in the lovably screwed-down hook to this otherwise marginal GLC track. — A.U.
99. Jay Z feat Mr. Hudson, "Young Forever" (The Blueprint 3, 2009)
Hard to argue with the lift from Alphaville's new-wave classic, even if it tends to overwhelm Jay's slightly tired-sounding verses a little. Get them checks, Mr. Hudson. — A.U.
98. Foxy Brown, "My Life" (Chyna Doll, 1998)
Maybe the real reason Foxy went to jail was to pay for the overabundant Triangle Sally-ing she lets Kanye do on this 1999 Chyna Doll deep cut. Remember Baby Bash's "Suga Suga" or Lil' Flip's "Sunshine," guys? This sounds like those one-off crossover hits, but a little bit creakier. — BRENNAN CARLEY
97. Trina & Tamara, "Joanne" (Trina & Tamara, 1999)
A '90s R&B update of "Jolene," lacking Dolly's pathos but including a clever 'Ye flip of George Benson's "Californai Dreaming" cover. (Not that Trina, by the way, but the duo were sisters of '90s R&B star Jesse Powell.) — A.U.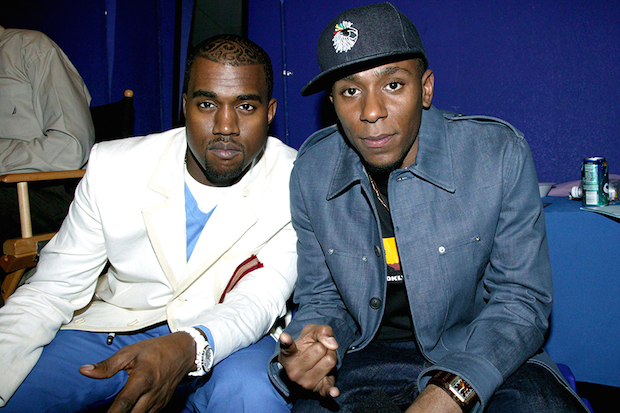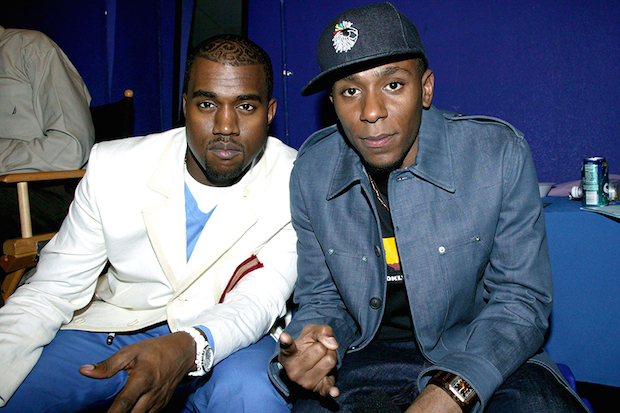 96. Mos Def, "Sunshine" (The New Danger, 2004)
Mos made a moderately controversial half-rock album a decade ago dubbed The New Danger and "Sunshine" is from the other half, which not enough purists heard due to said controversy. But despite its interpolation of Melba Moore's version of Hair's "The Flesh Failures/Let the Sunshine In," it's a purist's delight of nothing but beats, rhymes, and soul, a rare time when Kanye played to others' strengths. — DAN WEISS
95. Beanie Sigel feat. Kurupt, "Gangsta, Gangsta" (The Reason, 2001)
A piano-leaning, horn-heavy march that ranks as one of the more imposing early-Yeezy beats. Why the chorus is more Slick Rick than N.W.A is anyone's guess, though. — A.U.
94. D12, "D12 World" (D12 World, 2004)
The lone D12 track produced by Kanye doesn't even feature Eminem on it, but does have an enjoyably slithery, Eastern-tinged 'Ye shuffle to distract from the song's crappy chorus. — A.U.
93. The Madd Rapper feat. Picasso Black, "You're All Alone" (Tell 'em Why You Madd, 2000)
A pretty solid world-weary track wiith a dynamite Delfonics chop, from the unparalleled historical curio that is the debut LP from the Madd Rapper (a.k.a. well-connected Bad Boy A&R man Deric "D-Dot" Michel Angelette), which features pre-fame cameos from Kanye, Eminem, and even 50 Cent. — A.U.
92. Lil Wayne, "Did It Before" (Tha Drought Is Over 2, 2007)
A peak-Weezy joint — left off of Tha Carter III, but preserved on Lil Wayne's unofficial mixtape masterpiece The Drought Is Over 2 — that's drunk on its own tongue-twisting wordplay and a slightly "Tequila"-flavored horn loop. — KYLE MCGOVERN
91. DJ Kay Slay feat. Jaheim, NORE, Nature & Left Gunz, "No Problems" (The Streetsweeper Vol. 2: The Pain From the Game, 2004)
Timebomb drum-tapping under security blanket-like Al Green strings, rapped over by a not-quite-All-Star team organized by the New York radio fixture DJ Kay Slay. Contains a sweetly smooth vocal hook from Jaheim, and the hilariously dated lyric "I'm on the Internet, catch me on your Buddy List" from Nas affiliate Nature. — A.U.
90. John Legend feat. Kimbra, "Made to Love" (Love in the Future, 2013)
Pretty hard to believe that this rumbling, foreboding, and unusually repetitive 'Ye-produced ballad was actually released as a single before the world-conquering "All of Me" from Legend's 2013 album, Love in the Future. Song's interesting, certainly, but it's not a huge mystery why this wasn't the track that topped Billboard's Hot 100 and sold eight million copies. — A.U.
89. Diddy feat. Cee-Lo & Nas, "Everything I Love" (Press Play, 2006)
A typical mid-'00s Yeezy beat; a relentless bass drum-heavy groove (courtesy of '60s psych-folk outfit Love, of all things) with bubbling bass and horns providing most of the texture up top. Diddy's fumbling flow isn't exactly the best match for Kanye at his most coldly efficient, but Nas rapping about fashion is fun, and the mini-organ solo at the end sorta foreshadows 'Ye's later prog fixation. — A.U.
88. The-Dream, Pusha T, Ma$e & Cocaine 80s, "Higher" (Cruel Summer, 2012)
Emblematic of the hugely disappointing Cruel Summer album, "Higher" has drama and intrigue to spare but no real clue what to do with it, as a potentially great Kanye production (co-helmed by Mike Dean and Hit-Boy) gets lost in a sea of The-Dream's miserable Auto-Tuned warbling. — A.U.
87. Petey Pablo, "I Swear" (Still Writing in My Diary: 2nd Entry, 2004)
Though the production of this guitar-heavy stunner is a little mind-numbing in its repetition — one can only listen to those strings for so long before closing for business — it could've been a hit had one verse been lopped off — B.C.
86. Theophilus London, "Do Girls" (Vibes, 2014)
A near-throwback Kanye beat for the year 2014 — the knocking drums, vibrating lead-guitar hook, and lightly creeping bass is a major key away from being pure '04 Yeezy. The song's story of Theophilus seducing a lesbian starts off a boast, but by the time the girl in question calls her friend to tearfully confess her infidelity, it sounds more like a cautionary tale. — A.U.
85. Nas feat. Tre Williams, "Let There Be Light" (Hip Hop Is Dead, 2006)
A little sentimental by Nas and Kanye standards, but any song that loops the uttelry timeless drum intro to Steve Miller Band's '70s AOR standard "Take the Money and Run" is one we can find room in our hearts for.  — A.U.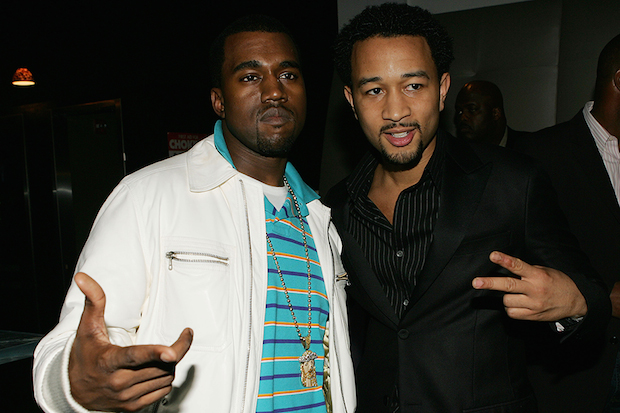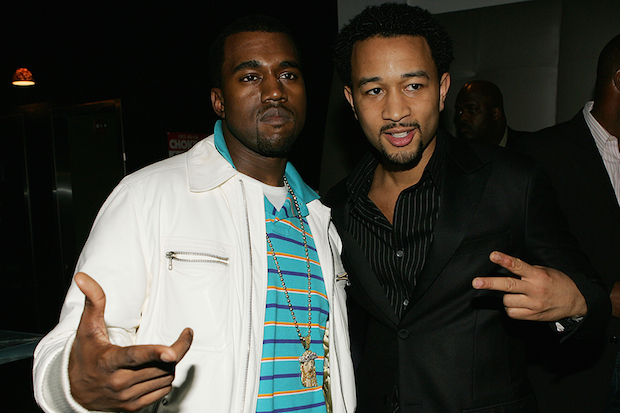 84. John Legend, "Open Your Eyes" (Love in the Future, 2013)
Majorly redundant, considering how a mutual friend of Legend and West's had already turned Bobby Caldwell's "Open Your Eyes" into a veritable hip-hop classic, but Legend's vocals are so velvety, Kanye's drums are so crisp, and the original song is so damn heart-melting that it's hard to really begrudge the double-dip. — A.U.
83. Da Brat, "Chi Town" (Unrestricted, 2000)
A very solid ode to Kanye and Da Brat's shared hometown. Yeezy's beat is relatively anonymous by his standards, but it's as warmly comforting in its smooth keys and thick bass as good deep-dish pizza. — A.U.
82. Keyshia Cole, "I Changed My Mind" (The Way It Is, 2004)
An important track in 'Ye's career development, as it was one of the first breakout singles he produced by a new artist, and one of the first where he got to do a good deal of talking on the track without actually providing a guest verse. It's enjoyable, but ten seconds into this thing and you already have everything you really need from it — the rapid-fire handclaps, the endlessly looped Solomon Burke hook, even a Yeezy self-ID — and there's not a ton to stick around for in the three minutes to follow. — A.U.
81. Brandy feat. T.I., "Where You Wanna Be" (Afrodisiac, 2004)
One of Kanye's more subtle productions from the College Dropout period, a straightforward tick-tock beat with subtly laid strings and piano, plus more going on underneath the surface than you might realize on first listen. It languished as a deep cut at the time, but it's actually aged much better than the 'Ye-produced lead single from Afrodisiac, "Talk About Our Love." — A.U. 
80. Bump J, "Move Around" (Non-album single, 2005)
"I'm at this rap full-time / My future's looking great." Not quite, as Bump was sentenced to a decade-long jail term two years later for bank robbery, but he at least got this underrated stomper from an ascending Kanye first — a collab he was proud enough of that he makes sure to credit Yeezus in the song's intro. — A.U.
79. GLC feat. BJ the Chicago Kid, "So Real" (Love, Life & Loyalty, 2010)
One of the better songs from GLC's long-overdue and largely underwhelming debut album, with a percolating urgency to the Kanye beat missing from most of the album's productions. Contains the lyric "I'm col' man, like Derrick," which is pretty incredible for a song from the year 2010. — A.U.
78. Madonna, "Illuminati" (Rebel Heart, 2015)
Kanye's most recent production on this list is as booming and imposing a beat as just about anything on Yeezus, but unfortunately it largely goes to waste on a silly name-dropping, conspiracy-teasing Madonna lyric from Rebel Heart. Still, if the collaboration was enough to inspire the "Yeezus loves my pussy best" line on the same album's "Holy Water," then it probably gets some extra points for that. — A.U.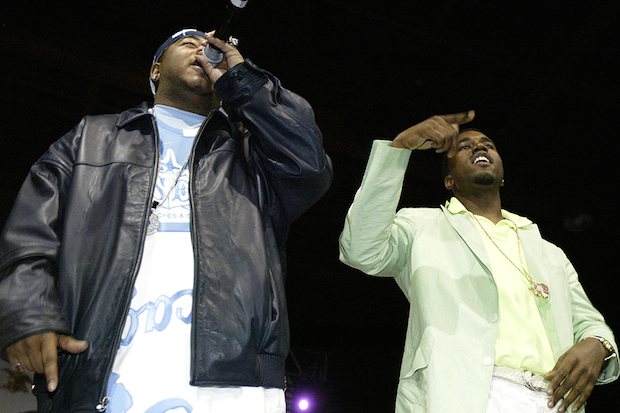 Never officially released, this production intended for Twista's Category F5 album was one of Yeezy's more compelling flips of the period, setting a serene Feist vocal over neon synths and a clanging drum hook, getting in and getting out in just two minutes and 30 seconds. Well worth searching out. — A.U.
Kanye is wise to mostly stay out of John Legend's way on this quasi-title cut from the piano man's debut, letting Legend's ivory-tickling and soaring vocals do most of the, um, heavy lifting while 'Ye just lays a classic hip-hop drum loop underneath to give the song a little propulsion forward. It was clear early on that the man born John Roger Stephens was one of the few collaborators that Yeezy respected enough to not risk overshadowing. — A.U.
75. Jermaine Dupri feat. Nas, "Turn It Out" (Life in 1472, 1998)
One of the very earliest Kanye West productions, and even if 20-year-old 'Ye isn't doing much but imitating JD with his snaking, snare-heavy beat, it shows that the producer could convincingly hang with the grown-ups from a very young age. (And Moby would use the same Willie Hutch vocal sample on his Play album a year later.) — A.U.
74. Consequence feat. Kid Cudi, "On My Own" (Curb Certified, 2011)
An oddball Kanye production, matching synth-bass burbles with sweeping strings and a vocal chop from Brazillian Tropicália legend Gal Costa. It doesn't totally gel, but the fact that it even comes close is a hell of a credit to Kanye's cross-genre cut-and-paste abilities. — A.U.
73. State Property feat. Beanie Siegel & Freeway, "Got Nowhere" (State Property, 2002)
Mildly underwhelming after the intro, as neither Sigel nor Freeway really bring their A-games to the track and the chorus lets the sample do too much of the work. What a sample, though — entire Steven Seagal movies have contained less drama and action than those blaring horns, and the squeaking cry of a disembodied Smokey. — A.U.
72. Tyga, "40 Mill" (The Gold Album: The 18th Dynasty, 2014)
Doesn't quite live up to the Mark Wahlberg dialogue sampled from Pain & Gain in the intro and outro, but the rapid-fire drum and synth spits and the growling brass do keep up the track's intensity, even amidst a barrage of lousy Tygaisms ("My bitch'll fight ya / Hilary Swank ya") and a chorus ("I don't want to be famous, I just want to be rich") that seems somewhat insincere. — A.U.
One LeBron James reference too many, but otherwise this Drake "freestyle" over a swirling 'Ye beat is a fun Thank Me Later outtake. "Am I the only 23-year-old wine connoisseur?" wonders a buzzing Drizzy, never one to shy away from asking the tough questions. — A.U.
Per the title of this standout from Nas' 2002 The Lost Tapes collection, the Queens rapper's poppa — jazz musician Olu Dara — was a playa. As such, Kanye and mentor the Madd Rapper cleverly paired this sentimental yet honest portrait of a flawed man — someone perhaps better suited to be a father than a husband — with a misty arrangement that samples "The Newness Is Gone," a 1976 solo lament by the Temptations' Eddie Kendricks. Clear-eyed, but full of heart. — K.M.
What's good to know about "Flicker" is that Kanye was willing to lend his recent brush with minimalism to a slamming thunderf–k of a Lorde song. His "Flicker" rework goes for baroque, colliding ambient reverb with howlingly scratched-up Auto-Tune and twinkling, "Yeah, I wrote 'Runaway,' don't forget it" keys. — B.C.
Jay Z had so many girls across the globe that he devoted two (!) entire tracks on his finest hour to boasting about his multicultural conquests. The first featured rarely better power-soul production from Just Blaze and served as The Blueprint's second single; the latter appeared as the album's final hidden song and came courtesy of Mr. West, who pilfered from and tightened up the Persuaders' 1973 #sorrynotsorry statement, "Trying Girls Out." As a Jay and 'Ye collaboration, "Girls, Girls, Girls (Part 2)" is overshadowed by the duo's bolder, more opulent work together; as a sequel, though, it's a cult classic. — K.M.
67. T.I., "Doin' My Job" (Trap Muzik, 2003)
The yelping Bloodstone lift does most of the work for both rapper and producer on this Trap Muzik deep cut, allowing T.I. to be his quintessentially casual self for contrast, quietly pleading for empathy as he plys his trade. Never hugely convincing as a larger-than-life character, the man born Clifford Harris, Jr. is usually at his most likeable when he's just asking to not be minded. — A.U.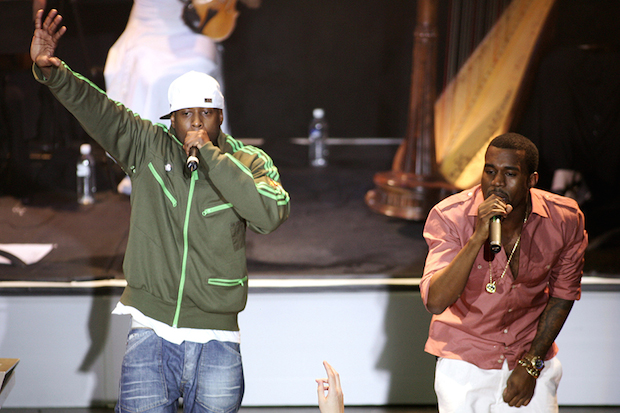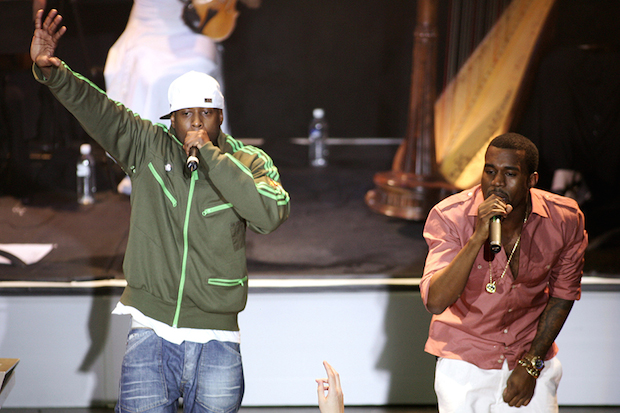 66. Talib Kweli, "Good to You" (Quality, 2002)
Kanye's beat on one of Kweli's all-time showcases is a perfect Jekyll / Hyde beast, maneuvering between Al Green's honey-dipped "Simply Beautiful" and a jerkily paced snapdragon of string to support backhanded couplets like "I heard them say I was a conscious rapper / But I'm a monster when I have to smack the s–t out of a nonsense actor." Proof that Yeezus can even get a humble rapper boasting about being "over your head like yarmulkes and kufis" over. — D.W.
A sweeping soul production with audible vinyl crackle, with Kim at her Bella Mafia finest as she shouts out Victoria Gotti, fires subliminals at Foxy Brown, and generally informs her fans that she returned for their sake, you're welcome. Not the original Kimye's most enduring work, but a fine melding of powers nonetheless. — A.U.
64. The Madd Rapper feat. Raekwon & Carl Thomas, "Ghetto" (Tell 'Em Why U Madd, 2000)
A ballad of "Dear Summer"-like twinkling '70s nostalgia, almost disconcerting in its low-stakes gentleness. Raekwon takes to it as he took to "Heaven & Hell" a half-decade earlier, delivering striking cold-word couplets like "Society's grown too black and too strong to prolong / Got my woman with a gun in her thong." Where's Carl Thomas at these days, anyway? — A.U.
63. Pusha T feat. Rick Ross, "Hold On" (My Name Is My Name, 2013)
Far too much Auto-Tuned Kanye vocal drunkenness going in the background to really register as a My Name Is My Name highlight, but the way the beat spikes halfway through the verse is Just Blaze-worthy, and "I was pissin' my shorts, havin' rich nigga thoughts" is definitely a canonical opening Rozay usalvo. Somebody just cut Yeezy's mic next time he gets going. — A.U.
62. Kid Cudi, "Sky Might Fall" (Man on the Moon: The End of the Day, 2009)
One of the better tracks on the Kanye protege's debut LP, with muted synths and echoing drums providing a worthy backdrop for an alternately foreboding and hopeful Cudi lyric. The highlight is in the ultra-minimal bridge, where everything drops out but those rickety drums as Cudi tries to self-motivate, "I keep running, I gotta keep up, gotta keep up." You forget how crazy this guy's potential seemed at first. — A.U.
https://youtube.com/watch?v=AwI3CS2CHE8
61. Black Star, "Brown Sugar (Raw)" (Brown Sugar Soundtrack, 2002)
A too-rare '00s Black Star collaboration, from the Mos-starring movie of the same name. The rapper did three separate 'Ye-produced "Brown Sugar"s for the flick's soundtrack, but the "Raw" version was probably best, with jamming funk guitar, tart vocal harmonies, and drums that knock harder than anything on Black on Both Sides, Talib Kweli boasting of his producer, "My man Kanye murdered the beat!" Wouldn't be the last time. — A.U.
60. Grav feat. Al Tariq & Lil Ray, "City to City" (Down to Earth, 1996)
A high-water mark on Grav's entirely West-produced Down to Earth album, with 'Ye not far from Pete Rock territory in the song's swirling synth wash, popping slap-bass, and boom-bap drums. He'd leave this style in the dust soon enough, but it's interesting to hear how a mid-'90s Kanye would've sounded if he was just trying to create his own Illmatic soundscapes. — A.U.
59. John Legend, "Used to Love U" (Get Lifted, 2004)
The world's introduction to John Legend's brand of 'Ye-curated neo-soul, "Used to Love U" wasn't the most scintillating thing Kanye was involved with in the mid-'00s, but his drum loops and vocal samples do give the break-up anthem an energy badly missing from most of Legend's crooner peers at the time. Gotta love Yeezy delivering the church sermon in the video, too. — A.U.
58. GLC feat. Twista, "Cold As Ice" (Life, Love & Loyalty, 2010)
A pretty clever lift of the similarly titled Foreigner smash, playing against type by down-pitching and slowing down the sample, dragging it out into a half-time beat worthy of GLC and Twista's not-loving-them-hos anthem. Kanye couldn't resist dipping back into "Cold As Ice" a few years later, either, as he used the classic-rock standard — this time sped up to near-chipmunk levels — to intro his own "Cold" while on the Yeezus tour. — A.U.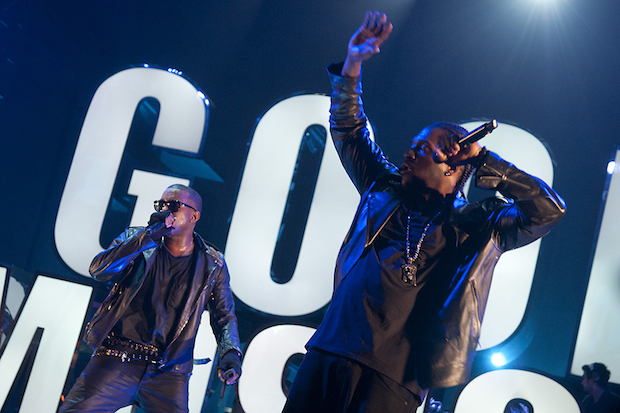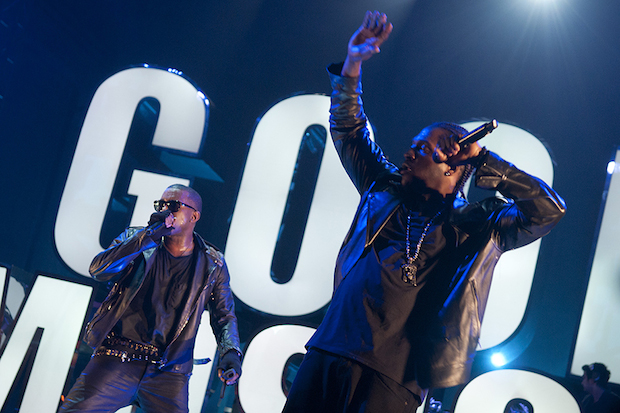 57. Pusha T feat. 2 Chainz & Big Sean, "Who I Am" (My Name Is My Name, 2013)
Possibly the scariest-sounding be-yourself song ever, King Push's evil-dripping plea to "sell dope forever" can't be serious can it? He dares you to think so, over Kanye's tripped-alarm sonics and ominously crawling drums. Every time Pusha howls "Woo!" it feels like a dictator slapping you on the back, with fatal consequences if you don't laugh along with his joke. Only Kanye can understand how to turn all that power into music. — D.W.
56. Royce da 5'9″, "Heartbeat" (Build and Destroy, 2003)
A regrettably lost jam of Royce's that eventually saw daylight on the mixtape-style odds-and-ends release Build and Destroy. "Heartbeat" has one of Kanye's best vocal samples from the period, taking an effusive "Listen to my heartbeat!" callout and piano glint from Jr. Walker's "Darling, Please Come Back Home" and allowing Royce to communicate with it for two-and-a-half minutes, ending the hook with a cut to a literal heartbeat sound as Royce intones "Listen…" Doing a whole lot with not that much was a specialty of early Kanye's, and that was rarely more obvious than it is here. — A.U.
55. Talib Kweli feat. Pharoahe Monch & Black Thought, "Guerrilla Monsoon Rap" (Quality, 2002)
A whiny pitched-up violin hook sets this album track from Kweli's breakout LP, Quality, off and running, making it an unusually pulse-racing track for the rappers involved. Talib is definitely up to the task, though, adrenalized by the Chi-Lites lift, rhapsodizing, "Still my rhymes hurt like Ali to Fraiz' / Step off the stage to shouts of "Kweli boomayyay!!" — A.U.
Once you hear the chorus from Pat Benatar's "Heartbreaker" swiped here for Kim to "get on some Left Eye s–t" over, you'll wonder why it took two decades for anyone to come up with the sample idea. And if that's not enough, Kim also invokes Mark Morrison, Joni Mitchell (via Janet Jackson), and even Angela Bassett in Waiting to Exhale to properly express her fury over her man's malfeasance. Consider it expressed. — A.U.
53. Jay Z feat. Luke Steele, "What We Talking About" (The Blueprint 3, 2009)
The much-maligned Blueprint 3 has its head (for business) on straighter than most people think. Once this royal fanfare of a beat kicks in, it's clear that the first four minutes of the album are about one thing: Jay Z taking control of the conversation. The song declares how powerful he's become in a significantly more mature way than having money or pushing weight: by being a "small part of the reason the president's black." Kanye helps revive Jay's sneering energy when he espouses his paternalistic view of the rap game and how you can't sit on his lap. Go play somewhere, he's busy. — D.W.
52. Cam'Ron, "Dipset Forever" (Purple Haze, 2004)
One of Yeezy's more triumphant chipmunk-soul lifts, courtesy of Broadway actor/singer Chuck Chissel. As usual, Killa Cam's laid-back rhyming and casual cockiness juxtapose with the compressed frenzy of the sample, resulting in an anthem that's simultaneously chest-beating and head-nodding. Kanye explored similar territory in a more crowd-pleasing fashion with Dame Dash's Queen-aping "Champions," but he's better off not overpowering his MC with obviousness here. — A.U.
51. Hot Karl, "Armand Assante" (I Like to Read, 2003)
Probably the song on this list whose existence is the most puzzling, this forgotten jam from art dealer, USC alum, and battle rapper Hot Karl actually shows what could have been a pretty promising collaboration between Karl and West. Karl's battle-style rhymes ("Making suckers disappear like Amil's career") sound pretty great over Kanye's Laura Nyro steal, funny and just self-aware enough to excuse his generally unearned boastfulness: "Can't wait until I'm platinum and drowning in wealth!" Oh well. — A.U.
50. Shawnna feat. Missy Elliott, "What Can I Do" (Worth tha Weight, 2002)
Kanye doing his best Timbaland impression, with Eastern-tinged drums, slithery bass, and creeping minor-chord melodies. It's a worthy homage, especially as enhanced by the presence of Timbo partner-in-crime Missy Elliott, at her lithe turn-of-the-century peak on the hook, cooing, "I stay so hiiiiiiigh / I can't stop drinkin' / I feel like a fool am I losin' my mind?" It's sexy and sinewy and strange, and it makes you wonder if the difference in between two of the greatetst producers of the 21st century isn't as considerable as it might seem. — A.U.
It's not one of his more famous innovations, but Kanye's an old Tribe Called Quest fan who knows how to mine the loungiest, airport-iest easy listening jazz for serious hooks — see also "We Major," which an approving friend once described as a "racecar driving down a rainbow." Even a mere sub-three-minute album cut like Common's "Real People" is juicily musical, with a wordless chorus of downstairs sax that lays on an ostinato keyboard bed. Not to mention the gravitas it adds to song where Common compares himself to UPN. — D.W.
A partnership that should have been much further explored, Janet's breathy siren song proved a near-perfect match for one of Kanye's more abstract beats here, a glowingly minimal track that almost sounds like a lost production from Björk's Vespertine sessions. As the bells chime sweetly underneath and Janet growl-whipsers, "Made you feel sleezy / Then you said, 'Fine motherf–ker, I like it'," it's almost uncomfortable in its seductiveness. The final product is like what JT was going for with The 20/20 Experience, except, y'know, cool. — A.U.
47. Jay Z feat. Beanie Sigel & Scarface, "This Can't Be Life" (The Dynasty: Roc La Familia, 2000)
Kanye's first beat for the Jiggaman to see release, "This Can't Be Life" doesn't quite have the sophistication of Yeezy's later beats for his professional big brother, but it does set a properly sentimental shuffle for Jay and friends to wax anti-nostalgic over. It's also one of his more creative soul twists, as you might not recognize the shards of Harold Melvin and the Bluenotes' eternal slow-burner "I Miss You" as they come in, even as the feeling of the song is completely transported over. If this was Kanye's audition for The Blueprint, it's no wonder he nailed it. — A.U.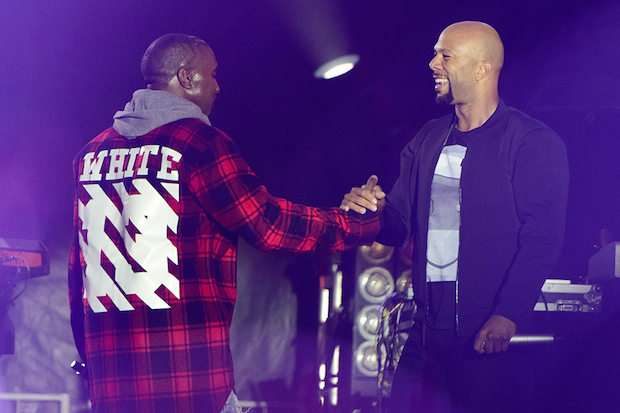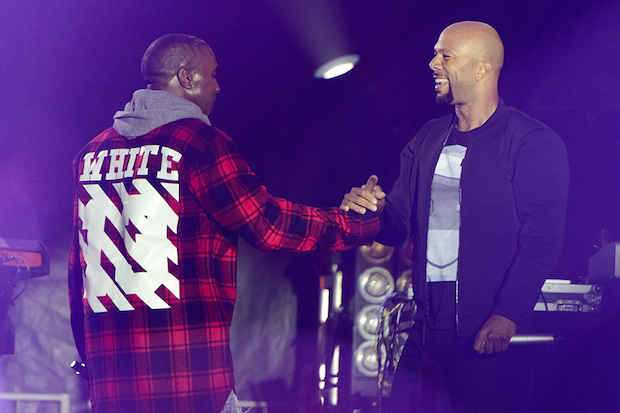 46. Common feat. Lily Allen, "Drivin' Me Wild" (Finding Forever, 2007)
Some of the pop culture references haven't aged so well — though it's kind of hilarious that OK Go's "Here It Goes Again" video was ever popular enough to be referenced in a Common song — but the syrupy piano and vocal sample (courtesy of the Rotary Connection's "Love Has Fallen on Me") keeps the song engaging throughout. (Plus Lily Allen's quietly alluring chorus makes you wonder why she wasn't more in-demand at the time as a hook singer.) Common and Kanye would tread on similar ground again a couple years later with Kid Cudi's Gaga-borrowing "Make Her Say," but with less amiable results. — A.U.
45. Pusha T feat. Rick Ross, "Millions" (Wrath of Caine, 2013)
A dry run of sorts for Push and Kanye's more extensive collaborations on the My Name Is My Name album, the Southside-co-produced "Millions" is a little lacking in inventiveness by Kanye '10s standards, but makes up for it in operatic grandiosity and gleeful id-fulfillment. Kanye is generally above this kind of J.U.S.T.I.C.E. League-styled bombast, but when Push and Rozay are rhapsodizing about hiding fortunes in the ceiling and doing drugs with Donatella Versace over thundering horns and UFO synths, you just gotta trust the process. — A.U.
44. John Legend feat. Rick Ross, "Who Do We Think We Are" (Love in the Future, 2013)
The already-forgotten lead single from Love in the Future, "Who Do We Think We Are" finds previously unheard multitudes in the "ohhhh yeaaaaahhh!!" exhortations from Jean Knight's '70s funk classic, "Mr. Big Stuff," as Legend turns them into gospel-like pleas for universal humility. It's a little sanctimonious, but the black-tie elegance of the video is earned with the production's expertly interwoven strings and piano, and one of Legend's most show-stopping vocals. — A.U.
43. Jay Z, "Lucifer" (The Black Album, 2003)
To help ease Hov into his (infamously short-lived) retirement, 'Ye generously gifted Mr. Carter with the heart-stopping beat for "Lucifer," powered by a pitched-up — but downright possessed — "Chase the Devil" sample. And to his credit, Jay was grateful for the production, opening the track with a hall-of-fame shout-out: "Kanyeezy, you did it again! You a genius!" — K.M.
42. T.I., "Let Me Tell You Something" (Trap Muzik, 2003)
Rather than dipping into his limitless reserves of '70s soul samples, Kanye took a rare trip to the late '80s for T.I.'s "Let Me Tell You Something," hijacking Roger's vocoder-drowned, late-'80s R&B smash "I Wanna Be Your Man." It's an unusually obvious sample for 'Ye, but he contorts it well enough for Tip's purposes, looping it over insistently rapping drums and thickening up the keys. The lift serves to soften the rapper's edges without making him sound completely cornball, making for a loverman ballad worthy of tribute in Yeezy's own "Slow Jamz." — A.U.
The icy dance-pop of Cassie's underrated original "King of Hearts" left little in the way of needed improvement, but that didn't stop Kanye from having his way with the track on this unofficial remix. Upping the synths and handclaps to blood-pleasure-raising levels, folding the lead vocal in on itself and throwing all kind of vocal samples and scrapes in the background for punctuation, West amplifies the song's sonic harshness to match its emotional brutality, making an already striking jam even more piercing. — A.U.
40. Jay Z, "Thank You" (The Blueprint 3, 2009)
In which Kanye rolls out the red carpet for big brother's return with a barrage of regal horns and resounding boom-bap, further setting the rap legend up for his Sinatra Main Event moment with comeback album The Blueprint 3. It wasn't the height of Jigga as an artist of urgency and contemporary relevance, but his status as genre royalty had never been clearer. "Please don't bow in my presence, how am I a legend / I just got ten No. 1 albums, maybe now eleven." Duh. — A.U.
39. The Madd Rapper feat. Eminem, "Stir Crazy" (Tell 'Em Why U Madd, 2000)
A quaint-but-still-depraved snapshot of Eminem when he was young, hungry, and prone to (rapping about) violence; of the Madd Rapper when he and Kanye were simpatico; of 'Ye when he was content to let other MCs get aggressive on the mic and just happy to be pulling from Bobbie Gentry and Glen Campbell records. — K.M.
38. Pusha T feat. Future, "Pain" (My Name Is My Name, 2013)
Gunshot drums and a death-rattle snare, with only the "New God Flow"-style piano to keep the song warm-blooded, "Pain" is one of Kanye's starkest productions of recent years, befitting a song with a Rocky III prediction for a title and "I don't never felt pain / 'Coz I done felt too much pain" for a hook. "Coulda been Travon, but instead I chose Avon," reflects King Push, sounding more embattled than triumphant in his decision-making process. Survive to hurt another day. — A.U.
37. Jay Z, "Never Change" (The Blueprint, 2001)
All right, we're probably cheating a bit by including this one: Kanye isn't officially credited as a featured guest but he does spit the hook. But can you blame us? "Never Change" finds golden-age Yeezy stretching out in his sweet spot — strip-mining classic soul tunes; in this case, David Ruffin's "Common Man" — and catches Jay Z during one of The Blueprint's more wistful moments, reflecting on a life of crime, still refusing to knock the hustle. This is crew love; Goodfellas for a newer generation of Brooklynites. — K.M.
36. Trina feat. Ludacris, "B R Right" (Diamond Princess, 2002)
A spiritual sequel to Ludacris' turn-of-the-century breakthrough smash "What's Your Fantasy?," with Trina and Luda switching off sexual play-by-play responsibilities on the hook over a moaning, wriggling beat of Eastern strings and pinballing drums. It's not as sexy as "Fantasy," but the chorus is nearly as catchy, and with Trina making promises like "I'm f–king niggas in the face," it's plenty memorable just the same. — A.U.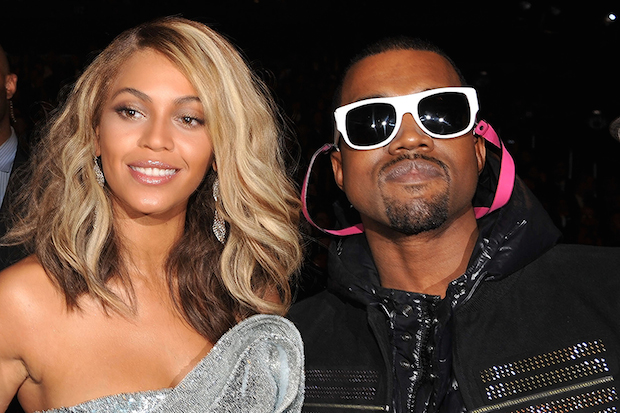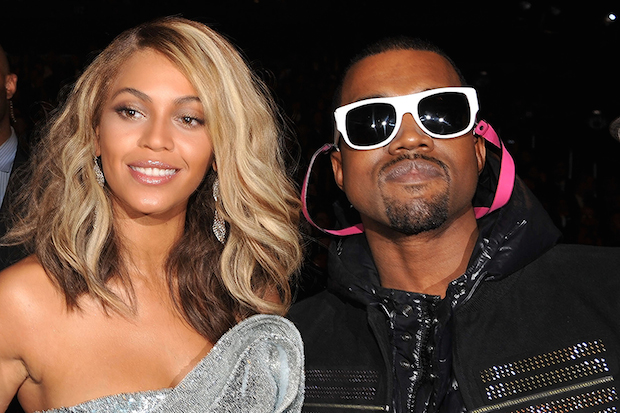 35. Beyonce feat. André 3000, "Party" (4, 2011)
Is it retro-R&B? Feminist pop from the future? Bey herself flips a finger to the genre-conversation on this slinky scorcher of a 'Ye production — "You a bad girl and your friends bad too," he raps on the bridge, his only spoken "Party" contribution as far as we're concerned, since every time he says "swagu" our bodies shut down and start convulsing. Wisely, the Chi-guy snatches up his horn section during André's first few bars, bowing in proper homage to the legendary ATLien before slowly stuffing his own melodies right back in all smooth and s–t. — B.C.
34. Pusha T, "Lunch Money" (Upcoming, 2014)
The musical equivalent of riding a rickety wooden coaster that threatens to derail at any minute, Pusha's playground clears out room for Kanye's plunging sirens and synthesizers. It's the rare producer who knows that the Clipse rapper's rubber-raw snarls are strong enough to combat booming production. Who needs sparsity when Kanye's got the keys to the kingdom and a handle of Cuervo? — B.C.
33. Mariah Carey, "Stay the Night" (The Emancipation of Mimi, 2005)
How was this Emancipation of Mimi stunner not the single biggest song of 2005? Kissed with a golden piano loop (hat tip to living jazz-funk legend Ramsey Lewis for his version of "Betcha by Golly, Wow"), "Stay the Night" resumes Mariah's unimpeachable '90s run for four sublime minutes. We'd like to demand further Mimi-and-Yeezy crossovers, but one dalliance with slow-cooked pop perfection should be more than enough. — K.M.
32. Jay Z, "Jockin' Jay Z" (Non-Album Download, 2008)
Pretty ridiculous that it took until 2008 for someone to deliver S Dot a beat built around this Run-D.M.C. vocal sample, but Kanye does the most with it, setting it over Jam Master Jay-worthy old-school drums and stabbing guitars that zoom in from out of nowhere. Nobody has more fun with it than Jigga himself, taking the opportunity to respond to Noel Gallagher's comments about the rapper headlining Glastonbury ("That bloke from Oasis said I couldn't play guitar / Somebody shoulda told him I'm a f–king rock star") before launching into a couple bars of "Wonderwall." How exactly did this miss the cut for Blueprint 3? — A.U.
https://youtube.com/watch?v=Wpvhn4CyqSE
31. Common, "Testify" (Be, 2005)
No other producer has sampled the human voice so frequently and effectively; Kanye's beats literally sing. Here, a perfect loop from Honey Cone's "Innocent Til Proven Guilty" plays Greek chorus to Common's deliciously hokey tale of a woman whose husband is sentenced to jail when it turns out "this bitch did the crime."  And Kanye's soundtrack of congas turn the farce into believable noir while his firm piano chords demand order in the court. — D.W.
30. Jay Z feat. Beyonce, "'03 Bonnie & Clyde" (The Blueprint 2: The Gift and the Curse, 2002)
Who would've thought the best way for modern day music's First Couple to mesh was with a song that took its inspiration from Prince and the Once Upon a Time in Mexico soundtrack? Bringing staccato acoustic guitars to the streets of West Harlem, Kanye's "'03" finds a strong medium somewhere between bachata and burgundy-braised R&B. — B.C.
An absolute monster of a beat, staggering with fuzzy bass, hi-hat, and relentless cowbell, Freeway leading the drive like Brett Favre ("Will throw a football pass through your chest!") as Kanye even joins in with the Philly rapper to turn the chorus into a sing-along: "I do my dirt all by my lonely, and I got the heart to fight / So please refrain from hatin' before I turn out ya lights!" No one would possibly deign to step to either rapper or producer on this one. — A.U.
28. Trina feat. Bathgate, "Do You Want Me" (Diamond Princess, 2002)
At the height of hip-hop's puppy-love duet era, "Do You Want Me" should have been massive. Kanye's electric production here for Trina and Bathgate, riding on Jackson Five guitar and what sounds like a whole lot of Warriors-esque bottle-clinking, is intoxicating like the best summertime anthems. Maybe the problem is that both rappers want to play Ja Rule and neither wants to play Ashanti; the best compromise they can agree on is trading raps off on the hook and the verses — which might actually make it a better song, but makes it a harder sell to radio programmers who preferred "Love it when you look at me baby" to "I'll be that bitch that'll hold the steel for you / Gild and kill for you." — A.U.
27. Scarface feat. Jay Z & Beanie Sigel, "Guess Who's Back" (The Fix, 2002)
Kanye's dreamy, swirling backdrop on this noted highlight from Scarface's 2002 comeback The Fix deserves to echo through castle halls — Jay Z lets it build for 45 seconds before even rapping. And putting one of the deepest, bluesiest voices in the rap history against the nursery-gentle melody as that majesty piano floats upward… that sort of brilliant juxtaposition signals less of a return than a new challenger altogether. — D.W.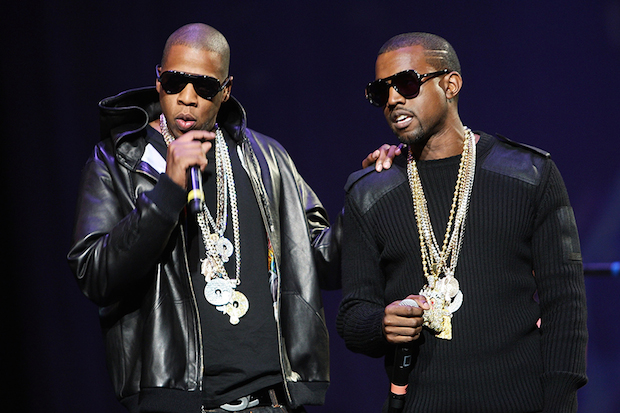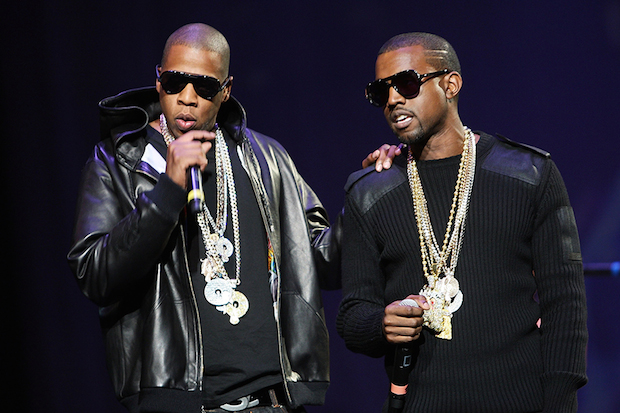 26. Jay Z feat. Big Boi, Killer Mike & Twista, "Poppin' Tags" (The Blueprint 2: The Gift and the Curse, 2002)
It's stunning to look back at how versatile 'Ye's beats could be, back when rap was still significantly more divided into factions. "Poppin' Tags" was the blueprint for "Slow Jamz," with shiny '80s-R&B glitz underneath Twista's high-pressure flow, but also accommodating a significant twang quotient from Big Boi's rubbery-as-ever flow. And it's stunning how placid Killer Mike once sounded, even when speed-reading. Plus, what screams Kanye West more than a six-minute epic about shopping? — D.W.
25. Monica, "Knock Knock" (After the Storm, 2003)
It's not a direct thievery of Just Blaze's beat for "Song Cry," but Kanye's gently glistening, ultra-tenderized beat for Monica's break-up statement of intent certainly feels like the Blueprint classic. "Knock Knock" is less melodramatic with its emotion than the Jay Z tearjerker, though, as Monica allows the production (and the interjections by co-producer Missy Elliott) to do all the sentimentalizing for her, instructing with matter-of-fact bluntness: "Stop knocking / Don't come knocking at my door." Can't see it coming down Monica's eyes, for sure. — A.U.
24. Pusha T feat. Chris Brown, "Sweet Serenade" (My Name Is the Name, 2013)
Hard-hitting drums, booming bass, and ghostly choir chants in the background: About as empirical a Kanye beat for Pusha T as the King could ask for, as he rhymes "Ric Flair s–t" with "Blair Witch." And as terrifying a three-word phrase as "feat. Chris Brown" has become in the 2010s, "Sweet Serenade" is the rare opportunity to be grateful for Breezy's guested presence, the singer never overstepping his bounds on the restrained, distorted chorus: "I'd rather say I did than let them busters say I didn't." — A.U.
23. Janet Jackson, "I Want You" (Damita Jo, 2004)
Kanye takes Damita Jo waltzing, courtesy of sumptuous strings swiped from the BT Express' cover of "(They Long to Be) Close to You." Despite the whispered "Have your way with me" insistences on the chorus, it's not even really all that sensual by Janet's standards, instead prioritizing a Motown-era sweetness that makes the ballroom just as fitting a setting for Janet's balladry as the bedroom. — A.U.
22. Jay Z feat. Santigold, "Brooklyn Go Hard"  (Notorious Soundtrack, 2008)
The biggest tribute Jay could've paid to his fallen hip-hop peer and continued role model on the soundtrack of his biopic was to try to come up with a chant for his home borough to match Biggie's own perennial "WHERE BROOKLYN AT?" soundbyte. Not quite — that Biggie freestyle is as unkillable as "New York, New York" — but Jigga and Santi do BK proud with their new anthem over Kanye's smoked-out canvas, and as much as Christopher Wallace may have done for Bed-Stuy, Jay Z's the one who promised to bring a basketball team to Atlantic Yards, and actually did it a couple of years later. — A.U.
21. Lupe Fiasco, "The Cool" (Food & Liquor, 2006)
Lupe liked this track so much he conceptualized (and named) his whole second album after it, not least because of that nonstop classic drum break and the dying-arcade synth expressing whimsical fantasy and mortal reality in tandem. The perfect universe to contain the story of an undead hustler who "kicks the casket open" and returns home ("with a right hand that was all bones"), only to get robbed himself. — D.W.
20. Drake, "Find Your Love" (Thank Me Later, 2010)
Drake's Thank Me Later standout single wastes no time in shouting its own intentions, with an 808 snare and barely-there piano pounding. After Drake's first chorus, Kanye slathers on yet another layer of percussion, which submerges the track ten levels deeper into the abyss of Drake's sad-boy harmonizing. — B.C.
19. Big Sean feat. E-40, "I Don't F–k With You" (Dark Sky Paradise, 2014)
It was Sean's shameless glee in his unapologetic ex-bashing that reinvigorated his not-long-ago dormant solo career — sing-along profanity hadn't been this much fun since the Offspring's "Bad Habit" — but don't discount the size of the role that Yeezy played in his protégé's comeback jam, either. Without those wailing '70s soul samples ("SAY you love me, SAYYYYY you love me") to match co-producer DJ Mustard's goofy, '80s synth-bass, this song would probably sound more bitter than elated in its living-well vengeance, and without Kanye sticking by Sean on the sidelines — he's literally coaching him in the video — the public woulda given up on the Detroit rapper two albums ago. — A.U.
18. Lil Wayne feat. Babyface, "Comfortable" (Tha Carter III, 2008)
Make no mistake — "Comfortable" may be the softest-sounding moment on Lil Wayne's commercial zenith, but that doesn't mean it's gentlemanly. A rebuke to Beyoncé's "Irreplaceable," this contender for Carter III MVP spikes its lovey-dovey worship ("Don't I treat you like soufflé?") with a cold-hearted truth: Weezy won't be taken for granted. Still, Babyface's self-help hook ("If you don't love me, somebody else will") and 'Ye's disarming beat — OutKast's "Player's Ball" percussion mixed with sunrise-worthy strings from his own work on Alicia Keys' "You Don't Know My Name" — sweeten this too-real pillow talk. — K.M.
17. Common, "The People" (Finding Forever, 2007)
For whatever reason, everyman softie Common brings out the best in his producers, from ?uestlove's extra-dusty soul on Like Water for Chocolate to the messianic Yeezus helming two entire albums. "The People" was the standout on 2007's Finding Forever, with its gorgeous applications of musique concrete: open-arms organ intro, hummed male voice underpinning the verses with chime punctuation, wackadoodle synth pulling the rug out from Dwele's calm-sung chorus. As complex and beautiful as anything Kanye's done, perhaps because Common's the rare rapper willing to be another instrument in someone else's symphony. — D.W.
16. Jay Z, "Encore" (The Black Album, 2003)
It was never really a mystery about whether or not Jay Z would come back from his initial retirement, now a distant memory that's more than a decade in the rearview — even then, it was pretty clear that Hov was retiring just to make sure that his presence was properly appreciated, and because the actual process of retiring was so damn fun. Hence, "Encore," in which Jay lets Kanye's honeyed horns play him out to his first fade-to-black, pre-emptively assessing his own legacy and already promising his Jordan-wearing-#45 return, and providing his own call back to the stage, just in case we were too busy to provide it for him. He needn't have worried. — A.U.
https://youtube.com/watch?v=FIafvuavERg
15. Pusha T, "King Push" (My Name Is My Name, 2013)
As far as hip-hop mission statements go, you'll rarely do much better than Terrence Thornton declaring "I'm King Push / I rap, nigga, about trap niggas / I don't sing hooks" on the opening salvo to My Name Is My Name. And that's just the beginning for Kanye's latest musical soulmate, as the rapper speaks Spanish like Don Omar and knights himself the black Zach de la Rocha over Yeezy's martial drumming, levitating synths, and disembodied early-dubstep vocal samples. Hail to the King, baby. — A.U.
14. Talib Kweli, "Get By" (Quality, 2002)
A "Change Is Gonna Come" for the millennial hip-hop era. Kanye matches lines like Kweli's opening, "We sell crack to our own out the back of our homes," with his appropriately heavy beat: an intro from Nina Simone's "Sinnerman" and a staircase of tense ivories, with the march of the drums adding levity to the gospel-inspired chorus. With all of these elements checking each other's balances, it's less surprising that this would-be sermon became a hit instead. — D.W.
13. Twista, "Overnight Celebrity" (Kamikaze, 2004)
Kanye's presence totally overwhelmed Twista's chart-topping breakout hit, so for the follow-up, Yeezy is kind enough to stay out of the speedster's lyrical way as he makes timely promises to "put you in a chameleon '04 Range" and "give you ice like Kobe wife." No matter: Kanye is still the star of the show, with his show-stropping strings, twinkling piano, and entranced chipmunk vocals, taking the song's sleazy come-ons all the way to Carnegie Hall. Twista may be the one guaranteeing the Cinderella transformation, but it's pretty clear who's making who a celebrity overnight here. — A.U.
12. Jay Z, "Izzo (H.O.V.A.)" (The Blueprint, 2001)
We will always — always — put our hands together for one of Jay's most upbeat, chain-jangling hometown anthems. More than almost any other Kanye production, "Izzo" sounds like a duet between rapper and melody. It's the ultimate implementation of jazz's call-and-response origins, each entity bending to the other at key moments, allowing for a conversational power check every other second. Jay's got the Roc triangle hand command, but on "Izzo," Kanye proves he deserves a gesture all his own. — B.C.
https://youtube.com/watch?v=1tWmyPMf3wU
11. Beanie Sigel, "The Truth" (The Truth, 2000)
The first hit single on Kanye's CV, with one of his all-time greatest sample choices in the eerily wobbling hook to Graham Nash's change-the-world hippie anthem "Chicago," letting the song's disquieting bass and piano rumble as the organ straight hypnotizes. Beanie's the one claiming to be bringing nothing but the truth throughout, but as potent as his "arsenic flow" may be, the realest talk is still coming from the Yeezus production, drumming on the front lines while the entire Roc army marches into battle. — A.U.
10. Pusha T feat. Kendrick Lamar, "Nosetalgia" (My Name Is My Name, 2013)
Examinations of the drug trade don't often get as chilling, personal, and succinct as this double-sided exposé cooked up by Kanye and co-producer Nottz. Pusha T plays the dead-eyed dealer while Kendrick Lamar takes the role of secondhand victim, watching the crack epidemic eat away at his family. The real star of this production, though, is that stark, fanged guitar sample ripped from "(If Loving You Is Wrong) I Don't Want to Be Right" by bluesman Bobby Bland. "Wanna see a dead body?" Kendrick asks menacingly at the start of his verse. The answer: No, but for some reason we can't look away. — K.M.
https://youtube.com/watch?v=u-2ckLBV21g
9. Cyhi the Prynce feat. Big Sean, "Woopty Doo" (Royal Flush II, 2011)
A sadly overlooked track from forgotten son CyHi the Prynce's 2011 mixtape, a meditative head-nodder with a Nas-like perspective of not getting too impressed with your own success or financial means ("Cause it don't mean s–t when you can't take care of your kids / Nigga, f–k what you did"). Tellingly, God's Son himself would use the same lift — the breakdown section of L.A. Carnival's '70s jazz cut "Seven Steps to Nowhere" — for his own "Stay" a couple of years later, but Kanye does well to prop it up with a tambourine shuffle, and CyHi and Sean do a better job of staying in conversation with the sample, letting it serve as a third voice on the song. The result was a jam out of time, but one worth finding a place for. — A.U.
8. Drake, "Show Me a Good Time" (Find Me Later, 2010)
The best of Drake and Kanye's hookups, an insistent banger that threatens to become unbearable with its alarm-clock horn hook, but stays just on the right side of exhilarating instead, balanced by a soulful piano bed and matched with a similarly relentless hi-hat groove. And of course Drizzy is game to play the life-fast, die-young sort of role, showing moments of introspection ("How did I end up right here with you?"), but rather than dwelling on anything, taking another shot and continuing to live the nights he can't remember with the people he won't forget. Let the good times roll. — A.U.
7. Jay Z, "Heart of the City" (The Blueprint, 2001)
A brilliant would-be boxing theme, fueled by a sped-up sample of Bobby Bland's "Ain't No Love in the Heart of the City" and boosted with cracking hand-clap percussion. A totemic achievement for young Kanye, one that he recognizes (in his near-13-minute origin myth, "Last Call") as pivotal to his success as a producer and, eventually, rapper. A bizarro hometown anthem for fighting-shape Jay Z, as he swats naysayers and settles comfortably into his still-current throne as King of New York, whether his subjects want him or not. A grand victory for both men — one heavyweight, one light but destined for greatness. — K.M.
6. Travis Scott feat. T.I. & 2 Chainz, "Upper Echelon" (Owl Pharoah, 2013)
One of the most exciting hip-hop singles of recent years, the highest of drama from the sound of its first cascading drum spits. The percussion hits like an aerial assault, the bass like a subterranean tremor, the synths like an exploding smoke bomb — and we haven't even mentioned the air horns yet. The music takes such precedence that the verses are virtually irrelevant: It's hard to remember much from the lyrics besides "We so f–kin' high / Upper echelon," because what else is there to say, even? Kanye was far from the only voice that went into the sound of this one — he's only credited with "additional production," along with primary knob-twiddler JGramm Beats, regular collaborator Mike Dean, Anthony Kilhoffer, and Scott himself — but the song is simultaneously so classic and so future, it's hard to imagine his involvement not being essential. — A.U.
5. Alicia Keys, "You Don't Know My Name" (The Diary of Alicia Keys, 2003)
The best of Yeezy's non-hip-hop beats, and one of his most inspired steals, from the piano-waterfall section of '70s soul stalwarts the Main Ingredient's gorgeous "Let Me Prove My Love to You." Kanye doesn't do much with the sample except play conductor, cutting and splicing it until it sounds like Keys is leading the Philharmonic herself. And the vocal is one of Alicia's greatest as well, from the alternately anguished and ecstatic "Baby, baby, baaaa-byyyyyy!"s that flesh out the verses to the finger-twirled-around-the-cord sexiness and intimacy of the phone conversation in the song's unforgettable spoken-word breakdown. Keys goes so big with her vocals that sometimes it seems her producers don't even care to follow her to the peaks, but Kanye will race her to the top of that mountain any day. — A.U.
4. Lil Wayne, "Let the Beat Build" (Tha Carter III, 2008)
Kanye has a deeper knowledge of American musical roots than many give him credit for. Take the superstars's recurring gospel dipping — Betty Wright's crackling chorus on Rick Ross' "Sanctified," for instance. It's a well that 'Ye visits for inspiration repeatedly without ever letting his products get soggy. On this Carter III cut, the producer chops up Eddie Kendricks' "Day By Day" and lets Weezy F. do his hazy stumble through his hometown streets. "Beat Build" foregous a traditional ABAB structure by starting bare bones and drawing out the tension to near-unbearable levels, but eventually burts with orchestral release — like There Will Be Blood, it makes good on its titular promise, and is worth every second of the wait. — B.C.
3. Ludacris feat. Shawnna, "Stand Up" (Chicken-n-Beer, 2008)
On 2003's Chicken-N-Beer, Luda mastered the art of seducing, commanding, and incredulously commenting at the same time atop a stu-stu-stuttering drum that goes all Butterfly Effect at the end of every slickly spat bar. Peep the choral humming that 'Ye warped into an instrument all its end at the tail end of every chorus, and carry Mr. Eudoxie's pronunciation of the phrase "worry about" to your grave. — B.C.
2. Pusha T, "Numbers on the Boards" (My Name Is My Name, 2013)
"How ya feelin? Ya feel ALL RIGHT?" the voice of Philly soul grinder Bunny Sigler asks at the beginning of "Numbers on the Boards." By the end of the song, the question has become purely rhetorical. "Numbers" is one of the most purely satisfying hip-hop tracks of the decade, a slam dunk with every lyric (including the ones where Push actually brags about dunking from the free-throw line), over the most hyper-charged livewire of a beat since Snoop and Pharrell's "Drop It Like It's Hot." Pots 'n' pans and morse-code bass pulses, humming along over cigarette-stained drums as Pusha indelibly taunts, "Your SL's missing an 'S', nigga / Your plane's missing a chef," and the crowd roars with approval as Push and Kanye continue to run up the score. As Whtie Sox announcer Bud "Hawk" Harrelson would say, "YOU CAN PUT IT ON THE BOOOOOOOOARD… YYYYESSSSS!!!!" — A.U.
1. Jay Z, "Takeover" (The Blueprint, 2001)
The greatest diss track of the 21st century. (Yes, we may use "Ether" more in common parlance, but that's just because it's more fun to use as a verb.) "Takeover" is jaw-dropping from Jay's first WOOO, a behemoth of a beat the likes of which hip-hop had never seen before. Kanye doesn't sample the Doors' "Five to One" as much as he rebuilds and reanimates it, harnessing all of that group's swampy bluster for a lurching, snarling, and demonically radiating track more purposeful and focused than anything Jim Morrison and co. could ever muster. "Takeover" isn't a jam, it isn't a head-nodder, and the words boom bap certainly need not apply: It's a slow-creeping juggernaut, plowing closer on the horizon with every measure. It's the Terminator with a fitted Yankees cap.
As for Sean Carter's contributions, recounting the way he absolutely eviscerates Nas and Mobb Deep here is like detailing the way the '01 Lakers tore through the NBA playoffs: There's almost no point, and we've seen the highlights anyway. Suffice to say, Jay plays trump card after trump card, vanquishing his foes with the expertly plotted strategy of a Navy general and the charisma and gleeful menace of a Batman villain. And then, just to make sure, he salts the earth in the final verse, making sure no new haters can spring up to replace those he just chopped down ("And all you other cats throwing shots at Jigga / You only get half a bar, f–k y'all niggas"). In a career filled with perfect brushstrokes, it's arguably the most masterful thing S-Dot ever did.
No other collaborator has defined Kanye West's career as much as Jay Z, and as much brilliance as he was responsible for after, it's entirely possible that without the always-timeless work the two did together on The Blueprint, we're not still talking about Kanye today. The takeover was Jigga's, but Kanye was the Kobe to Jay's Shaq, elbowing his way into the spotlight and dripping with thirst for the crown, his ascent to MVP status inevitable. It's a decade-and-a-half later and we're still utterly in awe of him running this rap s–t. — A.U.
;