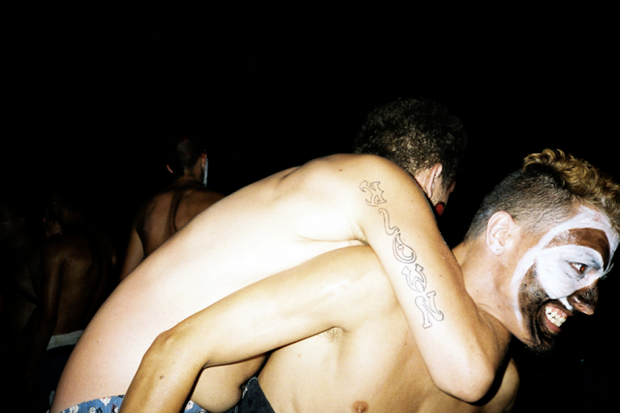 Gathering of the Juggalos 2001
SeaGate Center — Toledo, Ohio
Key Acts: Bone Thugs-N-Harmony, Vanilla Ice, the Suicide Machines
Shaggy: Toledo was awesome. We had a whole floor of the hotel that was connected to the [convention center]
Violent J: We're in a giant hotel. We had however many stories, all Juggalos. There was madness. You could actually hear madness going on. The P.A. that went to all the rooms, I guess it's for a fire alarm or something. But Shaggy comes on. Here's exactly how it happened, I swear to God. First he said, "Yo, what's up, man, it's Shaggy 2 Dope." And you heard the pop, the crowd pop in the building! You felt the building!
Shaggy: [Nobody knew] there was intercoms in the rooms neither.
Violent J: And he's like, "Man they're gonna kick us the fuck out if y'all don't chill the fuck out, man." He's half-drunk, talking ghetto as fuck. There was one wedding going on there that weekend. That poor wedding! Just think if the honeymooners were in the suite and that shit came on.
Shaggy: I forgot about that
Violent J: On the last night, I had a charm on just like this. [Violent J holds up his Hatchet Man necklace]. I'm up on stage, they surround the stage, everywhere. I see this kid eyeballing my chain, you know? I swear to God, he's looking at my chain. I can see what he's thinking. So I took it off my neck and I put it in my pocket. I'm rapping, and I feel this kid's hand reach into my pocket and yank it out; and he dives off the front into the crowd. I fucking moved ninjas out of my way and I dove right out on top of him. And I got him on the floor, right on top of him, and I took my microphone, and I bashed his fucking head in with that microphone, man. Until his hand just opened, you know what I'm sayin'? And I'm bashing, I'm bashing, I'm bashing, and this other kid's going, "It ain't worth it, J, leave him alone, it ain't worth it." I look at my microphone, and the end of it was fucking flattened. The metal ball at the end of the mic was flat, bro. Like I smashed it on cement. So we're racing home, and I stop right at the Michigan/Toledo border at a gas station. And there's a pond right there. I was so scared I might have fucking did some serious damage that I took the top off the microphone and threw it in the pond.
Shaggy: The hotel got fucking trashed; the convention center got trashed.
Violent J: We got kicked out of Toledo. Banned from Toledo. We didn't even play Toledo for ten years after that.
Shaggy: I guess it got a little out of control, somebody punched a police horse in the face or something like that. Spray paint, stickers, vandalized…
Violent J: We were banned from Toledo, it was all in the papers there. It was all in the news there, like ICP is not coming back.
Shaggy: They like to report that, but not the millions of dollars they get in revenue from all those people coming into their city.
The police were stopping titties. And that's what started the riot. —Violent J
Gathering of the Juggalos 2002
Peoria Civic Center — Peoria, Illinois
Key Acts: Kittie, Bubba Sparxxx, Mack 10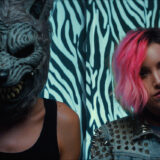 Shaggy: [Toledo] was the beginning of the end of the convention centers. Basically, the convention centers all know each other, so word got around, and nobody wanted us at convention centers no more. We had to fucking bullshit our way into Peoria, saying that we'd banned all stickers and shit.
Violent J: They let us in on a whim. The way I remember my brother telling us, they were losing money and they were hurting, and that's the only reason they let us in. We were getting ready to put out the sixth Joker card at this point. And we went into hiding for eight months, which means we didn't do any photos, any pictures, no interviews or nothing while we went to record Shangri-La. I lost all this weight. The first time anybody saw us was at the Gathering. And the first night was the night [Psychopathic Records "supergroup," featuring ICP, members of Twiztid, and Blaze Ya Dead Homie] Dark Lotus played. I went to jump off the stage into the crowd, to stagedive, and the fucking monitor rolled under my feet and I went down in between the stage and the barricade and I fucking cracked my wrist. And I fucking cracked something in my back. And this was the first night. I still had to wrestle every day, I just started eating Vicodins like they were fucking candy. I was just eating them bitches like cereal. And that's the notorious year Bubba Sparxxx got booed off.
Shaggy: And accused us of setting him up.
Violent J: Like, what the fuck would we pay you to come in for, to set you the fuck up? That's the most ridiculous shit ever. Like, we're gonna fuck Bubba Sparxxx in the ass? The problem was he went up on stage an hour late, and his DJ's up there, he kept saying "Are y'all ready for Bubba? You ready for Bubba? Y'all ain't ready for Bubba!" For like a half hour. By the time he came out, everybody's like, "Fuck you, man." And then he came stomping back, "You set me up!"
Shaggy: Get the fuck out of here.
Violent J: Like we'd bring you all the way out here to set you up? Fuck you. That was also the year that titties were flying left and right. And the police — see, that's the problem, you know — the police were like, no titties. I'm serious, I'm dead serious.
Shaggy: How do you stop titties at a festival?
Violent J: It's a fucking rock'n'roll concert, man, titties come out. The police were stopping titties, man. And that's what started the riot. The girl, she had her titties out, they grabbed the girl, and pulled her off dude's shoulders backwards, in front of everybody. People started booing and throwing shit. Next thing you know — teargas. And that's where the riot came in, over some fucking titties, man.