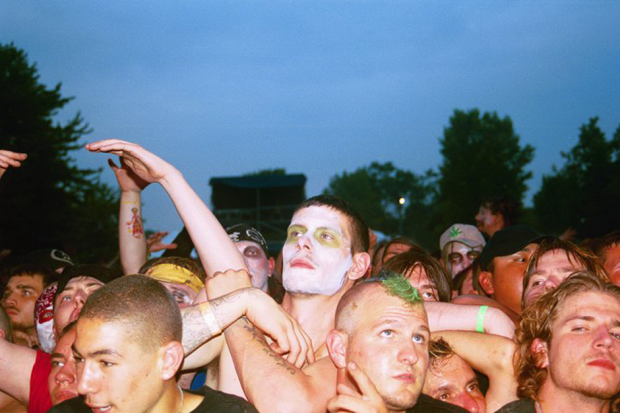 Gathering of the Juggalos 2005
Nelson Ledges Quarry Park — Portage County, Ohio
Key Acts: 2 Live Crew, Powerman 5000, Mini Kiss
Shaggy: I tore my ACL in half, I fucking shattered my vertebraes. I climbed up one of the lighting tiers, about 30 feet up, and tried to do a backflip into the crowd; but instead of doing a full flip, I did a back dive and just pssshh. But I finished the show.
Violent J: We left Nelson Ledges. Why did we leave? Because we got kicked out. You know, the pressure from the city. They would go down there, my brother and Alex [Abbiss, Psychopathic Records co-founder]. They'd go down there and battle with the city. I'm talking TV-style, the council, the people, they'd come back all amped-up, they were talking about how they would stand up and, "Citizens, this shit is outrageous!"
Shaggy: They just wouldn't have it no more. We don't want you guys in our city no more, we don't want you in our county.
Ying Yang Twins got booed off terrible. It was totally unfair, it was totally uncool. —Violent J
Gathering of the Juggalos 2006
Pataskala, Ohio
Key Acts: Too $hort, Digital Underground, Drowning Pool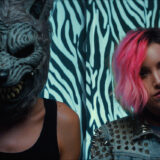 Violent J: We were booked at a racetrack. I believe it was in Michigan. We were booked at a sweet-ass racetrack. It was gonna be the ultimate Gathering. And they kicked us out two weeks before.
Shaggy: Campgrounds are like convention centers. It's a circle of people and they talk.
Violent J: Actually, what my brother told me, fucking people from Nelson Ledges contacted them. They contacted him and they were like, "Don't have it." They kicked us out. And so we found the muddy [location in Pataskala, Ohio]. It was a drought all summer, and then it just poured. It fucking poured rain all before.
Shaggy: It wasn't just one hill like at Woodstock with people sliding on it. The whole fucking however many acres was flooded. They had to try to put all this hay down but it was just sticking into the mud
Violent J: They tried to put hay down, they tried to put gravel down, they tried to put all kinds of shit. We had trucks coming in with gravel. Everything we could do. It was like insanely hot. Like sweltering hot. So motherfuckers were just in the muddy heat, you know. And I'm not gonna lie, it killed my spirits. But Juggalos were still having fun. The hot sun dried up all the mud, and it was dust.
Shaggy: You couldn't follow another car because you'd just fuck your eyes up and your lungs just with dirt.
Violent J: That was the only year in my opinion that has a black eye on it. I couldn't even walk to the Port-a-potty.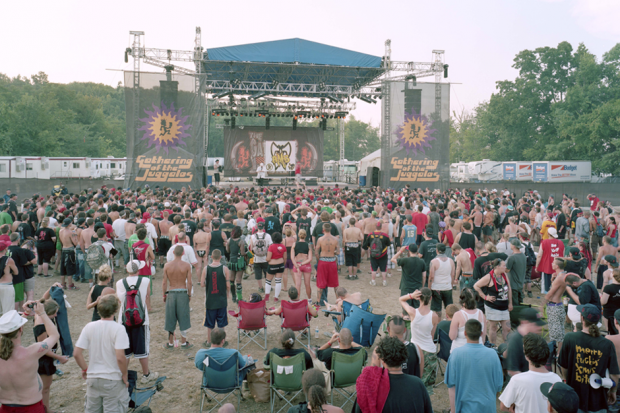 Gathering of the Juggalos 2007
Hogrock Campgrounds — Cave-in-Rock, IL
Key Acts: Ying Yang Twins, Mushroomhead, Necro
Violent J: Somehow, Billy [Bill, Psychopathic Records CEO] discovered Hogrock, and the guy was mad cool. He's even like part of our shit, now, the guy, Hog Daddy. We have him do part of our wrestling and stuff. Nelson Ledges contacted Hogrock to try to get it shut out of there too. Hogrock was like, "Fuck you, we have festivals all the time." They have a biker festival, so they're not worried.
Shaggy: After the year before, it was just such a relief. The added room. Even till this day, if I go out on my golf cart, I still get lost. Like, dawg, get the fucking map out, where are we going?
Violent J: It's really big, and the thing is, it's a lot better now than it was when we first moved in there. Because they started putting roads in there, they started doing things for us, all year, to get us to come back. They were so good to us, they were like, we don't give a fuck about the controversy, you guys are the shit.
Shaggy: And it's private grounds, not even police allowed on it for shit.
Violent J: And they're just like working with us. We're even gonna eventually put up a cell phone tower, know what I'm sayin'? I think that might have been a little bit of an issue the first year, like how it was so…
Shaggy: …in the middle of nothing. No phones.
Violent J: Ying Yang Twins got booed off terrible. It was totally unfair, it was totally uncool. They didn't deserve it. They did their homework, too, but they went on right before ICP and people just weren't having it. I don't know what was wrong with people. I hated that that happened, because they were so cool. And then when they got off, they said to us, "Tell the clowns it's all love, we understand, it's all love, man."