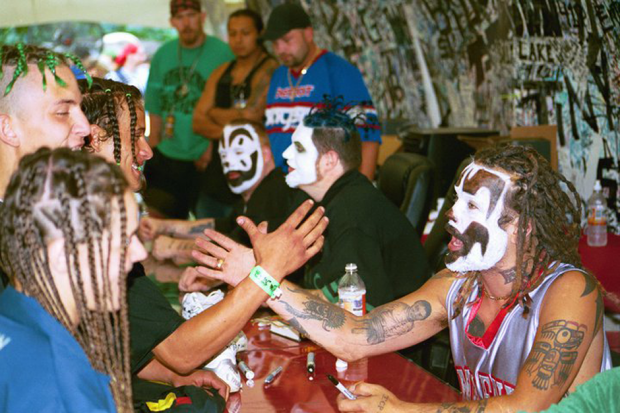 Gathering of the Juggalos 2003
Nelson Ledges Quarry Park — Portage County, Ohio
Key Acts: Bushwick Bill, Killah Priest, Dope
Violent J: When we went to the woods, there was never another problem again.
Shaggy: No police, no problems, straight up.
Violent J: There was no issues. 'Cause there was no bullies there. We hired security. And we told security, relax. Have fun. If you're in the front fucking row of the concert, if you don't like this shit, move and let somebody else on the staff work that position. Don't stand there mean-mugging everybody. Security's having fun.
Shaggy: That changed the game. That changed the whole game.
Violent J: Brother, that first year, being outdoors, was like coming home. It just was un-fucking-believable, man. It was like the key fit in the lock, finally. What the fuck were we thinking before? Trying to have this in a convention hall? There was a lake and there was an island in the center. It was like 1 a.m., whatever it was in the program, and it said "Burning Man at the lake." So, literally, thousands all around the lake. And then all of a sudden on the island, this ninja lights himself, full body on fire. He's a stunt guy, you know. And he's running round and round this little 30-foot island.
Shaggy: Forever! It seemed like 40 minutes.
Violent J: And then he dives in the water. That was such a psychopathic thing, that was so our shit.
Vanilla Ice actually jumped up onstage and tried to calm the situation. —Violent J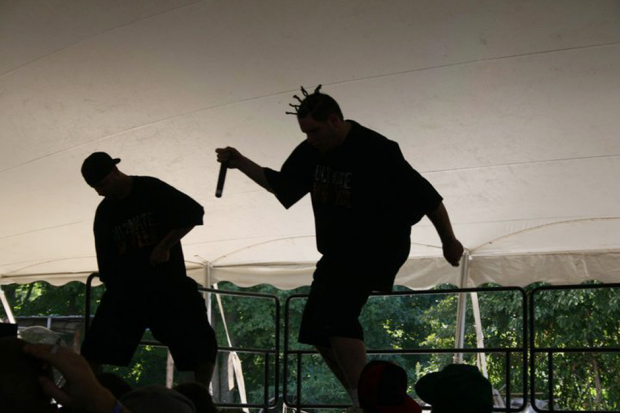 Gathering of the Juggalos 2004
Nelson Ledges Quarry Park — Portage County, Ohio
Key Acts: Ol' Dirty Bastard, Kurupt, Tech N9ne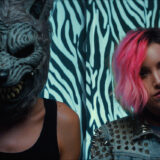 Violent J: Ol' Dirty Bastard, he went up there, and that was towards the end of his life. I wanna tell you he schooled it, but it didn't go over very well. The problem was it was getting so big that we couldn't talk to everybody before they went up.
Shaggy: This was still when the Gathering was way less known — before anybody went on, earlier in the day, we sit them down, explain everything, explain what the crowd will be chanting. I mean, nowadays we'll send out A Family Underground on DVD.
Violent J: You know, they say "woop woop" and it sounds like "boo" if you don't know what the fuck it is. We're letting them know that's a call of love. So we talk to the groups and let them know what's up… I read [ODB's] book, called Digging for Dirt, and that was one of the last shows he did, that was like one of the last three he did. And he went up there and they didn't know where they were, they kept saying "Cleveland." "What's up, Cleveland?" And they'll let it slide once or twice but when it's going on all night, Juggalos start getting pissed. 'Cause they're not from Cleveland, they're from all over. People started throwing shit. It wasn't ODB that was pissing everybody off as much as it was his hype men. Vanilla Ice actually jumped up onstage and tried to calm the situation.
Shaggy: We always put it in their contracts, too. If they feel they're in any kind of danger, get the fuck out of there. Not, "You gotta play 45 minutes or you ain't gettin' paid." We don't do shit like that.