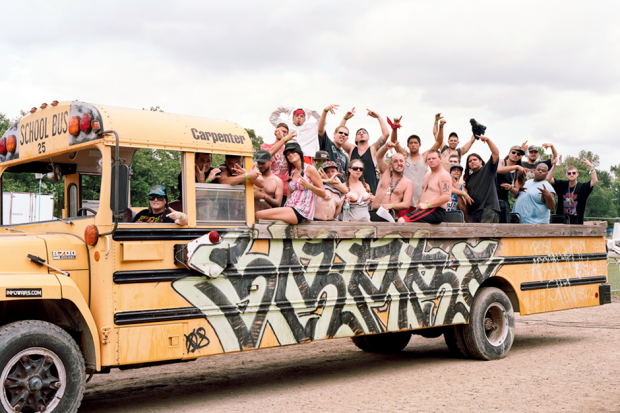 On the plane there was a puddle of blood in the bottom of my shoe. I just had to tough it out. —Shaggy 2 Dope
Gathering of the Juggalos 2011
Hogrock Campgrounds — Cave-in-Rock, IL
Key Acts: Charlie Sheen, Busta Rhymes, Bobby Brown, Juvenile, Mystikal, Lil Jon, George Clinton and Parliament-Funkadelic, DJ Quik
Violent J: We hung out with Charlie Sheen for, like, five or ten minutes. Chilled in his trailer for a minute, he seemed cool, like a very normal dude.
Shaggy: In my opinion, I think all that shit, his being crazy and shit, I think it was gimmicked-out. Just talking to him, he's a normal motherfucker. He wasn't talking about tiger blood and shit.
Violent J: Or maybe he was different when he was getting all fucked-up. But he was just chilling. Busta Rhymes wouldn't come out, you know, wouldn't get on the stage for a while. He was scared, he was nervous. And when he got up there, and got the reaction he got, he was so relieved that he just had a blast. He was like, "I don't give a fuck what people say, I represent you motherfuckers now, the Juggalos, I represent you." He was so relieved.
Shaggy: After we were done doing our show, we were just wildin' out around on the golf carts doing donuts in the grass. I hit gravel, and my foot got stuck under it. It basically mangled my fucking foot down to the bone. It had gravel up in there. I flew home, and on the plane there was a puddle of blood in the bottom of my shoe. I just had to tough it out. When I got home, I finally went to the hospital, and they kept me in there for a week cause they couldn't find what strain of bacteria was in there. [They] had to fucking dig my skin down to the bone and put a fucking skin graft. If I'm not gonna get hurt at the Gathering, it's weird.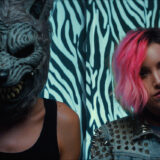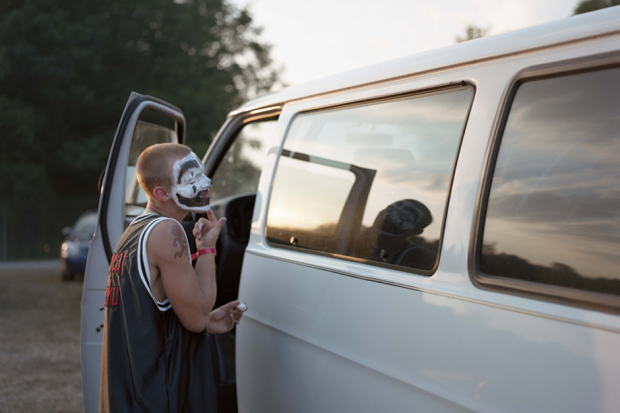 Gathering of the Juggalos 2012
Hogrock Campgrounds — Cave-in-Rock, IL
Key Acts: Geto Boys, the Game, DMX, Raekwon, Master P, Cheech & Chong
Shaggy: [Getting the Geto Boys back together] that's like a dream come true, man.
Violent J: First we got them on the album. We reached out to Willie D, we heard he got out of jail. He did a song, real quick. Laced it and sent it back. We got all three of the Geto Boys on track. We're the first ones in history. We just flat out called all three, how do you guys feel about playing the Gathering? They gave their price. It's the first time they did a concert together in, like, seven years. Where else do we go?
Shaggy: How else could you top it? For us to top that for ourselves, it'd have to be, like, N.W.A reunion. Or fucking Michael Jackson hologram.