In 13 muddy, manic years, the annual Gathering of the Juggalos has grown from a modest, Faygo-drenched fan fiesta soaking the Novi Michigan Expo Center to what might be the greatest rap festival in America hidden in the middle of the Illinois woods. Beyond its usual stable of horrorgore merchants and wicked shit, this year's festival, returning to its secluded homebase of Cave-in-Rock, boasts a Geto Boys reunion, the Game, Raekwon, DMX, Master P, the Pharcyde, the Fat Boys, Rahzel, Biz Markie, Danny Brown, Rittz, Lil Jon, and Kool Keith — not to mention puff-puff-pass pioneers Cheech & Chong and contemporary hip-hop muse Ric Flair.
While the performance fees of the headliners have changed, the Insane Clown Posse's dedication to their fans hasn't. "I want nobody to think we were making money," says the duo's Shaggy 2 Dope. "We were losing big every time. We lose however many, tens of thousands, but that's our gift back to the Juggalos. It's a thank you. A fucking big-ass party."
In fact, the reason that this festival maintains its unique, whimsical, ATP-in-facepaint feel is that no fan of any band is more dedicated than Insane Clown Posse members and Gathering curators Shaggy 2 Dope and Violent J, who always power-load the bill with their favorite '90s rap icons, old-school wrestlers, comedians, misunderstood media icons, and Michael Jackson impersonators. You can bet that Metallica and Jay-Z throwing their own festivals this year took more than a little inspiration from this particular carnival of carnage. To get here, they had to survive years of City Hall protests, tear gas, flash floods, infected legs, a pissed-off Bubba Sparxxx, and one punched police horse. For the first time anywhere, here's the story of all 13 Gatherings, straight from the clowns' mouths.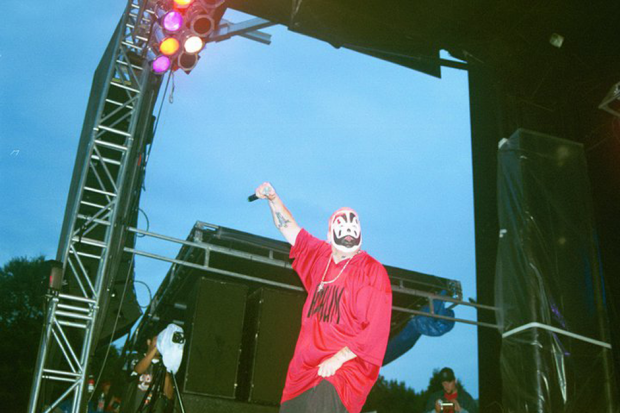 They're a convention center, they're used to collectible baseball cards or something. Next thing you know, they're dealing with pure lunacy. —Violent J
Gathering of the Juggalos 2000
Novi Expo Center — Novi, Michigan
Key Acts: Insane Clown Posse, Kottonmouth Kings, Twiztid
Shaggy: The first one, we really didn't have no idea what we were doing.
Violent J: To be totally honest, my brother put it together. We were on tour. In the liner notes of The Amazing Jeckel Brothers, I believe we put something like, meet us here at this time on this day. We thought we'd do a concert. We changed it to the convention center. You could go and take pictures on all our stage sets that we had used up until that point.
Shaggy: We had a dunk tank where you could dunk a hillbilly.
Violent J: I remember we did Howard Stern that morning. And when we flew back to Detroit, we saw Juggalos everywhere. We were like, "This is crazy." In the airport and in the freeway. On the way to the Expo Center. And we started to say, what is this? Look at those license plates! Those kids came from Delaware! Those kids came from fucking all over the place, and we just realized what we had put together. We're hearing about parties at all the hotels and Juggalos overtaking them. The big thing was some kid at Wendy's had "FUCK ICP" on his nametag or something and a bunch of Juggalos jumped over the counter and beat his ass.
Shaggy: The stage got overran during our show Violent
Violent J: They shut it down. It was a good 40 minutes into the set. But that happened all the time back then. That's how Juggalos wanted it. They love the lunacy of that, you know what I'm sayin'? At that first gathering, we learned the importance of our music to some people.
Shaggy: We learned that people from all over America were willing to travel to one spot, to gather in one spot, to make the Gathering happen.
Violent J: And that's really where it began, like, the "thank you" stories and the "you saved my life" stories, and "your music touched me." We always thought we were just the bad guys, you know, the N.W.A.
Shaggy: That'll bring a tear to our eyes, you know?
Violent J: We got kicked the fuck out of Novi. "You motherfuckers destroyed our fucking place!"
Shaggy: All the businesses around were fucking pissed-off.
Violent J: Businesses around were scared to death — destroyed hotels, the Faygo everywhere, not enough police, titties, ooh nudity, know what I'm sayin'? I remember all the wrestling fans got in a ring and it collapsed. That's some scary shit. Two hundred fans standing in a ring jump and the whole fucking thing goes off. Even the seminars ended with overrunning of the stage. And people just had no control. They're a convention center, they're used to collectible baseball cards or something. Next thing you know, they're dealing with pure lunacy.