80. Dave Navarro (Jane's Addiction, Red Hot Chili Peppers)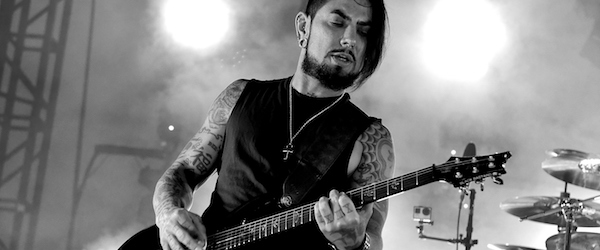 It takes a shirt-hating, nipple-ringed madman to do proper battle with Perry Farrell's manic squeals. That maniac is Dave Navarro, who graced Jane's Addiction with adrenaline-fueled riffs like the bastard son of Led Zeppelin's Jimmy Page and Funkadelic's Eddie Hazel (check the funk-metal workout of "Stop" and the acoustic sing-along "Jane Says"), ironically leading the alternative-rock revolution with classic guitar-hero bravado. His I-can-play-anything zeal helped him weather Jane's mid-'90s hiatus, landing him a stint in the Chili Peppers and guest spots with everyone from Nine Inch Nails to Christina Aguilera.
Most Heroic Moment: The funked-up, wah-heavy solo on 1990's "Been Caught Stealing." K.G.
79. Duane Denison (the Jesus Lizard)  
The classically trained Denison has played warped jazz-rock with Firewater, cool jazz with the Denison-Kimball Trio, experimental alt-metal with Tomahawk, rockabilly punk with Th' Legendary Shack Shakers, and outlaw country with Hank Williams III. But the angular, metallic sheets of noise that Denison unleashed with the Jesus Lizard are what he'll ultimately be remembered and revered for. Tightly controlled yet capable of ripping and tearing like a runaway chainsaw, Denison's riffs influenced an entire generation of post-hardcore guitarists, including the burgeoning wave of noise-punkers like the Men and Roomrunner.
Most Heroic Moment: Jesus Lizard's 1991 tantrum "Mouth Breather." D.E.
78. Vernon Reid (Living Colour)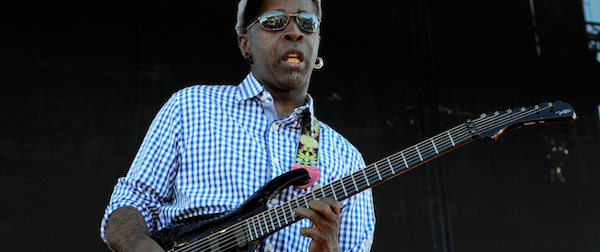 Living Colour's unexpected 1988 breakthrough not only transformed Vernon Reid into rock's first African-American guitar hero since Hendrix, but it also exposed millions of unsuspecting metalheads to Reid's Ornette Coleman-influenced harmolodic jazz solos. Raised on Carlos Santana and John Coltrane and seasoned via the early-'80s New York City jazz scene, Reid let fly with explosive runs that were equal parts Eddie Van Halen and James Blood Ulmer — essentially paving the way for Tom Morello, Torche's Steve Brooks, and some of the most forward-thinking music to ever crash the Headbangers Ball.
Most Heroic Moment: The second solo in Living Colour's "Cult of Personality," surely the first free-jazz guitar break to make it into regular rotation on MTV. D.E.
77. Marissa Paternoster (Screaming Females)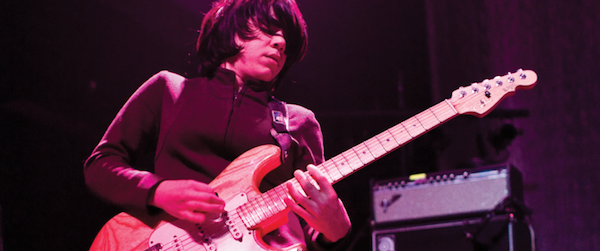 Even after five Screaming Females albums, it's hard not to feel unexpectedly smacked upside the head by Marissa Paternoster's guitar, which — like her bracing singing voice — still sounds way too massive to be wielded by any human being without superpowers and way too confident to fit comfortably within the confines of indie rock. If Sleater-Kinney joined forces with J Mascis in a New Jersey basement to channel late Black Flag and early Smashing Pumpkins, they might come up with something approximating Paternoster's maelstroms.
Most Heroic Moment: "Doom 84" off the just-released Ugly. D.E.
76. Bernard Sumner (Joy Division, New Order)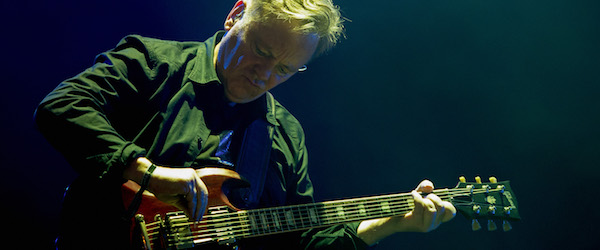 Cut from the same British factory-town cloth as Black Sabbath and Judas Priest — but delivered with schoolboy earnestness instead of rock-god swagger — Bernard Sumner's distorted jangle gave Joy Division's music its sense of nameless dread, even more so than Ian Curtis's haunted vocals. Sumner's guitar mostly faded into the background once Joy Division became New Order, but by then he'd already established the sonic template for countless post-punk guitarists to come.
Most Heroic Moment: The churning, moody "Shadowplay" from Joy Division's 1979 debut, Unknown Pleasures. D.E.
75. Bert Jansch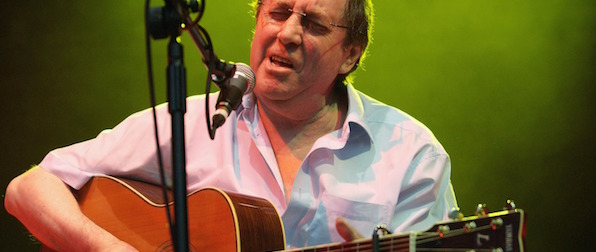 British folkie Bert Jansch possessed the rare combination of unbending solemnity, deep technical resources, the good sense to avoid turning into a cornball, and the ability to focus it all into accessible beauty. Sometimes substituting a severely bent teaspoon wrapped around his thumb for a guitar pick, Jansch cofounded mighty folk-rockers Pentangle in 1967, continued a four-decade solo career, and had at least one arrangement straight-up jacked by Jimmy Page ("Blackwaterside").
Most Heroic Moment: The crushingly mortal "Needle of Death," a 1965 classic that rivals Neil Young and Lou Reed in the smack-folk canon. J.J.
74. Lenny Kaye (Patti Smith Group)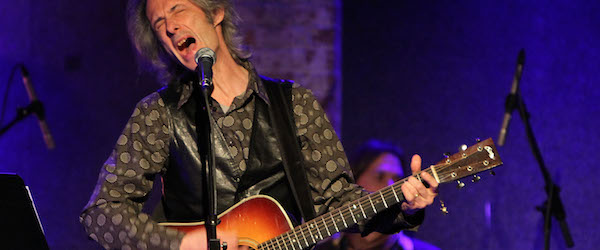 As much a student of rock music as one of its prime architects, Kaye was a critic, collector, and session man before he cofounded the Patti Smith Group in the early 1970s. He grounded Smith's romantic poesy in the three-chord teenage riot of Chuck Berry's speaker cabinets; but he also brought a love for noise — and the knowledge of when, and where, to bring it.
Most Heroic Moment: The fantastic lead riff of 1978's "Rock N Roll Nigger." AARON BURGESS
73. Mick Barr (Orthrelm, Krallice)  
Firework-fingered avant-shredder Mick Barr makes idyllic compositions that sound like Yngwie Malmsteen trapped inside one of Steve Reich's tape loops experiments forever. Raised in the Connecticut hardcore scene, Barr ultimately turned bedroom speed trials into high art, his trebly, ear-stabbing flurries distended into the pinballing herky-jerk of Orthrelm, the minimalist notescapes of Ocrilim and the icily transcendent black metal of celebrated gloomers Krallice. Plus, he's probably the biggest influence on modern wheedlepunk Marnie Stern. As she told Alarm: "The only way I can describe his playing is to say that your jaw will drop for the entire time."
Most Heroic Moment: The first, untitled, track on Orthrelm's 2005 split with Touchdown, a completely nauseous thrillride of brain-melting start-stop motion and cheetah-velocity fretwork. C.W.
72. Arto Lindsay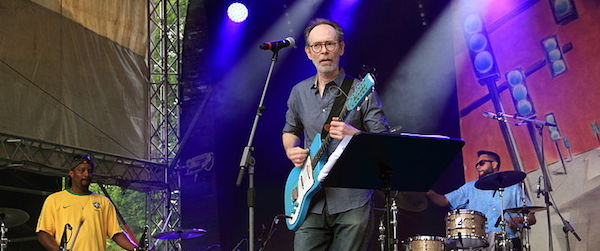 In 1978, Lindsay had been playing guitar for about a month when he unleashed no-wave trio DNA (would-be "weirdest band in the world") on Manhattan. Lindsay's guitar served as a giant atonal percussion instrument comparable to the berimbaus he heard during his childhood years in Brazil. Silence and noise alternate in DNA tunes, which seem to stop short just as they get going. Lindsay's eventually finessed and formalized his neoprimitive skronk over the ensuing years into a unique mutant mix of bossa nova and out-jazz, remaining a vital voice both Downtown and way down South.
Most Heroic Moment: The two-minute skronk-shiver of "Lionel," one of DNA's contributions to 1978's No New York compilation. R.G.
71. Adrian Belew  
The Kentucky-born King Crimson bandleader and former stunt guitarist for Frank Zappa, Talking Heads, and David Bowie can pretty much cull a menagerie from a guitar (he imitates a rooster, a cat, and an elephant in one Japanese commercial). Belew is also noted for his impeccable technical skills, his panoply of special effects (from screaming harmonics to twang-bar virtuosics), and being totally screwed by the Tom Tom Club over songwriting credits on their debut album.
Most Heroic Moment: "The Great Curve" from Rome Concert 1980, the Italian Talking Heads documentary filmed during Belew's two-year tour of duty in their live band. R.G.