30. King Buzzo (Melvins)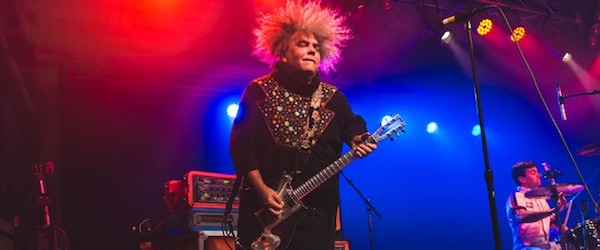 The monster churn of King Buzzo is feedback-f—ked bedrock material for two generations of sludge-metallers, doom-metallers, ambient-metallers and, most notably, a scrappy young muckmaker named Kurt Cobain. Countless '90s garage-rock bands used DOD's Buzz-influenced "Buzz Box" pedal for their half-assed attempts at grunge ("Does my guitar really sound that bad? It sounds like a vacuum cleaner"); half the Southern Lord roster owes evil debt to his woofer-wrecking spectral scuzzblasts; and his Beefheartian push-pull rhythms still walk a jagged line that no one can successfully follow.
Most Heroic Moment: The gloriously bent funhouse mirror riff of "Boris," which essentially spawned the band of the same name. C.W.
29. Jonny Greenwood (Radiohead)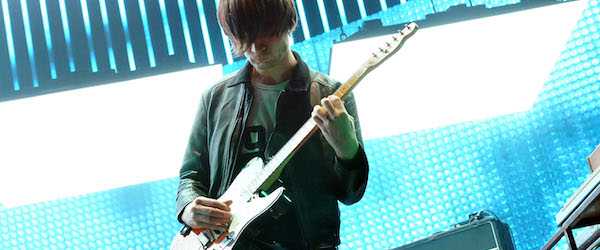 In Greenwood's hands, the guitar becomes something else entirely. As Radiohead morphed from '90s Britpop oddballs to envelope-incinerating, electronics-splashed experimentalists, much of the band's momentum came from the mop-topped mysterio's way with textures, tones, and full-blown symphonic narratives.
Most Heroic Moment: The sidewinding movements of 1997's "Paranoid Android," where the guitar lines seem capable of telling the song's story completely on their own. D.B.
28. Glenn Branca  
Branca is best known for the spiritually uplifting, alt-tuned guitar symphonies that influenced Sonic Youth's swarmier moments, but the New York composer had more in common with microtonal instrument inventor Harry Partch than the art-rock that followed. Branca — a reformed theater major — carefully deployed rock drum thunder behind malleted guitars strung with steel wire, modified harpsichords, and other constructions, abusing the instrument to make sound-walls radiating dramatic No Wave noise-bliss.
Most Heroic Moment: The build from whisper to thunder during the second movement of 1987's Symphony No. 6 (Devil Choirs at the Gates of Heaven). J.J.
27. PJ Harvey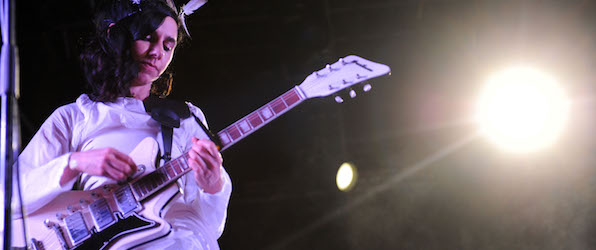 For her first few long-players, Harvey tapped into a raw, primal, blues-influenced mood that ultimately found its way down to players like Jack White and Dan Auerbach. Harvey is a craftswoman who erred first on the side of minimalism, isolating the tension between her and her instrument in the mix. And whether it left by way of her throat or her fingers there's no way to escape such tight-gripped intensity.
Most Heroic Moment: The seething, inescapable crescendo that is 1993's "Rid of Me." D.B.
26. Johnny Marr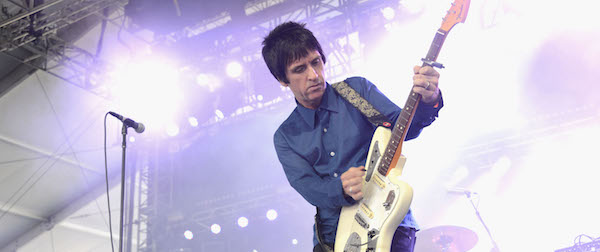 If the Smiths' music sounded the way Morrissey's lyrics felt, no one would have made it through the first single without slashing their wrists. The band's tension — the good kind, not the kind that forces terse reunion-rumor denials every nine months — stemmed from the bipolar interplay between world-weary tales delivered wearily and Marr's clear, chiming guitar lines, skipping merrily and busily along while the group's frontman leads from behind, moping and sighing and kicking cans up the sidewalk.
Most Heroic Moment: While "This Charming Man" is emblematic of Marr's penchant for building entire songs around dizzying runs and the flanged effects of "How Soon Is Now?" are his most memorable, 1985's "What She Said" is as good an example as any of how effortlessly and heavily Marr could rock, no qualifiers needed. — S.K.
25. Robert Fripp (King Crimson)
A guitarist so progressive and ballsy as to suggest a "New Standard Tuning" (try CGDAEG on for fit), Fripp was one of the first to challenge guitarists to forget what they know about technique (via his own Guitar Craft workshops) and just play what feels right. He's legendary enough through the rhythmically off-kilter prog textures of King Crimson, but created an alt-legacy through his innovations with Brian Eno — especially the "Frippertronics" tape loop that makes their 1973 outing No Pussyfooting so glorious and motion sickness-inducing, an approach that resounds in ambient music to this day. Even as a pop-rock sideman with David Bowie ("Heroes") and Blondie ("Fade Away and Radiate"), he played everything except what listeners expected.
Most Heroic Moment: King Crimson's dizzying "Frame by Frame," played in 7/4 and featuring Fripp crisply playing about ten notes per second. K.G.
24. Steve Albini (Big Black, Shellac)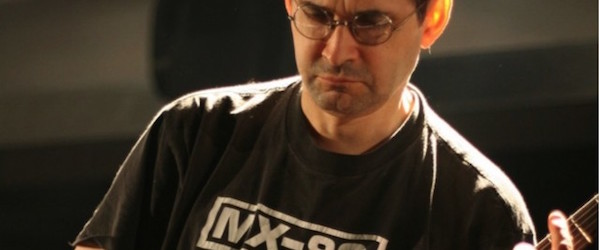 "I am a bit of a guitar cripple," Albini said in 1988. "I'm limited to making noises." Crippled or not, his noises remain unlike any other's. From the moment he first battered his strings with a notched metal pick(!) on Big Black's earliest recordings through the heart-wrenching post-hardcore of his current band Shellac, Albini's abrasive approach has sounded like a cross between classic-rock release and evolving new methods of torture.
Most Heroic Moment: The jangly, metal-on-metal intro riff to Big Black's 1986 churner "Kerosene." K.G.
23. Robin Guthrie (Cocteau Twins, This Mortal Coil)
In the mid 1980s, filmmaker David Lynch was so enamored with This Mortal Coil's "Song to the Siren" — featuring Guthrie's wondrous, muted, airy interpretation of Tim Buckley's playing on the original — that he created his own similar sound with composer Angelo Badalamenti, forever replacing the Hollywood dream sequences' proclivity for plinky harps. But not even Lynch could capture the lush, multi-layered textures that the guitarist creates with his main gig, ethereal art-rockers Cocteau Twins. The soundscapes are so layered that, in 1996, Guthrie described them best: "like an onion."
Most Heroic Moment: The swirling, dense, onionlike backdrop for Cocteau Twins' 1990 album opener "Cherry-Coloured Funk." K.G.
22. Jimmy Nolen (James Brown)  
After years on the chitlin' circuit with Johnny Otis and others, the first and greatest funk guitarist's metallic chicken-scratch riffs laced together James Brown's polyrhythmic bedrock from 1965 until Nolen's death in '83 (minus a two-year stretch when the whole band quit in protest). Thin, reserved, and hiding a heart condition (even from his wife), Nolen aspired to play guitar with the hypnotic, hard-grooving precision of a drummer — and succeeded astonishingly.
Most Heroic Moment: The controlled frenetics in the bottom half of "I Feel All Right" from Brown's 1968 Live at the Apollo, Volume II. R.G.
21. Sonny Sharrock  
Sharrock, who died of a heart attack at 53 years old in 1994, was long a fave of free-jazzers for his heart-stoppingly dramatic structures. But it was his gift for chiseling mysterious, ancient-sounding melodies out of monolithic noise that garnered him the love of rock freaks, even landing his 1991 masterwork Ask the Ages on SPIN's "90 Greatest Albums of the '90s" list. At the time, his bassist, Charnett Moffett, said, "Sonny was aware that he was documenting something on a higher level." Thurston Moore, among others, was hungry to get there, too.
Most Heroic Moment: The majestic dive from delicacy into devastation halfway through Ask the Ages' "Who Does She Hope to Be?" D.M.