Elvis Costello is performing 200+ songs from his 600+ songbook over 10 nights at the Gramercy Theater in New York from Feb. 9-22. Costello superfan (and comedian) Connor Ratliff is bringing us the highlights from every night of the historic run. Catch up on his reports from Night One, Night Two, Night Three, Night Four, Night Five, Night Six, and Night Seven here.
Night Eight of Elvis Costello's 10-night stand at New York City's Gramercy Theater delivered yet another stunning main set of classic songs and fan favorite obscurities performed with his longtime musical accomplice, Steve Nieve, on piano (and other key-based instruments kept close at hand), followed by nearly an hour of special guests and surprises.
Opening with two beloved b-sides ("Talking in the Dark" and "Black Sails in the Sunset") and then an album track ("Love Field," from 1984's Goodbye Cruel World, his self-declared "worst album,") Costello was once again in high spirits, clearly still relishing the chance to present his songbook in such an unpredictable fashion.
An additional three songs from IbMePdErRoIoAmL showed up tonight: "Human Hands," "Kid About It," and "Almost Blue." The latter is one of Costello's most towering achievements as a songwriter, earning him comparisons to George Gershwin and Cole Porter in The New York Times and elsewhere, hype that didn't ultimately help that album become a big seller back in 1982. Most songwriters never even write one song as good as "Almost Blue" in their entire life, and it took us eight full nights to get around to it.
More good news: two LPs that previously hadn't been featured at all in the first seven concerts – 1983's Punch The Clock and 1993's The Juliet Letters – finally got a song each.
The past few nights have featured multiple songs from Costello's decades-long partnership with Burt Bacharach, but tonight was the first time we got a world premiere: "Look Up Again" (previously only available as an instrumental performed by Herb Albert) that will be released on the new box set, The Songs Of Bacharach & Costello in just a few weeks.
Several of Costello's other songwriting partnerships also made it into tonight's show, from Sir Paul McCartney  ("So Like Candy") to Aimee Mann ("The Other End of the Telescope,") Rosanne Cash and Kris Kristofferson (the lovely "April 5th.")
It started to feel like maybe things were coming to an end a bit early when he played back-to-back album closers, "Favourite Hour" and "The Birds Will Still Be Singing," two lovely, contemplative songs that very much feel like what one might play at closing time if you wanted to send a clear signal to patrons that it was time for them to leave. But then Costello and Nieve dashed into the wings and the stage was suddenly crawling with people setting up music stands along with various musical instruments. The crowd, once again, was all a-flutter with anticipation, wondering who it could be. The Jazz Passengers? The Roots?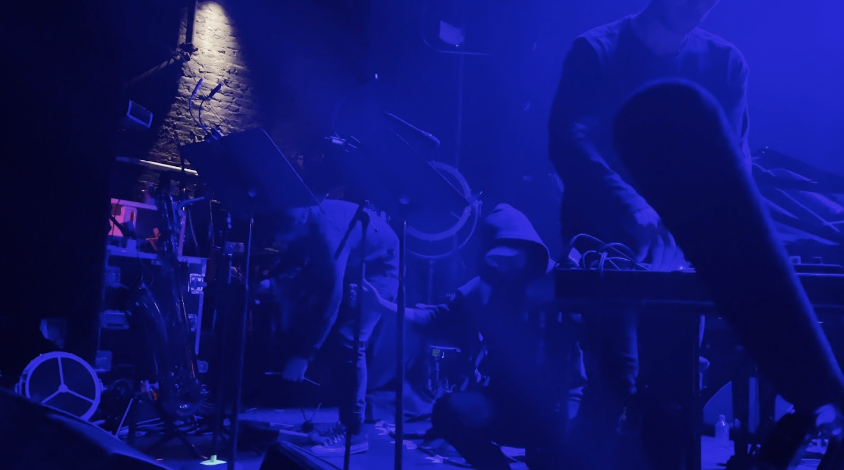 Moments later, we were introduced to Michael Leonhart, with whom Costello collaborated on multiple tracks for 2020's Hey Clockface, in addition to appearing on Leonhart's recent LP, The Normyn Suites, and the (recently issued on 7" vinyl) single, "Shut Him Down."
Joined by saxophonist Donny McCaslin and Stewart Bogie on bass clarinet, the ensemble proceeded to deliver a trippy "Pills & Soap" (with Costello once again operating the digital loops & beats) followed by a gorgeous first-ever live performance of "I Do (Zula's Song)." By the time JSWISS entered to deliver a freestyle rap in the middle of "Come the Meantimes" I had fully given up trying to predict what might happen next.
Of the roughly 400+ originals left in Costello's songbook, I think the one I was least expecting was the dreamy, spoken word "Radio Is Everything," even with the presence of co-writer Leonhart as a clue. I'll admit that it's one of those tracks that I'm unlikely to put on a streaming playlist, as I'm rarely in the mood for it, only hearing it on those occasions when I happen to be playing the album Hey Clockface straight through on vinyl. If this were a normal concert, I might lament its inclusion as taking the place of a couple of catchier, poppier songs I'd prefer to hear at any given moment.
But as we have established: this is no normal concert.
Dropped in near the end of the eighth show in a 10-part series, taking place over non-consecutive nights, "Radio Is Everything" functions as more than just a song on a setlist. It is part of a larger musical tapestry Costello has been weaving in this intimate space for an ever-shifting crowd of devoted fans. Every night, the audience consists of a blend of people: some (like myself) who are here for all 10 nights, absorbing the full scope of it; others, who had to make the impossible choice to pick X number of shows based on their schedules and budget considerations; and finally, there is always a healthy amount of one-and-done-ers, catching a brief glimpse of a rocket ship, how it almost seems to slow down before their very eyes as it goes speeding past. 
I'm sure there were a variety of reactions tonight to "Radio Is Everything," another number that Costello has never before played in concert. Undoubtedly, there were some in the crowd who were totally unfamiliar with it – everyone's 2020 pandemic experience was different and I'm sure there were fans who simply didn't have the bandwidth to notice or absorb one of the most unusual albums of Costello's career. 
In concert, I found myself totally surprised by this song, falling under its spell completely. "I'm sittin' here wonderin' if a matchbox will hold my dreams."  Costello gets a laugh with the line, "they say I have a perfect face for radio." The underscore is haunting, as is Leonhart's trumpet, throughout. I have no idea what this song is about, other than a feeling and a mood. When Costello once again insults his own appearance — "I sound much better than I look" — this time, there is no laughter, and none sought.
No part of me is waiting for the song to end, despite knowing that the next one could, conceivably, be any one of a dozen favorites I've been wishing and hoping for since Night One. But none of that matters at this moment; I'm too drawn in.
The song ends, but the spell isn't fully broken. 
Two quietly intense songs from North – the emotional 2003 song cycle that remains the most divisive album Costello has ever made – follow, bisected by Leonhart's lively "Shut Him Down," featuring another appearance by JSWISS.
"Someone Took The Words Away" hasn't been performed in concert since 2004, and tonight's rendition was as intense as I remembered the song to be, expanded by the players' impressive soloing at the end. But for "I'm In The Mood Again," Costello eschewed any additional instrumentation, delivering an almost conversational vocal to Steve's solo accompaniment on piano. He labeled it his "New York" song, and its original release coincides almost exactly with my move to New York City and the decision to make it my home.
Maybe it was lingering effects of "Radio Is Everything," or perhaps it's because we are eight shows in and now there are only two left, but hearing him sing about taxi cabs and the Empire State Building — to quote the song — "took the breath right out of me."
"It's been a pleasure to play for you tonight," Costello said, a sincere sentiment he has shared multiple times at each of these shows.
I don't want to dwell on endings until I have to. There's tomorrow, and there's Wednesday night. If this had been a two-night stand with the promise of "40 Songs And More," with no repeats on the second night, I would've been looking forward to it like crazy. There is still more fun ahead of us.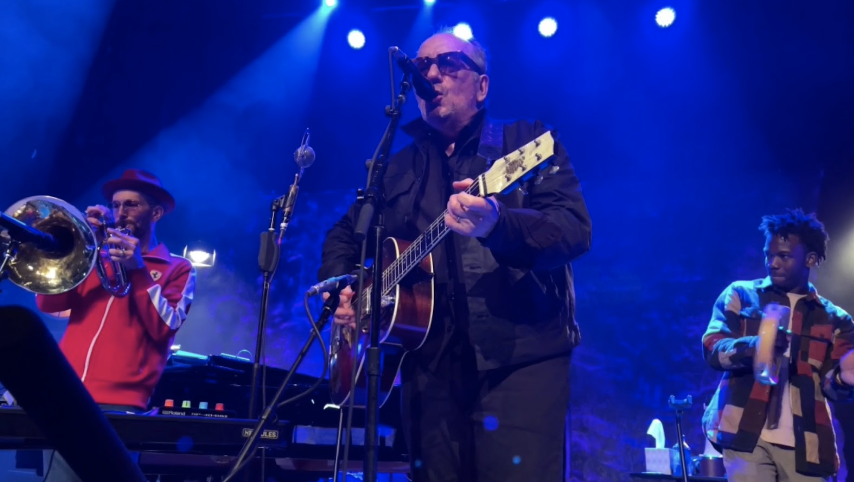 Stray observations:
An early song intro tonight hinted that we were about to hear his cover of Charles Aznavour's "She" (recorded for the

Notting Hill

soundtrack), only for Costello to make it very clear that he wasn't about to play it.

The same intro segued into talk of how "Accidents Will Happen" is featured in Steven Spielberg's

E.T.

and "Mystery Dance" can be heard in Francis Ford Coppola's

The Godfather Part III

. No mention was made of the brief moment in 1999 when Costello had songs in two of the top three movies at the U.S. box office:

Notting Hill

and

Austin Powers: The Spy Who Shagged Me

. Somehow, S

tar Wars: Episode I: The Phantom Menace

somehow failed to include a song performed by Elvis Costello.

Producer Sebastian Krys got another well-deserved shoutout, not only for his help in setting up the digital loops and beats for these shows, but for helming Costello's most productive period of record-making since the early years with Nick Lowe. (Krys' name can be found on the quartet of albums,

Look Now

,

Hey Clockface

,

Spanish Model

and

The Boy Named If

, as well as various releases ranging from the Rusty EP to the

Armed Forces

box set, along with Costello's

How To Play The Guitar And Y

.

Costello had numerous lengthy and entertaining anecdotes tonight, including his re-telling of the story of the 1963 Royal Variety Performance (when his dad, Ross McManus, was on the bill with The Beatles and Marlene Dietrich, whose accompanist was Burt Bacharach) and its new 2021 coda, when Elvis & The Imposters went to the Royal Albert Hall and played "Pump It Up."

I didn't get ANY of my wish list songs tonight! But I have zero complaints. There were two songs from

Mighty Like A Rose

, which is a miracle! Until recently, I was working on a book proposal for a popular series of tiny books that focus on specific albums of music; my proposal was for MLAR. In preparation, I got a hold of producer Mitchell Froom, who was very generous with his time. Anyway, the book proposal didn't get chosen, so it's a dead project! Not gonna happen now. But

here's two-plus minutes of my conversation with Mitchell Froom

, talking specifically about the song, "So Like Candy."

One of the evening's highlights was Costello's performance of "The Other End Of The Telescope," a song I last heard him play in concert in the summer of 1996. The other song he wrote with Aimee Mann was "The Fall Of The World's Own Optimist," released on her LP,

Bachelor No. 2

(

Costello's solo demo

was a bonus track on the 2001 CD reissue of

All This Useless Beauty

). 

Incidentally, Costello's aforementioned

How To Play The Guitar And Y

was produced as episode 21 of Audible's

Words + Music

series; and I worked with Aimee Mann on episode 33,

Straw Into Gold

. Aimee also

wrote and recorded a song about me

for my podcast,

Dead Eyes

, a thing which is too complicated to get into here except to say that there is a future episode I'd like to make that has to do with fate and happenstance and how

The Juliet Letters

set off a small chain reaction of events that forever altered the course of my life. Mr. Costello has an open invitation to talk to me for the podcast, if he ever has a few spare minutes to chat. Yes, I know that I'm using a SPIN article to solicit an unrelated podcast interview, but life is short and you gotta take your shot wherever you can, y'know? (What are they gonna do, not let me write about Nights Nine and Ten?)

It should be noted that, at one point during the performance tonight, Michael Leonhart made the determination that what this show needed was, in the parlance of our times, MORE COWBELL. And he came prepared.

Michael Leonhart and cowbell.
NIGHT EIGHT
Saturday, Feb. 19th – Elvis Costello with Steve Nieve – Night Eight
"Talking In The Dark"
"Black Sails In The Sunset"
"Love Field"
"So Like Candy"
"The Beat"
"London's Brilliant Parade"
"The Other End Of The Telescope"
"Paint The Red Rose Blue"
"Human Hands"
"Hurry Down Doomsday (The Bugs Are Taking Over)"
"April 5th"
"Kid About It"
"I Still Have That Other Girl"
"He's Given Me Things"
"Look Up Again"
"Favorite Hour"
"The Birds Will Still Be Singing"
"Pills & Soap"
"Zula's Song (I Do)"
"Come The Meantimes"
"Radio Is Everything"
"Someone Took The Words Away"
"Shut Him Down"
"I'm In The Mood Again"
"Almost Blue"
"(What's So Funny 'Bout) Peace, Love & Understanding?"
Connor Ratliff is an actor/comedian based in New York City. He is the creator of the critically acclaimed podcast, Dead Eyes. You might have seen him in the role of "Chester" on multiple seasons of The Marvelous Mrs. Maisel.