Elvis Costello is performing 200+ songs from his 600+ songbook over 10 nights at the Gramercy Theater in New York from Feb. 9-22. Costello superfan (and comedian) Connor Ratliff is bringing us the highlights from every night of the historic run. Catch up on his reports from Night One, Night Two, Night Three, and Night Four here.
We have now reached the midpoint of Elvis Costello's 10-night stand at New York's Gramercy Theatre, with the entire series of shows entitled "100 Songs and More." For those keeping score at home, I think he passed the 100-song mark within the first half of Night Five, so from this point on, we are officially in the "and More" section of the run.
Anyone expecting a conventional Valentine's Day show from Costello, perhaps with songs like "Alison" (sorry, already played, Night One), "Everyday I Write the Book" (Night 10, next week), or "She" (his cover of the Charles Aznavour song, recorded for the motion picture Notting Hill and not currently among the pre-announced songs) still presumably got a few of the moments they were seeking at the very end of the night when he pulled out "A Good Year for the Roses" and "My Funny Valentine" before performing a characteristically tender "Indoor Fireworks."
To be honest, even those three songs aren't really all that romantic if you pay attention to the words. Costello essentially acknowledged this reality early on in the show — his songbook doesn't contain a deep bench of uncomplicated love songs.
For the bulk of the evening, Costello mostly veered towards the non-romantic, though there were expressions of genuine love, such as the openly affectionate "My Three Sons," or "The Puppet Has Cut His Strings," a moving account of his father's final moments. 
He also once again paid tribute to his songwriting partners Burt Bacharach and Allen Toussaint. The first Bacharach/Costello tune to appear in these shows, "Toledo," from their 1998 album Painted From Memory, is explicitly about infidelity and regret — as much of an anti-Valentine as anything on This Year's Model. Costello also performed "Stripping Paper," intended to be a collaboration with Bacharach, who received the song and told him it was finished; the legendary perfectionist had nothing to add. Like "Toledo," it's a song about infidelity and regret, two words you won't find on any non-ironic candy hearts.
Toussaint's "The Greatest Love" was another acid pick, a song that sounds like a conventional love song until it pulls the rug out the first chance it gets. Throw in "I Hope You're Happy Now," "Home Truth," and "I Dreamed of My Old Lover Last Night" and you're well on your way to creating a mixtape for a series of bad break-ups.
Look Now's "Dishonour the Stars" was a rare bit of pure romanticism mixed in amid all the more complicated fare, followed immediately by the decadent lovers of "After the Fall" from 1991's Mighty Like a Rose, yet another seldom-played song that I honestly never thought I'd ever witness in concert.
Speaking of which: after Costello opened the show with a rousing "This Year's Girl," the sequence of titles that followed was remarkable even by the high standard he'd set on the previous four nights. Versions of "Starting To Come to Me" and "I Hope You're Happy Now" that felt stripped down to the bone preceded a stellar "Our Little Angel," followed by the King of America outtake "King of Confidence" (making only its third appearance in concert since the mid-1980s). Those who never purchased the deluxe CD reissues may have been scratching their heads wondering if this fabulous obscurity was a new song or a cover, but they didn't have long to process it before Costello was belting out "Blue Chair" to the delight of – I'm going to assume – nearly every single person in the room.  
Song after song, deep cut after deep cut, delicate performances of emotionally intricate songs – more than anything, the evening was a marshmallow valentine for Costello fans who wanted to hear great songs that don't often make it into the setlist.
But 17 titles deep into the concert, with the crowd starting to sense that things may be wrapping up before too long, Costello began to play one of his finest love ballads, "I'll Wear It Proudly," only to be joined by a mysterious musical accompaniment when he arrived at the first chorus. The source of the sound was hard to discern at first – I looked to Costello's feet to see if he was operating any pedals, but they were planted firmly on the stage. I glanced over to stage right, where his guitar tech didn't appear to be playing anything and, as far as I could tell, no one else had made a discreet entrance onto the stage. It was then that I turned around to look back towards the rest of the audience and saw none other than Attractions/Imposters pianist/keyboard player extraordinaire Steve Nieve, standing in the middle of the aisle, just a few feet away, blowing into a vocoder and gazing up lovingly at Costello onstage, serenading him with the hauntingly beautiful organ part that accompanies the chorus. It was a Valentine's Day miracle!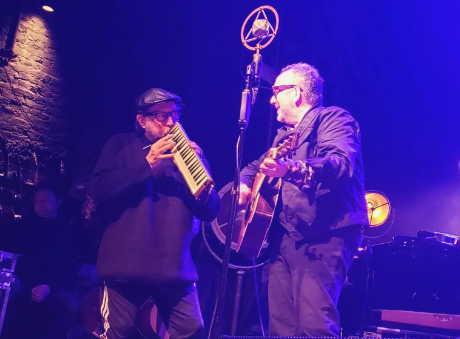 Nieve, sporting a small Air France carry-on bag, promptly joined Costello on stage and the merry duo went straight into "Crimes of Paris," followed by a pair of gentle numbers from Look Now, "Adieu Paris" (with Costello serenading the audience, mostly in French) and "Isabelle in Tears."
A couple of blazing Get Happy!! tracks ("High Fidelity" and the always-scorching "Riot Act") were followed by the "Good Year"/"Indoor"/"Funny Valentine" trio, and it was time to wrap things up with another helping of "Peace, Love & Understanding" at the end of another deeply special, thoroughly unpredictable show. By the time it was over, I felt like we had been on a long and winding journey, to the point where it hardly seemed plausible that we had just finished watching the same show where Costello had played "Starting To Come to Me" and "I Hope You're Happy Now" a couple of hours earlier. Surely that had been some other night.
No show on Wednesday night. Back for more on Thursday with Night Six…
Stray observations: 
Over at

The Elvis Costello Wiki

, they are

keeping track of the song stats

for these shows,

with handy charts and everything.

No songs have appeared yet from

Punch The Clock

,

The Juliet Letters

,

North

,

The Boy Named If

or

The Resurrection of Rust

. The top three LPs so far are

My Aim Is True

,

King of America,

and

National Ransom

, with nine songs each. But by far the largest category represented are non-album b-sides and bonus tracks, with a whopping 23 songs.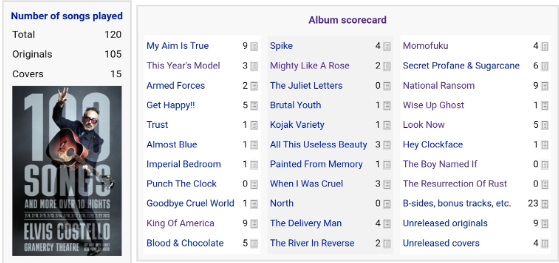 Within minutes of Steve's arrival, they burned through two songs previously designated for Night Seven: "I'll Wear It Proudly" and "Isabelle in Tears." This means more surprises for Night Seven!

Did Steve truly come directly from the airport? Or was I duped by some theatrics, a prop bag, and a well-timed entrance? Either way, what fun.

The guy who was shouting out and singing along during Night Four thankfully did not return, and I heard several people complaining about him tonight. We wish him all the best, very far away from any of these shows, or any shows, ever again.

Two more wishes from my list came true tonight — "Harry Worth" and "My Three Sons" (although, admittedly, the latter was part of a larger wish for Costello to sing all of his songs that start with the word "My" to be played in a giant medley. Still, it counts!).
NIGHT FIVE
Tuesday, Feb. 14th – Elvis Costello Solo – Night Five
"This Year's Girl"
"Starting To Come to Me"
"I Hope You're Happy Now"
"Our Little Angel"
"King of Confidence"
"Blue Chair"
"Harry Worth"
"Home Truth"
"I Dreamed of My Old Lover Last Night"
"Dishonour the Stars"
"After the Fall"
"Toledo"
"Beyond Belief"
"My Three Sons"
"The Puppet Has Cut His Strings"
"Stripping Paper"
"The Greatest Love"
"I'll Wear It Proudly"
"Crimes of Paris"
"Adieu Paris"
"Isabelle in Tears"
"High Fidelity"
"Riot Act"
"A Good Year for the Roses"
"Indoor Fireworks"
"My Funny Valentine"
"(What's So Funny 'Bout) Peace, Love & Understanding?"
Connor Ratliff is an actor/comedian based in New York. He is the creator of the critically acclaimed podcast, Dead Eyes.  You might have seen him in the role of "Chester" on multiple seasons of The Marvelous Mrs. Maisel.