Elvis Costello is performing 200+ songs from his 600+ songbook over 10 consecutive nights at the Gramercy Theater in New York from Feb. 9-22. Costello superfan (and comedian) Connor Ratliff is bringing us the highlights from every night of the historic run. Catch up on his reports from Night One and Night Two here. 
Night Three of Elvis Costello's 10-night stand at New York's Gramercy Theater focused on his darkest themes yet, dominated by songs of murder, violence, war, capital punishment, terrorism, fascism, and other equally light-hearted topics.
An early shout-out for "Radio Radio" was met with a reminder that this wasn't a "request show" but a curated evening of carefully selected material (if that gentleman had read the large print for this series, he would've known that he can hear that particular song at Night Ten on Feb. 22). 
He opened with "Complicated Shadows," a song about killing and its consequences — written for (but, inexplicably, never recorded by) Johnny Cash — and followed with the pitch black Brutal Youth track, "Kinder Murder." It was clear by the time Costello threw in the first F-bomb of the night that this was going to be a particularly intense one. If there was any doubt, he was soon playing a song that Cash did record ("Hidden Shame") about a boy who murders his best friend for no reason and is never caught, growing up to be a man haunted by the guilt of it. 
At one point playing back-to-back tracks from 2010's criminally underrated National Ransom, Costello acknowledged that these are not typically the songs for which audience members tend to yell out. But the crowd was there for it, paying full attention as he quietly delivered stellar renditions of the delicate "Bullets for the New-Born King" and the melancholy "All These Strangers."
By the time he was performing "She's Pulling Out the Pin," a song that juxtaposes a striptease and a suicide bombing, I had a rare moment of mid-concert prescience, thinking "I wonder if 'Let Him Dangle' will make an appearance tonight." Minutes later, the true story of Derek Bentley's death by hanging was being pounded out dramatically by Costello at the piano.  
Even the few hit singles performed from his early years were the politically charged, anti-fascist "Less Than Zero" and the anti-imperialist "Oliver's Army," the latter of which was presented in a new "2023" version. Costello has updated the lyric thoughtfully, veering the song ever-so slightly from the satirical ABBA pastiche of 1979 to something more plainspoken and direct, but no less effective in an age when using charged language in an ironic way doesn't land the same way it once did. It's easy to anticipate objections to the song being changed from the most moronic quadrant of the casual Costello fanbase, but to paraphrase the man himself, they can fuck right off.
Though no Burt Bacharach songs were played tonight (they're awaiting the arrival of pianist Steve Nieve next week), the mention of the late, great Allen Toussaint before "Ascension Day" was another bittersweet moment and a reminder to not take a second of this experience for granted. The lovely, heartbreaking "That Day Is Done" (co-written with Sir Paul McCartney) added to the overall heaviness of the night, by design. In this context, "Brilliant Mistake," a song dealing with the contradictions between the American ideal and the reality of life in the 50 states, almost felt like a lighthearted pop number.
Not everything went exactly as planned. After mistakenly referring to the audience as a "Friday night" crowd — he is dozens of songs deep into a 200+ song run after all, so some disorientation is to be expected — Costello deftly adapted this into a running joke throughout the evening, when occasional technical issues would threaten to derail the show. Costello did battle with loops and samples on a rhythm machine during a frantic performance of "Bedlam" that sometimes, semi-appropriately, felt like a runaway train. And after a chaotic, designed soundscape made "Night Rally" feel like a 4DX experience complete with (dramatically effective) rumbling chairs, the unexpected, terrifying BANG of a blown amp (or speaker?) at the top of the haunting "One Bell Ringing" left Costello to perform the song totally un-amplified. By this point, he had been joined on stage by surprise guest Endea Owens on the double bass, and the two of them soldiered on with the distant beeping of alarms competing ominously in the background.
Owens was also a delightful agent of chaos herself, having spilled the beans about her surprise appearance weeks ago on national television, at her day job in the house band on The Late Show With Stephen Colbert. During the Jan. 23 episode, the host quizzed her on her upcoming gig and which songs she would be playing with Costello. Her spontaneous response, Costello revealed on stage, was to list multiple songs that were not part of his plan.
So we apparently have Owens to thank for the double-whammy of Charles Mingus' "Weird Nightmare" and "My Mood Swings" from the soundtrack to The Big Lebowski, both of which made the evening extra special.
The final "new" song of the night, the pre-announced "We Are All Cowards Now" (from 2020's Hey Clockface) featured another moody digital soundscape in addition to Owens on bass, providing a fitting contrast to the fully established ritual of closing with Nick Lowe's "(What's So Funny 'Bout) Peace, Love & Understanding?" It's always a fun closer, but I have to say that tonight's version, with Costello inviting Owens to bring her upright bass over to join him by the piano, was even more beautiful than usual.
The parade of so many songs about pain, hatred, and misery set this finale up to feel like true catharsis. Rising from the piano, Elvis was grinning from ear-to-ear as he walked center stage with Owens to take a bow, and the two of them looked just about as joyful as any two people I've ever seen on a stage together. As they made their exit and the house music began to play "What the World Needs Now Is Love" at full volume, I looked around at the audience in agreement. 
Stray observations:
Despite the serious subject matter of so much of tonight's material, Costello was once again consistently funny in between songs, and charmingly self-deprecating whenever anything went slightly askew.

We learned that when he was a young child, the word "Mingus" was used as a placeholder for things he didn't yet know the name for.

I don't know what to call the machine he is using for loops and samples; I keep calling it a rhythm machine. Is that even close to being correct? I'm probably fine not learning what it is, but I'll bet I find out before this run is over, somehow, and when I do, I'll start calling it by its proper name.

I haven't mentioned this before, but there are a lot of guitars up there on stage and off in the wings. This is another area I'm fairly ignorant about. I usually only notice the difference between them at the extreme end of things. I have no idea with most of them why one is preferred over another for any particular song, but I always assume there's a really good reason to switch from one to another, and I appreciate it when it happens. "Thank god he didn't play this song with the previous guitar" is a thought I wish I was knowledgeable enough to sincerely think.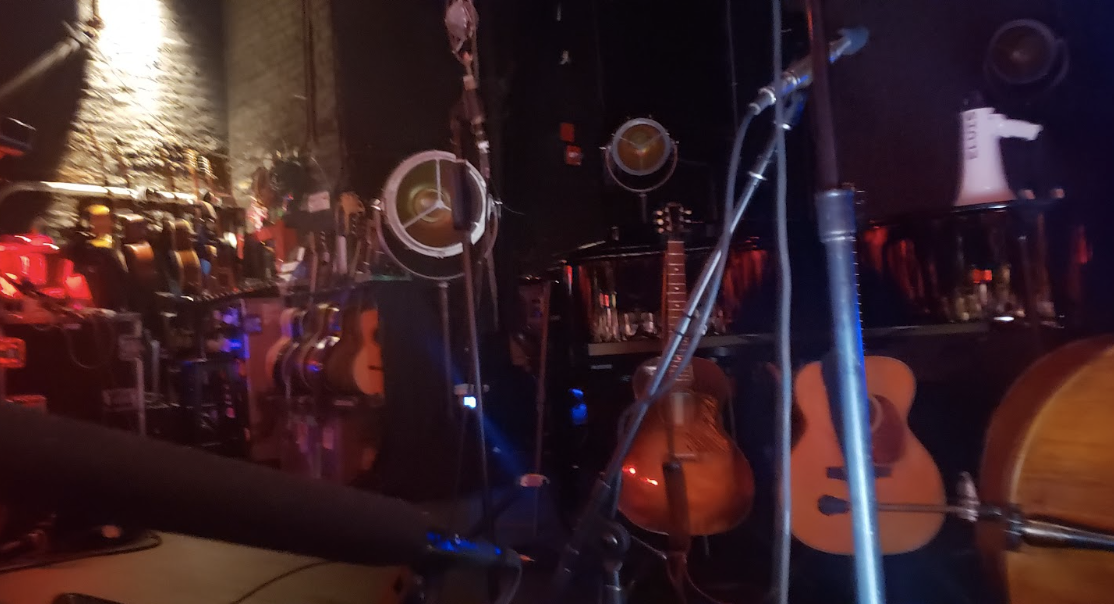 "My Mood Swings" brings my wish list success number up to four! Seeing Owens play the descending bassline at the end of each chorus was a highlight of the show.

"Thanks for sticking with us through the ups & downs!" was one of the things Costello said near the end, or words to that effect. I refuse to take notes during these shows, and likewise, I'll leave the photo-and-video-taking to others. I'm trying to keep my smartphone in my pocket the whole time and appreciate the pure experience of being in the room, taking in the songs as a moment in time and absorbing them as they happen without worrying if I'll remember every detail correctly. As I type this, I am listening to the album version of "Bullets for the New-Born King" and I can already feel it fusing with my memory of seeing him sing it, sitting down and leaning into it.

There are special postcards handed out at the top of every show with the night's pre-announced song titles on them, but I've only managed to snag one on the second night. The first night, I didn't know they existed and tonight I couldn't find anyone handing them out. I need to step up my postcard game if I'm going to properly scrapbook this experience.

Monday Night: it's a pretty easy theme to guess, and I even have a notion of which of my "wish list" songs might make the cut. I'll let you know if I honestly get it right or not.
NIGHT THREE
Saturday, Feb. 11th – Elvis Costello Solo – Night Three
"Complicated Shadows"
"Kinder Murder"
"Alibi"
Less Than Zero"
"Hidden Shame"
"The Delivery Man"
"Bullets for the New-Born King"
"All These Strangers"
"Oliver's Army" (2023)
"Bedlam"
"She's Pulling Out the Pin"
"Ascension Day"
"Brilliant Mistake"
"Let Him Dangle"
"Stations of the Cross"
"That Day Is Done"
"Night Rally"
"The River in Reverse"
"Weird Nightmare"
"One Bell Ringing"
"My Mood Swings"
"We Are All Cowards Now"
"(What's So Funny 'Bout) Peace, Love & Understanding?
Connor Ratliff is an actor/comedian based in New York. He is the creator of the critically acclaimed podcast, Dead Eyes.  You might have seen him in the role of "Chester" on multiple seasons of The Marvelous Mrs. Maisel.