Elvis Costello is performing 200+ songs from his 600+ songbook over 10 nights at the Gramercy Theatre in New York from Feb. 9-22. Costello superfan (and comedian) Connor Ratliff is bringing us the highlights from every night of the historic run. Catch up on his reports from Night One, Night Two, and Night Three here.
After a night off to recover from last week's trio of wonderfully disparate shows, Elvis Costello returned for Night Four of his 10-night stand at New York's Gramercy Theatre with an initial focus on the life of a troubadour (in his words, "tales of woe, glory, and infamy"). But at precisely the moment it seemed like the evening's merriment was about to wind down, music stands were carried out onstage for eight vocalists, joined by Rob Mathes on piano, for what turned out to be an Off-Broadway preview of his (hopefully) Broadway-bound stage musical of A Face in the Crowd.  
It wasn't even the final surprise of the night, but more on that in a moment…
The show opened strong with Costello's mid-life autobiographical song "45," and the lyric causes me to do some quick mental math. He premiered the song on The Tonight Show back in 1999, when he'd just turned 45, though by the time he released it on 2002's When I Was Cruel, he was already creeping towards 48, just like I am now. "It creeps up on you without a warning." Indeed.
The song begins nine years prior to the birth of Declan MacManus to Ross and Lilian MacManus (not mentioned by name, but this is one of those rare occasions where Costello has written in a code that's meant to be cracked), with victory bells declaring the end of WWII.  He then charts the arc of his life from one musical milestone to the next, from buying his first 7" single to the dizzying early years of his career in the music industry. It is essentially Costello's own version of The Fabelmans in just under four minutes, with Music taking the place of Cinema.

Next up was "Stella Hurt" (from 2008's Momofuku), which tells the true story of a singer with the stage name "Teddy Grace," born Stella Gloria Crowson, and whose final married name gives the song its title. The album version sounded like the Imposters playing "Hey Bulldog" on the wing of a 747, but tonight's stripped-down solo rendition pulled the story into stark focus. Costello – who has recorded under so many different monikers that he once released a "Various Artists" compilation that was all him – delivered the song tonight like it was something out of Harry Smith's Anthology of American Folk Music, the story of a singer "silent as the grave until the needle drags her through the static." That final twist is delivered like a Rod Serling punchline, by a singer who, like Teddy Grace herself, has been a recording artist on the Decca label.
Kinship among musicians was a recurring sub-theme as Costello once again paid tribute to Burt Bacharach, tonight with a performance of a song he wrote with Bob Hilliard, "Mexican Divorce." Hearing Elvis speak with admiration and love for his friend and collaborator has been a moving part of each one of these shows. 
He then pivoted to a song inspired by a conversation he once had with "Doc" Watson; first released on 2010's National Ransom. Costello has previously described it as "a dedication to the life I lead" and it's a song overflowing with mysterious and evocative imagery, painting a picture that captivates and confuses me. On an emotional level, I feel like I fully understand it, but simultaneously I have no idea what it means. Somehow, it is one of my favorite songs he has ever written.
Because it was one of the pre-announced 10 songs, I was fully anticipating how great it would be to hear him strum those opening chords on the guitar — it would sound, I assumed, just like the record. Instead, Costello took me totally by surprise, playing it at the piano in a version that was slower and more deliberate, as if he was taking the song apart piece by piece and putting it back together again as he performed it.
There were other surprises tonight — Momofuku deep cut "Mr. Feathers" opened up sounding as if it was going to be "God's Comic" only to have that one show up six songs later. The voice in the dark who yelled out desperately for "Pump It Up" tonight did not get his wish, but I hope he enjoyed hearing "A Voice in the Dark" instead.
Speaking of which, National Ransom is an album that has had a fair showing these first four nights — it's a double LP consisting of 16 tracks and he has already played nine of them, five of which appeared tonight.
One of these was "Jimmie Standing in the Rain," about a down-on-his-luck "cowboy singer" set in 1937, a staple of Costello's concerts for over a decade now. Its inclusion on tonight's pre-announced setlist had me hoping that we might also hear its less-often performed sequel, "Under Lime" (the lead track from 2018's Look Now), on which we find this same beloved entertainer – the formerly titular "Jimmie" – backstage at a TV show, decades later, possibly about to get into more trouble.  
And he did play it tonight! But in reverse order – sequel first! Even when I successfully make a prediction, Elvis manages to subvert expectations.
In between those two, he pulled out "Suit of Lights," arguably the best song on 1986's King of America. It was inspired by watching his dad performing in front of a disrespectful audience, and if a son has ever written a more fierce defense of his father in song, I have yet to hear it. It was met with a rapturous response from this crowd, who knew it was coming and still seemed surprised at its power.

And then, just when I was expecting perhaps one more song before the finale, Costello left the stage and a phalanx of music stands were brought out. The crowd began to murmur with speculation about who would appear. The Brodsky Quartet? The Fairfield Four?
We weren't left in suspense for long, as the stage quickly filled up with unfamiliar faces and Costello himself returned, sporting a bright red fedora with matching bow tie (undone) and pocket square, to introduce his collaborators. What followed was an eight-song sampler from his aforementioned musical adaptation of Budd Schulberg's short story Your Arkansas Traveler (itself the basis for the 1957 Elia Kazan film starring Andy Griffith.) Costello has been playing most of these songs in concert for many years now, but tonight's performance took the material to another level.
Shouting out to playwright Sarah Ruhl, who has written the book for the musical, Elvis provided some brief context but mostly allowed the songs to speak for themselves, occasionally stepping aside to let others take the spotlight. Multiple songs featured the quartet of Nicki Richards, Briana Carlson-Goodman, Ryah Nixon, and Marinda Anderson, singing sans Costello on "He Makes My Water Boil" and offering playful backup vocals on "Big Stars Have Tumbled" and the pharmaceutical jingle "Vitajex."
For "Burn the Paper Down to Ash," Costello invited Larkin Poe's Rebecca Lovell onstage to sing, as she did many times when they were touring together back in 2016. She emerged from the wings to deliver a crackerjack performance of the song and ran back off again when she was through, like a magic trick (how many secret guests are hiding off to the side, and can Costello materialize them at will?).
When the eight-person chorus (with Neal Coomer, John James, Andrew Kober and Antwayn Hopper filling out the lineup) joined Costello on "This Uneasy Hour," "American Mirror," and the con-man's campaign theme, "Blood & Hot Sauce," the added heft of their combined sound elevated the songs beyond any previous versions I've heard him do in concert. It's the first time I've really been able to hear the potential for what A Face in the Crowd musical could feel like in a proper theatrical production. 
But the real show-stopping moment occurred when, in the middle of A Face in the Crowd's title song, Costello began trading off the lead vocal with A Strange Loop's Antwayn Hopper, who first delivered a verse from the back and then approached the mic to take center stage for the song's final moments. He blew the roof off the place, and if there were any potential Broadway backers in the house tonight – or anywhere within earshot – let's hope they heard the same potential that everybody else in the crowd did.
What could possibly follow that, other than a new arrangement of Costello's nightly closer, Nick Lowe's "(What's So Funny 'Bout) Peace, Love & Understanding?" with Lovell re-emerging from the wings and the whole ensemble joining in before taking their bows?
Back for Night Five tomorrow, at the end of which we shall reach our halfway point in this delirious celebration of song…
Stray observations:
There are many moments each night when Costello encourages the crowd to sing along, but one person tonight seemed to think that songs like "Slow Drag With Josephine" and "Church Underground" needed audience participation. I dearly hope this fellow has plans elsewhere for Nights Five through Ten.

I visited the not-for-sale, promo-only "Elvis Costello powered by Citi" pillows down behind the merch table, and observed the monitor playing the MTV Award-winning music video for "Veronica" (a song set to appear on Night Six). If I were to execute my plan for the Stupidest Heist of All Time (stealing one of those pillows) I would have to figure out a way to use this monitor to my advantage. Turning off the monitor, so people don't look in that direction? Or waiting until everyone is so laser-focused on the monitor that they don't notice me sneaking off with one of those pillows? I am bad at heists.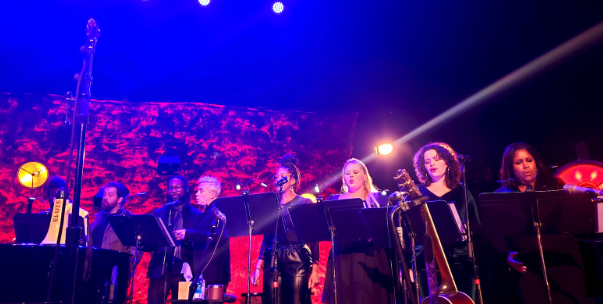 "Mr. Feathers" and "Under Lime" brings my wish list total to six!

I originally thought that closing with the same song every night was going to be the one thing that was the same about all 10 shows. What a foolish notion this is now that it is clear that he is going to find 10 totally different ways to perform the same song. Far from an element of consistency, it is going to further cement this run as a celebration of variety and finding new ways to surprise an audience.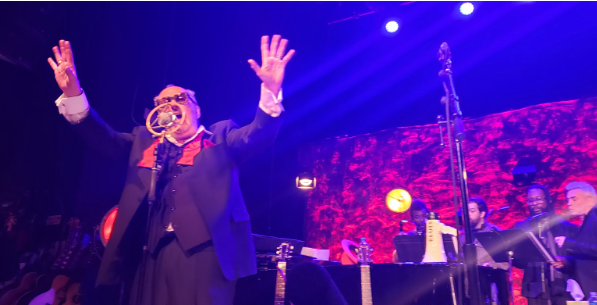 NIGHT FOUR
Monday, Feb. 13th – Elvis Costello Solo – Night Four
"45"
"Stella Hurt"
"Mexican Divorce"
"Dr. Watson, I Presume"
"I Want To Vanish"
"Walking My Baby Back Home"
"Down Among the Wines & Spirits"
"Black & White World"
"Mr. Feathers"
"A Voice in the Dark"
"Ghost Train"
"Radio Soul"
"A Slow Drag With Josephine"
"Under Lime"
"Church Underground"
"God's Comic"
"Suit of Lights"
"Jimmie Standing in the Rain/Brother, Can You Spare a Dime?"
"This Uneasy Hour"
"American Mirror"
"He Makes My Water Boil"
"Big Stars Have Tumbled"
"Burn the Paper Down to Ash" (w/ Rebecca Lovell)
"Vitajex"
"Blood & Hot Sauce"
"A Face in the Crowd"
"(What's So Funny 'Bout) Peace, Love & Understanding"
Connor Ratliff is an actor/comedian based in New York. He is the creator of the critically acclaimed podcast, Dead Eyes.  You might have seen him in the role of "Chester" on multiple seasons of The Marvelous Mrs. Maisel.