Elvis Costello is performing 200+ songs from his 600+ songbook over 10 nights at the Gramercy Theater in New York from Feb. 9-22. Costello superfan (and comedian) Connor Ratliff is bringing us the highlights from every night of the historic run. Catch up on his reports from Night One, Night Two, Night Three, Night Four, Night Five, and Night Six here.
Night Seven was the second (and final) Friday night show of Elvis Costello's 10-night stand at New York City's Gramercy Theater, and it found our intrepid performer (and his keyboard assassin, Steve Nieve) delving even deeper into his songbook in front of an adoring and appreciative crowd. For the first time in this series of concerts, we began the evening with fewer shows ahead than there are behind us, but that didn't mean that this evening was short on surprises and musical derring-do.
Admittedly, this was the show I had my sights set on from the start, thanks to the pre-announced inclusion of my personal all-time favorite Elvis Costello song: "My Dark Life."
On record, it's a six-and-a-half minute epic produced by Brian Eno for a now-obscure X-Files tribute CD from 1996, Songs In The Key Of X. It's clearly a song that Costello is proud of, having included it on his Warner Bros-era "Best of" collection, Extreme Honey, as well as the companion soundtrack to his memoir, Unfaithful Music & Disappearing Ink. Greil Marcus once wrote about it at length, saying "the song sucks you into it and then gets you lost so quickly it might be describing not an incident but a lifetime. It's like a map of miasma." Bono was another admirer, saying: "This is the fucking shit. It sounds like lounge music from Venus." 
Costello played "My Dark Life" in concert only one time in 1996, in San Francisco, and that performance was released on the  limited edition Costello & Nieve box set that sold out almost immediately. If you listen carefully to that recording, when he gets to the line about the town of "Peculiar, Missouri," you can hear a brief yelp from the audience, emanating from my friend Jeff Falzone, who was the person who introduced me to Costello's music back in high school. (We both grew up in Missouri, a state now ruled by some of the most twisted MAGA politicians in the whole country; this portentous song somehow feels prescient to have name-dropped it then, amongst the song's many intriguing and ominous details.)
The song has popped up on a handful of occasions in concert since then. In 2003, Costello was touring with The Imposters and "My Dark Life" started to re-appear in the set lists. I missed it by two shows in either direction, before and after I saw them play Central Park Summerstage. Checking The Elvis Costello Wiki (where massive amounts of data are stored for easy reference), I see that he has performed the song in concert on 14 prior occasions. I feel lucky to have witnessed the 15th.
Performing with newly recorded beats and loops and other electronic doo-dads recently created with Costello's producer Sebastian Krys in anticipation of these shows, Elvis and Steve took a journey to a moody, haunted place tonight, expanding the song to over 8 minutes. I have no idea how many people in the crowd were as hypnotized by it as I was, nor how many were as excited to hear it. I have to imagine that it's not the easiest song to experience for the first time in a context like this, but then again: these shows were not designed for the unadventurous.
Costello's post-song explanation of its origins – inspired by a trip to Russia after the fall of the Soviet Union "with a bunch of tourists to see some stolen paintings" – was as twisty and discursive as the song itself, ranging from geopolitical analysis to his fond memories of working with Eno for a single day in the studio. I'd like to think that at least a few people in attendance who were unfamiliar with the song or haven't heard it in a while are now seeking it out wherever they can find it, either online or deep in their record collection.
Oh, and by the way, he also played 21 other songs, did I mention that?
Starting the show with the original Costello and Nieve banger, "Shot With His Own Gun" from 1981's Trust, followed by "Still" from the happier second half of 2003's North, and then the shocker of "Harpies Bizarre" from 1991's Mighty Like A Rose, I immediately tapped out from trying to discern a theme for the evening (and if one was mentioned, it escaped my hearing.) Steve threw himself into replicating the full studio orchestration of the latter song using only his Steinway piano, one of many jaw-dropping demonstrations of his talent throughout the night.
Emotional ballads dominated the evening, from heartbreakers like "When It Sings" and "Still Too Soon To Know" to the Bacharach/Costello classic, "This House Is Empty Now." 
Perhaps loveliest of all was the live premiere of "The Whirlwind," a song released on 2020's Hey Clockface that was originally written for his in-development stage musical of A Face In The Crowd (eight other songs from which were previewed to great effect on Night Four). "I may be lying/ This may be true/ You think you know me/ Maybe you do" feels like the kind of deceptively simple-seeming lyric that Costello does better than just about anyone else, in this case paired with a melody that somehow manages to feel both defiant and vulnerable at the same time.
Tonight featured three more songs from IbMePdErRoIoAmL – "Shabby Doll," "You Little Fool," and "Town Cryer" – and Costello reminisced about recording that album with co-producer Geoff Emerick, the Beatles' engineer on Revolver, Sgt. Pepper and Abbey Road, specifically the time when Sir George Martin visited from an adjacent studio and offered his thoughts about Steve Nieve's orchestrations, barely looking up to say hello when Ringo Starr also entered the room.
Costello also spoke of writing "The Comedians" for Roy Orbison, and his nerve-wracking experience playing rhythm guitar for the singer's star-studded Black & White Night TV special, before once again speaking from the heart about Burt Bacharach, reminiscing about the "beautiful" recording session for 2018's Look Now where the legendary perfectionist put The Imposters through their paces.
The evening's final stretch of songs, beginning with the unexpected (and triumphant) piano-and-voice rendition of "Pretty Words," was as unpredictable as if you'd set Costello's entire discography on shuffle mode, with the loop-driven, nearly spoken word "When I Was Cruel No. 2" leading into the thumping pop ballad "Poor Napoleon" from Blood & Chocolate and then swerving into the emotional chainsaw that is "In Another Room" — contender for the saddest song of the entire night, if not all seven. Each of these songs feels like a left turn from the previous one.  "I've completely lost my mind!" Costello joked at the top of the show, and there are moments when I feel almost overwhelmed by the range of emotions that so many disparate songs provoke back-to-back-to-back. It's a roller coaster.
No surprise guests tonight, and yet Elvis and Steve managed to serve up another helping of "Peace, Love & Understanding" that sounded different than the version they did last night. 
I haven't noted this before, but in addition to the pre-show house music being all Bacharach, every night when the show is over, the lights come up and "What The World Needs Now" begins to play over the speakers. It feels celebratory every time.
Stray observations:
Upon entering the venue for each of these shows, audience members are handed postcards listing the 10 songs per show that have been announced in advance. On the occasions where Costello has skipped ahead and played a song intended for a later night, these postcards have included notes indicating the titles which will take their place, using the language of theatrical program inserts announcing Broadway understudies: "In tonight's performance, the part of "The Scarlet Tide" will be played by "Oliver's Army (2023)." Tonight, there were three such substitutions, including a song that hadn't even been pre-announced getting bumped: "The Man You Love To Hate" was replaced with "Party Girl." It remains to be seen whether the song from

The Boy Named If

will show up on one of the remaining nights…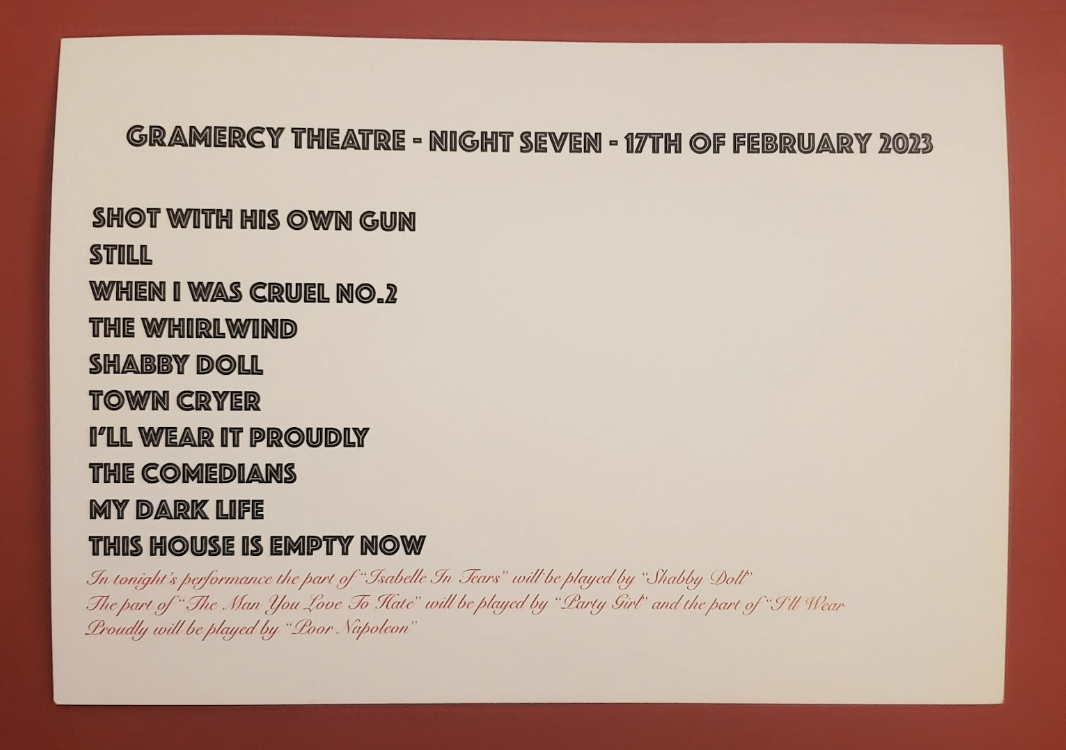 Costello gets a lot of laughs throughout the evening, both during songs and in between them. My favorite tonight might have been his finger-wagging during "Pretty Words" when he seemed to admonish the audience on the line, "you don't know what you've got!"

I got three more songs from my wish list tonight – "Harpies Bizarre," "My Most Beautiful Mistake" and "Pretty Words" – bringing my total up to 13! I'm confident I can make it to 15 by the end of the run, but I wonder how close to 20 I can get?
Another song I've never heard him sing in concert (and that would've been on my wish list if I'd thought about it longer) was the lovely "No Wonder" from 2001's Anne Sofie Von Otter album,

For The Stars

. When he was done playing it, Costello started talking enthusiastically about attending the

ABBA Voyage

virtual concert experience

in London, saying: "Honestly, one of the greatest shows I've ever seen in my life… I felt like we were on a spaceship and we were going to another planet where there was only ABBA."

This is the large floor mat (not for sale) halfway down the stairs towards the merch table (or halfway up, depending on your point of view). It has been trod upon by many concert goers, and perhaps even by Costello himself. I wonder where this will end up when all is said and done. I am certain that it will be claimed by someone.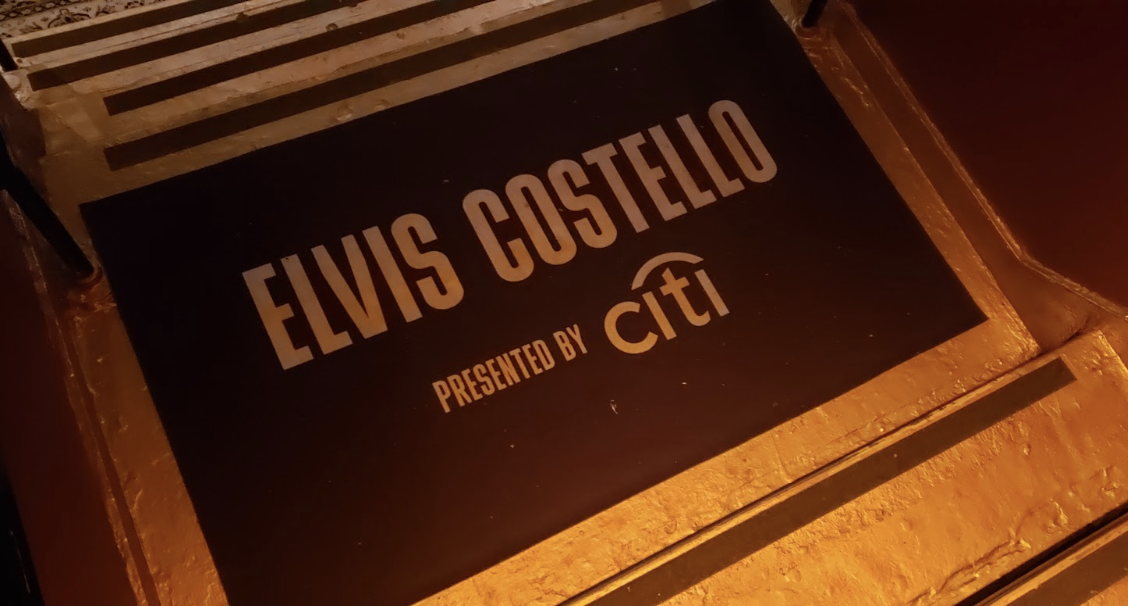 Saturday night is another night off, so the boys will return on Sunday/Monday for more musical hijinx and merry-making, and after that we shall only have Wednesday left for the grand finale.

Speaking of which, I just looked up the song, "Wednesday Week" and it has apparently only ever been played one time in concert, in 1981. I'm not predicting that it will be played next Wednesday – only a fool would make such a prediction – I'm just saying that, if this song is ever going to find its way back onto the setlist, next week is absolutely its best shot.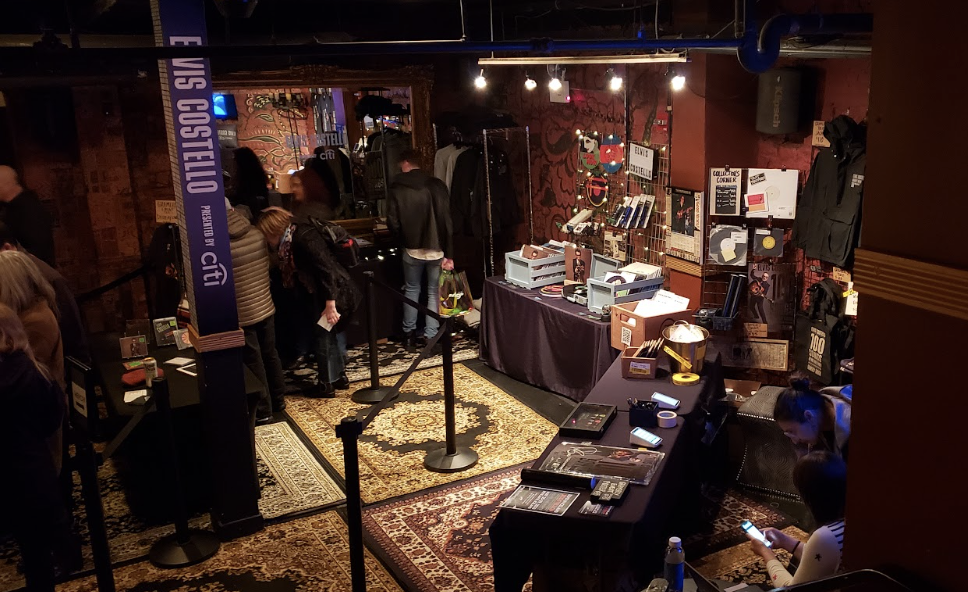 NIGHT SEVEN
Friday, Feb. 17th – Elvis Costello with Steve Nieve – Night Seven
"Shot With His Own Gun"
"Still"
"Harpies Bizarre"
"Shabby Doll"
"The Whirlwind"
"When It Sings"
"No Wonder"
"My Dark Life"
"You Little Fool"
"My Most Beautiful Mistake"
"Party Girl"
"Still Too Soon To Know"
"Temptation"
"Town Cryer"
"The Comedians"
"Don't Look Now"
"This House Is Empty Now"
"Pretty Words"
"When I Was Cruel No. 2"
"Poor Napoleon"
"In Another Room"
"(What's So Funny 'Bout) Peace, Love & Understanding?"
Connor Ratliff is an actor/comedian based in New York City. He is the creator of the critically acclaimed podcast, Dead Eyes. You might have seen him in the role of "Chester" on multiple seasons of The Marvelous Mrs. Maisel.